Student designs to be featured in Fashion Week Rochester
The Charrette is an annual design challenge for students in RIT's College of Art and Design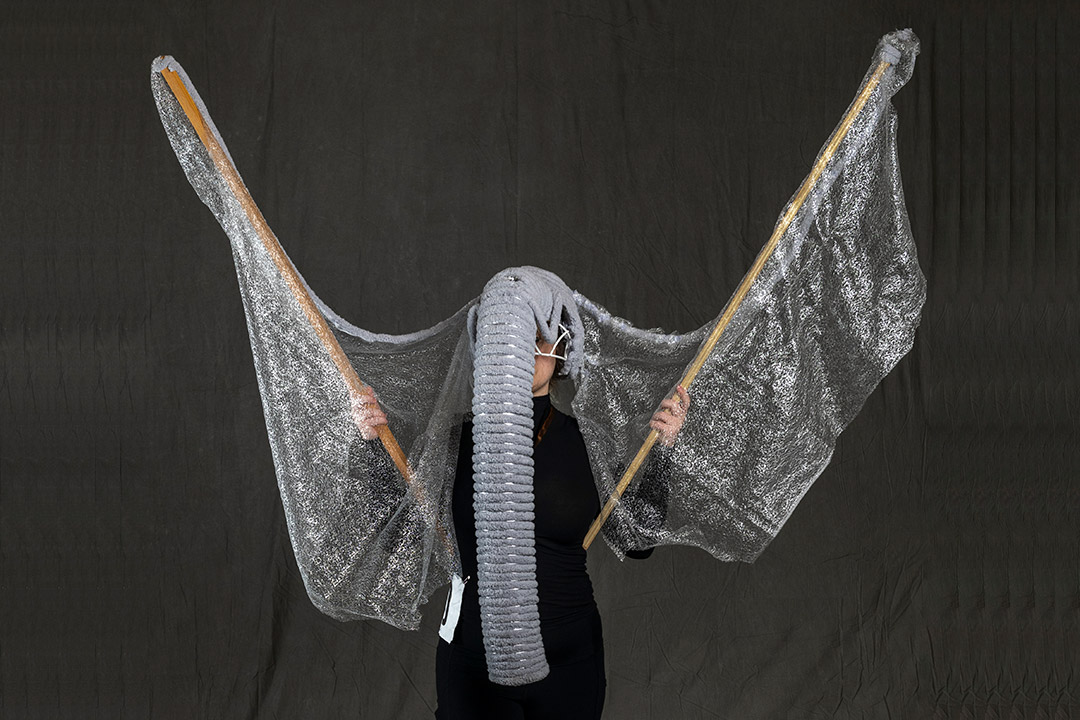 After a two-year hiatus, RIT's College of Art and Design reintroduced the Charrette, a unique, weeklong design challenge, with a new twist. In addition to other prizes awarded, the work of 15 students was selected to appear on the runway during Fashion Week Rochester, set for Oct. 13-15 at The Dome Arena.
This year, the Charrette design challenge tasked students to create a wearable sculpture that communicated the idea of memory. Students across the college participated in this challenge as part of their foundations curriculum.
"This event is an opportunity to have a whole bunch of students from totally different backgrounds, majors, and disciplines all come together for one big, fun project over eight days. They get to make things, learn about each other, and meet friends they might know forever during this week," said Mitch Goldstein, associate professor and co-coordinator of the Charrette.
See more Charrette designs
A number of student pieces will be featured in RIT's Bevier Gallery, located on the second floor of Booth Hall. The exhibit is set to open on Monday, Oct. 10.
The Soundstage at MAGIC Spell Studios overflowed with creativity, color, and sculpture last Thursday as students unveiled their designs. Each student had their own unique interpretation of the theme, resulting in wearable sculptures of all shapes and sizes
"The Charrette is a really cool opportunity to see who the students are collectively as a class," said Rebecca Aloisio, senior lecturer and co-coordinator of the Charrette. "It's also done in the beginning of the school year, so this is sort of their first group experience all together. It helps us build community."
Emmy Skiles, a second-year 3D digital design student from Old Saybrook, Conn., was one of the students selected to walk during Fashion Week Rochester on Thursday, Oct. 13. Skiles drew inspiration for her sculpture from a stuffed elephant plush she had since she was a kid. According to Skiles, she recognized that elephants don't forget things and that she could use the animal to symbolize that, while she might still need a stuffed animal now and then, she has grown as a person.
Walking in Fashion Week Rochester will give her the chance to showcase her work in a professional venue and help her make new connections in the Rochester design community.
"I was so shocked. I didn't know I would win an award or anything, but it makes me so proud to see what I've done and that I've accomplished something like this. I'm really excited to walk on the runway. I've never walked on a runway before so it's going to be a new experience for me," said Skiles.
College of Art and Design has a long history of being involved with Fashion Week Rochester, which celebrates fashion while raising money to support The Center for Youth. Elaine Spaull, executive director of The Center for Youth, admires RIT's continued participation.
"The partnership between Fashion Week Rochester and RIT's creative community will soar to a new level in 2022. The Thursday night show, Restore the Energy, reflects most beautifully the innovation in design, use of materials, texture and depth of expression, and once again pushes our imagination in wearable art and jewelry," said Spaull. "RIT's consistent support for our city's most vulnerable youth while embracing its artistic expertise is simply inspirational."
For more information about Rochester Fashion Week, and to get tickets, visit the Fashion Week Rochester website.
Topics