Surprise spring snow doesn't deter crowds at Imagine RIT
12th annual campus-wide event shows off talents to thousands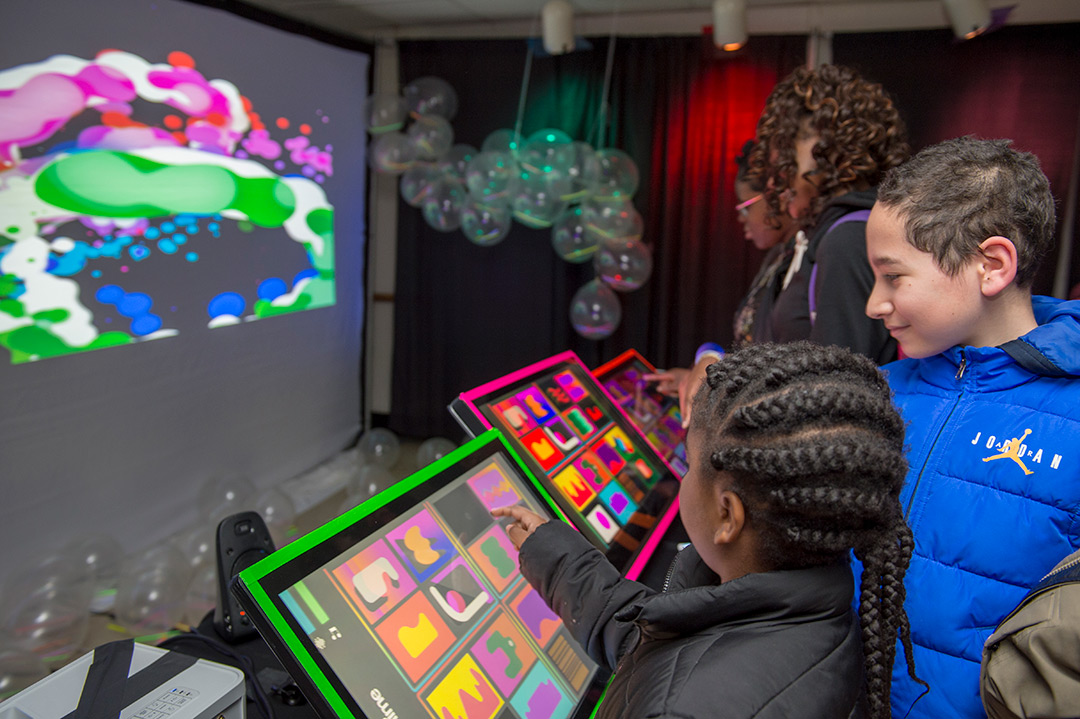 Elizabeth Lamark
There's always something new to experience at the Imagine RIT: Creativity and Innovation Festival, which this year featured more than 400 exhibits, including a human hamster wheel, performances by student ensembles, cutting-edge video games and demonstrations to determine how color can affect your mood.
Wind-blown snow showers greeted morning visitors to the annual festival, but didn't seem to hamper attendance as dedicated visitors carried their complementary orange RIT tote bags and began exploring.
"It feels exhilarating," said Mahmoud Hamdy, a mechanical engineering student from RIT Dubai. "This is my first time traveling outside of the Middle East and I'm seeing snow for the first time in my whole life!"
It was also the first time students from RIT Dubai presented an exhibit at Imagine RIT. Hamdy and three other students showed their capsule made of titanium and carbon that can be placed inside a small CubeSat satellite to conduct experiments to determine how plant roots grow in space.
The students, who made the exhibit for their senior design project, received funding from the RIT Global Scholars program and relished the opportunity to see the Rochester campus and display their research alongside their peers from the U.S. While here, the students hope to connect with some of the clubs from the main campus like RIT SPEX for future collaboration and want to lay foundation for more students from RIT Dubai to travel to Rochester.
"We want the freshmen to have the same opportunity that we have right now," said Hamdy. "We're pushing them to apply for the RIT Global Scholars program and to work on interesting projects that they can come to RIT and present."
Performing Arts Challenge
The festival kicked off Friday evening, when 10 acts competed in RIT President David Munson's Performing Arts Challenge in Ingle Auditorium. The winners were an eight-member band called The Roar's, who performed "Feeling Good."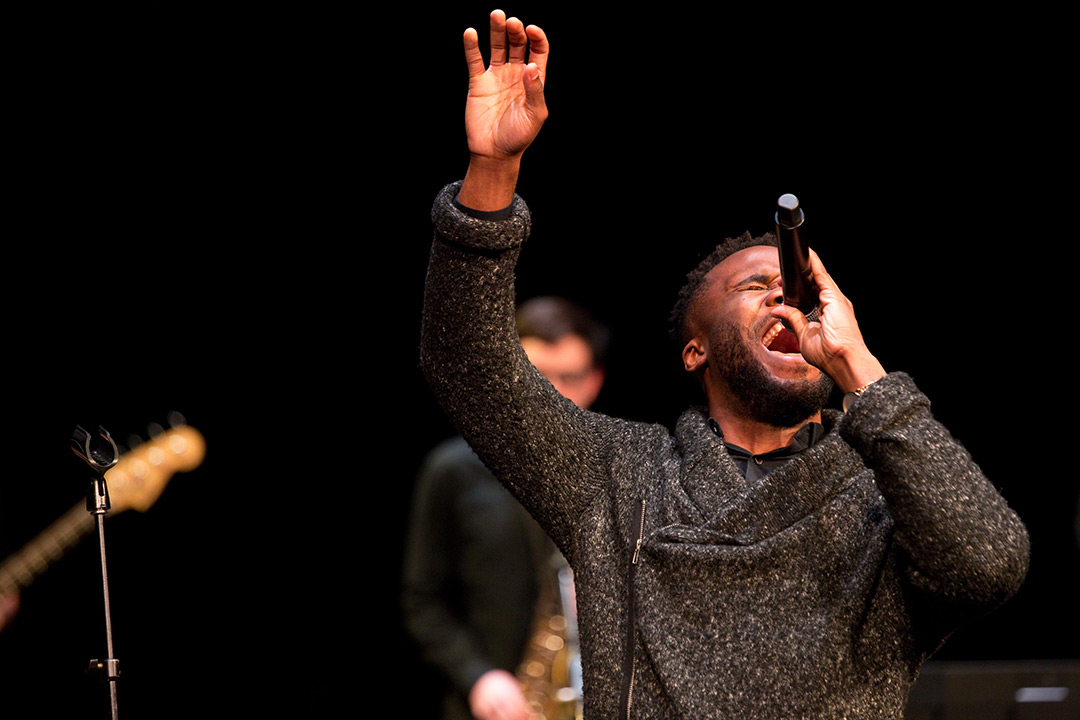 Rob Hickey
"It feels great!" lead singer Adesola "Dewé" Adedewe, a second-year electrical engineering major from Brooklyn, said after learning his band had won. "We're thrilled to take first place, but all these performers were winners tonight."
In an unprecedented decision, the judges awarded a two-way tie for second place: Deirdre Arcand, a graduating mechanical engineering major from Middletown, Conn., for her rousing solo vocals of Demi Lovato's "Tell Me You Love Me;" and a vintage vocalist performance by Abe Dulaney of Kirkland, Wash., and pianist Matthew Ciminelli, from Buffalo, of "La Vie En Rose," made famous by Edith Piaf.
Third place went to the group Irish Roar with their Irish dance "Nuttin' But Strings," which received a huge ovation.
The top four finishers received large stuffed tigers wearing medals.
The Roar's opened Saturday's events in Ingle with a repeat performance, followed by the unveiling of a 20-by-12-foot mural of "BrickCityLand," drawn by Leigh Rubin, creator of Rubes cartoons and RIT's cartoonist-in-residence.
The mural, hung on the side of Clark Gymnasium, features Rubin's signature cows interacting with RIT's mascot, Ritchie, at each of RIT's colleges. After the unveiling, Rubin held a session with Senior Lecturer Mike Johansson from RIT's School of Communication on "Curiosity and Creativity: Getting Them and Keeping Them."
A. Sue Weisler
Rubin said he's always been curious, and recalled a fascination with bugs ever since his parents gave him a book on insects as a youngster. "I've had a love of reading ever since."
Because it's his livelihood to create a daily cartoon, Rubin says he commits time to draw. "Most every day I start with a blank mind and a blank piece of paper," he said. "Then I'll find something to latch on to. I just let my imagination go, then one thing connects to another."
Rubin's advice for others on how to stimulate curiosity: "Go for a walk, and try to see something a little differently than you normally see it and inject a little humor in it."
MAGIC at Imagine RIT
Across campus in Wegmans Theater in the MAGIC Spell Studios building, the first symposium and panel discussion featuring some of RIT's most prolific alumni was held before a packed audience.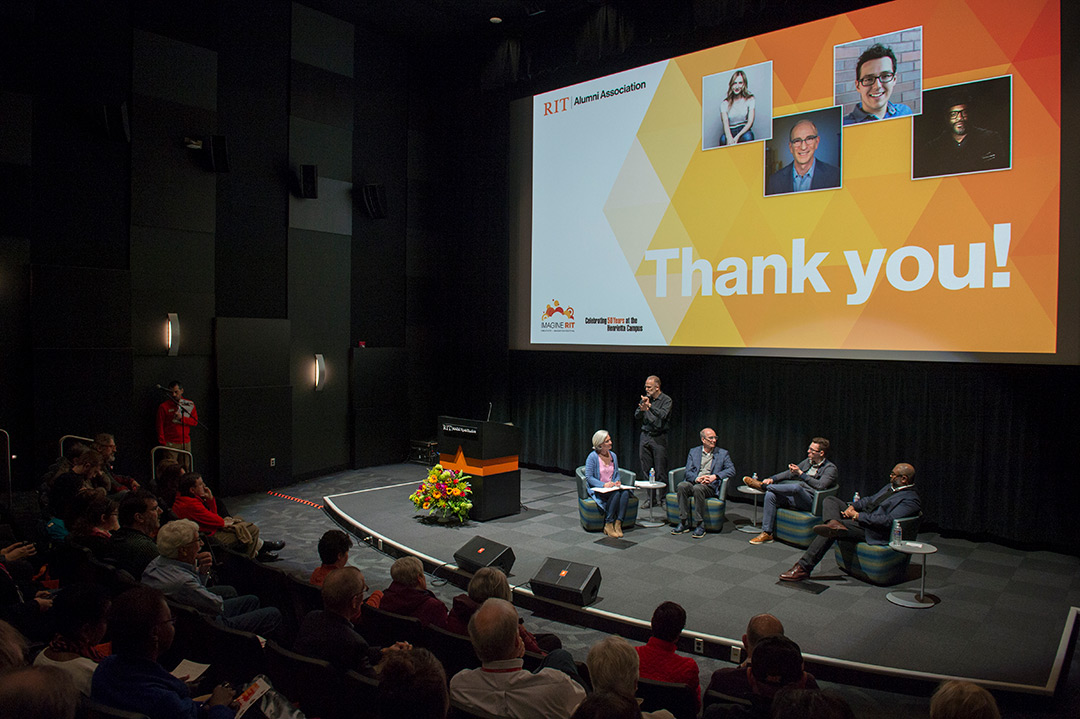 Elizabeth Lamark
"The Future of Technology, the Arts and Design," featured Tom Connor, vice president of creative marketing for The Walt Disney Co.; photographer and director Kwaku Alston; and RIT student and clean-energy entrepreneur Brandon Hudson. They showcased what RIT alumni envision for the next 50 years as it related to technology, the arts and design, and explained their career paths, how their fields have changed over the years and what helps keep them passionate.
Connor predicted the importance of multidisciplinary collaborations and believes the most important trend is opportunity. "In today's innovation economy, imagination becomes action, ideas become catalysts and dreamers become doers," he said.
In RIT's MAGIC Spell Studios Sound Stage, visitors got to see a blending of theater and virtual and augmented reality through the play AI-Pollo. The play, put on by the College of Liberal Arts, uses mechanized stage sets, doors, platforms and props to create a new theater experience.
Using Vuzix Blade smart glasses, Ryan Volz, a game design and development major, was able to create augmented reality captioning for the play, which has showings throughout the weekend.
"We hope this integrated captioning creates a better theater experience for people who are deaf and hard of hearing, and those who want captioning," said Volz, of Allegany, N.Y.
Festivalgoers also got to test out video games created by RIT students, including the game Pots of Greed, created by fourth-year game design and development student David Winstein-Hobbs, of St. Louis, Mo. In the retro game, two players have to collect as much gold as possible by smashing blocks or each other.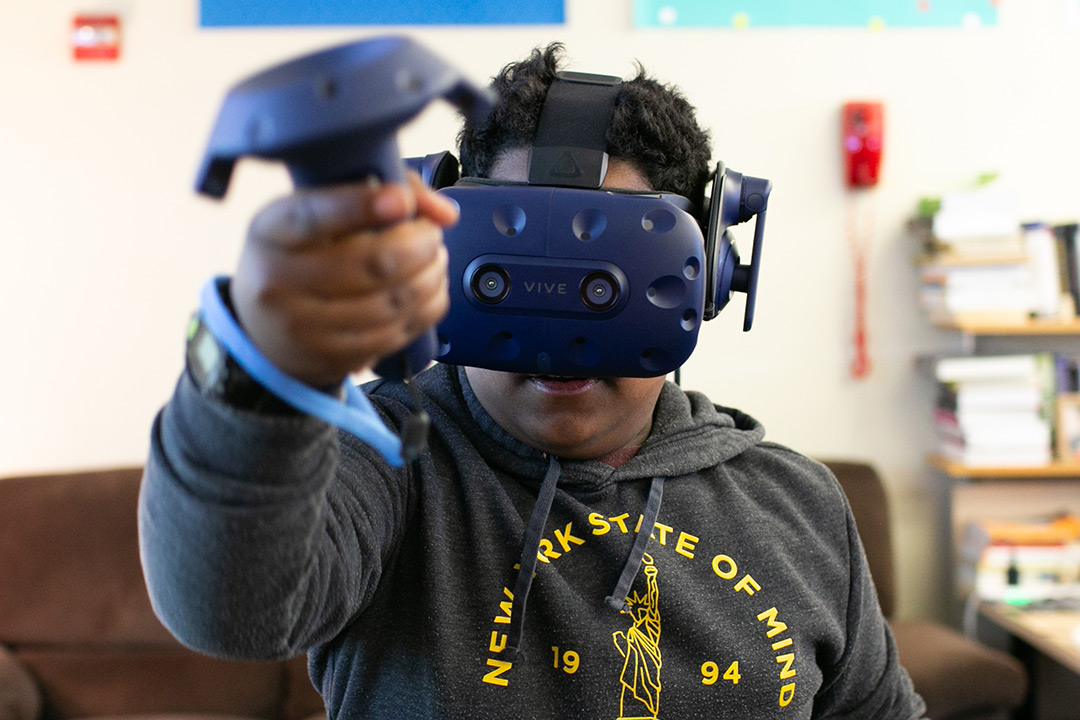 Mike Bradley
Philip Stephankovic, 10, and his dad, Daniel, of the Rochester suburb of Brighton, played the game and asked the RIT student what program he used to make the game.
"I've made Mario-type games at home using the software Scratch and it's a lot of fun," Philip said.
Using LEGOs to understand food
Students from RIT's Biotech Club view Imagine RIT as an important opportunity to use fun activities to help educate the public about important topics. They presented an exhibit to debunk myths about genetically modified organisms titled, "Frankenfoods: What to Know about GMOs," and used demonstrations with LEGOs, interactive games and provided attendees with seeds and instructions on how to grow their own bean plants.
"There are a lot of misconceptions about genetically modified organisms, and we're here to give the facts about them," said Paul Podbielski, a fourth-year biotechnology and molecular science student from Goldsboro, N.C. "We want to make sure people have the information they need to make their own decision and not be scared by labels or things that they don't understand."
Providing "green" power to the homeless
In the "Green Place," located inside RIT's Golisano Institute for Sustainability, several students – part of the Engineers for a Sustainable World chapter on campus – were highlighting a project that helps bring power (literally) to homeless in Rochester.
Lainey Celeste, a fourth-year mechanical engineering student from Oswego, N.Y., and Liliana Benzer, a fifth-year electrical engineering student from Ithaca, N.Y., were showcasing a solar charging station designed for use by residents of the Peace Village homeless community in Rochester.
One of the primary goals of the yearlong project, featuring a 160-watt solar panel adjacent to a docking station inside a large communal tent, is to provide the means for the homeless to charge cell phones and other equipment, according to the two engineering students.
"A lot of people don't realize that the homeless population has basic equipment power needs just like everyone us," Celeste said. "We installed the charging station two weeks ago and it's already getting a lot of use."
Susan Hailey, a mother of three boys who traveled to the festival from Penfield, N.Y., called the project "important and inspiring."
"These are the type of amazing projects we've come to expect from RIT students," she said.
Color me blue, for calming
The Wallace Library exhibit "Color Play: Celebrating Albers" brought color to the foreground while paying tribute to an artist with a special connection to RIT.
Visitors to the exhibit got to experience how colors affect how they felt by walking into color-intensive environments and documenting their experience on the wall. Red made some people feel oppressed, while others felt energized. Blue caused some to feel soothed, and others, depressed. And yellow felt light for some and anxiety-provoking for others.
"I liked blue. It was calming," said Vivian Zebrak, 12, of Brighton, N.Y.
The exhibit was next to another celebrating artist Josef Albers and the 50th-year anniversary of his murals on the RIT campus.
"I hope to make people more aware of Josef Albers' influence in the field of color theory and practice, and also to have a lot of fun with changing our perception of viewing things through different color of light," said Amelia Hugill-Fontanel, associate curator of the RIT Cary Graphic Art Collection.
Where technology, art and design intersect
In Artistic Alley, Imagine visitors appeared captivated by the stunning works of the 3D digital design department's game, art and design students.
Ihab Mardini, an assistant professor who teaches modeling and visual effects, said the work represented the best that has come out of the program in recent years.
"This exhibit provides a great way for people to see the range of work our students are capable of – whether it involves character development or vehicles or environments," Mardini said. "Our students do a lot of asset-building for games, which even prospective students don't always realize."
Meanwhile, Logan Bicknell, an MFA visual communications design student, was exhibiting the thesis project she's working on with Namhee Kim, of Fairfield, Conn., called, "The Terms." In addition to scrolling digital displays, the exhibit featured pages upon pages on walls of the fine print that accompanies agreement terms on social media sites.
"Our focus is raising awareness and educating people as to the rights they give up when they click 'accept' to various social media sites," said Bicknell, from Corning, N.Y. "We certainly don't expect people to stop using these sites, but we want them to be aware of the content they're sharing and the implications of that sharing."
In the Computer Zone, a student group kept visitors entertained by showing off their new waving robot arm.
"Whenever tour groups pass by the Society of Software Engineers, we always like to enthusiastically give them a wave," said Michael Samodurov, a first-year software engineering student from Farmington, N.Y. "Sometimes we get tired, so we created a 3D-printed robot to help us."
The robot arm uses wires and small motors that are programmed to pull on the fingers and mimic a waving hand. Samodurov said that the programming wasn't the challenging part — it was the 3D-printing and mechanical engineering that they had to experiment with.
"I like that the students are mixing different kinds of engineering and problem solving to create a fun project," said Michele Bokun, of Lexington, Mass., whose daughter, Lillian, is a software engineering major at RIT. "It's our first time at Imagine RIT and we're impressed."
Out-of-state visitors
It was a first-time visit for 34 students from Susquehanna (Pa.) Middle and High School, who took a bus to Rochester from their school, south of Binghamton. Zoey Cramer, an 8th-grader at the school, was impressed with the size of the university.
"We did a lot of walking," she said. She was also impressed with the exhibits. Cramer would master the virtual reality game, "Colossus" and with her friends, learned more about race cars, criminal justice and rockets. "We've had different companies come to our school to talk about careers. This was a little bit like that. This was great!"
RIT alumnus John Kukowski '94 (computer integrated manufacturing) sponsored Susquehanna's visit. For 10 years, he has been a board member of the Clare Williams O'Neil Foundation that seeks to provide educational opportunities to Susquehanna youth and encourage them to pursue higher education.
"I went to Susquehanna High School, received my engineering degree and have had a great career," said Kukowski, who was honored as one of the College of Applied Science and Technology's Outstanding Alumni. "But being able to bring this group of students to this event is just one more way to show them the possibilities that are out there for them. This is inspiring."
Kukowski had not been back to RIT for nearly 25 years and saw big changes, not only in the size of the campus, but the changes within CAST, which was renamed the College of Engineering Technology in 2018.
The next Imagine RIT will be April 25, 2020.