Venture Creations companies make an impact in New York state-funded business competitions
Four companies win funding at GROW-NY and FuzeHub commercialization events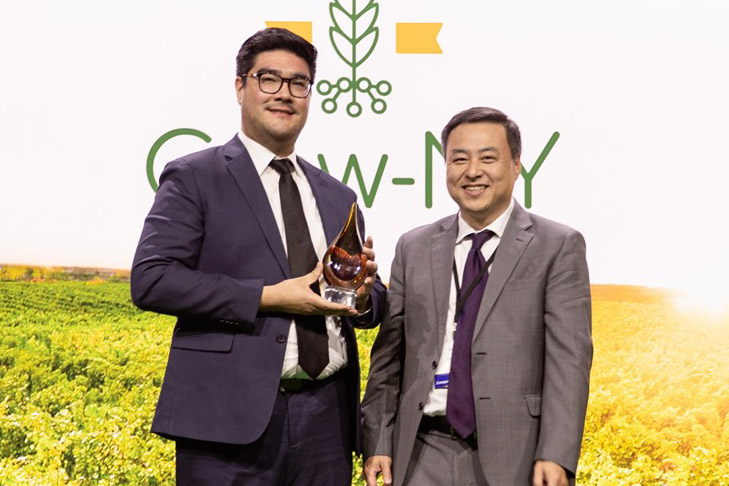 Four companies in Rochester Institute of Technology's Venture Creations technology business incubator have made an impact recently in New York state-funded business competitions.
Capro-X, an agritech spinoff based in Ithaca, N.Y., won $250,000 at the inaugural New York state Grow-NY Food and Agriculture Competition last month. The company, which joined Venture Creations in 2018, is helping to increase sustainability in the dairy industry by solving the acid whey waste problem prevalent in Greek yogurt production. Its WheyAway treatment technology uses naturally occurring, non-GMO microbes to upgrade dairy waste streams into clean water and natural and sustainable alternatives to palm oil chemicals.
Industry estimates show that more than 60 million gallons of Greek yogurt are consumed in the United States each year. According to Juan Guzman, co-founder and CEO of Capro-X, the problem is that each cup of Greek yogurt produces more than 3 cups of waste, also called acid whey.
"The Greek yogurt industry is booming," said Guzman. "But every day, Greek yogurt producers in New York have to deal with 300,000 gallons of acid whey waste. Most of it is trucked around to local farms for feed and fertilizer, but the remainder is sent to wastewater treatment plants at a significant financial and environmental cost. By treating just 10 percent of the acid whey produced in New York, our company can yield 500,000 gallons of sustainable chemicals each year."
Guzman also said that the company's solution to the problem will prevent 100,000 tons of greenhouse gas emissions caused by transporting the waste.
The Grow-NY competition is focused on growing an enduring food and agriculture innovation cluster in Central New York, the Finger Lakes and the Southern Tier regions of New York state. The competition offered a total of $3 million in funding to innovative, high-growth startups from across the globe focused on the food and agriculture industry.
Nearly 200 food and agriculture startups applied for the competition, with the top 17 finalists matched one-to-one with experienced entrepreneurs from the region who served as mentors.
In the regional FuzeHub competition, Venture Creations companies Molecular Glasses, Combined Energies and Circle Optics each were awarded $50,000 for their business plans. FuzeHub, a not-for-profit organization responsible for assisting small to medium-sized manufacturing companies in New York state, announced winners at the third annual FuzeHub Commercialization Competition Nov. 20 in Albany, N.Y.
Molecular Glasses, founded by Mike Molaire, focuses on technology that converts materials to noncrystallizable and soluble molecular glasses— without affecting their original photo physical properties—for stable and long-lived organic light-emitting diodes and other organic electronics. Company leadership—with more than 100 years of combined experience in materials innovation—has developed OLEDIQ, a revolutionary new class of organic semiconductors capable of reducing power consumption in mobile applications, providing higher display resolution and reducing costs by enabling lower-cost manufacturing processes. Molecular Glasses also won $10,000 in the New York state-funded Luminate NY competition in 2018.
Combined Energies, run by Rhonda Staudt (operations), Mark Sperry (business development) and John Vogel (product development), is focused on the design, production and sales of specialty power electronics for renewable power generation, energy storage and electric vehicle applications. Combined Energies' patented DC to DC converter designs provide improved functionality, higher efficiency, smaller footprint and lower cost than available alternatives.
Circle Optics has created the world's first parallax-free, 360-degree camera that solves the problem of stitching (putting together multiple images pixel by pixel to create one big image). The system instantly captures a perfect 360-degree representation of any scene, which is useful in the virtual reality, security, mapping and robotics industries. Current solutions create extraneous data from overlapping fields of view, require significant additional time and money in post-processing and often produce an imperfect scene with obvious seams and holes.
"All of us at Venture Creations are proud of the hard work and accomplishments of our startup companies, particularly those that were recently recognized as outstanding by New York state-funded programs," said Peter Parts, interim director of RIT's Venture Creations incubator. "These business plan competitions draw the best and brightest startup companies in our region. By providing quality coaching, professional consulting and connections with industry professionals, Venture Creations creates an environment where these cutting-edge businesses can develop and thrive. New York state is an innovation hub, and Venture Creations is proud to be part of that ecosystem." 
Venture Creations was created in 2003 to provide services to incubating companies, facilitating the development and operation of these companies for the purpose of advancing the educational and research missions of RIT through the enhancement of faculty, student and staff involvement in high technology. It was also created to promote economic development and competitiveness in Monroe County and New York state by encouraging and facilitating the transfer of technology resources to the marketplace. The total number of launched companies now stands at 42, with 559 jobs having been created.