Wallace on Ice: Books, bleachers—but no Zamboni
RIT Libraries moves to Ritter Ice Arena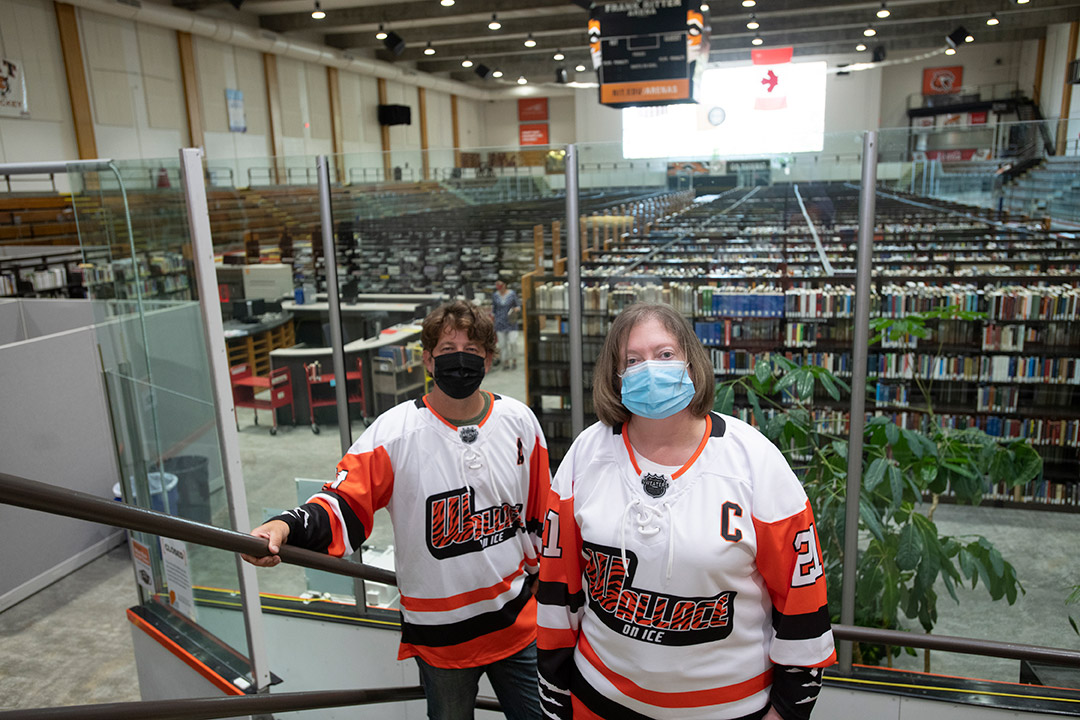 It took a Herculean effort over the summer to move RIT Libraries' holdings out of the shadow of the SHED construction and into the Frank Ritter Ice Arena. The library will stay in its temporary new home until completion of the Student Hall for Exploration and Development and the combined library renovation in 2023.
Looking for a place to study?
Check the RIT Campus Map for updated study locations. The map provides specific information for each study space, including phone number, hours, and COVID capacity, as well as when the data was refreshed.
Demolition on the library's east wall will open access points to the future multi-use facility. The interior library doors will be locked to prevent walk-in-traffic during the construction. The lobby will remain open to Java Wally customers for takeout service only.
A contingent of library staff will remain in the building and patrons can schedule appointments to meet with librarians in Wallace or at Ritter, or to use the special collections that will be relocated within Wallace, according to Marcia Trauernicht, director of RIT Libraries.
Trauernicht credits Facilities Management Services, University Arenas, and Information and Technology Services for helping the library transition to the new space and set up in time for the fall semester. "Most of all, I want to acknowledge and applaud the hard work and dedication of the library staff in making this move happen."
The ice arena now houses all the library's journals and circulating books, as well as the circulation desk, instruction lab, and interlibrary loan department. The remaining space is furnished with student seating and more than 20 computer stations. "We're calling it 'Wallace on Ice,'" Trauernicht said.
Go fish
The aquarium in Wallace Library will be part of the final design on the first floor. For now, the fish and coral are safely offsite at the aquarium vendor's facility and will return when the library reopens.
Jason Stryker, manager of Circulation Services, is a vocal advocate for the new location and is quick to correct misperceptions of a library with books, bleachers, and a penalty box. "Ritter kept us online."
"For me, I love it because we're going to be open for the full two years of construction," Stryker said. "If we were trying to do it in the Wallace building, we'd have to move collections all the time. This is one move. And all our services are available for our freshman to graduate students, faculty, and staff until we move back. It's the best solution we could have hoped for."
Stryker used the move to Ritter to coordinate a full inventory of the circulating collection and to find any discrepancies between the RIT Catalog and the shelved books. Library staff from the circulation, cataloging, and IT departments made the project a team effort, he said.
"We're solving old errors," Stryker said. "We're doing an electronic and a physical inventory, so it has provided some data points for us to go forward in the future. We're using everything we can for our advantage."