Brick City Singers win Dr. Munson's Performing Arts Challenge
Eleven finalists competed virtually for a $1,000 top prize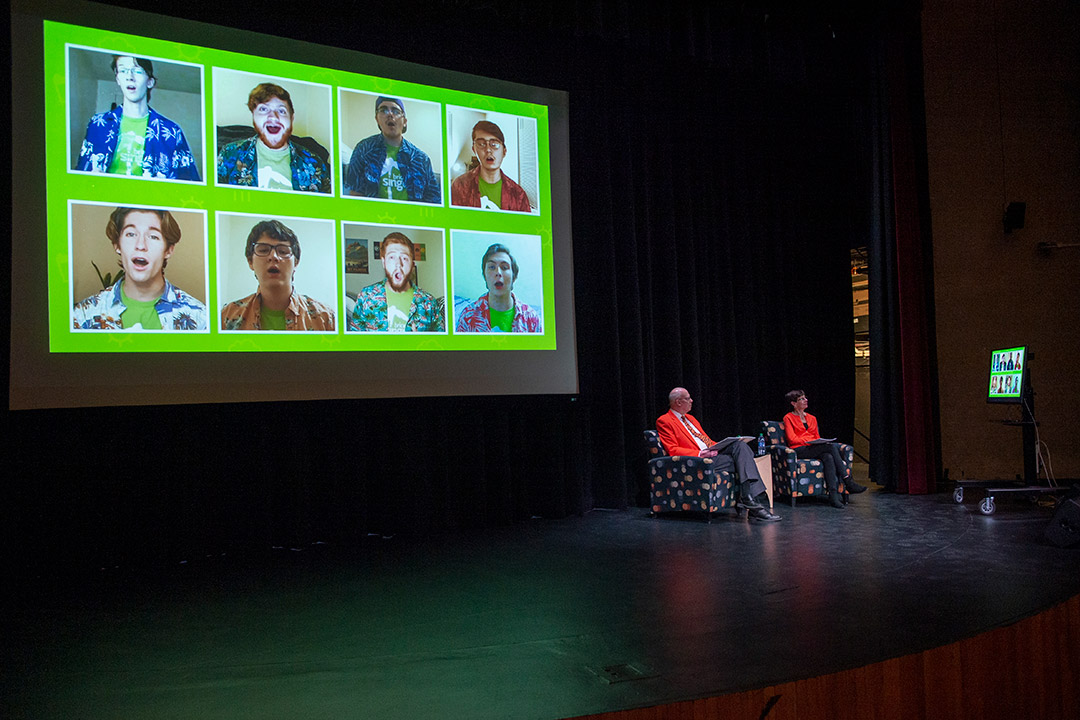 Elizabeth Lamark
RIT's Brick City Singers, a student a cappella group formed in 1999, took top prize in the fourth annual Dr. Munson's Performing Arts Challenge held during FreezeFest last Friday.
Eleven students or student groups participated virtually in the finals, ranging from classical music, dance, American Sign Language music interpretation, and singing accompanied with guitar or baritone ukulele.
"We received many, many wonderful auditions," said RIT President David Munson, who hosted the competition with his wife, Nancy. They watched the taped performances live in Ingle Auditorium with judges, but due to COVID-19 restrictions, the audience had to watch online.
"The performances are flawless," Nancy Munson commented. "Everyone was just fabulous."
Munson said he was also impressed by the finalists. "I want to thank each one of them," he said. "It's hard to be creative during the pandemic and do things in such an innovative way. It would have been easier to be in here with us."
Five members of the RIT Game Symphony Orchestra, who won last year's challenge, also submitted a video performance, "Gusty Garden Galaxy," to entertain the viewers as the judges made their decision based on artistry, technique, originality, and overall performance.
The Brick City Singers sang "Eventually." Each member was recorded individually and their performances were edited together to create the harmony.
"It's fantastic," said Rory Flannery, a fourth-year industrial engineering major from Cazenovia, N.Y., and club president. "It feels really good that we were able to go over all these hurdles and challenges in recording and editing it. It was a real team effort. It really paid off in a way we never really expected it to."
A $1,000 prize came with first place.
"Our current plan is putting it towards putting out the same song or another song as a single and helping fund future concerts," Flannery said. "It's our hope to get our music to more fans."
Second place and $500 went to Paige Arieno, a second-year environmental science major from Rochester who danced to "Billie," with choreography by Kristie Schillaci of The Floor Dance Company. The piece was filmed outside on the RIT campus and in the tunnels under Sol Heumann Hall.
And third place and $250 was awarded to Taylor Greider, a first-year applied mathematics major from Greece, N.Y., who performed a contemporary dance piece, "In Love," with original choreography.
Connor Gerace, a fifth-year computer engineering major from Manlius, N.Y., is the musical director for the Brick City Singers. He said their song was difficult to arrange to make sure it blended well.
"We started learning it in 2020 and were going to use it in our previous concert, but that concert got canceled due to COVID-19," Gerace said. Other challenges were faced in the fall, including practices outdoors to learn and perfect the song.
"We had to be spaced apart, so we couldn't hear as well. It was definitely challenging to get the song to a high benchmark," he said. "But we think it stood out as the one that we thought best represented our abilities."
Other than Flannery and Gerace, the Brick City Singers involved in the video included:
Dustin Van Kirk, a fourth-year chemical engineering major from Canton, Conn.
Abraham Cahn, a third-year electrical and mechanical engineering technology major from Hawley, Pa.
Thomas Fuller, a second-year software engineering major from North Creek, N.Y.
Jamie Howard, a second-year software engineering major from Liverpool, N.Y.
George Stollsteimer, a fifth-year student in the School of Individualized Study for biomechatronics from Newtown, Pa.
Derrick Kempster, a third-year computer science major from Kings Park, N.Y.
Jeff Phillips, a fourth-year industrial design major from Buffalo, N.Y.
Wil Clancy, a fourth-year software engineering major from Eldersburg, Md.
Topics