Continuing down the path to greatness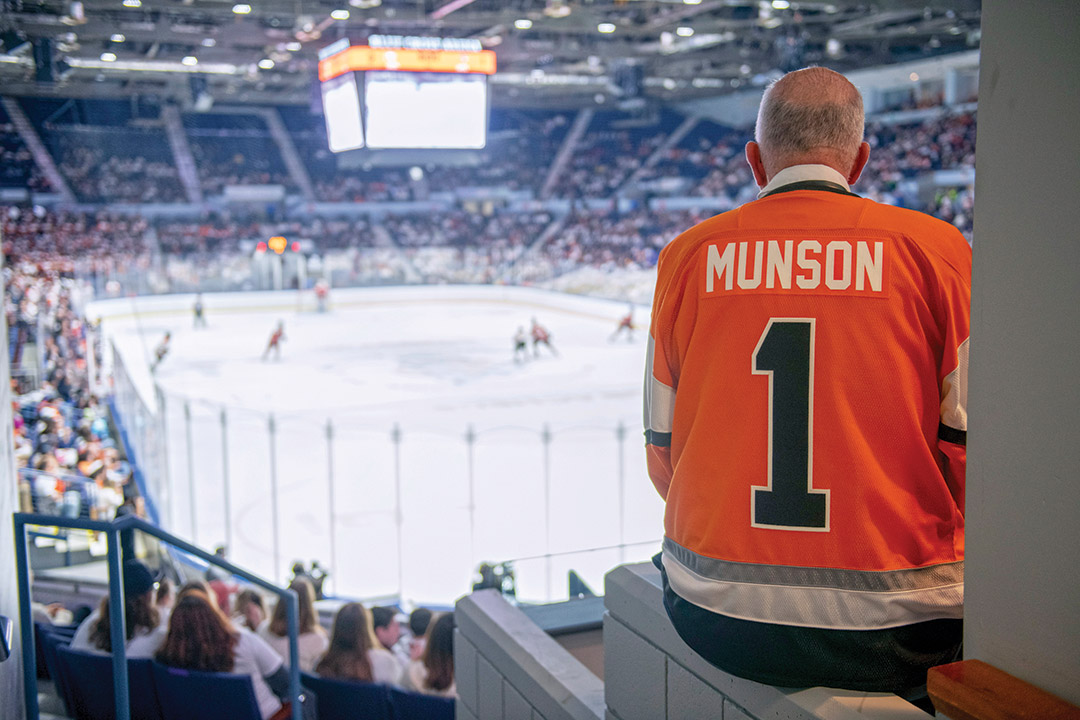 We shape the future and improve the world through creativity and innovation. As an engaged, intellectually curious, and socially conscious community, we leverage the power of technology, the arts, and design for the greater good.
— RIT 2025 Strategic Plan, "Greatness Through Difference"
When we drafted a new vision statement for RIT's Strategic Plan in 2018, the realities of a global pandemic were only a hypothetical part of our crisis training and preparation. While the university continues to carefully navigate the challenge of COVID-19, we have simultaneously never taken our eye off the plan's goals and objectives as we envision our future.
Transforming RIT: The Campaign for Greatness
The $1 billion campaign is bringing our strategic plan to life and has made an impact on every project featured on the pages ahead. The blended campaign seeks support from a variety of investors, including alumni and friends, government and corporate partners, and research foundations and agencies. We are in the final stretch.
Today, midway through our 2025 plan, RIT is on a firm path to realize all we set out to accomplish—and more. We are becoming the university we want to be. This is to say that RIT is one of the top universities in the nation working at the intersection of technology, the arts, and design. And perhaps more important at this time in history, we put a high value on bringing goodness to the world.
We crafted our plan by focusing on four dimensions: people, programs, places, and partnerships.
Imaginative people: Our students, faculty, and staff come to RIT because they are looking for something different in a university—a place where they can exercise their multiple talents, satisfy their thirst for learning and for doing, and experiment freely. RIT's diverse and gifted students, faculty, and alumni are uniquely suited to become constructive agents of positive change. In the RIT context, innovation takes on a rich meaning; it is not about just novelty or originality, it is about creating the tools, processes, and systems that will make things better than they are.
Future-focused programs: RIT is a university of firsts. We created the nation's first bachelor degree programs in microelectronics, software engineering, and biotechnology, and we were early leaders in information technology and computing security degrees. We created the nation's first imaging science Ph.D. and offered the world's first doctoral program focusing on sustainable production systems.
This strategic plan also marks a significant shift in our career education mission. We do a better job at preparing our students for jobs and careers than almost anyone, but today the world needs more than people with a career; it needs people educated to mitigate the threats and navigate the complexities that surround us. Our graduates need skills — analytical thinking, complex problem solving, creativity, resiliency, and flexibility— that can adapt to evolving career fields.
In response to rapid changes in the workforce, including disruptions caused by the pandemic, RIT has created a new category of academic programs—New Economy Majors—that are multidisciplinary, transformative, and future oriented. The majors, ranging from packaging science to new media interactive development, ensure success­ful outcomes while meeting the ever-changing needs of a new and evolving economy.
Creative places and spaces: We are building more space for our creators and makers. Currently underway are the largest construction projects in RIT's history since the move to a suburban campus from downtown Rochester in 1968. This includes the SHED—Student Hall for Exploration and Development—that will house makerspaces, classrooms, a black-box theater, dance studio, and music rehearsal rooms. Complementing this project is a performing arts center that will feature a 750-seat theater and eventually a 1,500-seat orchestra hall for larger audiences. The new facilities are an essential part of RIT's plan to develop the leading performing arts program in the nation for non-majors.
Enriched partnerships: We are extending our reach to serve Greater Rochester and the Finger Lakes region, New York, the nation, and the world. This ranges from exploring the future of "smart cities" at our new campus in RIT Dubai to working on economic development issues involving battery prototyping or digital gaming hubs. And we continue to strengthen the National Technical Institute for the Deaf's position as an international model of inclusive excellence and accessibility.
Since the 19th century, RIT has been an agile and enterprising university. We thrive on being different. We have an uncanny record of anticipating educational needs and trends that benefit the greater society. This is an extraordinary time for RIT, and with our amazing community of creators and innovators, we are on to something that is truly exceptional.
Forever upward,
David C. Munson Jr., President
Topics