Design faculty wins Innovative Teaching with Technology Award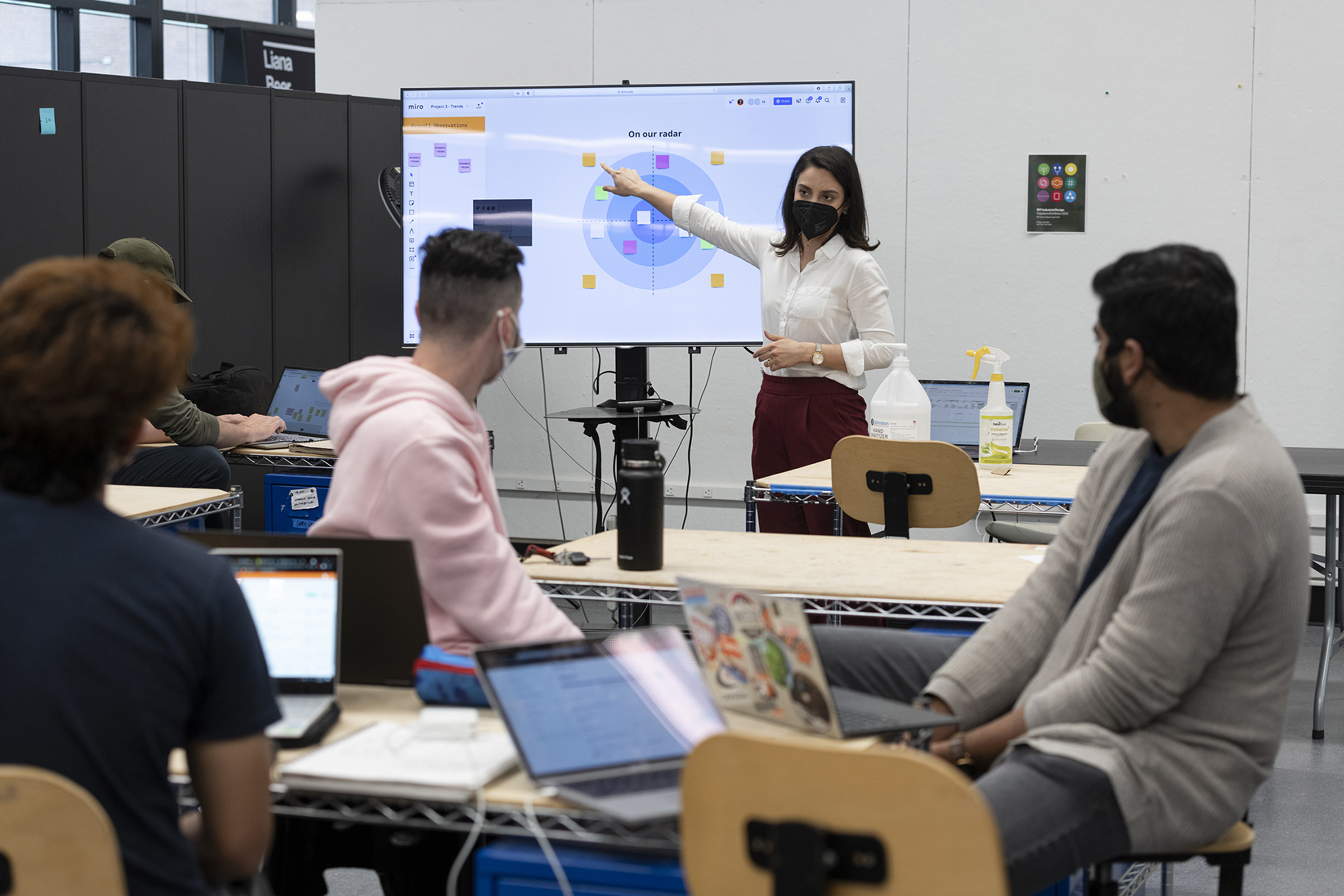 Integrating emerging technologies is at the core of Industrial Design Visiting Lecturer Lara Goulart's teaching philosophy. 
Her approach facilitates creative collaboration — and, in the wake of COVID-19, promotes a safe space for students to learn without compromising the quality of education. 
The ability of Goulart '16 MFA (Industrial Design) to deploy effective strategies that positively impact student learning earned her RIT's 2020-21 Innovative Teaching with Technology Award, annually given by the Office of the Provost. Goulart's work as an educator is the result of applying her research on creative learning methods in the classroom.
The primary technology Goulart infuses in her classroom is Miro, a platform for online collaboration and centralized communication. Goulart has used the tool in her hybrid courses to foster socially-distanced group work and bring together in-person and remote students. It's also been helpful to remotely coach interdisciplinary teams and for students to organize their workflows, Goulart said.
"I discovered that this online collaborative tool was effective in helping motivate and encourage more participation in group critiques, and for feedback in real time during presentations," Goulart said.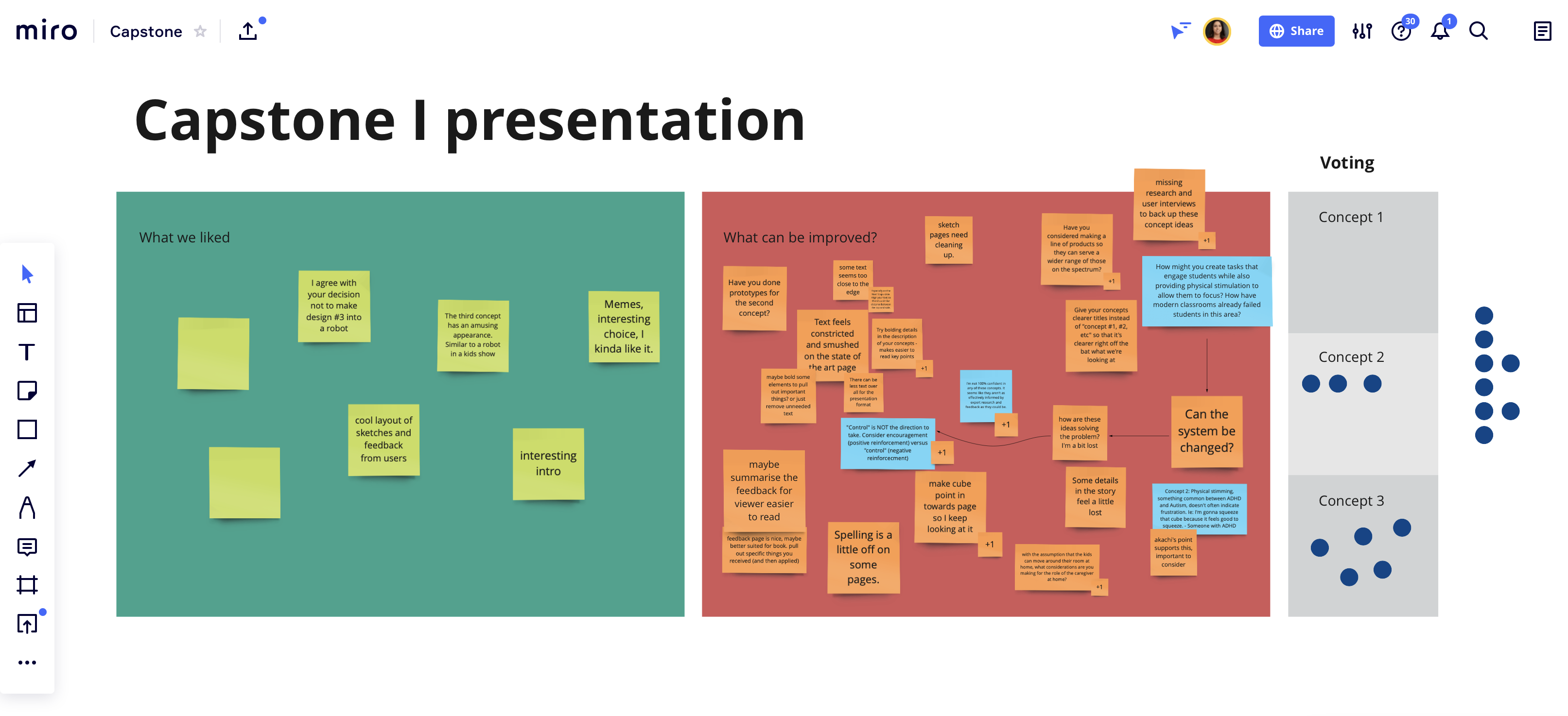 For her Industrial Design Senior Capstone class this semester, Goulart gathered anonymous feedback from students about her teaching approach and use of Miro.
"Miro for critiques is absolutely fantastic," one comment read. "Being able to leave real-time comments as feedback arises is so good."
"I really enjoy using Miro, both for my own organization and for the ability to see what my classmates are working on," another comment read. "I think Lara's support and the times where we talk in groups is super helpful."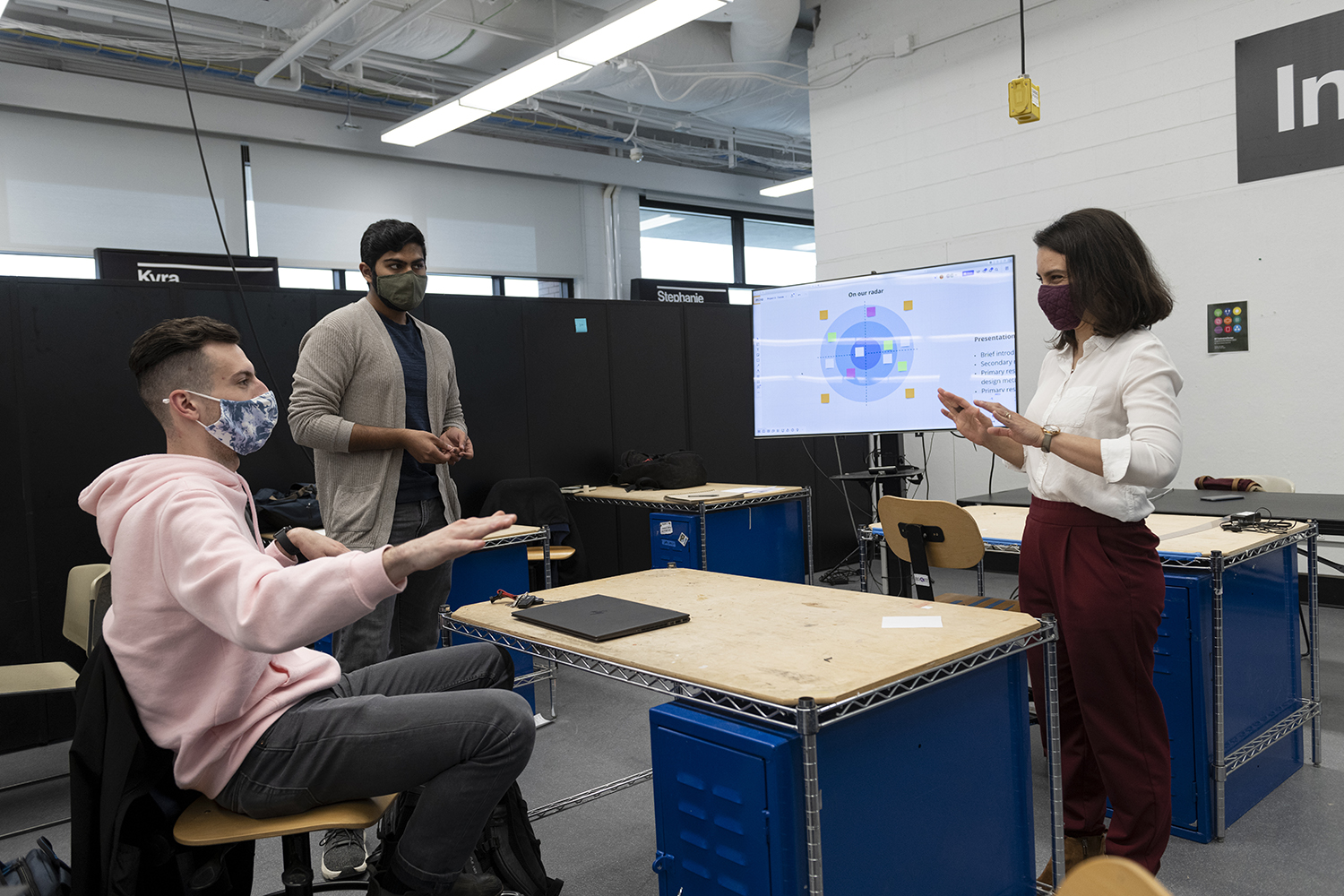 Elizabeth Lamark
Beyond Miro, Goulart, motivated by her curiosity and passion for education, leans on other technologies to promote learning. Her research interests include the influence of product design on physical and remote relationships, educational trends, lifelong learning and play. 
Currently, she is developing the Sketch Challenge website, an ideation toolkit designed to help faculty, facilitators and project leaders stimulate their students and teams to improve on their ideas. The project, supported by a Lecturers' Professional Development Grant from the Office of the Provost, is focused on using creative methodologies to boost confidence and reduce creative blocks. 
After graduating from RIT with an MFA in Industrial Design in 2016, Goulart returned to her native Brazil to share her broad experiences. She was a co-founder and designer at two startups, and proceeded to present in many startup competitions and garner awards in Italy, China and Brazil. Goulart began one of the startups UNA Smart — a revolutionary coffee and tea brewing company — with fellow RIT alumni.
Goulart's entrepreneurial background has also been of value to students. She helps them develop project management skills using contemporary methods and offers strategies on effectively communicating ideas through critical thinking and visualization. 
Goulart started her teaching career in Brazil, working as a design thinking instructor for children and educators based on her startup experience. She returned to RIT and joined the faculty roster in fall 2019.
"I am so grateful for my time as a master's student at RIT, that after years of researching and practicing creative education, I had a desire to become a learner and teacher at this institution," Goulart said. "It has exceeded my expectations so far, thanks to my co-workers and students."
Visit laragoulart.com to learn more about Goulart.