Engineering technology students advocate for new collaborative robot for project course
Empire Automation Systems donates high tech equipment to support hands-on learning experience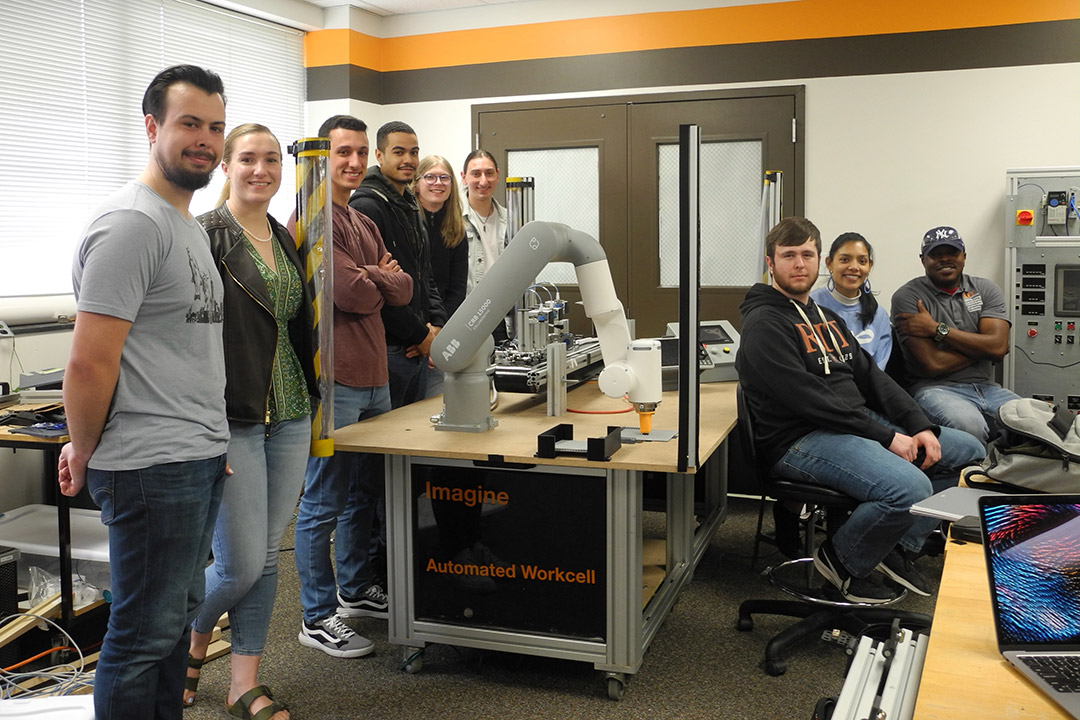 There were no robots available for the class.
But when Don Davis and Brian Guy were approached by undergraduates in the engineering technology robotics class for support, they found a way to improve the situation.
Davis '91 (manufacturing engineering technology) and Guy, chief executive officer and sales engineer with automation and control systems provider Empire Automation Systems, donated a high-tech collaborative robot at the start of the spring semester.
The solution made it possible for the students to learn first-hand how to design, test, and build a fully functional, automated assembly system.
"Don and I both are passionate about helping people and sharing the technology," said Guy. "We see the demand in industry, the labor shortages, and we are on the verge of a pretty amazing automation revolution. This was a robotics class that didn't have a robot, and we were able to help the students and we are excited to hear that their project is going well."
In 2019-20, the College of Engineering Technology (CET) launched its robotics and manufacturing engineering technology undergraduate degree program. Featured as a new economy major, a fast-growing, multi-disciplinary field, interest resulted in many more students and a focus on skills needed for advanced manufacturing.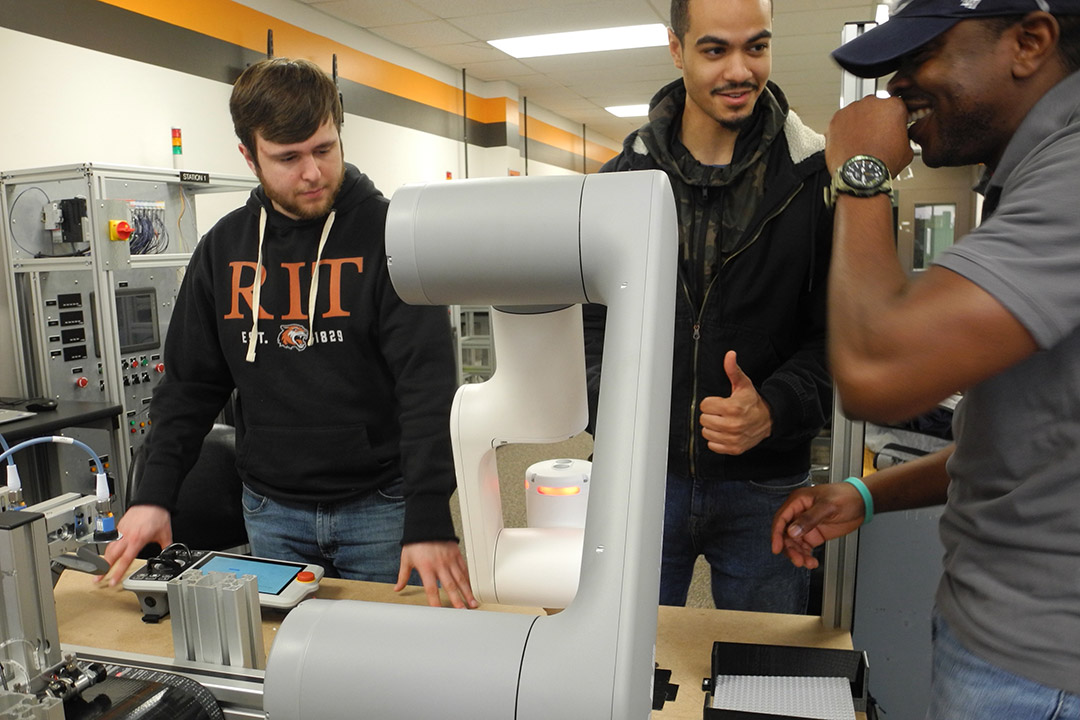 The college worked as fast as it could to acquire necessary equipment. With help from today's students who advocated for an additional robot, they paved the way for classmates of tomorrow.
The ABB Robot installed in CET's Automated Systems Control Lab is being used in a senior-level, project-based course. Students are developing a new toy production system which involves moving Lego-like blocks along a conveyer. It sounded simple but meant integrating technology from sensors and actuators to programmable logic controllers to coordinate multiple assembly functions. 
"This is something you will do in industry. It's not extensive now, but you can explode this; it's definitely something you'd see at Amazon or any big manufacturing sites," said Joe Bilby, a fifth-year manufacturing and mechanical engineering technology student who rallied his classmates to ask for the robot.
Together they prepared a presentation for the CET dean and Empire Automation leadership that included a project plan with system requirements and an explanation of how the equipment will improve their understanding of implementing robotics technology. Automated systems can be simulated, however, building a system by hand is essential, said Bilby.
"Even though our system is smaller in scale, it is a lot of the same processes and technologies that you would see in big companies. I learned some of the control panel build stuff from my father, who has been in industry for almost 30 years now, and through my co-ops," said Bilby, who will graduate in May and start work at Liberty Pumps. "I think this helped contribute to how that panel came out. It is the brains of the whole cell; without that, nothing would work."
Students had assigned responsibilities and installed electronics, sensors, and other programmable components. Walking into the lab where they worked was similar to a corporate setting with team discussions about system status and test results.
"The course helps students understand aspects of a project that can be automated, and when manual assembly is needed," said Audra Hale, class project manager. She did a co-op at General Motors on one of the company's engine assembly lines and will work after graduation in May at PEKO Precision in a similar capacity. "The major, and this class, puts importance on connections between different engineering fields. This is about making all the teams work together like a real department."
Davis agreed.
"I have been in this game for almost 30 years, and every year I get more excited about the opportunities coming forward with automation as the U.S. is on-shoring manufacturing again. The ease of implementing robotics is easier and less expensive than it's ever been," said Davis. "I am a big believer that the more we help people, the more we all learn and the more we all succeed. It's about helping the students, helping RIT, and other schools in the robotics field."
Members of the team are: Alex Johnson, from East Quague, N.Y.; Audra Hale, from Belchertown, Mass.; Joseph Bilby, from Hilton, N.Y.; Alec Harris, from Syracuse, N.Y.; Spencer Vang from Libertyville, Ill.; Max Morales from Framingham, Mass.; Victor Halfmann from Bloomfield, N.Y.; Muniyath Chowdhury from Queens, N.Y.; and Samuel Ologun from Nigeria.
Topics