Graphic design faculty expands creative practice with furniture design MFA pursuit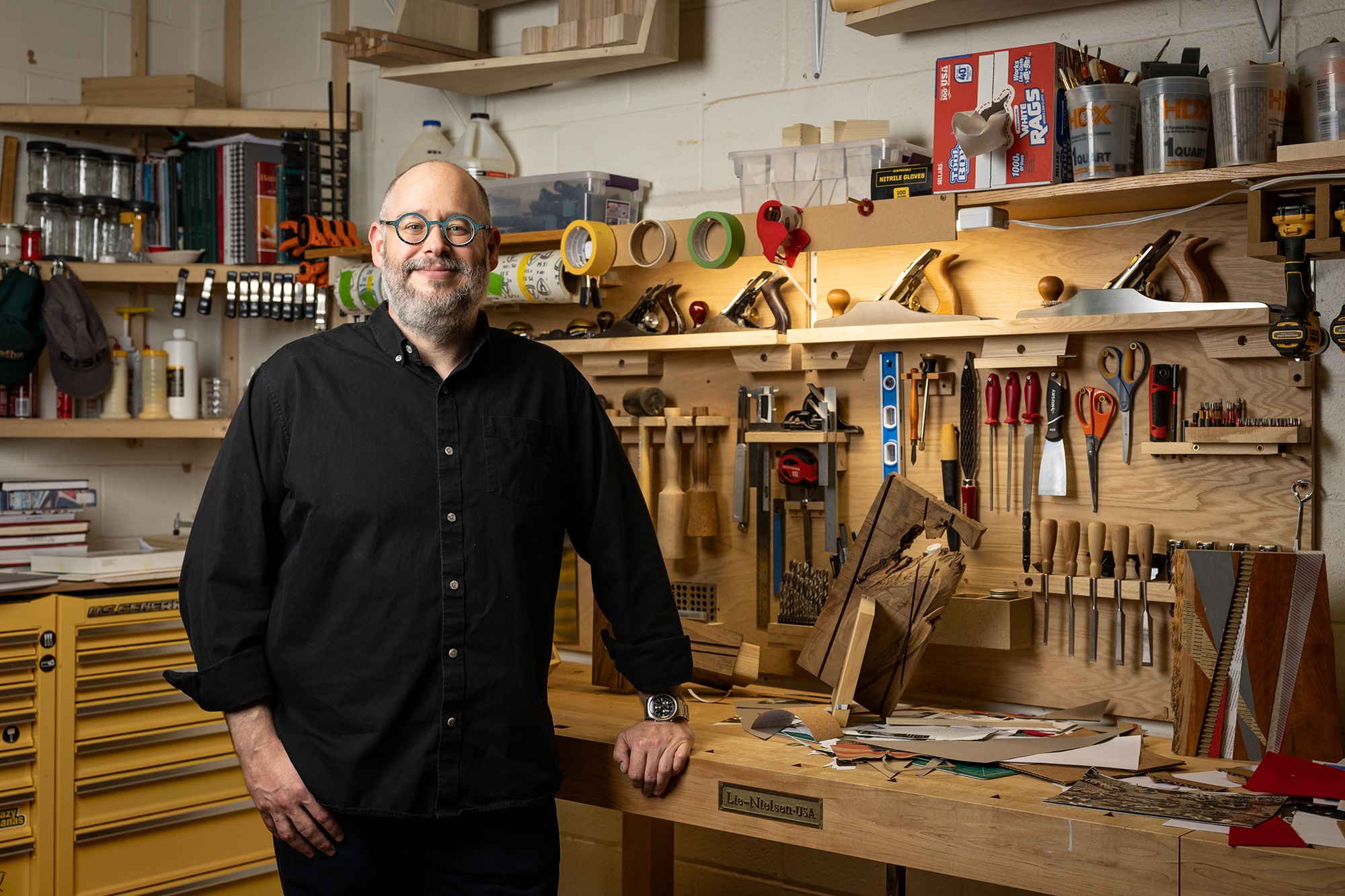 Mitch Goldstein is the embodiment of a lifelong learner. 
"A long time ago I said to someone, 'If I ever win the lottery, I am going to get master's degrees until I die,'" said Goldstein, associate professor in Rochester Institute of Technology's School of Design. 
Teaching at RIT has been a form of hitting the jackpot for Goldstein, who is pursuing his second MFA degree, in RIT's furniture design graduate program. Not only does Goldstein feel he struck gold being in an environment with a wide portfolio of creative offerings, full-time RIT employees are offered a tuition waiver benefit. 
As an accomplished graphic designer who teaches in RIT's graphic design program, furniture design is a fascinating expansion of Goldstein's creative practice. 
"It's been an interesting place to apply my ideas into a totally different form," said Goldstein, who is working on his thesis this year and anticipates graduating in May 2023. "Not taking the opportunity to do this would kind of make me a jerk, I think. It'll help me teach better and it'll give me more skills in terms of what I can teach."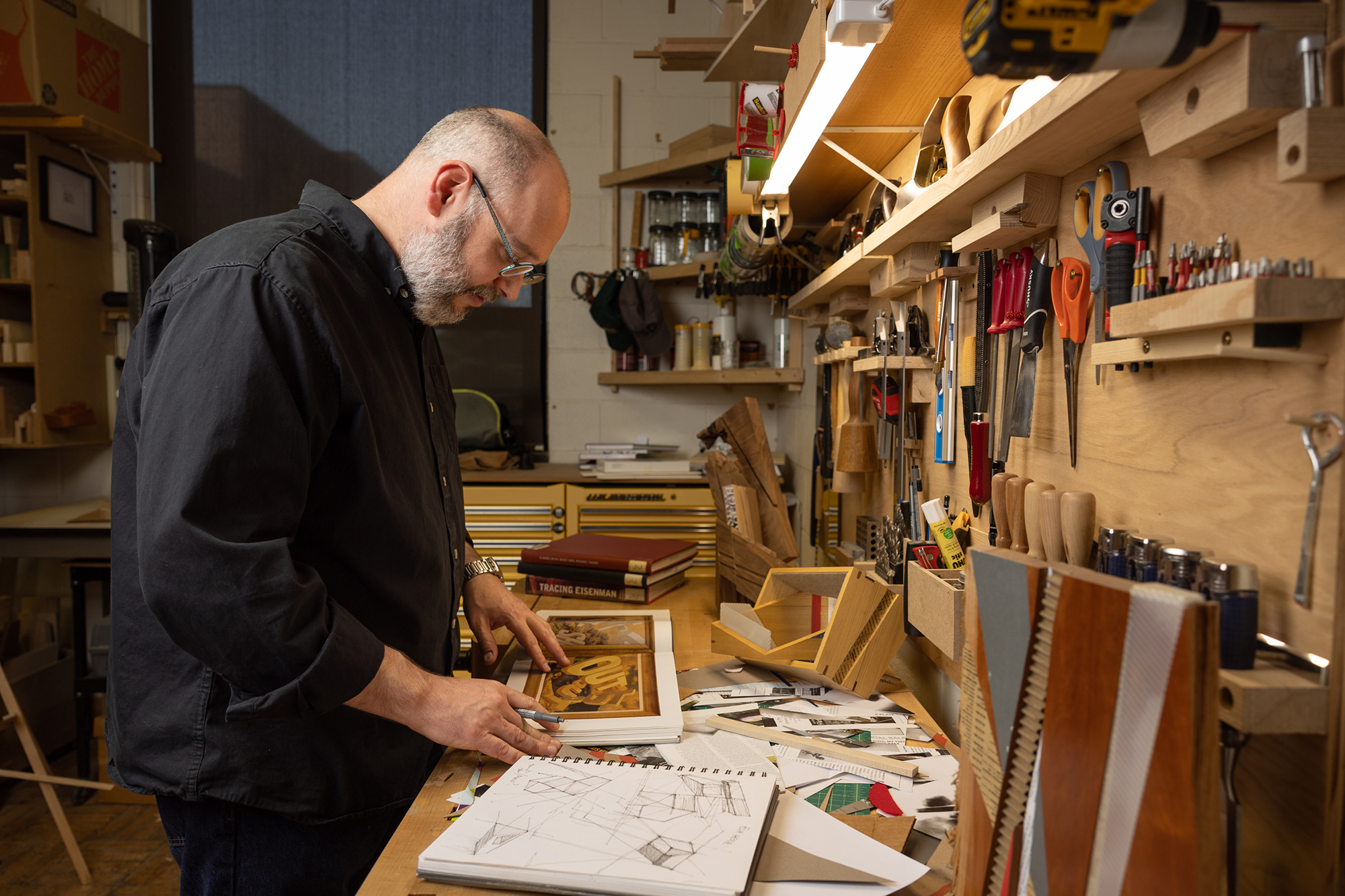 Quinn Freidenburg '24
Goldstein is a familiar name to tens of thousands of Twitter users. Goldstein (@mgoldst) is highly active on the platform, sharing his thoughts on design and other creative fields in relatable, thoughtful and comedic ways. His witty Venn diagrams are particularly well-received by his 44,000-plus followers.
A few years ago, Goldstein's fun and insightful tweets grabbed the attention of Princeton Architectural Press, which reached out to him about writing a book that is now nearing completion. How to be a Design Student (and How to Teach Them), written by Goldstein and published by Princeton Architectural Press, will be released in spring of 2023. 
Goldstein describes the book as an elaboration on his comparatively bite-sized tweets, largely a collection of advice and encouragement for art students and a peek into his teaching style.
"That was the genesis of it, expanding these 280-character blurbs into a chapter," he said. "That was the initial impetus to write, and then it refined itself from there. I'm glad I get to explain myself further."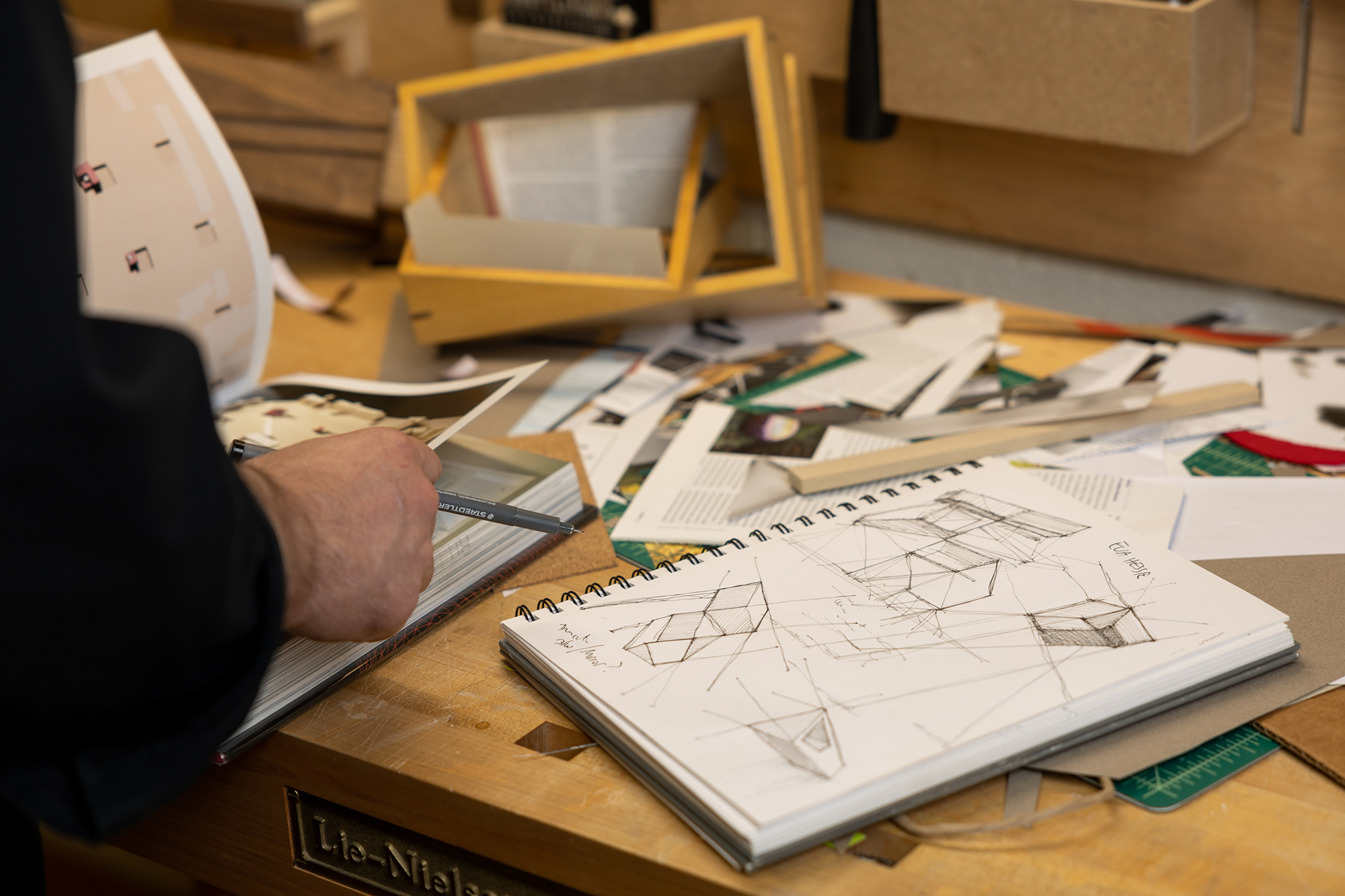 Quinn Freidenburg '24
How to be a Design Student — also designed by Goldstein, including one of his signature diagrams in each chapter — is two-thirds directed at students pursuing a degree in a creative field and one-third at educators. 
Goldstein said the goal is for readers from both demographics to learn how to maximize the higher-education experience.
For students, it reads as some form of a survival guide — an authentic account of what art school entails through his lens. For educators, "it's almost a really long teaching philosophy or pedagogy," Goldstein said. 
"I don't view teachers and students as two different things," Goldstein said. "I see it as the same team with different perspectives."
If his Twitter following is any indication, Goldstein will have a strong market for his book, especially since he intends to make it affordable.
Readers will find that Goldstein subscribes to a student-centered teaching approach and encourages students to be passionate about what they make.
"For me it's about helping, not telling, students to develop themselves," Goldstein said. "My philosophy is more of an exploratory idea with some feedback. It's a lot less about rules and right or wrong. The gray, ambiguous, nebulous cloud of miscellaneous stuff, that's where it's interesting."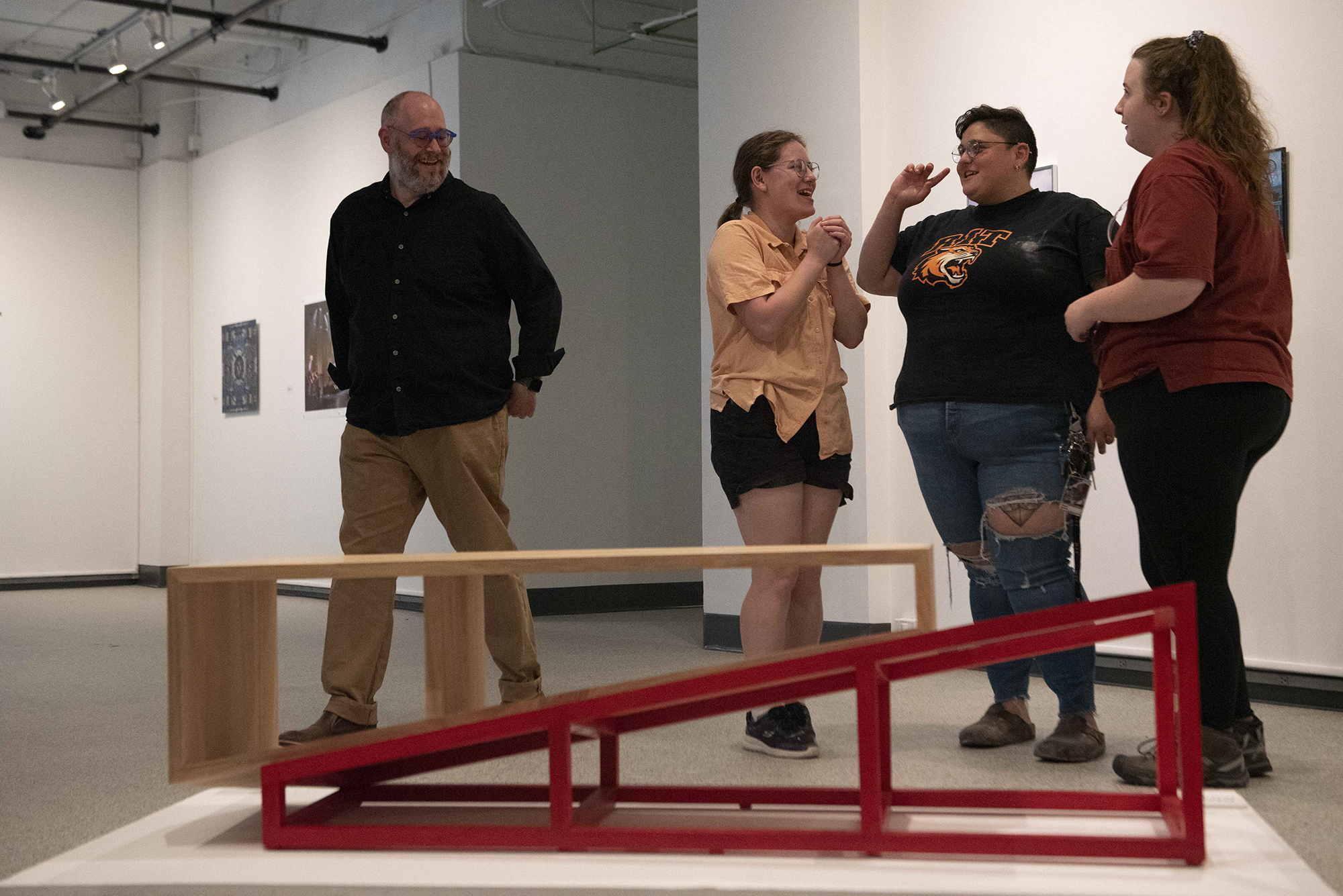 Daniel Sarch '23
Students having the ability to explore traditional, cutting-edge and esoteric practices has made teaching in the College of Art and Design the last 10 years a natural fit for Goldstein.
"That's the secret sauce," Goldstein said. "If we can get students to go into a job and work from day one, but also be able to run their own studio 10 years later and be really creative and really out there, that's my hope for the students we have here. And what's great about RIT is we can do that."
Goldstein's path is a quintessential lesson in resilience. He returned to undergraduate studies in his early 30s after hitting pause on higher education for more than a decade. Now, he is guiding the next generation of artists on their creative journeys.
"It really is never too late," Goldstein said. "That's what is so awesome about being curious. Being curious is a great methodology of life."
Daniel Sarch '23
Curiosity also attracted him to RIT's furniture design MFA program. The decision was met with enthusiasm from college leadership, which Goldstein considers emblematic of the College of Art and Design's inquisitive nature.
The worries inherently associated with a major career step were quelled by the comfort of being able to always call on an esteemed community of artists for support. And his colleagues may soon be asked to help with another big decision.  
"When I graduate I'm going to let the faculty negotiate with me for the next master's degree," Goldstein said. "We'll see who wants me."
Topics