Meet the photographic sciences program's Class of 2022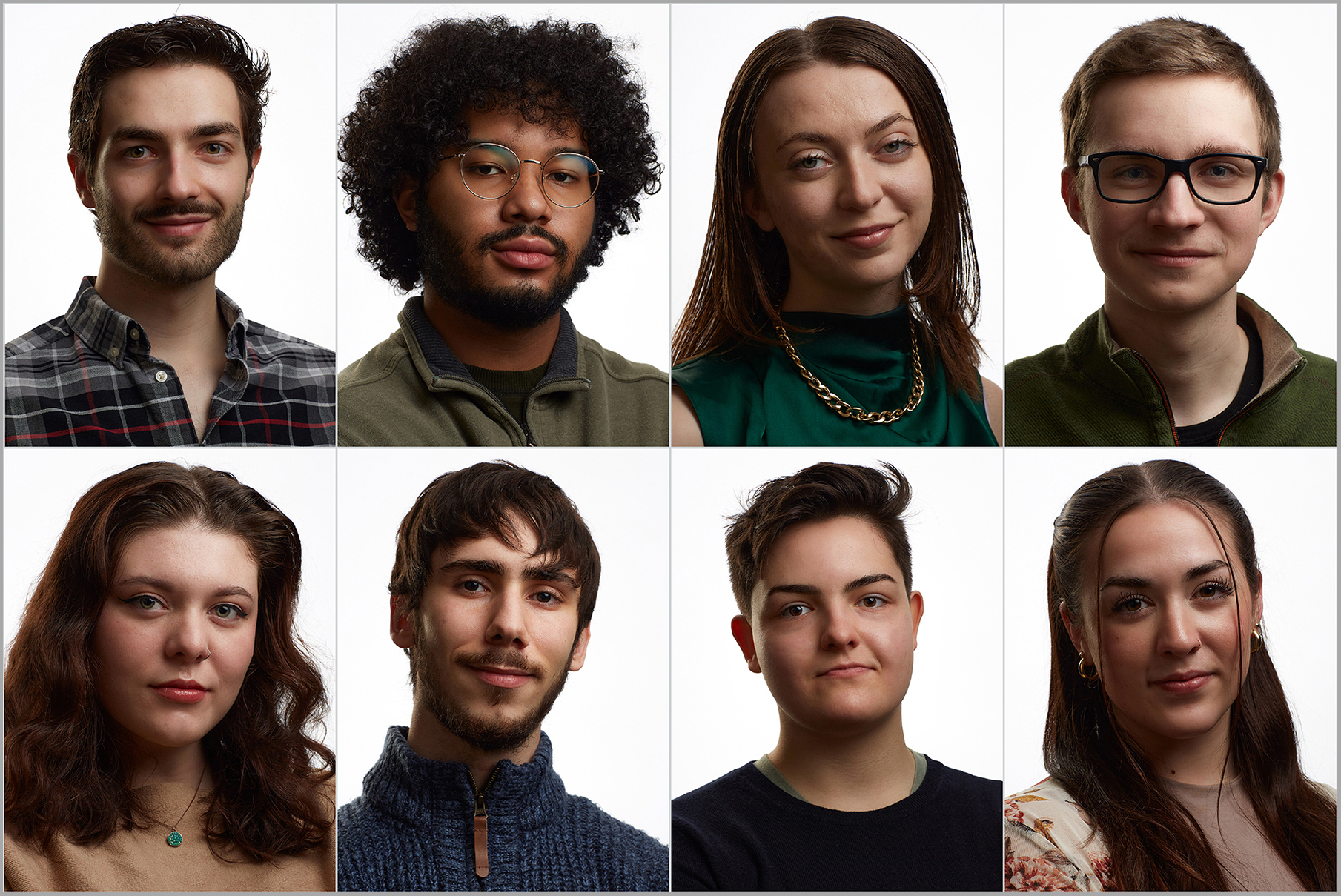 RIT's photographic sciences program provides students with a one-of-a-kind academic experience that leads to employment at eminent imaging and camera companies, research centers, forensic laboratories and government agencies. 
With alumni employed at the likes of Apple, Carl Zeiss Microscopy, Mayo Clinic, NASA and Tesla, this year's photographic sciences graduating class is poised to continue the program's legacy of making a sizable impact in a range of fields.
Meet the Class of 2022 through a recounting of the seniors' experiences in the program and their future plans.
Daniel Bacon
"Through RIT photo sciences I've discovered my passions for color science and high-speed photography/instrumentation," Bacon said. "These along with the other fundamental skills I've learned in the program have led me to exciting opportunities post-grad."
Grayson Barrett
"I originally came to RIT for the photographic and imaging arts program, but I always had a passion for the sciences," Barrett said. "So once I heard about photo sciences I immediately switched and I've been in love with it ever since. When I wasn't on campus, I was either working part-time at D3 Engineering as an imaging science tech or out shooting HDRs (high dynamic range) or panoramas."
​​Emily Bishop
Bishop accepted a position as a product support engineer for Edmund Optics, one of the world's leading manufacturers of optics, imaging and photonics technology. 
"I originally chose RIT because I felt this school would foster my ambition," she said. "In high school, I wasn't exactly sure what I wanted to do because I was strong in science, but I also really enjoyed photography. It was important to me to find a school that was diverse, but also had a strong placement rating for its graduates, and RIT checked both boxes for me."
Jackson Glozer
"The Photo Science program at RIT has allowed me to dive deep into my interests through the flexibility to take courses from different schools to further my knowledge of the field," Glozer said. "This has taught me valuable skills that I have applied in real-world situations through the cooperative education program (Glozer completed a co-op at Tesla)."
Katelyn Oleck
"Being at RIT in the photo sciences program has taught me so many unique skills that I can apply to my career once I graduate," Oleck said. "One thing I love about the program is the flexibility to find your niche and discover what you really love through the avenue of photography."
Derek Oliwa
"When I entered RIT, my main interest was photography, but I knew I didn't want to let go of science entirely," Oliwa said. "Four years later, I've shifted completely over: I'm staying at RIT for a Ph.D. in imaging science, focusing on optics research. Photographic sciences connected these two worlds for me and helped me find my path."
Liz Stublen
"One of my favorite things about studying photographic sciences at RIT has been the faculty." Stublen said. "Truly experts in their fields, the professors and lecturers work tirelessly with students to help them achieve their personal academic goals. I also pursued a minor in psychology and a great deal of imaging science coursework, which complemented the photo sciences curriculum and further covered topics of human vision and perception, image processing or electronics and technology. After college I hope to work as an imaging engineer with specialized techniques like hyperspectral imaging."
Georgana Williams 
Williams will be furthering her love of imaging and working with patients in pursuit of RIT's echocardiography (cardiac ultrasound) certificate. Williams will be a pediatric echocardiography specialist upon completing the certificate.
"In my experience at RIT within the photographic sciences program, I had the ability to pursue my love for medical imaging," Williams said. "The support from all of the faculty here is amazing and they all push their students to be the best they can be — which I think is an important part of trying to find your path through your college experience. The knowledge and relationships made throughout four years have helped build me and guided me to where I am today."