More than 250 exhibits planned for Imagine RIT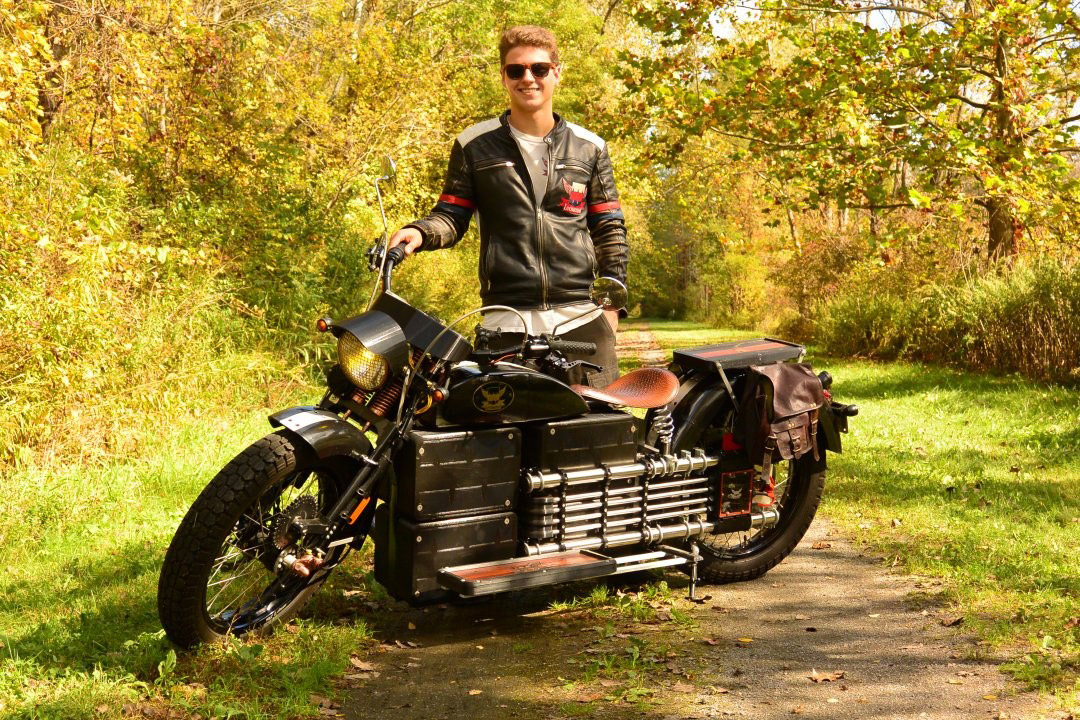 A total of 272 exhibits varying from robots, virtual reality games, molten glass demonstrations, scavenger hunts, and performing arts are planned for this year's Imagine RIT: Creativity and Innovation Festival from 10 a.m. to 5 p.m. on April 23.
Many of the exhibits are new, while others, like the human hamster wheel, are traditional favorites.
The popular festival, which is free and open to the public, welcomes tens of thousands of people from the community to see, and often try out, work being done on the RIT campus.
This is the first year Imagine RIT has resumed as an in-person event since 2019 due to the COVID-19 pandemic. Following current RIT protocols, all visitors ages 5 and older are required to be vaccinated with photo I.D. to attend; masks are optional.
Imagine RIT will also have many virtual elements for the global audience and for people who cannot attend in person.
Here's just a taste of what visitors can expect this year.
New exhibits
Leonard Starrettania Custom Electric Motorcycle
This is a personal student project completed with the help of three $1,500 grants from RIT's Dick Reeves Fund for entrepreneurial students working on personal projects.
All of the parts were designed and built by Hunter Leonard, a fifth-year mechanical engineering major from Boston. He used a 3D printer and RIT's Kate Gleason College of Engineering Machine Shop to build this prototype of an electric motorcycle. It looks like it is 100 years old, but still has the performance of a modern 40 horsepower motorcycle. He's driven it up to 90 mph.
Foosball Tracking and Visualization Live
For too long, humanity has lived in a world devoid of a system that can automatically track a foosball as it traverses the table. Recording at 30 frames per second, a camera is able to detect and assign a region of interest to a ball as it is hit around the table. As the ball changes position across the frames, the pixel values change to white. A major issue was making sure the code could still find the ball when obstructed by the rods. Using motion sensors strategically placed around the table, the ball can be detected even when the camera cannot see it. Visitors will be able to play a round of foosball and view the data from their game in real time.
That Damn Goat — Video Game Development
That Damn Goat! is a party game where chaos reigns, frustrations mount, and everything you think you know about your situation is instantly thrown out of whack by a head-butting goat with magical powers. It has an anticipated 2023 release date on the Nintendo Switch.
The development philosophy of Goat is that it will be faculty-led and student-developed, and aims to mimic standard industry production practices and methodologies to provide a best-in-class student experience. The project is expected to span multiple years and cohorts of student talent and is currently in the prototyping phase with a dedicated and driven team of student developers and artists from various majors at RIT. Goat is being produced in residence at MAGIC Spell Studios with the support of the MAGIC team.
Visitors can use their phones and a QR code at the exhibit to search for AR shaped gems of power around campus. Once enough gems are collected, visitors can return to the exhibit to collect their grand reward. This project is the result of a new media design class.
This exhibit will allow individuals to interact with a two-armed collaborative robot by scrambling a Rubik's Cube and placing it in front of the robot. The robot will then work in conjunction with a python script to solve the Rubik's Cube before placing the solved cube on the table.
The COVID-19 pandemic necessitated mask wearing to prevent the further spread of the disease. Although masks are critical for public health and safety, they also muffle the wearer's voice and cause speech comprehension difficulties during conversations with others. This is a significant access barrier for the deaf community, many of whom rely on lip-reading to understand speech. "Caption Mask" is a wearable device prototype to facilitate easy access in everyday conversations that uses automatic speech recognition, a Raspberry Pi, and a 3D printed case/cloth to deliver real-time captions on a face mask.
Returning projects, many with new twists
The RIT Theme Park Enthusiasts return with their most ambitious exhibit with a trip back in time to when dinosaurs ruled the Earth. Imagine RIT visitors will once again be able to experience an immersive scale theme park which will feature at least 15 scale amusement park rides built using all kinds of materials and will be bigger than ever before. More than 50,000 K'NEX pieces will be used in the construction.
The goal of this exhibit is to get people interested in STEM and FIRST Robotics. Various robots will be displayed with explanations about how they work. RIT students will be available to answer questions, such as how visitors may join a FIRST Robotics team.
RIT Hot Wheelz Solar Racing Vehicle
RIT Hot Wheelz is a performance vehicle team that designs, builds, and tests a solar race car while focusing on women empowerment in STEM and leadership. They will be featuring some components and designs from their latest solar race car, Solana.
Step into the VR Planetarium to explore the cosmos and learn more about the stars. Using virtual reality technology, the VR Planetarium renders a scientific representation of the night sky with stars that users can pick out to view for a closer look.
"Big Bertha" is the name given to Engineering House's Giant 3D Printer. Originally designed and built in 2018, it has undergone continuous revision and adjustment through the years.
It is capable of printing parts up to a massive 2-feet by 4-feet, which far surpasses any consumer printer available on the market, and has played an important role in some student projects, including prototyping and design of large parts.
It has several motors and is able to be monitored from the Internet.
The RIT Student Chapter of the American Chemical Society welcomes guests to break down strawberries both physically and chemically to reveal DNA visible to the naked eye. Guests will be able to take home this DNA in a microfuge tube as a necklace or bracelet.
For a complete list of exhibits and to plan your day, visit the Imagine RIT website.
Topics