Performing Arts to continue this fall at RIT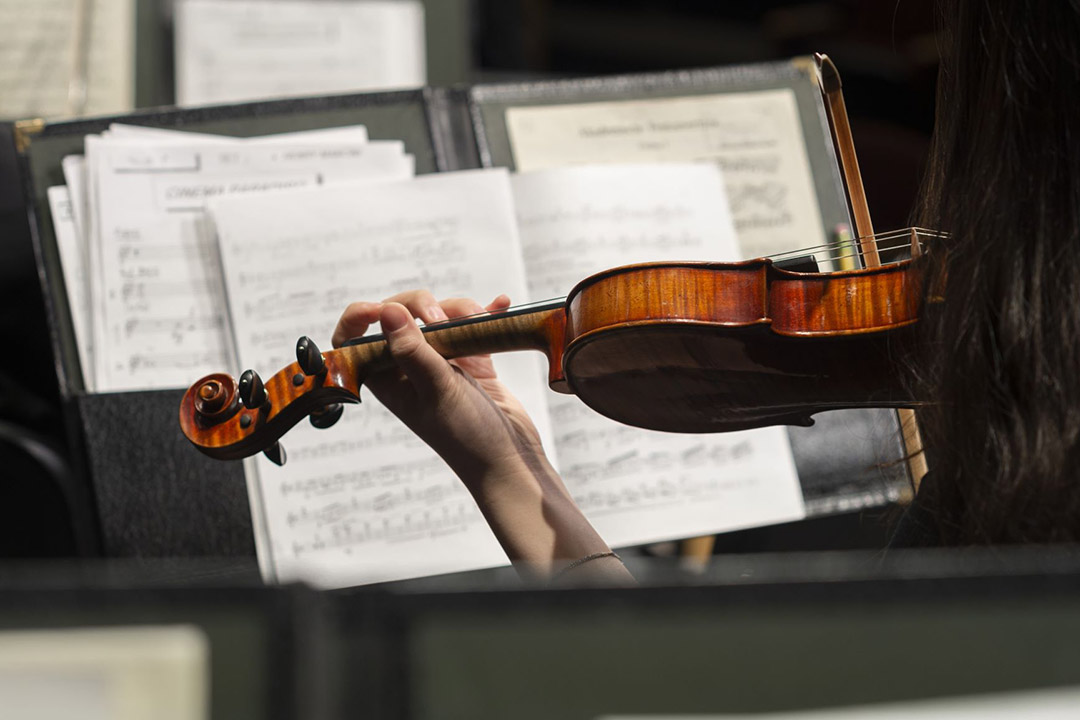 Elizabeth Lamark
The show must go on – even if it means virtually.
That's the message being sent by Rochester Institute of Technology's departments of performing arts at the College of Liberal Arts and National Technical Institute for the Deaf to the more than 1,000 students who typically participate in instrumental music, singing, dancing, acting, and other performing arts activities.
"As with most things, COVID-19 has impacted the performing arts and entertainment world, necessitating changes in the way we practice, perform and learn," David Hult, director of the Performing Arts Scholars Program, and Ian Mortimer, vice president for Enrollment Management wrote in an email to 477 students who received performing arts scholarships this year. "While performing arts offerings at RIT may look and feel differently from how they normally operate, we are committed to making sure they are available for you in a healthy and safe manner."
The issue currently is how artists can safely rehearse and perform while physical distancing requirements are still in place. To complicate matters, restrictions and guidelines have changed since the pandemic began and will likely continue to change. A jazz ensemble of 12 to 14 members would be too large to practice together in close proximity, not to mention an orchestra of 65 members. Even if a very large rehearsal area was selected that would accommodate physical distancing, would the result produce the same emotion? Singing in close proximity to others and even playing a flute could spread the virus if a person has it, health officials say.
Still, there are several creative ways performing arts are expected on campus this fall:
Clubs. RIT has 36 student clubs that involve performing arts, music, and dance that will continue to meet in person and/or online depending on the meeting or event. Space is being sought to determine how these groups will be able to operate but they will be following Centers for Disease Control and Prevention recommendations and RIT's safety guidelines.
Applied music lessons will continue virtually or in-person. 
Music ensembles via sectional rehearsals, online master classes and workshops, online clinics, and perhaps outdoor rehearsals or performances in the earlier part of the semester. Students are encouraged to make contact with the director of the respective ensemble they are interested in joining for more information.
Chamber group opportunities including trios, quartets, and quintets for brass, woodwinds, strings, and other instruments. 
KeyBank Rochester Fringe Festival remains scheduled for Sept. 15-26 with the first-ever virtual Fringe. RIT committees are meeting to determine how the university will participate to showcase our performances potentially with a hybrid approach – virtually for the Rochester community and in-person for our campus constituents.
Music composition and production courses will continue as planned, including Electronic Music Production, Composing for Media, and Composing for Video Games.
Commercial rock and recording opportunities as part of Tiger Records, RIT's own record and entertainment label.
Dance at RIT will offer classes in hip-hop/jazz dance and ballet and modern dance in the Robert F. Panara Theatre. Also, an open showing of a dance film is being scheduled.
Theater productions are holding virtual auditions at the beginning of August for two shows this fall.
"Spoon River Anthology" is a collection of character poems about identity from 1918—a year which also experienced a global pandemic. Individual stories will create a sense of what it takes and who it takes to create a community. Its 72 characters include those who are deaf, hearing, inclusive and diverse, and whose lives reflect the spectrum of human experience. There will also be a troupe of dancers for transitional scenes.
The production's curator and adapter-director Luane Davis-Haggerty, principle lecturer in NTID's Department of Performing Arts, said it will give a sense of past and present coming together through the magic of theater. Deadline for video auditions is Aug. 9.
And "SOMNIUM," conceived and directed by New York City-based theater creator Omen Sade, is a cross-departmental, interactive digital-theater experience where the audience is the hero.
The production, which Sade calls a hybrid between a video game and film experience, will feature six actors and a green screen which will provide a virtual reality space allowing the audience to participate. The plot features a group of scientists who voyage into the collective dream-space of humanity, searching for the origin point of dreams.
Auditions for "SOMNIUM" may be made via Zoom on Aug. 5, 7, or 8, or via video by Aug. 9.
An outdoor stage large enough to hold up to 15 people (safely distanced) and two 23-foot-diameter screens will be set up on campus this semester, allowing for some performances. An outdoor tent is also being evaluated as a possible venue.
Thomas Warfield, RIT's director of dance, said challenging times often generate creativity, which is cultivated and nurtured whenever we engage in the arts.
"The performing arts and fine art courses and the student performing arts clubs on campus are vital to student development and allow students to relax from an overly cerebral focus," Warfield said. "The arts remind us of life's enjoyment and how valuable our imaginations are in coping with overwhelming demands."