Printmaking workshop showcases innovative processes of visiting artists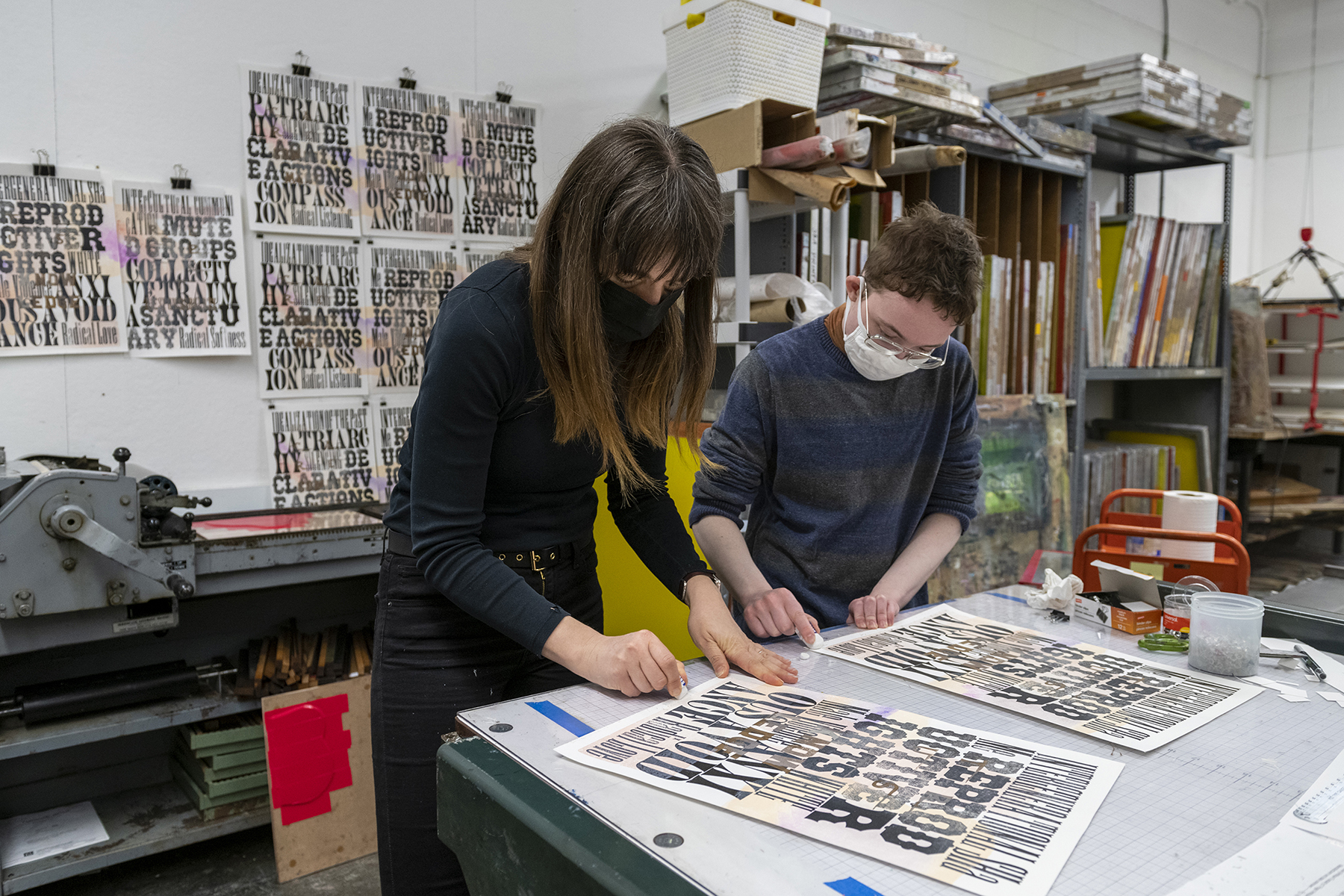 Friedhard Kiekeben jokes that he has lived in Rochester for eight months of his life. 
The German-born artist has been a frequent flier in RIT's printmaking studios — as a guest speaker and for research collaborations with Professor Eileen Feeney Bushnell and before her, former faculty Keith Howard. 
Kiekeben returned to his alternate home as one of 12 accomplished printmakers participating in RIT's Artists Print! event May 15-21. The residency program invited the artists to campus for a lively week of creating and experimenting. 
They explored familiar and new printmaking processes to produce monoprints that were exhibited and added to RIT's vast archive collections. Monoprinting is an artform where the produced image can only be made once, resulting in a unique, one-of-one piece.
A monoprint from each artist was showcased and auctioned off at RIT City Art Space while another was selected for inclusion in the Cary Graphic Arts Collection.
"Every time I've had an incredible time at RIT," Kiekeben said. "It's such a nice, creative community. This event works on so many levels because we all became friends. We also exchanged new ideas — conceptual, new approaches, new materials, things you can do in the future. Just a lot of fun and camaraderie, all within this framework of feeling welcomed by the people who work at RIT."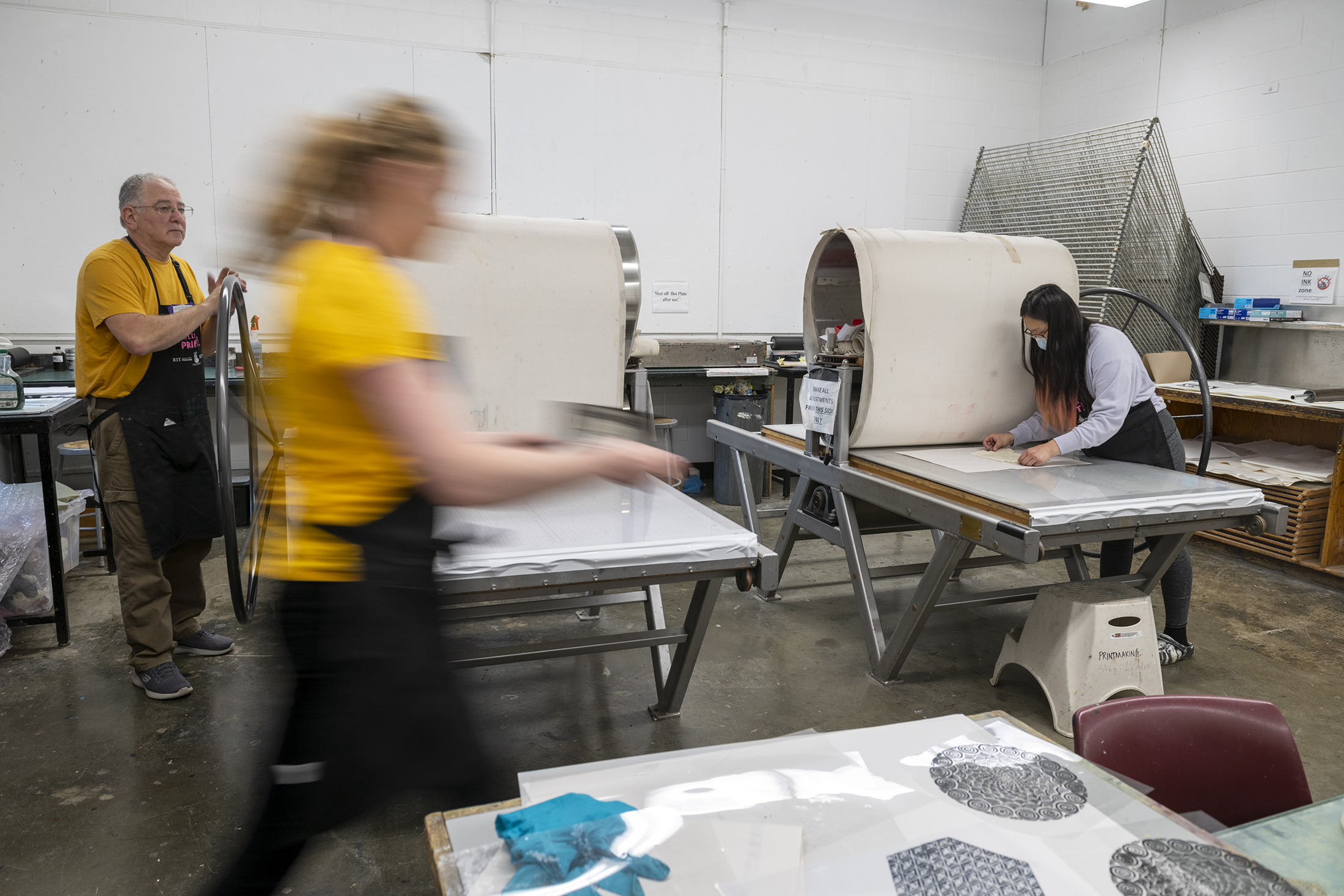 Elizabeth Lamark
Bushnell was the lead organizer of Artists Print!, sponsored by RIT printmaking in collaboration with RIT's Cary Graphic Arts Collection and the Print Club of Rochester.
A host of RIT College of Art and Design faculty, students and alumni assisted the artists throughout the week, and open studio hours welcomed the public to witness the energetic and collaborative environment.
"I think that's important, that dialogue that's happening between students and the artists," said Marchelo Vera '06 (graphic design), '12 MFA (fine arts studio), one of the visiting artists who is an assistant professor of printmaking at The College of New Jersey. "I didn't want to come here and only print. It's part of the experience to engage with people who are coming in and talk with the other artists."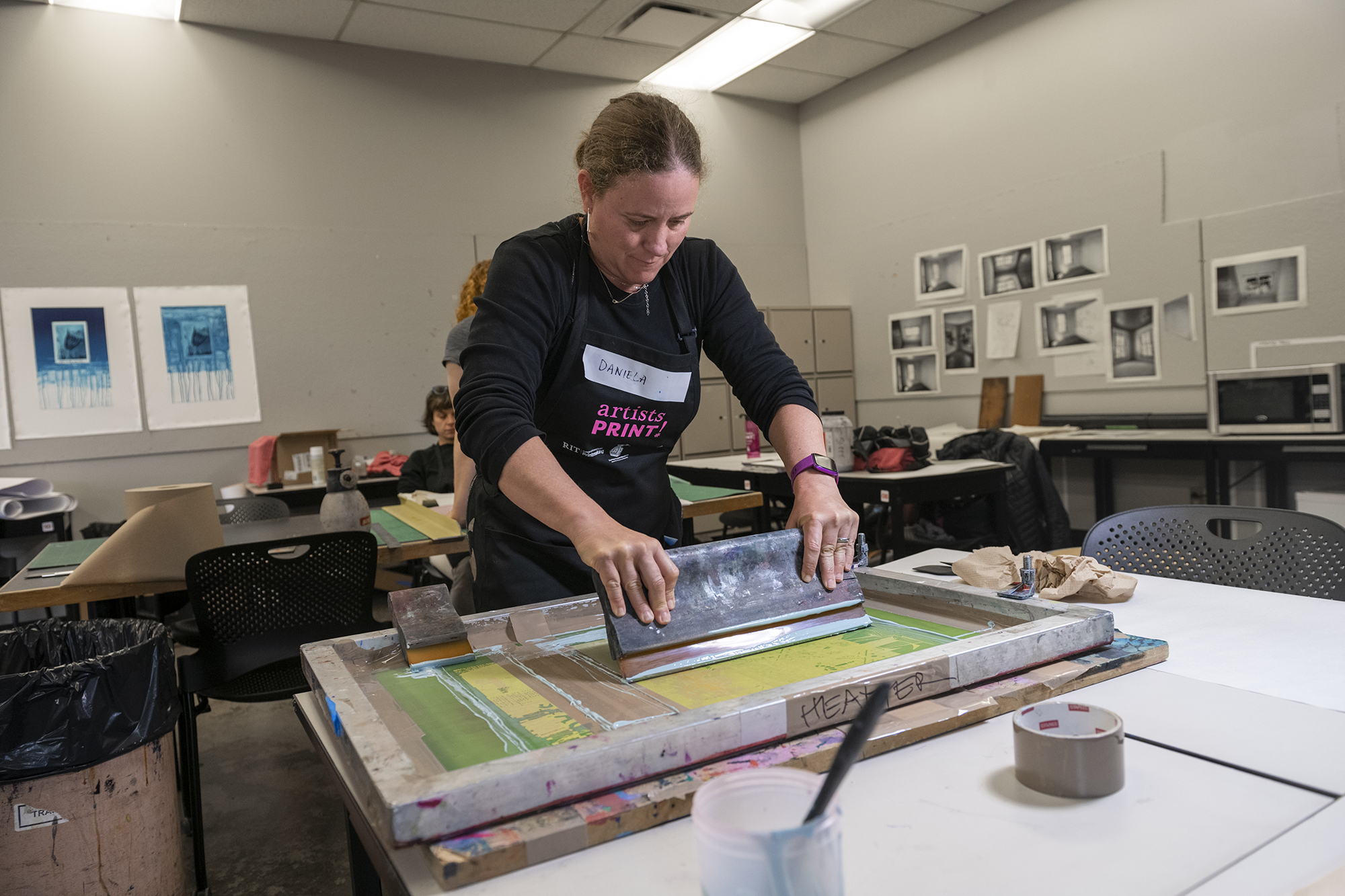 Elizabeth Lamark
Artists Print! was a long-anticipated event originally scheduled to run in 2020 before a pandemic-induced postponement.
It was a renewal of a similarly structured series of monoprint workshops Bob Erickson organized during his days teaching at University of Wisconsin-Stevens Point. He consulted with Bushnell and Print Club of Rochester President Katherine Baca-Bielinis '87 MST (visual arts-all grades) as they brought an eclectic collection of artists, from educators to master printers, to RIT. 
"It was fantastic," Erickson said. "I've seen it, because I've done it, and this has been first rate."
Erickson continued an ongoing series titled "Deep in the Woods" that incorporates traditional woodcut forms and digital techniques during the workshop.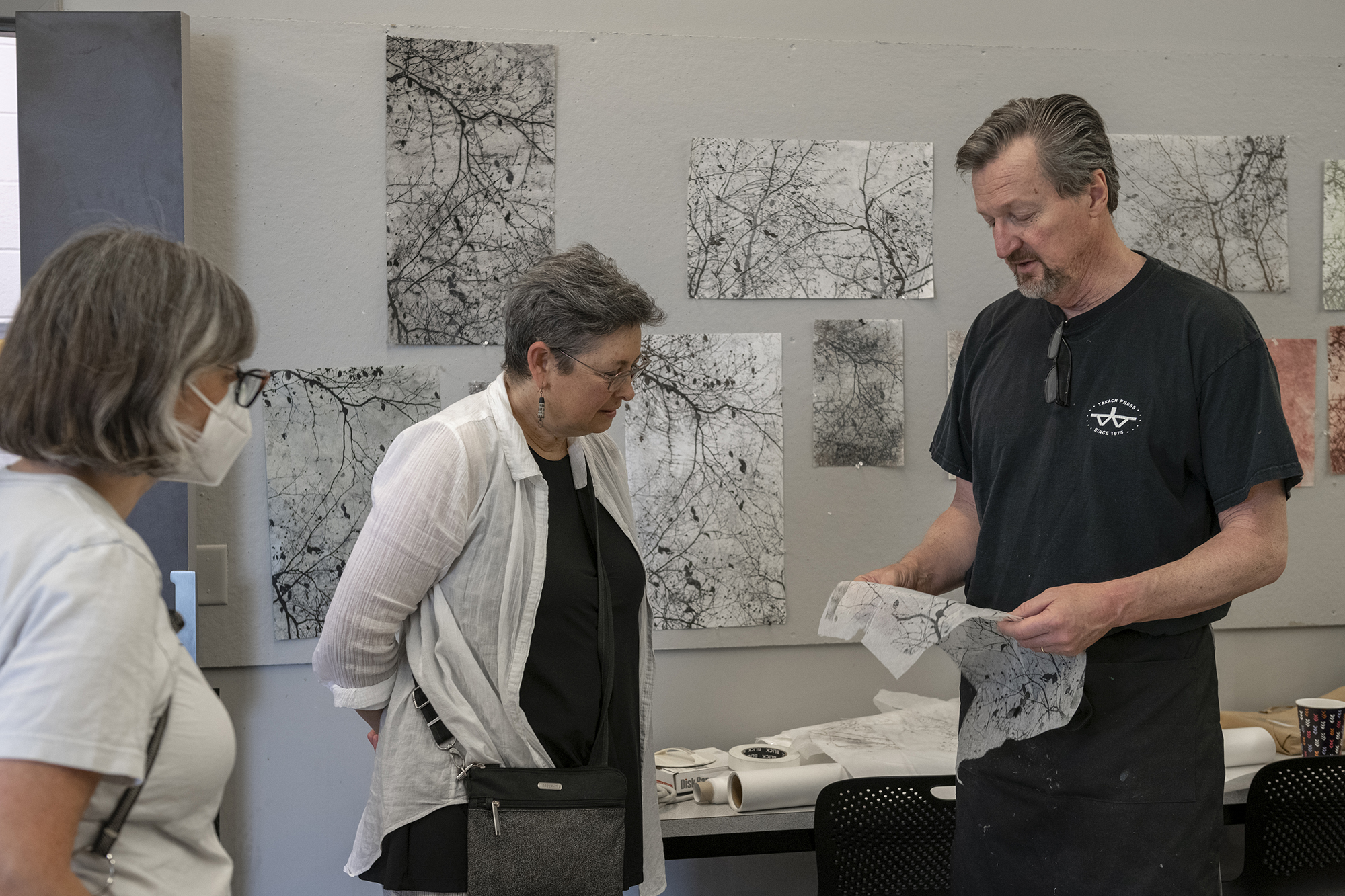 Elizabeth Lamark
In addition to Erickson, Kiekeben and Vera, the visiting artists were Marnix Everaert, Erin Holscher Almazan, Richard Kegler, Daniela Marx, Jim Morris, Andy Rubin, Vida Sacic, Grace Sippy and Heather Swenson.
The BFA and MFA students, alumni and faculty who assisted the artists in the studio were: Denise Anderson, Nava Barenji, Ying Chen, Gretchen Ettlie, Kerina Mangiaracina, Lauren Mullen, Marija Ratkeviciute, Yushan Socola, Morgan Sychtysz, Hannah Wagner, Kirk Wu and Yaoqin Xiao.
The event served as a creative arena for artists to tinker with trusted, time-tested processes as well as contemporary approaches. Access to RIT's Fab Lab — where artists used technology like a laser cutter to make plates — and tours of the Cary Collection and Vignelli Center for Design Studies also informed the artists' work.
Kiekeben spent part of his RIT residency continuing his work with the non-toxic intaglio type printmaking process pioneered and perfected by Howard, who previously led RIT's printmaking program. Howard, who died in 2015, is credited with modernizing intaglio printmaking, a classic technique where an image is incised into a printing plate that holds ink for transfer onto paper. Instead of etching on metal, Howard's new form of intaglio printmaking allowed mediums like drawings, paintings, photography and digital vector images to be translated into etchings. 
Kiekeben, who wrote the foreword to Howard's book, The Contemporary Printmaker: Intaglio-Type & Acrylic Resist Etching, couldn't help but think of his old friend while working, once again, in the setting of his breakthrough artistic discovery.
"Keith used to be at the nucleus of pulling together a lot of people," Kiekeben said. "Now with Eileen (Feeney Bushnell) and the faculty and the grad students helping out, it's just so much fun. The whole group was able to produce some really interesting, innovative work."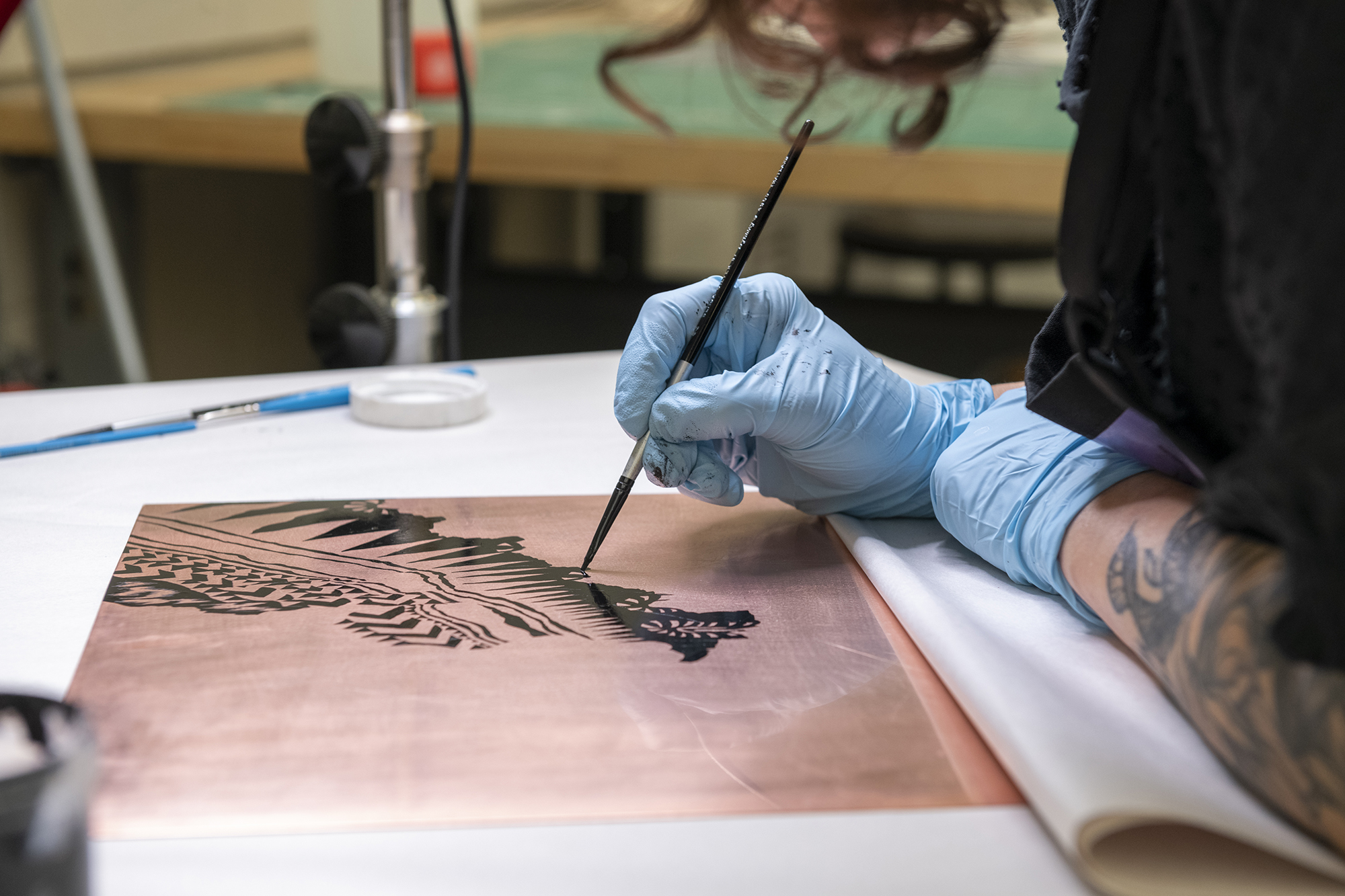 Elizabeth Lamark
Rochester-based artist Heather Swenson made a pair of two-print sets incorporating watercolor, silkscreen and collage that were selected for the exhibition/auction and Cary Collection. 
The week's focus on making individual prints rather than editions was a slight departure from Swenson's normal practice. It encouraged her to try new mediums, including the use of photopolymer plates, and gain perspective from the experts she worked alongside.
"I'm leaving with a lot of ideas," Swenson said. "Just to have uninterrupted time working and interacting with other artists and making connections with new people and seeing their processes was the main thing. Everyone was so supportive.
"The more you're involved, the more that starts happening. It feels nice to broaden the community that I'm engaged with."
Proceeds from the Artists Print! auction are planned to be seed money for the next iteration of Artists Print!, which Bushnell said she hopes to run every two years.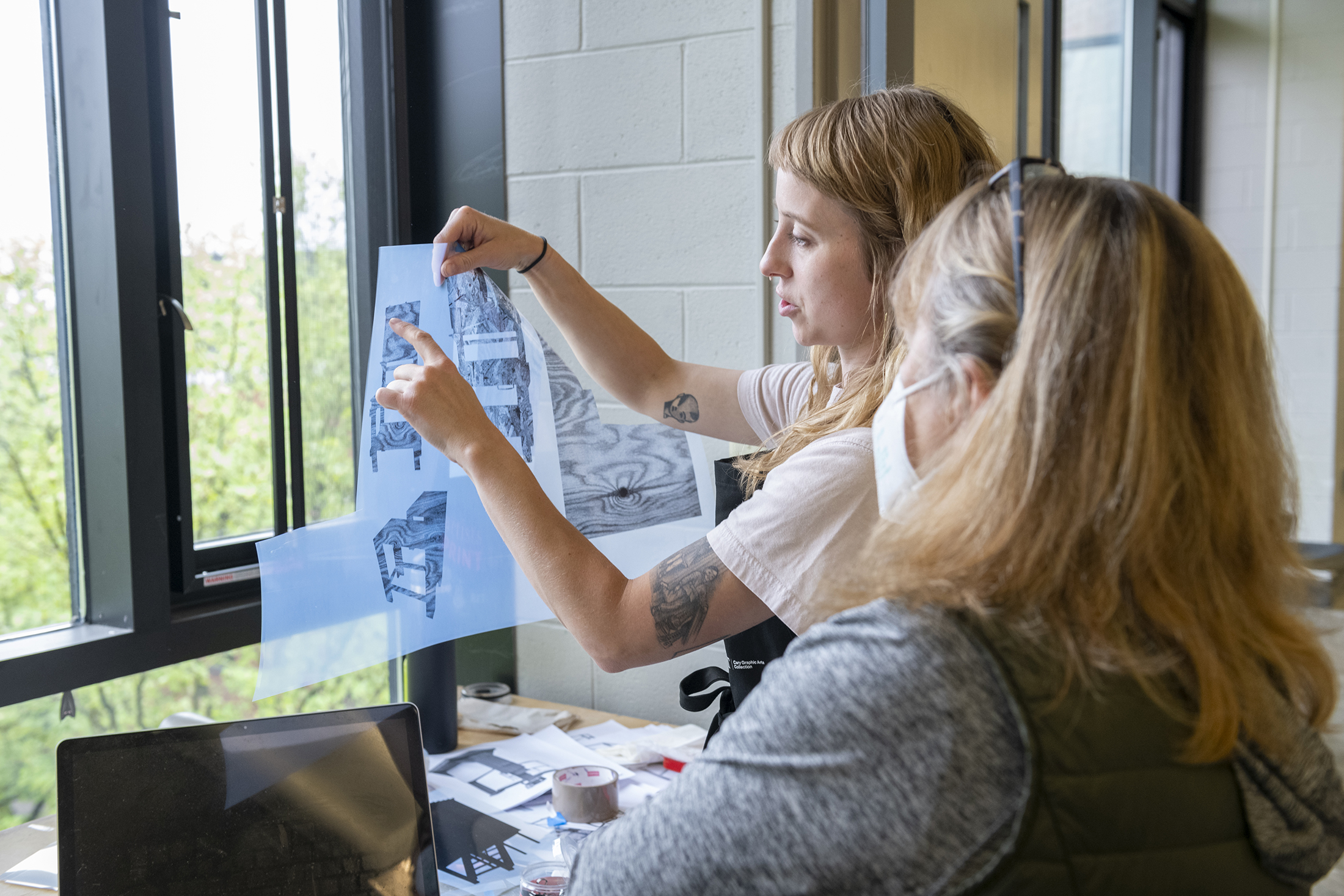 Elizabeth Lamark