Prospective students explore RIT art and design programs at National Portfolio Day event
After a busy fall traveling to National Portfolio Day (NPD) events around the country, RIT College of Art and Design faculty met with prospective students closer to home on Sunday. 
The College of Art and Design welcomed 226 young artists to campus for its own NPD event in the Gordon Field House and Activities Center. Twenty faculty offered one-on-one feedback on portfolios and answered questions about the college's vast offerings to aid students in the college admissions process.
Students and families came from various states in the northeast and along the east coast. Representatives from more than 20 other top colleges and universities also reviewed portfolios at the event.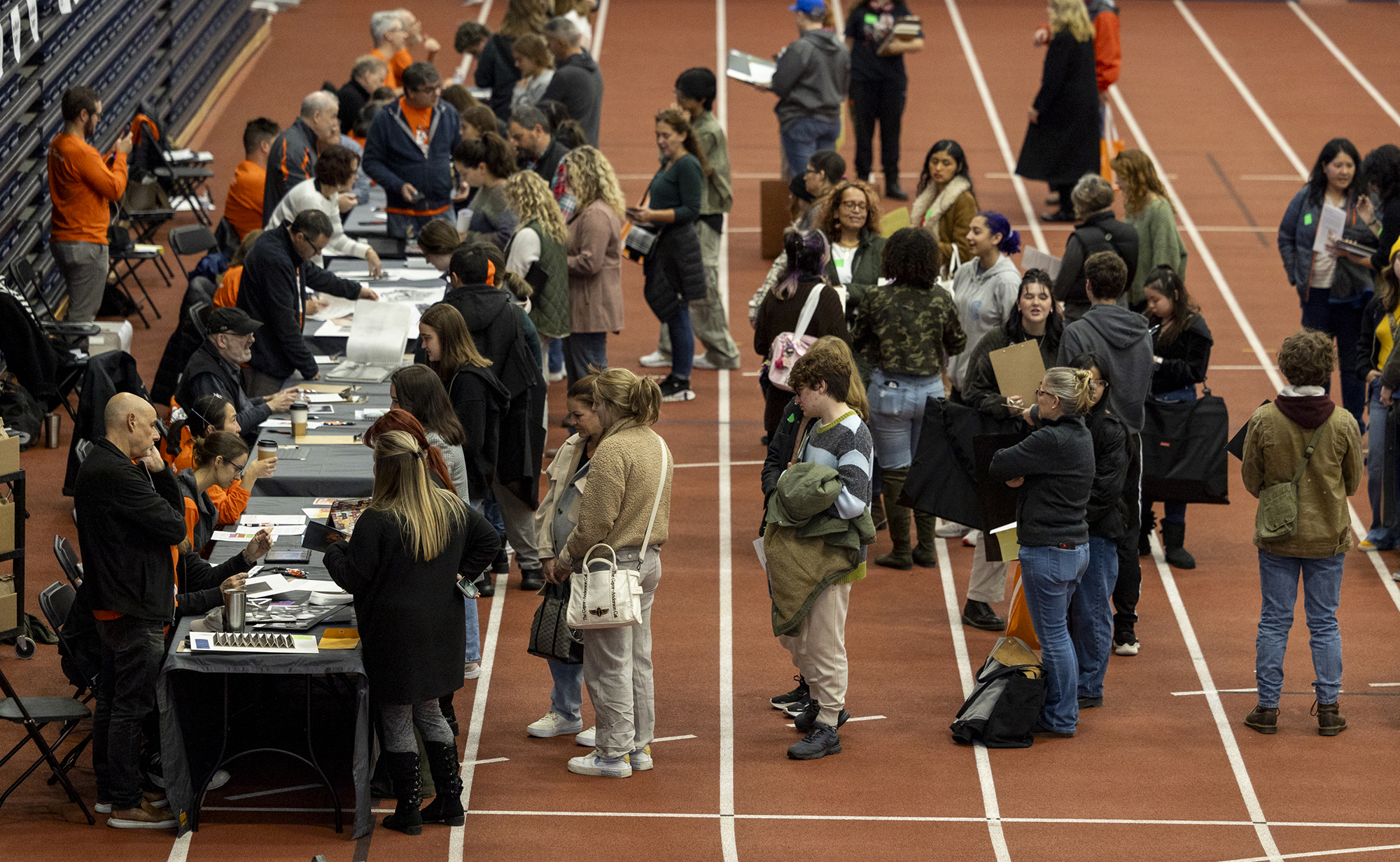 Quinn Freidenburg '24
Attendees were able to ask questions about college admission and improving their artwork, gain a better understanding of what schools look for in a portfolio and even submit their portfolio as part of the RIT application process. 
Several school districts in the region transported groups of students by bus to the event. Annie Smith, art teacher at Henninger High School in the Syracuse City School District, led a bus excursion of seven students.
"I'm just trying to do what I can do to bring students who want to talk about the arts and have them see how arts can be a career," Smith said. "Think globally, act locally. I think it's a great thing that RIT has faculty here giving feedback."
Prior to the afternoon portfolio reviews, students and families were invited to attend morning presentations and tours of the College of Art and Design, as well as tours of the university.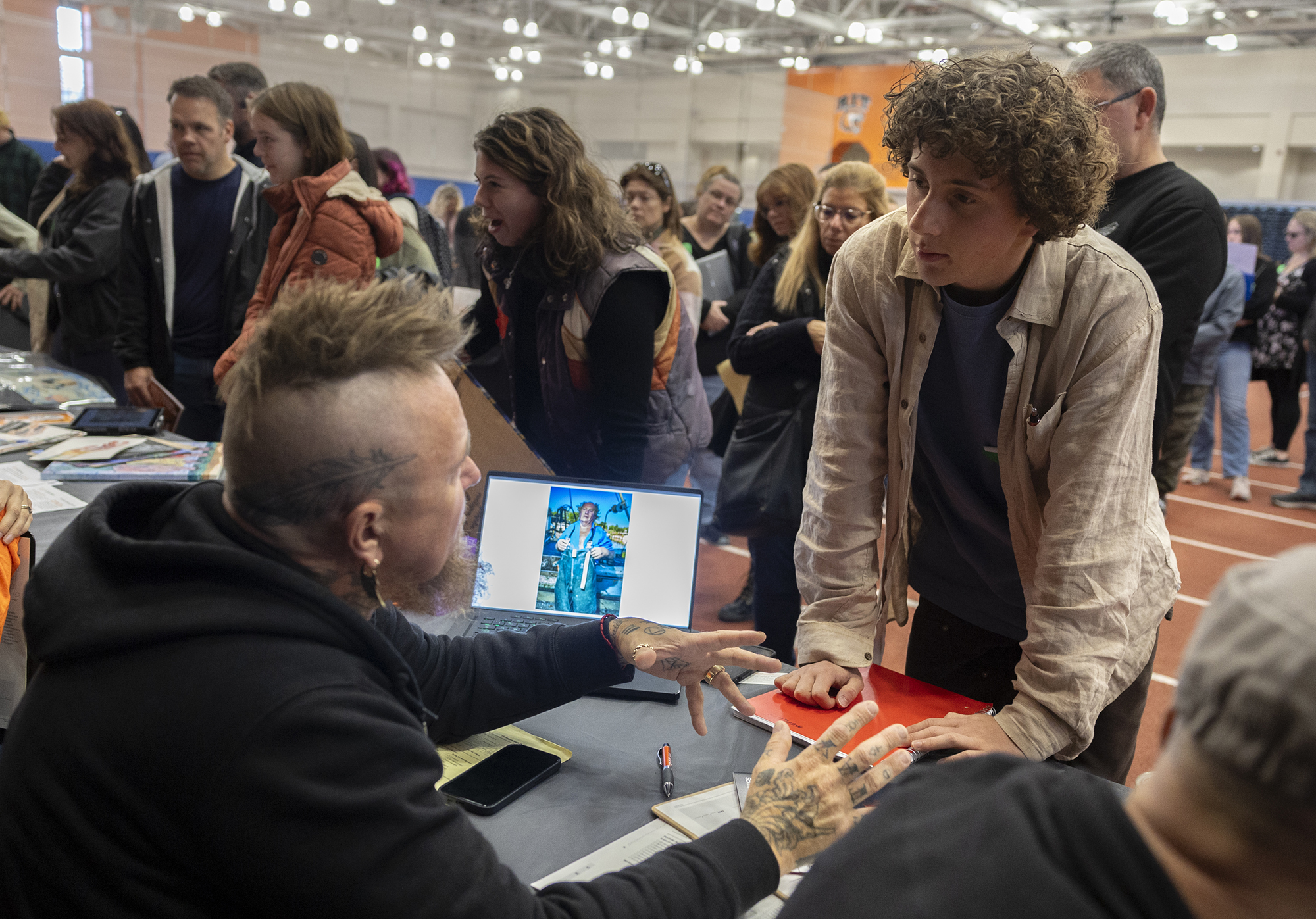 Quinn Freidenburg '24
For Smith, RIT stands out as an attractive option for her students due to its participation in the Say Yes to Education full-tuition scholarship program and the access College of Art and Design students have to premier art facilities and resources, as well as disciplines beyond the arts. 
"I love that RIT is all inclusive," Smith said. "They have the whole span of the arts — there is the technical component but you have fine arts as well, with the ability to marry them. I love how they're bringing science to that.
"It's a fabulous art program. The facilities are to die for. I love that (College of Art and Design Dean Todd Jokl) pointed out that the arts are in the middle of RIT and everything builds around it. Art is a center content area here."
RIT's NPD event is organized and led by Marketing Communications Director Kelly Sorensen, Events and Promotions Manager Erica Hickey and Recruitment Communications Specialist Courtney Rashford from the College of Art and Design's marketing department.
National Portfolio Day 2023 gallery
RIT will have a presence at two more NPD events this fall/winter:
Los Angeles, Calif. | 12-4 p.m. PT Sunday, Nov. 12 | Register
Virtual | 12-4 p.m. ET Sunday, Dec. 3 | Register
Additionally, the College of Art and Design is hosting a pair of free Connect and Critique events in November. They provide another platform for students to meet one-on-one (virtually) with faculty for critical feedback on their artwork and to ask questions about offerings and the application process.
Connect and Critique events:
Graduate — 9 a.m.-1 p.m. Sunday, Nov. 12 | Learn more
Undergraduate — 5-9 p.m. Wednesday, Nov. 15 | Learn more