RIT alumni 'futurists' discuss blend of technology, art, and design at Imagine RIT symposium
Five alumni innovators provide insight into changing landscapes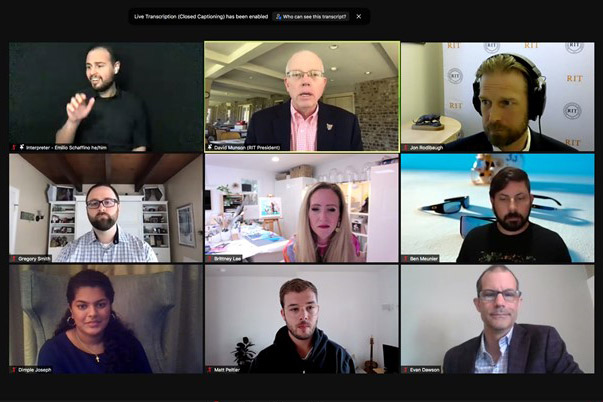 RIT alumnus and entrepreneur Matthew Peltier is convinced that his company's success will be driven by creatively using new technologies that develop personal connections among users throughout the world. As the founder and CEO of marketing and communications channel Community, Peltier is driving conversations that are real, instant, and, often, lucrative.
Peltier '13 (new media interactive development) spoke as part of the virtual Futurists Symposium, a collection of RIT alumni tapped to present an insider's look into the future of industry as it relates to technology, art, and design. The symposium was held via Zoom during the May 1 Imagine RIT: Creativity and Innovation Festival.
Joining Peltier were Ben Meunier '03 (electrical/mechanical engineering technology), vice president of Global Product Strategy at Oakley; Dimple Joseph '18 (industrial engineering), '18 ME (engineering management), frontline leader at Abbott Rapid Diagnostics; Brittney Lee '06 (film and animation), visual development artist at Walt Disney Animation Studios; and Gregory Smith '06 (film and animation), head of Characters and Technical Animation at Walt Disney Animation Studios.
The event was emceed by RIT President David Munson and moderated by WXXI "Connections" host Evan Dawson.
"Every organization has to have people who understand what is changing, where we are going, and how we get there," said Dawson, as he introduced the presenters. "And that's what this is all about."
Ben Meunier, a consumer product veteran, spent 13 years in the Research and Development Group at Oakley. During that time, he launched new technologies and products to market, including PRIZM, Laser Protective Lenses, and two wearable electronics, Inferno and Radar Pace. At Oakley headquarters, he found his passion: science wrapped in art.
According to Meunier, Oakley purchased the second-ever-produced 3D printer in 1987, enabling the company to push the limits of design and science. "If designers need a cross- section to be thinner, a part lighter, or need it to bend in a new and interesting way, we can do this in order to help create an emotional connection with people."
Meunier also said that Oakley is blending art and science now more than ever.
"The interaction between art and science has a deeper relationship. Design pushes science to make things that we think are not possible, possible."
In her first professional role as an industrial engineer, Dimple Joseph helped Abbott identify areas of opportunity and execute actions needed to improve and grow. With the onset of the COVID-19 pandemic, Joseph moved to the Abbott Rapid Diagnostics business unit as a frontline leader where she supervises the production of BinaxNOW, Abbott's COVID-19 Ag Rapid Test. RIT has used the Abbott rapid tests more than 100,000 times this semester alone. 
Joseph, who focuses on process improvement and believes in digital inclusion and accessibility, said that while technology is transforming the world, she isn't sure that it's transforming for everyone. Therefore, she is dedicating part of her work to creating services designed to meet all users' needs, including users who depend on assistive technology to access services.
"I hope you'll take action to educate yourself," she said, "and apply and allow the knowledge to transform you and the way you interact with others. Let change inspire you, not intimidate you. This is what you can do to lean into digital inclusion and decrease the gap."
At Abbott, Joseph is pleased that she is making a difference through her work.
"Abbott is transforming the world of healthcare using technology, and I'm fortunate to be part of the team that manufactures BinaxNOW," she said. "We are doing our part to make healthcare accessible."
Matthew Peltier's company, Community, uses the texting app already installed on users' cell phones to deliver messages. Users compose the messages in the Community app or on the web and use filters to hyperfocus audiences, like targeting messaging to parents between the ages of 23 and 45 who live in Southern California. The company reports that between 35 and 60 percent of recipients will respond.
While at RIT, Peltier took a range of classes including philosophy, psychology, and all of the new media courses that he could get his hands on. This breadth of learning, along with co-ops that exposed him to opportunities and start-ups, has enabled him to create enriching human experiences.
"We all use text messaging to talk to friends, family, and share GIFs," he said. "Right now, messaging is only being used at a consumer level. But, we think it's the most powerful channel there is." 
During his presentation, Peltier encouraged members of the symposium audience to text him directly using his Community phone number to demonstrate how the platform operates.
Celebrities such as Ashton Kutcher and health professionals like CBS News medical contributor Dr. David Agus are utilizing Community to reach people all over the world. With the onset of COVID-19, Agus used Community to give COVID updates, interpret CDC reports, and engage one on one with people who were concerned for their health.
"It's a powerful environment to be able to have these meaningful and direct conversations," said Peltier.
Since launching the company in 2019, the platform has sent more than 3 billion text messages, and now has more than 26 million members with a 95 percent open rate on messaging. The future of the platform, according to Peltier, will likely rely on artificial intelligence and natural language processing to help further facilitate targeted relationships.
"We are working on innovative stuff that is really opening up the way we connect with people, share information, and have meaningful conversations."
Peltier finished his presentation by offering some advice. 
"To the students who are listening today, take advantage of the opportunities that you have at RIT. Branch out, take courses outside of your main discipline. Those things have been some of the most foundational as far as helping me think differently."
For Brittney Lee and Gregory Smith, who met as students during their first quarter at RIT, their creative work at Walt Disney Animation Studios uses principled approaches to design to connect audiences with characters. Together, they collaborate with more than 800 artists, technicians, and storytellers to create projects that reach people over generations, such as wild and spontaneous Anna, and reserved and fearful Elsa from Frozen, and goofy and lovable Ralph from Wreck-It Ralph.
Lee's enthusiasm for the world of animation was unlocked at just 6 years old, mesmerized by the Disney classic The Little Mermaid. Today, as a visual development artist, she is responsible for creating artwork that is meant to inspire and inform and support the stories that are told.
One of the most satisfying aspects of Smith's work is elevating the craft to push the product over the top, just as Walt Disney had done decades ago.
"Disney, which is almost 100 years old, is known for pushing technology to advance the art," explained Smith, who is head of Characters and Technical Animation and leads a team of 65 artists and supervisors in the creation of a film's characters, from hair and clothing simulations to the final polish. "From the first use of synchronous sound in animation in Disney's Steamboat Willie in 1928, it has remained important to bring in new technologies and advance the medium in the art of animation."
As both look forward to the future of technology in the medium, Lee believes that the immersiveness of virtual-reality storytelling, and the tools that are available, will make its way into filmmaking.
"Virtual reality creates the opportunity to develop artwork inside a dimensional space and tell stories in 'the round,'" said Lee, who served as production designer on the VR short film Myth: A Frozen Tale. "I can't wait to see where that goes."
Smith is excited by the concept of using machine learning to create life-like humans.
"Machine learning provides the ability for artists to access technology that visual effects houses wouldn't have had even a year ago," he said. "As technology increases, cost comes down and allows more voices, more storytellers, to engage in this space, and I find that really inspiring. I'm fascinated to see how it changes the industry over the coming years."
The global pandemic has also accelerated real-time connectivity in remote situations. New technology is being developed that will provide the ability for multiple people to work remotely on applications and collaborations in real time, on the same scene.
"This is something that we can't even do in the same building currently, although we are working toward it," said Smith. "The idea that people can collaborate and iterate together in real time increases accessibility for people to work together to tell stories."
Smith added: "At the end of the day, the work is stunning and speaks for itself. It's so satisfying for us to see the audience reaction to the films we make and the characters we create and how much they touch everyone."
The event concluded with a short question-and-answer session where the participants were asked how they create collaboration and team building that supports their vision.
"You have to find people who are passionate," said Meunier. "It doesn't have to be the same thing that you're doing, but they have to be passionate about something."
Added Peltier: "When you're developing a team, it's about finding people who add different perspectives and come from different backgrounds. I think the best teams are the most diverse. It's the most well-rounded teams that uncover potential 'blind spots.' It's also about values and culture. Then there is the passion. We are all passionate about what we're building and the problems we're solving."
Topics