RIT helps honor William Warfield's legacy with creation of bronze sculpture
Students and faculty collaborate with dynamic Rochester artist Shawn Dunwoody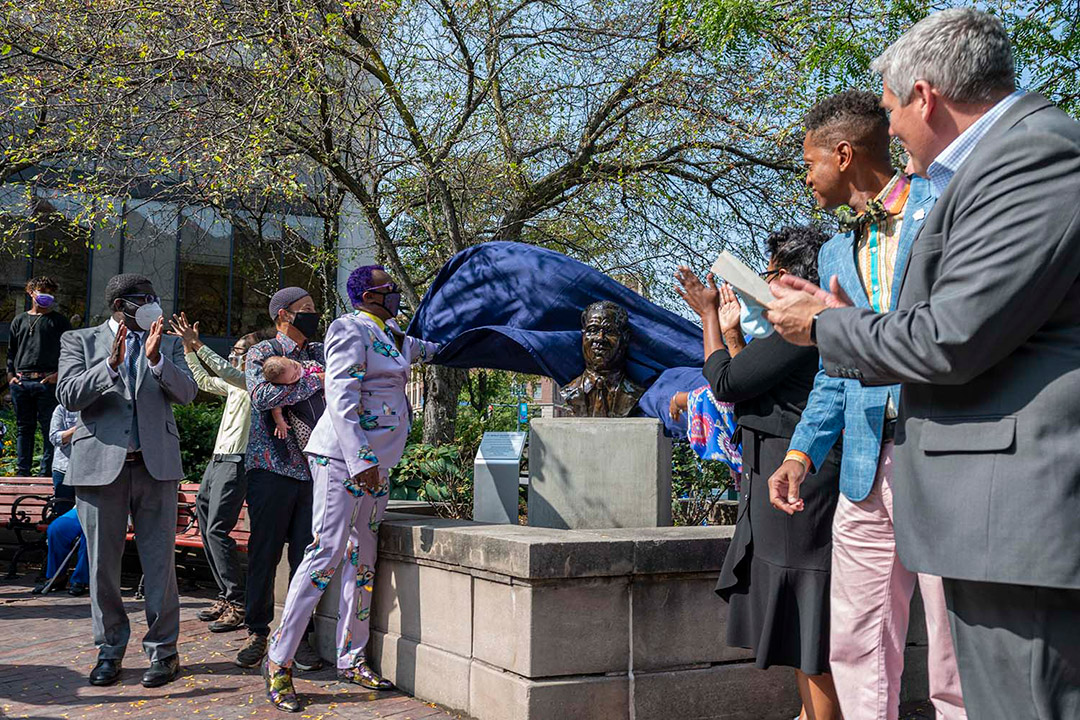 Rochester Institute of Technology joined the William Warfield Scholarship Fund, The Eastman School of Music of the University of Rochester, and the City of Rochester in a collective celebration earlier this week honoring iconic performer and trailblazer William Warfield with a bronze sculpture.
The sculpture's reveal took place before an overflow crowd on Sept. 27 at the Eastman School's Miller Center Courtyard in downtown Rochester. The installation celebration included remarks from each of the collaborating organizations, including RIT President David Munson, Thomas Warfield—William Warfield's nephew and director of dance in NTID Department for Performing Arts, NTID—and Rochester artist Shawn Dunwoody.
"My uncle Bill was a trailblazer, opening doors for African-American artists who came after him," said Thomas Warfield, also the foundation's President Emeritus. "His illustrious career didn't just create a path—he set a very high standard of artistry, intellectualism, and professionalism that has continued to inspire generations of singers in all music genres."
"Establishing an impressive legacy as a soloist, recitalist, actor, narrator, and through the current 44 years of the William Warfield Scholarship Fund, his very presence was activism as he shattered racial barriers in the 1950s and '60s. We owe a great deal to the genius and courageous talent of William Warfield for his music, yes, but also for using his gift to help transform society and expand our humanity towards one another."
"To echo Thomas—a proud nephew—William Warfield was more than music," Munson observed. "Music and the arts bring us all together, and William Warfield amplified this in humanitarian ways. His legacy will be preserved by this work."
"RIT's College of Art and Design serves as a creative hub at our university's intersection of technology, the arts, and design," Munson added. "The artistry and intricacy of this bronze sculpture is just one example of how this intersection sets RIT apart. I want to thank those from the College of Art and Design who made Shawn Dunwoody's creation possible in the form of this bronze sculpture."
Munson credited Dunwoody "for his passion and dynamic approach to working with our graduate students, faculty, and staff" and School of Art and School for American Crafts Director Elizabeth Kronfield's "reputation in the cast iron and bronze community for making it an easy choice for RIT to collaborate on this project."
"The Warfield bronze sculpture has been such an exciting and important project for the RIT sculpture studio," Kronfield said. "RIT faculty, staff, and graduate students greatly enjoyed working with Shawn Dunwoody—a creative force for change and dynamic artist who brought such an amazing energy into the studio—along with the entire community project team that came together to honor such an iconic artist as William Warfield."
Kelly Wilton, an instructional support specialist in fabrication processes and a graduate of RIT's fine arts studio MFA program, guided the project from start to finish with her vast foundry expertise.
In addition, faculty member Matt Wicker and MFA students Eric Bohrer, Shayna Kiblin, and Robert Deane played integral roles in the wax-working, mold-making, burnout, and the pouring of the sculpture in the bronze. The final steps included the welding and patination.
"Your talents are inspiring and are fitting in honoring the inspirational William Warfield," Munson concluded.
RIT's Creative Video Production team also is producing a mini-documentary to capture the spirit of William Warfield and all the work that went into creating the sculpture. The video is due to be released in October.
About William Warfield
William Warfield was born in West Helena, Ark., on Jan. 22, 1920, the eldest of five sons of a Baptist minister and sharecropper. His parents, Robert and Bertha McCamery Warfield, were the children of African-American slaves. In 1925, his father moved his family north to Rochester to seek better educational and employment opportunities.
Warfield graduated from Rochester city schools and earned a New York state cosmetology license. During his senior high school year, he won the National Music Educators League Competition and a full scholarship to any American music school of his choice. Warfield chose the Eastman School of Music, where he received his bachelor's and master's degrees in 1942 and 1946, respectively.
Warfield was known worldwide for his work as a soloist, recitalist, actor, narrator, and activist. He was acclaimed throughout the world as one of the great vocal artists of our time, was a star in every field open to a singer's art and was one of the world's leading experts on Negro Spirituals and German Lieder. He is best known for his portrayals of Porgy in Gershwin's Porgy and Bess and of Joe in the 1951 MGM movie musical Show Boat. He won a Grammy in 1984 for his narration of Aaron Copland's A Lincoln Portrait, accompanied by the Eastman Philharmonia. In 1991, he published his uncommonly personal memoir, My Music & My Life.
Warfield died at age 82 on Aug. 25, 2002, in Chicago. He is buried in Rochester's Mt. Hope Cemetery. Many members of his family continue to live in Rochester.
Topics