RIT Rallies: Bringing expertise to battle with Coronavirus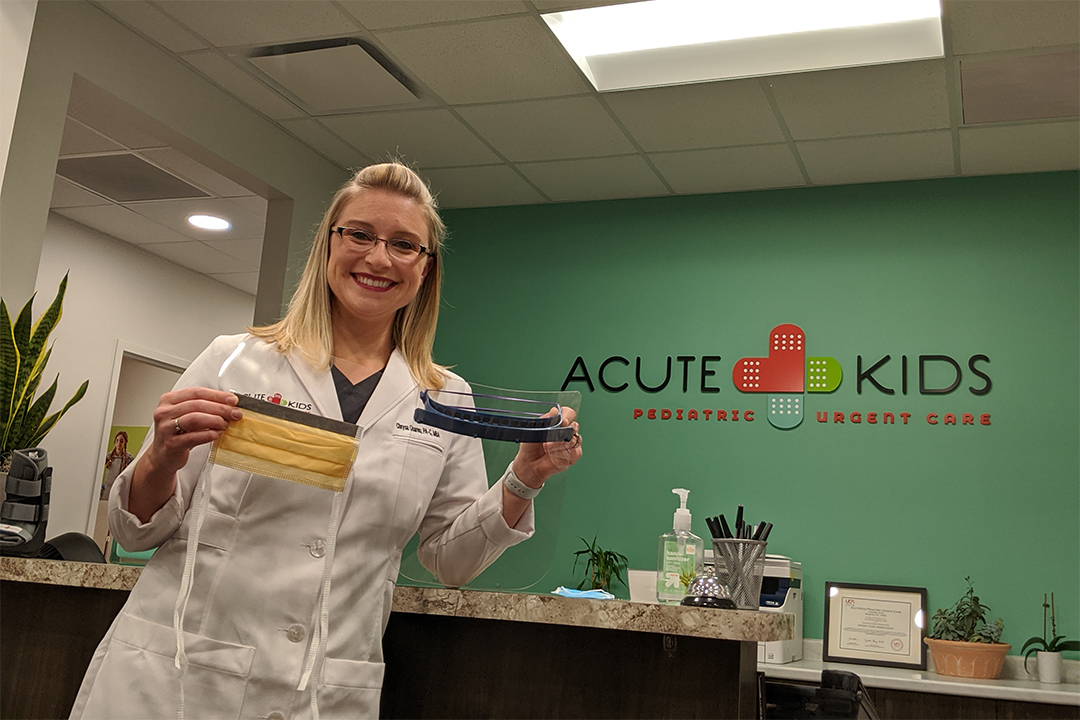 Many faculty, students, staff and alumni of Rochester Institute of Technology are providing expertise to improve or create much-needed equipment and protective gear for medical personnel fighting the Coronavirus.
Since the outbreak began, they have worked closely with local and regional companies, hospitals and medical providers to meet some of the most pressing needs—protective face shields for health care providers, improvements to needed equipment such as respirators and access to health monitoring systems to help assess outbreak symptoms.
Here are a few of those inspiring stories:
Face shields to protect kids
Professor Denis Cormier and Research Lab Manager Mike Buffalin '15 (mechanical engineering technology) 3D-printed face shields for Acute Kids Urgent Care, a local medical pediatric practice founded by physician assistant alumna Chrysa Charno '03 (physician assistant) '09 (MBA).
"In the world of COVID-19 today, we can provide care that will help and support primary care physicians," said Charno, who called on RIT's Linda Miller, University Development and Engagement, to see if the 3D printing experts in the AMPrint Center and The Construct could assist with having some of the important shields produced.
Cormier, who runs the AMPrint Center, and Buffalin, who manages The Construct, 3D-printed face shield frames and then laser cut the clear, plastic protective shields they produced the week of 3/23. Both men took precautions producing the shields and in transporting to the Acute Kids site located in Webster, N.Y.
Lacrosse team alumni shift company from uniforms to hospital wear
Jerry Ragonese '10 (professional photographic illustration) and Chris Cherami '11 (graphic design) have turned their California-based sports uniform and apparel business into a hospital supply company.
Ragonese and Cherami, who both played lacrosse at RIT, are co-founders of Pro Athletics in Agoura Hills, Calif. Until a few weeks ago, the company produced up to 250 lacrosse uniforms a day, among other sports. Today, the company is making up to 2,000 face masks a day, as well as scrubs out of material used in softball uniforms.
The masks, which are not medical grade, are being ordered primarily by people who are donating them to hospitals and other health care workers in need.
Ragonese, who started producing custom lacrosse shorts when he was a senior at RIT, said switching from uniforms to masks was a way to keep 15 of his 20 workers employed after California closed all non-essential businesses. It's also a way to give back to those in need.
"We are small enough that we can pivot very quickly," Ragonese said. "A sewing machine doesn't know if it is sewing a uniform or a mask. We are throwing our hat in where we can help."
Student-run company set to patent face shield design improvement
Will Byron and Sean Bellefeuille, co-founders of M3 Dimensions, are creating face shields with an extra layer of protection for a Long Island company. The product is currently patent pending. The two founders of the company are also biomedical engineering students who moved from 3D printing assistive devices for animals and individuals. They took their know-how of device development and are working with a group from Long Island, one of the areas in New York state hardest hit by the Coronavirus, to reinforce current shields with better materials that limits moisture collected and inhibits bacterial growth. This can allow the shields to be used for longer periods and allow medical personnel additional confidence in protection.
Byron, a fifth-year student from Greenwich, N.Y., and Bellefeuille who is from Saint-Lazare, Quebec, and who expects to graduate this May, have been working in this area for several years as undergraduates.
Student uses skills to shorten 3D print time to produce facial masks
Ryan Brown, a second-year mechanical engineering student helped redesign the 3D print process for protective facial masks for St. Luke's Hospital in Allentown, Pa. The mask is different than the traditional loose-fitting surgical masks often seen; it has a closer facial-fit and higher efficiency filtration capacity. The masks have replaceable filters that are consumable, and the 3D printed pieces can be sterilized and reused.
Working with Filament Innovations, a 3D print manufacturing company, and its owner, Mike Gorski, Brown assisted the hospital in its effort to provide increased protection for its staff. Brown, home from RIT over the remainder of the semester, has seen the impact almost immediately as his three different sized masks are being tested by St. Luke's staff, entering production this week.
"I have gotten to play a great role in the medical supply relief efforts this week. It has been great to feel like I am doing my part and making a difference," said Brown, a resident of Bethlehem, Pa., in a recent message. "I went back and forth with the hospital virtually, and in 48 hours had the three versions ready to go. I made them so that they can be printed on our [Filament Innovations] printers in 45 minutes."
Team moves from robotics to respirator improvements
RIT mechanical engineering students Tali Weinstein and Terra Lanteigne have been on co-op with Teknic, a high performance motor and system manufacturer based in Rochester, on one of its projects to design an emergency ventilator using the company's servo motors. The team was asked by colleagues at the University of Minnesota to assist with the development of a manually-operated resuscitator. Weinstein, a Rochester native, Lanteigne, from Hatchet Lake, Nova Scotia, and the Teknic team were able to contribute to a process that could improve emergency medical care.
"The whole team here at Teknic is extremely proud of the work we have done over the last week to make this project a reality," said Weinstein in a statement. "This project has the potential to help many people who are in need, and we all take great pride in what we have done to make a working prototype in a few days." Teknic has sponsored several RIT mechanical and robotics projects including the TigerBot, a humanoid robot, now in its seventh iteration and nearly 5-feet tall.
AmeriCorps student volunteer sews masks
Emma Eagen, a second-year international and global studies major from Aurora, Colo., has also been involved making facemasks for hospital workers. As an AmeriCorps volunteer, Eagen helps run Rochester Refugee Sewing and Repair, which provides sewing jobs to refugees who settled in Rochester.
Once the demand for facemasks was known, Eagen helped bring supplies to homes of five employees who made facemasks using a heavy cotton blend, with Spandex ties and a pocket that can accommodate a filter. She also stayed in the shop where she sewed masks.
"We had just gotten a donation of fabric and the stars aligned so we had everything in stock to make these," Eagen said.
Mike Kelly '17 (industrial design), an adjunct professor in the School of Design, co-founded Rochester Refugee Sewing, said nearly 1,000 facemasks were sent to Florida, Missouri, Louisiana and New Jersey, and more were destined for a Rochester hospital this week.
Eagen, who hopes to become a pediatrician, said she's happy to be able to help not only those on the front lines during the crisis, but also helping the refugees who are continuing to be paid while making the masks.
"I'm proud to be part of something so important that can help the community," she said.
Topics