RIT students take on accessibility and medical care challenges by design
Interdisciplinary consultancy Studio930 combines creativity with passion to help community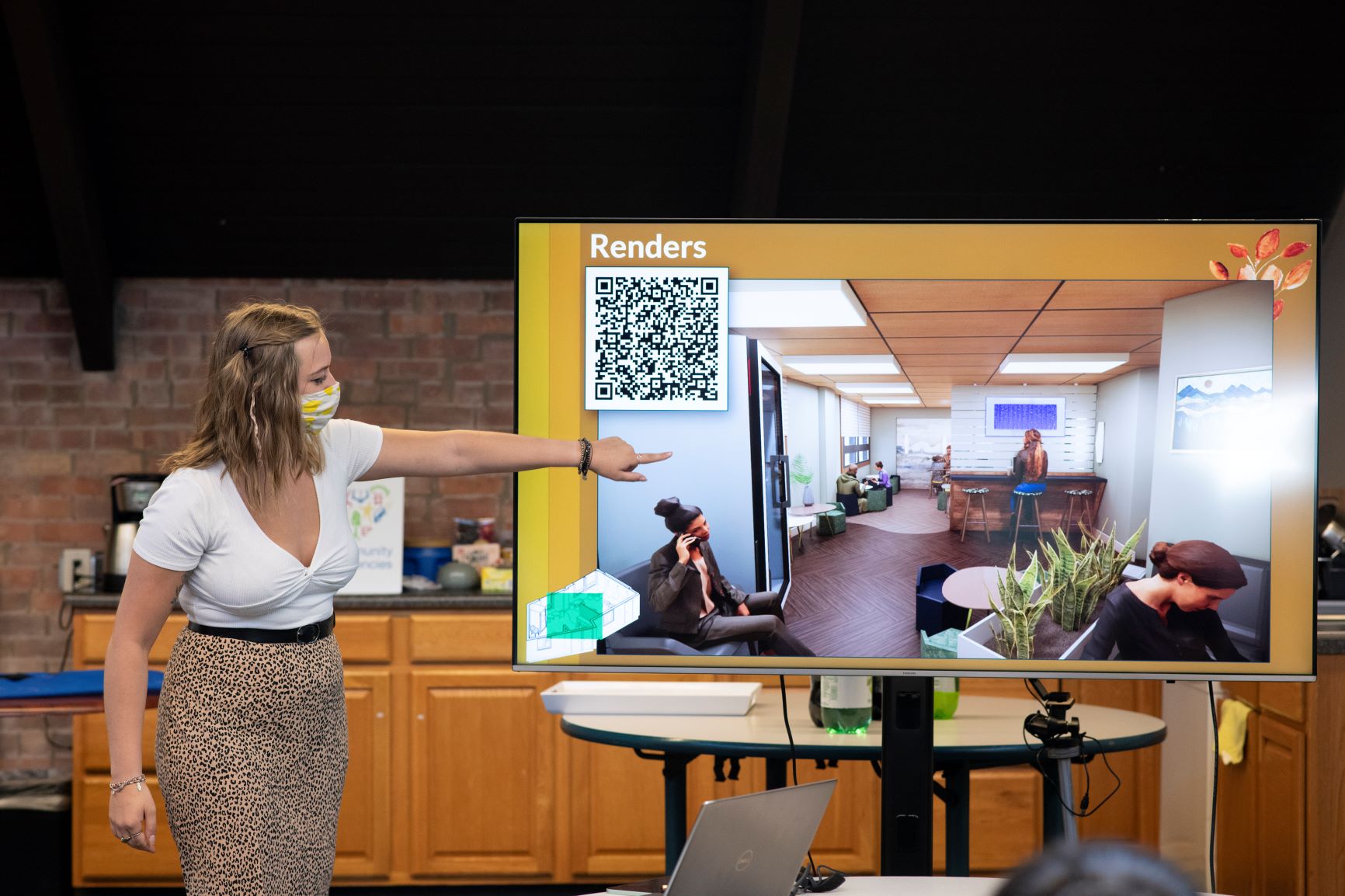 Mikey Gambino, a fourth-year industrial design student from Mount Prospect, Ill., spent his summer as part of a team devising a kitchen knife that empowers people with low dexterity and grip strength to use the instrument independently, among other projects.
Sara Chambers, a rising senior interior design major from Earleville, Md., wanted to combine her passions for design and psychology by helping create a relaxation space for medical doctors and staff at St. Mary's Medical Campus.
The two College of Art and Design students played integral roles in this summer's Studio930 design consultancy, an interdisciplinary studio that focuses on the development of assistive healthcare solutions by leveraging the use of technology, art, and design.
The 10-week long experience concluded Aug. 3, with a student exhibition inside RIT's LiveAbility Lab, a close partnership between RIT and the Al Sigl Community of Agencies, a collaborative network of organizations in Rochester that serve children and adults with special needs.
"We run the studio similarly to a typical design consultancy," said Dan Harel, the studio's manager and adjunct professor who mentors students along with Stan Rickel, associate professor of industrial design in the School of Design and founding director of Studio930, along with Dan Phillips, associate professor in the Kate Gleason College of Engineering, faculty associate for the Partnership for Effective Access Technology Research and Development, and LiveAbility Lab director.
"Students advance their knowledge of the design process, practice teamwork, and face real clients during interviews, contextual observations, and project reviews," Harel added, "and our students always have the option to continue and develop their product concepts and solutions as independent studies or through one of the design or engineering programs."
Untangling challenges
In addition to the kitchen knife project, Gambino was part of a team that designed an organizational system to help manage power cords for devices and sterile fluid tubes used by doctors for arthroscopic surgery.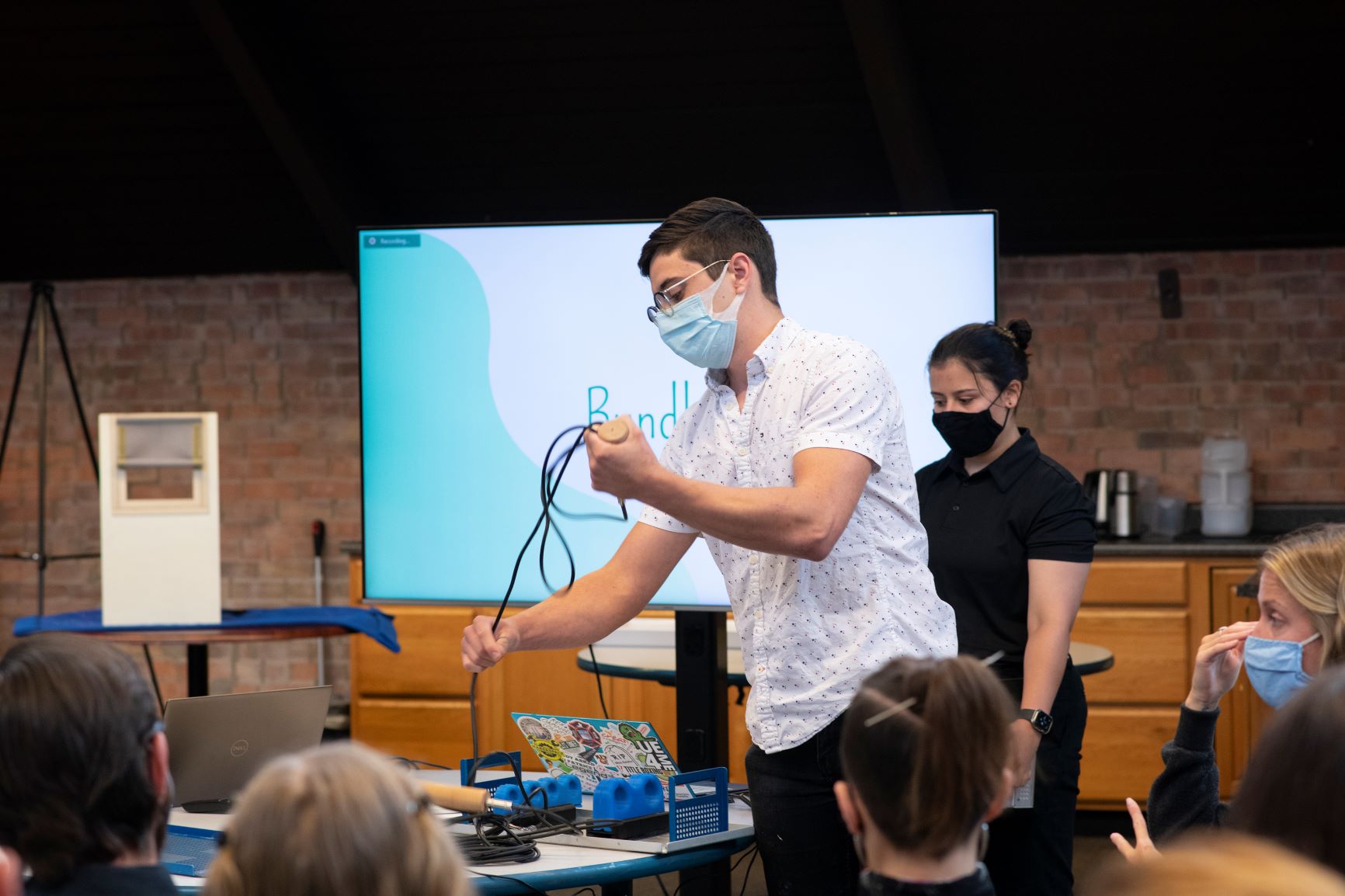 A. Sue Weisler
"These cables and tubes commonly get tangled and we aimed to create a comprehensive and streamlined system for set-up, throughout the procedure, and for storage," Gambino said. "The end product must also be able to be sterilized through an autoclave, which is essentially an oven that uses heat to kill bacteria and viruses."
Gambino and team member Gabrielle Garcia, a rising fourth-year industrial design student from Staten Island, N.Y., worked with client Dr. David Carrier, a Rochester Regional Health surgeon, who allowed them to observe surgeries to understand the challenges firsthand.
"We were able to succeed really through trial and error, teamwork, and meeting directly with our clients," Gambino said. "For the knife project, we had several opportunities for potential end users to come to the studio and test out our most recent prototypes. This user testing allowed us to continue our design process more effectively."
Mental health by design
Chambers utilized insights learned from her psychology minor to inform her team's decisions in designing respite space for St. Mary's doctors and staff. After extensive research and evidence, she identified how biophilic design—which suggests that people possess an innate tendency to seek connections with nature—can help reduce stress and enhance clarity of thought, improve well-being and expedite healing by bringing the outside in.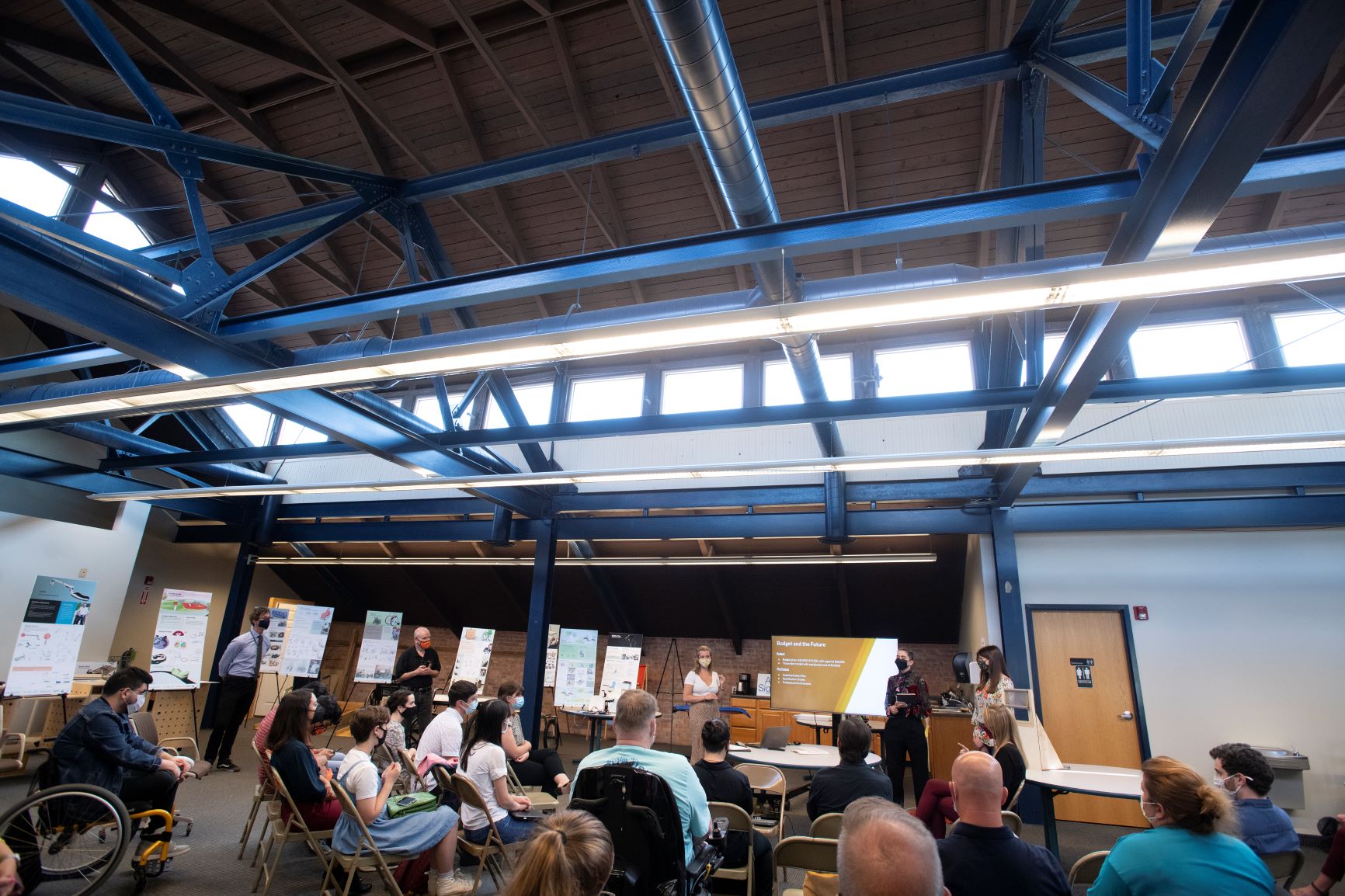 A. Sue Weisler
"Mental health can be severely impacted by the environment around you," Chambers said. "Because the hospital environment is mentally and physically draining, the design of this area had to help staff literally feel like they stepped into an entirely different space meant to relieve stress. Everything about our design focused on the staff and their well-being."
In addition, since she and her team were designing inside a psychiatric facility, students needed to also put patient safety at the forefront of the design process.
"We had to do extensive benchmarking to choose products and materials that would pose no harm to the patients had they entered the space," Chambers said.
"We had a great deal of client feedback on this project," she added. "An important step throughout the design process is the site visits and our clients at St. Mary's were very helpful and open throughout. The industry experience was amazing!"
It's an experience shared by students from colleges across the RIT campus who have come together for Studio930 since 2013 to collaborate on innovative solutions that have creatively tackled a wide range of accessibility and medical care challenges.
In addition to Al Sigl, Studio930 has received the generous support of the Simone Center for Innovation and Entrepreneurship along with the industrial design MFA program, Kate Gleason College of Engineering, College of Engineering Technology and Saunders College of Business—all of which have joined forces to provide the opportunity for RIT students to work on meaningful solutions. 
"It has been a wonderful experience to see this partnership grow over the last eight years to encompass over 90 access technology projects that promote independence and raise awareness about the importance of inclusive design," said Tom O'Connor, president of Al Sigl Community. "We are pleased to host the LiveAbility Lab on our Wolk Campus, providing students and community volunteers an accessible, flexible space to work on their designs and incorporate creative feedback from users."
Topics