RIT to upgrade Semiconductor and Microsystems Fabrication Laboratory through $1 million state grant
Upgrades to clean room will enhance university's research capabilities in photonics, quantum technologies and smart systems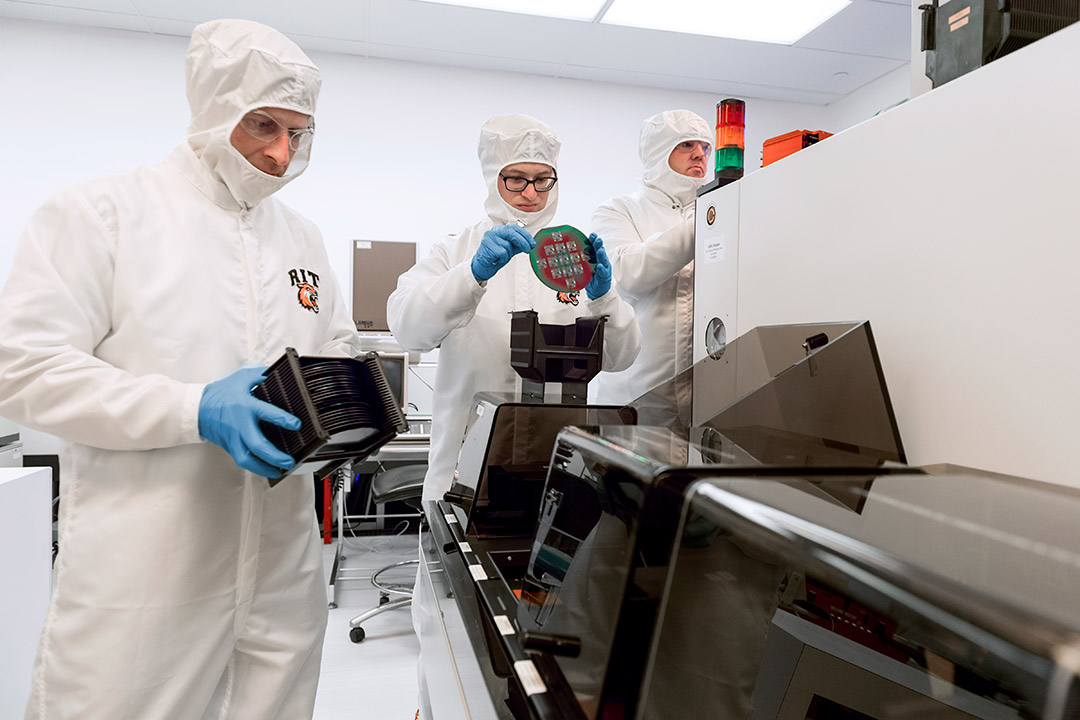 Rochester Institute of Technology is upgrading its Semiconductor and Microsystems Fabrication Laboratory (SMFL) to further advance the university's research in integrated photonics, quantum information technology, biomedical devices and sensors for smart systems. Improvements will enable the university to expand its key research, teaching, workforce training and entrepreneurial capabilities.
The 2019-20 renovation project will be launched with a $1 million grant from New York state's Higher Education Capital Matching Grant Program. This first phase of expansion, expected to begin in the 2019-20 academic year, is one part of a broader project to create a versatile, multidisciplinary user facility to meet the evolving needs of academic and industry researchers in the Rochester region and across the state, said Doreen Edwards, dean of RIT's Kate Gleason College of Engineering.
"I am very grateful that the state of New York recognizes the importance of research and higher education on the state's economy," said Edwards. "Thanks to this grant, we will be able to upgrade and expand our cleanroom, making it more relevant to emerging technologies. The facility will provide our faculty and students with opportunities to work side-by-side with our industry partners who are developing new products right here in Rochester."
New York State Gov. Andrew M. Cuomo announced recently that RIT was one of three local colleges receiving a portion of $2.3 million in matching capital improvement grants. All funding is part of the state's emphasis on continual improvements to college and university facilities.
"These investments in our college campuses will not only benefit our next generation of leaders, they will also strengthen our communities and provide an economic boost to the entire state," Cuomo said in a statement.
The 2019-20 funding will enable RIT to:
Expand its research portfolio in key areas related to integrated photonics, quantum information technology, biomedical materials and devices, and sensors for smart (interconnected) systems
Expand and improve user services available to researchers and inventors in the region
Assist with the incubation of companies who need access to micro- and nano-fabrication facilities
Improve the quality of hands-on education in micro- and nano-fabrication technologies at the bachelor's, master's and doctoral level
Deliver an expanded portfolio of workforce training and talent development models to meet the needs of regional and other New York companies in the industry
Incubate new companies and inventors
"This is for much-needed infrastructure upgrades," said Karl Hirschman, director of the SMFL and a professor in RIT's electrical and microelectronic engineering department. "This will support expansion of research initiatives within microsystems as well as the growing area of biomedical engineering and their need for microscale capabilities in fabrication and nano-materials. This expansion will improve upon and complement recent investments made through AIM Photonics."
Wearing special attire, the researchers in the SMFL, also referred to as a clean room, process complex integrated circuits used to power electronic devices from smart phones to smart cars and homes. What sets RIT's clean room apart is its fabrication capabilities made possible through equipment rarely found in university settings, and the university's experienced faculty-researchers with the skills to use, teach and further develop the technologies needed today to expand the electronics field.
Originally built in 1985 as part of RIT's microelectronic engineering program, the lab has expanded considerably and is used by the engineering college's undergraduate, graduate and doctoral programs, by faculty-researchers associated with the Nanopower Labs and Future Photon Initiative as well as industrial partners. With more than 10,000 square feet of clean room space, the SMFL is equipped with micro-fabrication and metrology equipment to support research programs in semiconductor materials and devices, nano-electronics, MEMS devices and sensors, photonic devices and nanomaterials. All these systems are utilized as part of RIT's role in AIM Photonics, to advance integrated photonics, technology essential to the nation's manufacturing capabilities in such areas as high-speed data and telecommunications.
Overall, RIT has increased its capabilities with this equipment, and has positioned itself as a leader in semiconductor tech and research. In 2016, the engineering laboratory received a high-tech laser lithography system and a reactive ion etching system through two National Science Foundation major research instrumentation program grants. The laser lithography system is a multi-step, precision process to build, layer-upon-layer, the electronic circuitry on silicon wafers that is then used as the basis for electronic devices. The new system has several advantages over traditional proximity or projection optical lithography, Hirschman explained. The system has the ability to handle a variety of substrate shapes and sizes, make on-demand pattern changes, and implement pattern variations within a sample. Patterning can be intermixed with e-beam or optical exposure levels, providing design flexibility on pattern transfer processes.
A plasma reactive ion etching system was acquired to test and develop new materials that could complement the use of silicon for devices and improved applications related to solar energy and ultraviolet wavelength sensors. Plasma reactive-ion etching systems incorporate several steps throughout the integrated circuit fabrication process. Reactive plasma on the wafer surface, removes and refines excess material to "etch" or form patterns into the layers of the integrated circuit.
These technologies, along with the MOVPE—a metal organic vapor phase epitaxy system—used for the growth of novel materials, thin film crystals and nanostructures, give RIT researchers more flexibility and independence in its development and processing of integrated circuits.