RIT Vignelli Center partners with Corning Museum of Glass to host design workshop
The Summer Design Workshop is part of an annual series hosted by Vignelli Center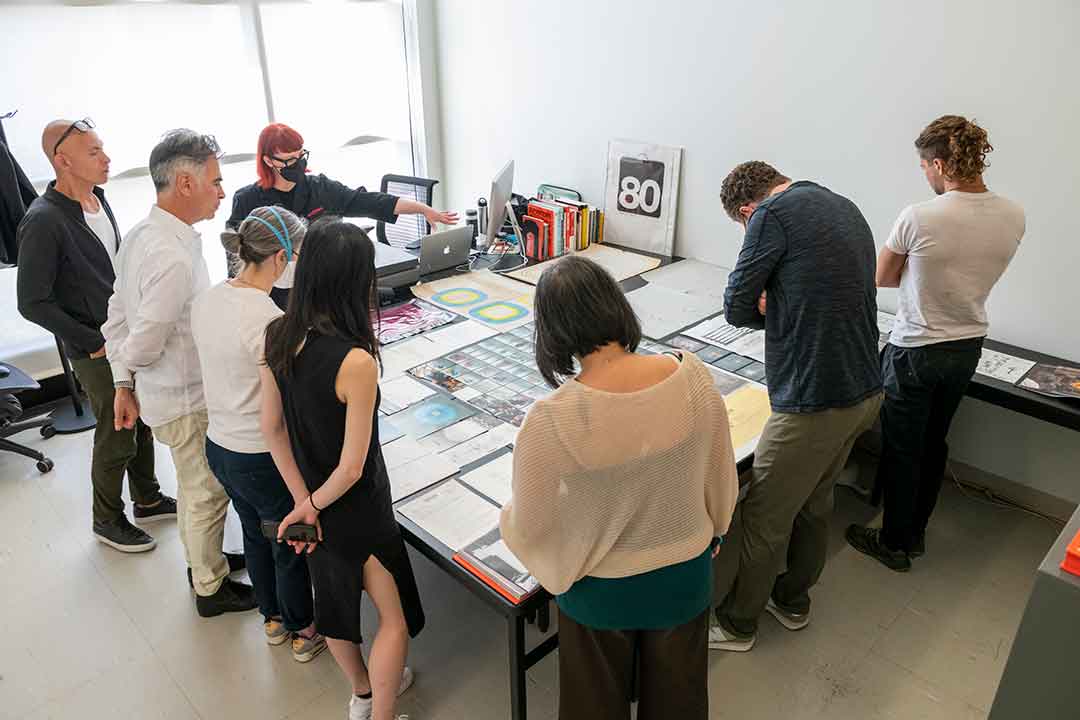 The Vignelli Center for Design Studies at Rochester Institute of Technology is hosting a week-long Summer Design Workshop in partnership with Corning Museum of Glass. Held from June 11 to 18, the workshop is an opportunity for professional designers to utilize the resources at the Vignelli Center and Corning Museum of Glass. This workshop is part of an annual series of summer workshops hosted by the center.
During the workshop, designers will investigate ideas based off a project brief focusing on the design elements of a vase. Designers will spend half of their week at RIT and half at Corning Museum of Glass.
At RIT, designers will engage with the Vignelli archives, explore on-campus galleries, and take advantage of technology like 3D-printing laboratories. At the museum, designers will work with staff to bring their ideas to life in the hot glass studios.
"Corning Museum of Glass has been a long-time collaborator with many shared beliefs in global design-thinking," said workshop organizer Josh Owen, Vignelli Center Director and Vignelli Distinguished Professor of Design in RIT's College of Art and Design. "Exposure to its museum collections and archive in the Rakow Research Library will provide participants with an unparalleled look into the material and culture of glass."
RZLBD, one of the participating designers, looks forward to browsing the extensive Vignelli archives and experiencing the "heat and radiation from the furnace" on his face during the workshop. Based in Toronto, RZLBD is an architect and artist who works with a variety of mediums and art forms, including 3D objects and installations, drawings, paintings, and photography.
"The Vignellis and their body of work have always been a great influence and inspiration. It will be a great opportunity delving into their archive and breathing the air of their legacy," shared RZLBD.
As an architect, RZLBD typically makes plans or a framework before diving into a project. However, this time he has resisted the urge to plan anything before fully immersing himself in the workshop environment.
"The fact that the outcome will be materialized—that it won't just stay as an idea on a piece of paper—is a very unique opportunity. It's also a privilege that during the whole process we will benefit from pragmatic inputs in terms of design and fabrication," said RZLBD.
Eric Meek, senior manager of hot glass programs at Corning Museum of Glass, describes glass as a "creative material which requires a one-on-one conversation." He believes the Summer Design Workshop is the perfect venue to facilitate that conversation.
"The most rewarding and expanding work we do is getting the medium of glass into the hands of creative people. Giving participants a front-row seat in the process of making glass and experiencing the nature of the material always leads to great things," said Meek.
Other designers participating in the workshop include Jason Alger, Julie Hirschfeld, Terri Lee (RIT adjunct faculty, interior design), Veronica Lin '16 (industrial design), and Jonathan Wajskol. Owen's son, Jasper, a first-year architecture student at Cornell University, was a last-minute addition to the workshop in order to try out the dynamic of having a young student of design in the mix for future workshops.
Owen will capture the work produced during this workshop through photography and plans to publish a book and video documenting the experience. Each designer will take their individual pieces home with them, but Owen hopes to exhibit the documented visuals at a later date.
Topics