September 22, 2022
by Rich Kiley
Saunders College of Business names Vanden Brul Student Entrepreneurial Award winner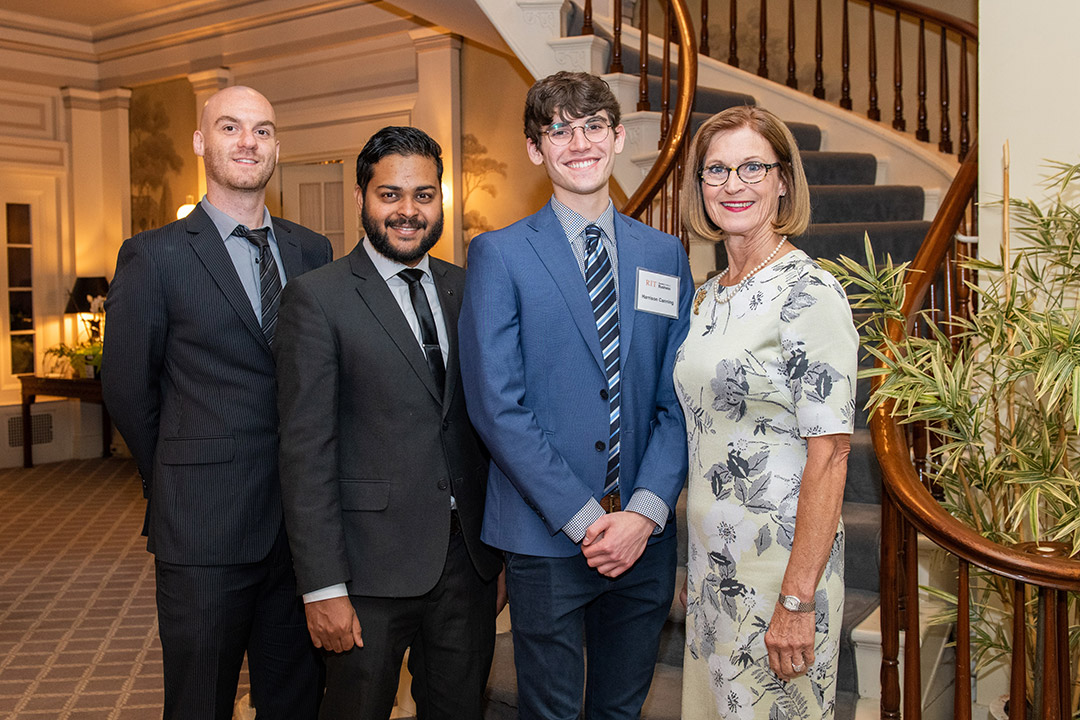 Peter Hogya, a computer science major in RIT's Golisano College of Computing and Information Sciences, was honored with the Herbert W. Vanden Brul Student Entrepreneurial Award at last week's Vanden Brul Entrepreneurial Award Luncheon at Genesee Valley Club in Rochester.
Presented annually by Saunders College of Business at RIT, the award recognizes outstanding undergraduate or graduate students who have demonstrated the potential to become successful entrepreneurs.
Hogya, a Bayville, N.Y., native, started a nonprofit, MassVaxx, alongside team members from Marquette University, to develop a vaccination distribution software system and went through both the Simone Center's Innovation Fellows and Accelerator entrepreneurial programs at RIT.
He later worked as a student with RIT's MAGIC Spell Studios on supporting local independent game developers; Open@RIT on accelerating tech transfer through open science; and NextCorps to assist local professionals to launch no-code startups. Hogya now works full-time at NextCorps on its Scale For ClimateTech program, bringing climate tech ventures from prototype to full-scale production.
"For every student it takes many opportunities to learn, to make mistakes, and eventually to succeed," Hogya said. "For me it took quite a few. I would like to thank everyone who helped to provide these opportunities for me to grow."
The student award is offered in conjunction with the Herbert W. Vanden Brul Entrepreneurial Award, given annually to a successful individual or individuals who developed a business that improved the Rochester economy or whose innovative management skills changed the course of an existing business. Saunders College of Business named Susan R. Holliday '85 (MBA), former president, publisher, and owner of the Rochester Business Journal, the 2022 award recipient.
The Herbert W. Vanden Brul Entrepreneurial Award was created in 1984 through an endowment fund established by the late entrepreneur in conjunction with RIT's Saunders College of Business. 
Topics