SG rep helps shape safe procedures for RIT spring semester
Testing, housing, and well-being on the agenda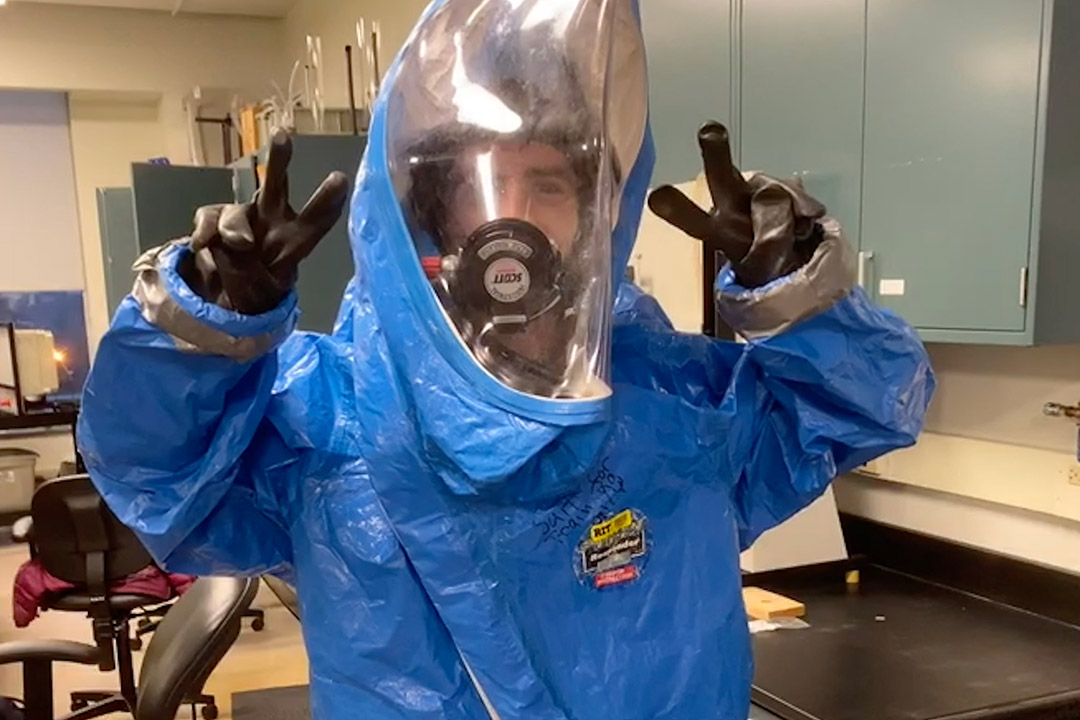 More than a dozen Rochester Institute of Technology administrators and staff members have met regularly to discuss ways to help keep campus open as safely as possible as more is learned about COVID-19.
And to provide a student perspective, Griffin Warntz, a third-year student in the environmental sustainability, health and safety and environmental, health and safety management BS/MS program, is serving on RIT's Spring Planning Task Force to help determine policy this semester, including housing, activities, and well-being for those on campus.
"The big issue is going to be starting up and starting up safely," he said. "If students are coming in from all over the country, they'll be coming from a lot of hot zones. They're going to need quarantining. Unlike the fall, when we could do all of our orientation activities outside, now it's going to be cold outside and we're going to have to do more things inside, which is riskier."
Warntz, from York, Pa., also served on the Fall Planning Task Force, where he was one of two students on the committee who met each Friday via Zoom since the semester began. He also serves as Student Government senator for the College of Engineering Technology.
"One of the big things impacting a lot of students was mental health," he said. "That topic was brought up a lot. RIT students have done an amazing job of following guidelines and distancing and wearing masks. But that takes a toll. They can't do all of the normal things they are used to doing and that becomes stressful. Normally going out with friends and playing sports are de-stress methods for schoolwork."
The task force also discussed an alternative grading option—which was ultimately approved—for students this year.
"We wanted to lift some of that weight off the students' shoulders," he said.
Committee member Howard Ward, associate vice president for Auxiliary Services, said he admires Warntz and his "uncanny low-key manner of representing the students' point of view. He commands the attention of all who are listening. As a result, he has been in a great position to get and keep the attention of university leadership to immediately address his constituents' needs. After meeting with Griffin, you leave energized and elated that he is the delivery of students' concerns and good news."
Another committee member, Lindsay Vallone, academic advisor in the College of Engineering Technology, agrees that Warntz has been a pleasure to work with on the task force.
"He captures the sentiments of the students in an informative and helpful way," she said. "Students are our top priority, and Griffin has articulated concerns concisely at each meeting. It is helpful for all of shared governance to have a voice at the table to help the administration have a full picture of the campus sentiment."
Warntz, who is renting a house in Rochester with other students from RIT, calls himself "a typical RIT guy. I like playing video games and hanging out when I have free time." He also enjoys horseback riding and started powerlifting in the past couple of years.
He said serving on the committee has been a wonderful learning experience for him. He wanted to become involved because members of Student Government are urged to serve on committees. But he's also had some experience with COVID-19 issues. Last summer, he worked at a co-op that developed a COVID-19 prevention and reopening plan for a school in Baltimore.
"I kind of sought it out on my own because it would have some relevance to what I wanted to do when I get out of RIT involving industrial hygiene and disease control," he said. He's aiming for a career with a defense contractor or in the chemical industry.
"There are all kinds of nasty stuff that could be in the air," he said. "COVID is very similar to what I'd be doing in an industry. This one is a virus versus a chemical, but the ways you control it are pretty similar. Even though it's a pretty small field, jobs are in high demand. People now are realizing that public health is pretty important. This pandemic has actually help out our market a little bit."