Students build businesses during entrepreneurial gap year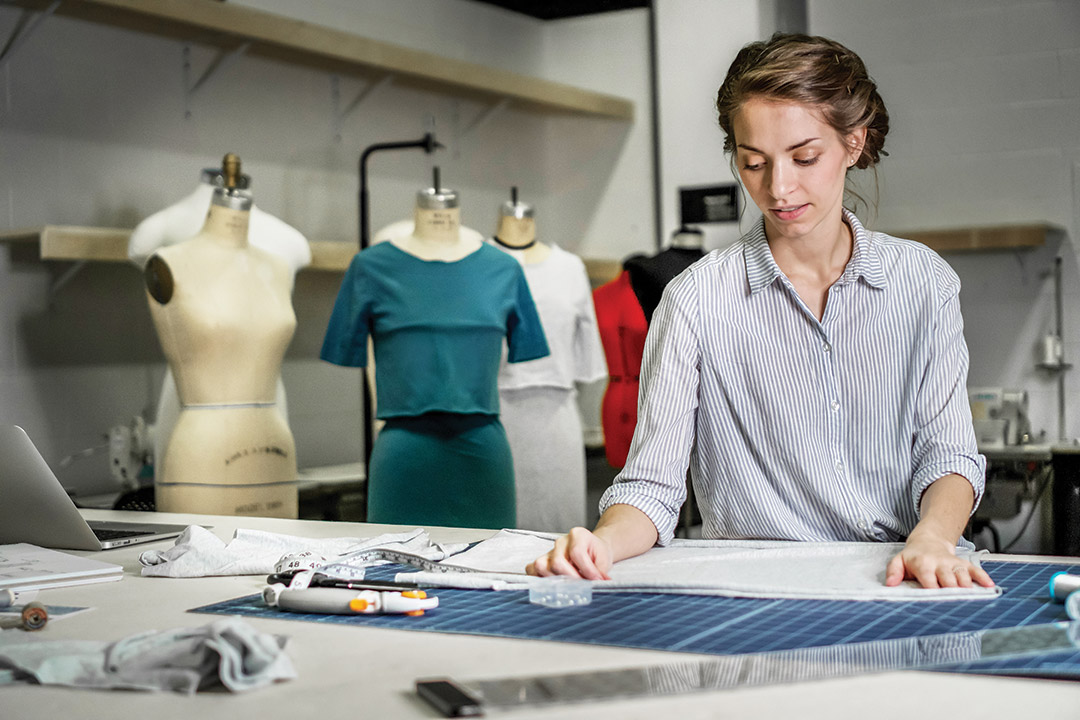 Kirstin Johnson spent the summer designing a line of nursing-friendly dresses for new mothers.
Jonathan Hacker is developing ultrasound wearables to enhance focus and memory.
And Mateo Alexander wants to help communities become more sustainable and efficient through neuroscience, adaptive technology, and innovative strategies.
To help them achieve their goals, the three RIT students in 2021 received Gap Year Entrepreneurship Fellowships, allowing them to take time off from classes to focus on their growing business, new product, or compelling social innovation opportunity.
The fellowship is made possible as part of a $50 million donation made by RIT alumnus Austin McChord '09, founder of Datto. Each received a $15,000 stipend.
Created in 2018, 15 students have received the fellowship as of the fall semester from RIT's School of Individualized Study (SOIS), in collaboration with RIT's Simone Center for Innovation and Entrepreneurship. In addition to the finances, RIT supports the students with mentoring and progress toward a degree.
"Great ideas don't just happen in the last semester of senior year, and we recognize that innovation sometimes comes with a timestamp," said James Hall, dean of University Studies and executive director of SOIS. "Transformative businesses, products, and social innovations have to be pursued with real urgency."
During the gap year, students work with a Simone Center entrepreneurship coach who serves as an adviser and mentor for the two-semester duration. Coaches and students set performance goals at the beginning of the gap-year period, and students submit monthly progress reports. The entrepreneurial experience can count toward co-op requirements in the student's degree program.
Johnson, of Rush, N.Y., a fourth-year entrepreneurial studies student in SOIS, took time off from her studies last spring and summer to design a line of nursing-friendly dresses. The birth of her son three years ago sparked the idea to create her business, A Noble Calling.
"I realized there's nothing out there that's cute and functional, just cheaply or poorly made," she said.
She spent her gap year holding focus groups, working on customer discovery, making patterns, and sending them to pattern makers to finalize.
"During that time, I spent a lot of time sourcing fabric for the dresses," Johnson said. "That's something I thought I would do in a couple of weeks, but I learned differently. I want my dresses to be intentionally made, and I wanted to source everything from the U.S. And I'm a big fan of natural fabric."
Her grant money paid for patterns, fabric sourcing, buying sample fabric, filing a patent for her dress design, branding and logo creation, and buying a dress form so she didn't have to find someone to keep trying her dresses on.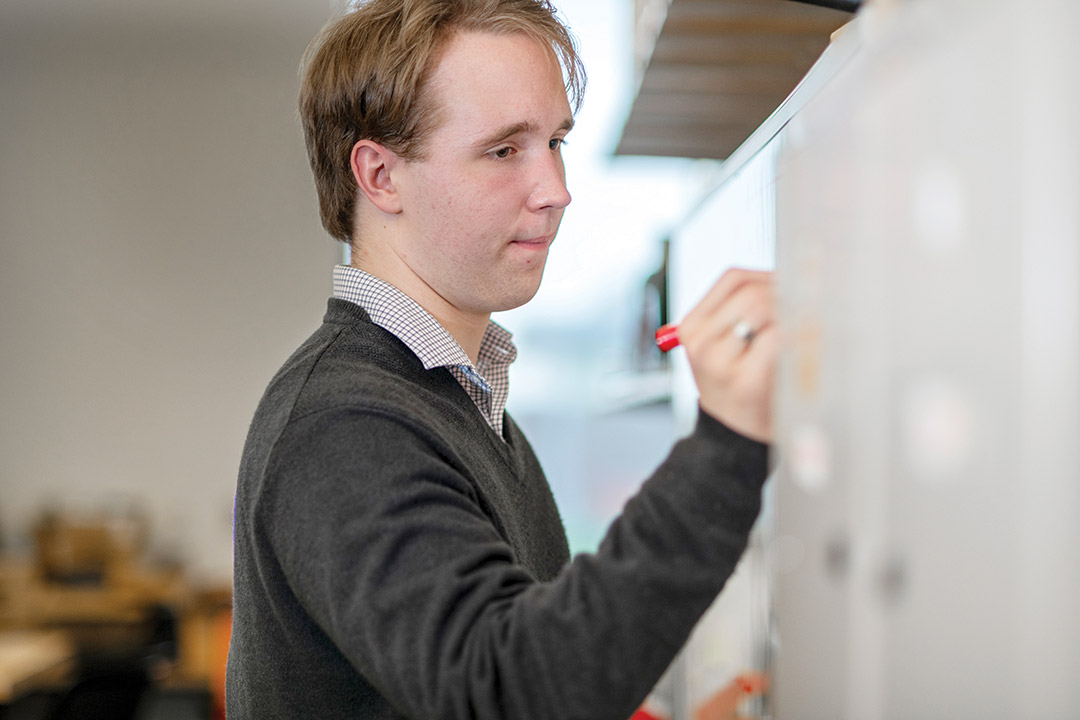 Elizabeth Lamark
Hacker, of Brighton, N.Y., is a double major in biomedical engineering and neuron entrepreneurship, a specialized degree through SOIS that lets him focus on neuroscience and entrepreneurial skills. He hopes to complete both degrees in 2024.
He spent the summer in the student accelerator program to learn how to develop his business, NeurGear. He hopes to produce ultrasound wearables to enhance focus and memory.
He first thought of this business idea when he was 12.
"Think of it as a hat or something over your ear that non-invasively stimulates your neurons to help you work better," Hacker said. "We're not treating anything. From the people we've talked to, there's a lot of interest, and I'm building up the connections we need. We're starting to get serious traction."
Hacker said the main appeal of the fellowship was the chance to make his business a reality.
 "The fellowship gave me non-dilutive angel funding, time, and even credit to be doing essentially what I would have been doing anyway. I went to three consecutive conferences, which would have completely thrown me off if I had classes to take as well."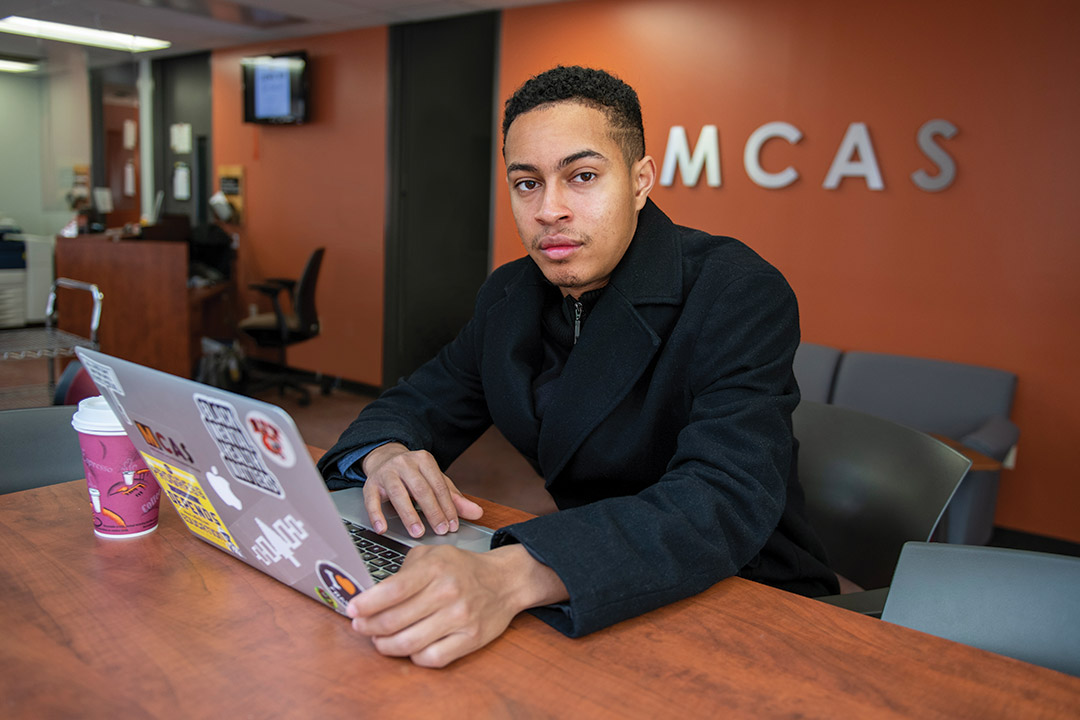 Elizabeth Lamark
Alexander, from Rochester, spent his gap year advancing his business, Future Foresight Technologies, which will provide municipality designs and consulting using neuroscience, adaptive technology, and innovative strategies to deliver unique smart city solutions including "electrical smart pavement."
"Our company is focusing on producing a road that is durable to counteract road deterioration, a faster construction process, increased data collection to kick-start better traffic management plans, and creating a complete street design so all travelers can belong," he said.
"The key to this project is having streets absorb the solar energy that typical asphalt streets would be emitting toward urban heat islands and converting it to renewable energy. We want to take that concept a step further to charge electric vehicles through inductive charging."
He expects to spend part of this year at RIT Dubai and to graduate in 2023 with a degree in applied arts and sciences. But Alexander prefers to tell people he's majoring in the future. His curriculum covers complex and looming topics such as smart city management, future studies, supply chain management, business management and innovation, and digital transformation.
Topics