Students integral in bringing popular band's livestream to life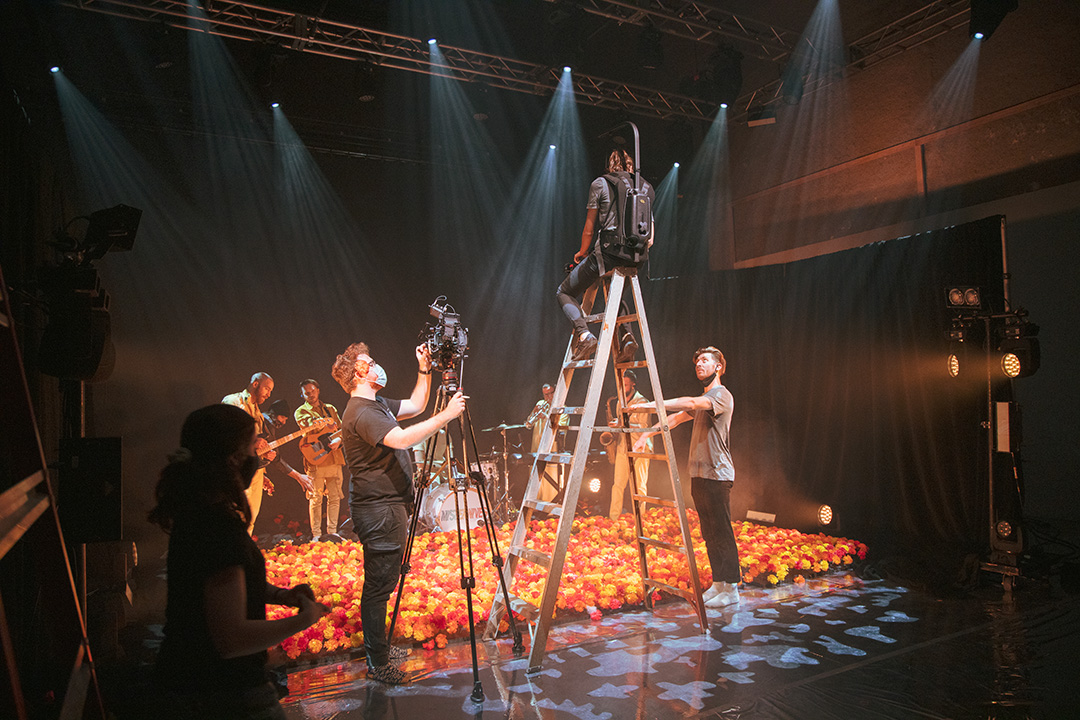 When MisterWives released "SUPERBLOOM" last summer, Sarah Alexander was listening. Months later, she found herself in RIT's MAGIC Spell Studios filming the popular indie pop band's performance of the album for a livestream event. 
Alexander '21 Production Option (Film and Animation BFA) and fellow RIT College of Art and Design students Trisha Pickelhaupt '21 Visual Media Option (Photographic and Imaging Arts BFA) and Simon Yahn '22 (Production and Motion Picture Science) were hired to work on the production of "SUPERBLOOM: The Live Dream" last fall. 
"The Live Dream" was an immersive experience — a high-energy live performance of the new album, with choreography, costumes and projections — filmed and later streamed to a wide virtual audience in December. It was filmed in MAGIC Spell Studios' state-of-the-art, 7,000-square-foot soundstage over the course of a week.
The MisterWives project is among the many opportunities students have to collaborate on professional-level productions and projects through MAGIC Spell Studios. 
"The fact that the availability is there for students to get on professional sets while they're still in school is great," Alexander said.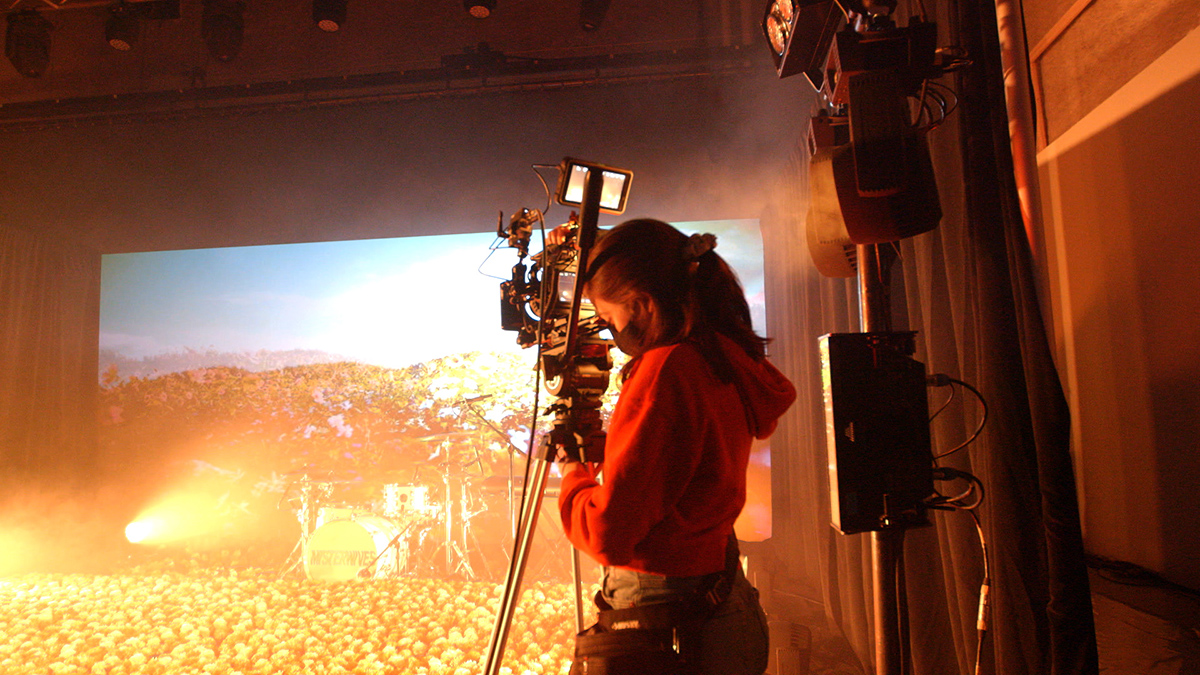 Alexander and Yahn were camera operators, capturing supplementary angles that offered depth to the finished piece. They were guided by the creative vision of director of photography Carrie Stalk and director Matty Vogel, a noted music photographer who has photographed the likes of The 1975 and Billie Eilish in concert.
"The end product was a great example of how our workflow and formula turned out," Yahn said. "With every song, there was enough variety of angles and different visuals to make it feel like each song had its own personality."
Meanwhile, Pickelhaupt was the behind-the-scenes videographer and photographer, documenting genuine moments among the band and crew members during the production process. Pickelhaupt's imagery was used to promote the livestream on the band's social media platforms.
Through her work, Pickelhaupt aimed to forge an intimate connection between the band and its fans — whether that was focusing on lead singer Mandy Lee sewing flowers onto her own costume or a crew member suspending props with a fishing line. 
"All these little things that are authentically a product of the band's imagination, I wanted to capture," Pickelhaupt said.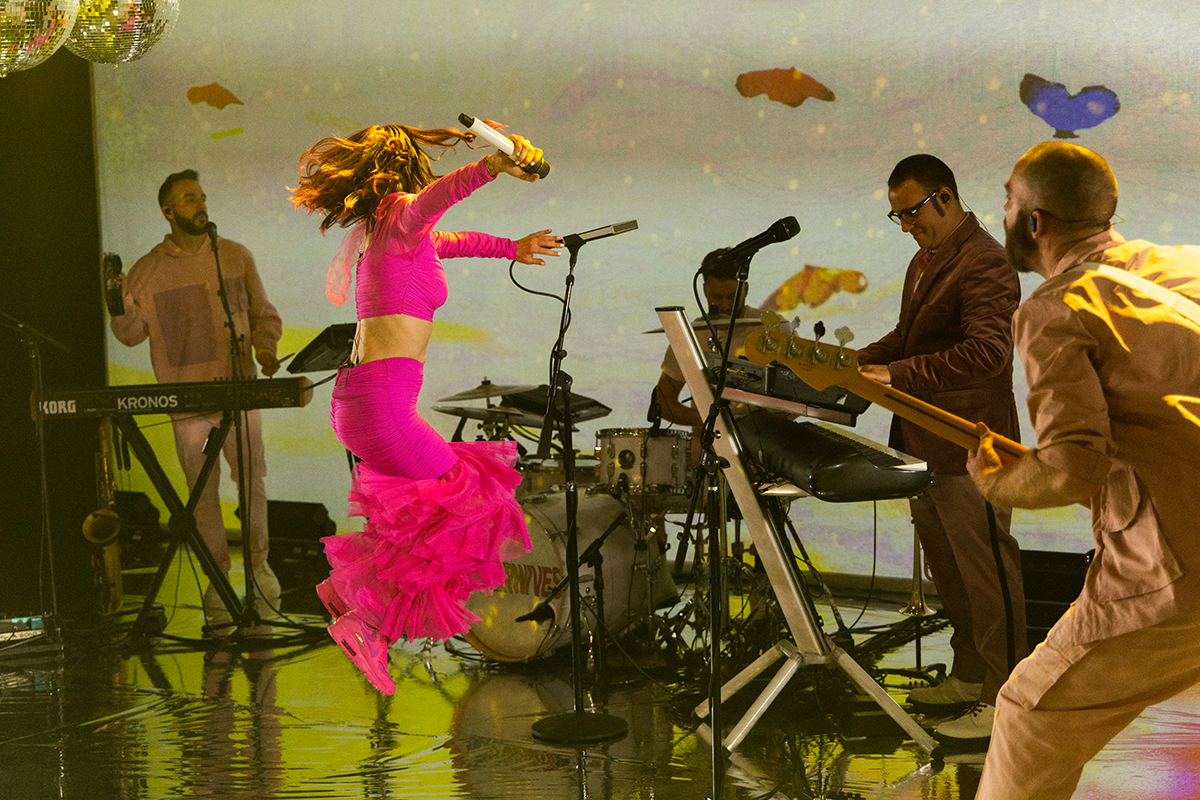 The MisterWives project exemplified the unabridged capabilities of MAGIC Spell Studios' soundstage, a world-class space that rivals soundstages found in booming film areas like New York City and Los Angeles.
"I'm thankful MAGIC Spell Studios exists and gives professional work experience with industry-leading equipment, which would otherwise be hard to come by and learn," Yahn said. "... There really is unlimited potential there. It's to the scale of Hollywood feature productions. To have that as a dependable resource is insane to young filmmakers."
"Everyone outside of the RIT atmosphere who heard about this project I was doing was floored," Pickelhaupt said. "They were like, 'Are you in New York (City)?'"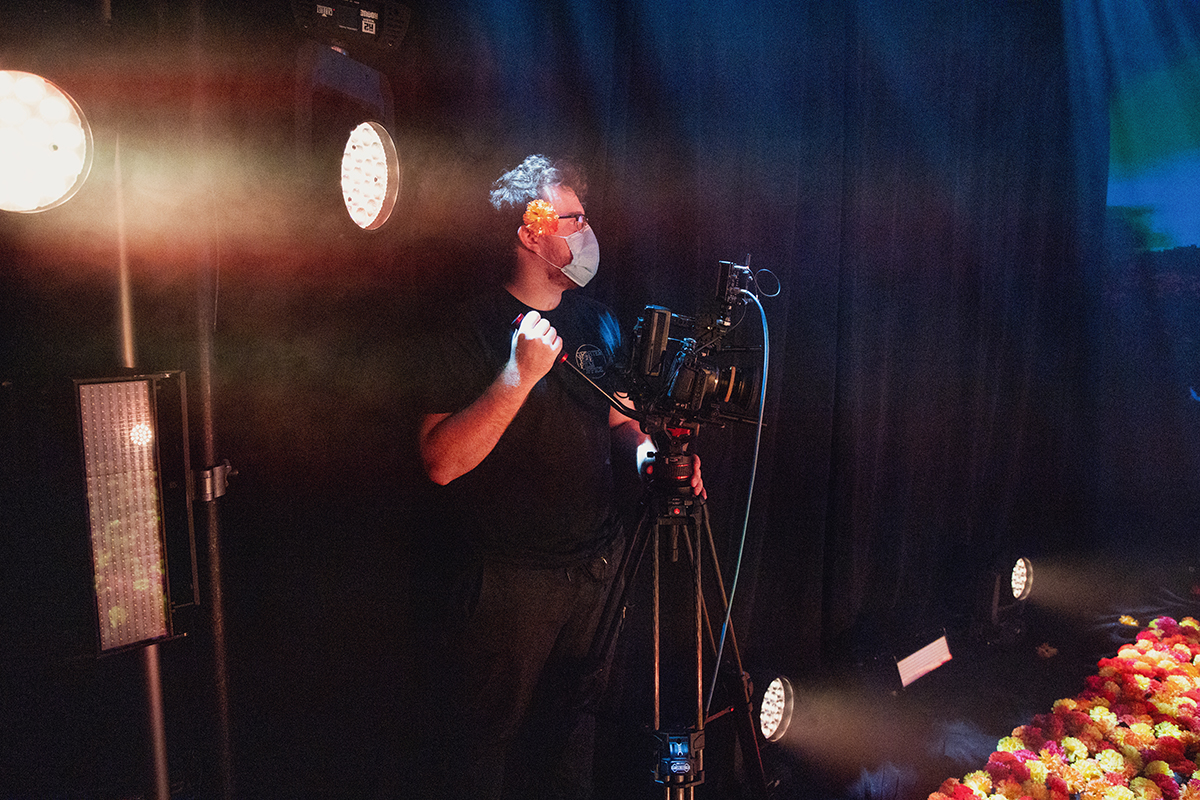 Amanda Hughes, the MAGIC Center's technology manager and studio systems specialist, coordinated the MisterWives collaboration. She said the project aligned wholly with MAGIC's mission of supporting a hybrid of real-world educational opportunities and commercial activity that spurs economic growth. 
"This is exactly what the soundstage was built for and perfectly exemplifies our belief in students learning by making," Hughes said. "The MisterWives team was excited about the prospect of bringing students on board, and it was this type of collaborative effort that drew their attention to MAGIC in the first place. I think all parties involved learned a little something from each other, and we all left at the end feeling like we were on to something really special."
With MisterWives' virtual event serving as a live concert alternative during the pandemic, the production crew worked creatively while following RIT's COVID-19 safety protocols. 
"We had the right people to make the most of a small crew," Yahn said.  "At no point did we feel uncomfortable with what we were asked to do or how many people we were around. It was very well managed."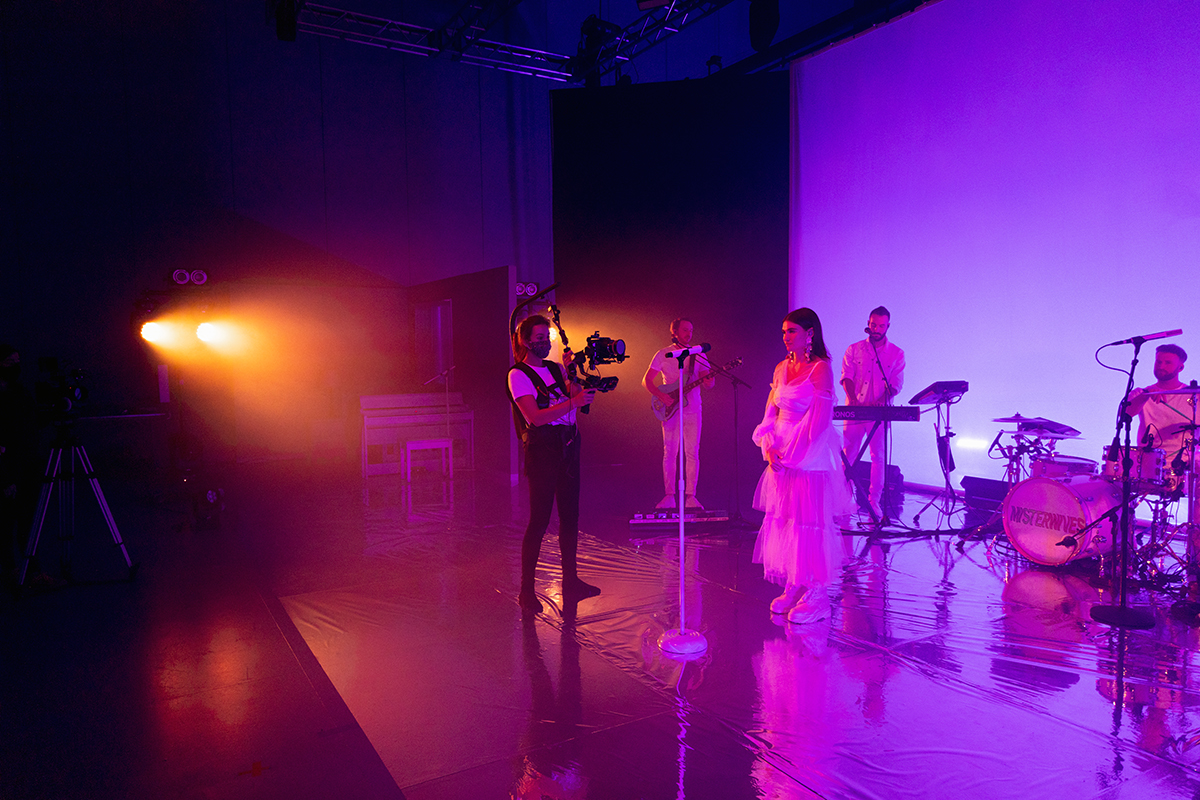 Alexander said working alongside industry professionals was fulfilling — especially Stalk, an accomplished female cinematographer, producer and director. 
"I was super into the fact that I could see a woman succeeding in this role, in something that I'm going to try to do as well," Alexander said. "She was giving me all her life experiences. She was in charge of things."
Pickelhaupt considers collaboration to be the biggest asset creatives can leverage. And, with the MisterWives experience as a chief example, she has found multidisciplinary opportunities at every corner of RIT.
"The opportunities for cross-collaborations between departments is what RIT is all about," Pickelhaupt said. "And I think MAGIC is pioneering a lot of that kind of collaboration because they know the future of innovation lies on the backs of many different people."
Topics