Undergraduate student team develops new technology for electronic circuit board processing
New equipment improves process inspection time for equipment and will be added to RIT's Center for Electronics Manufacturing and Assembly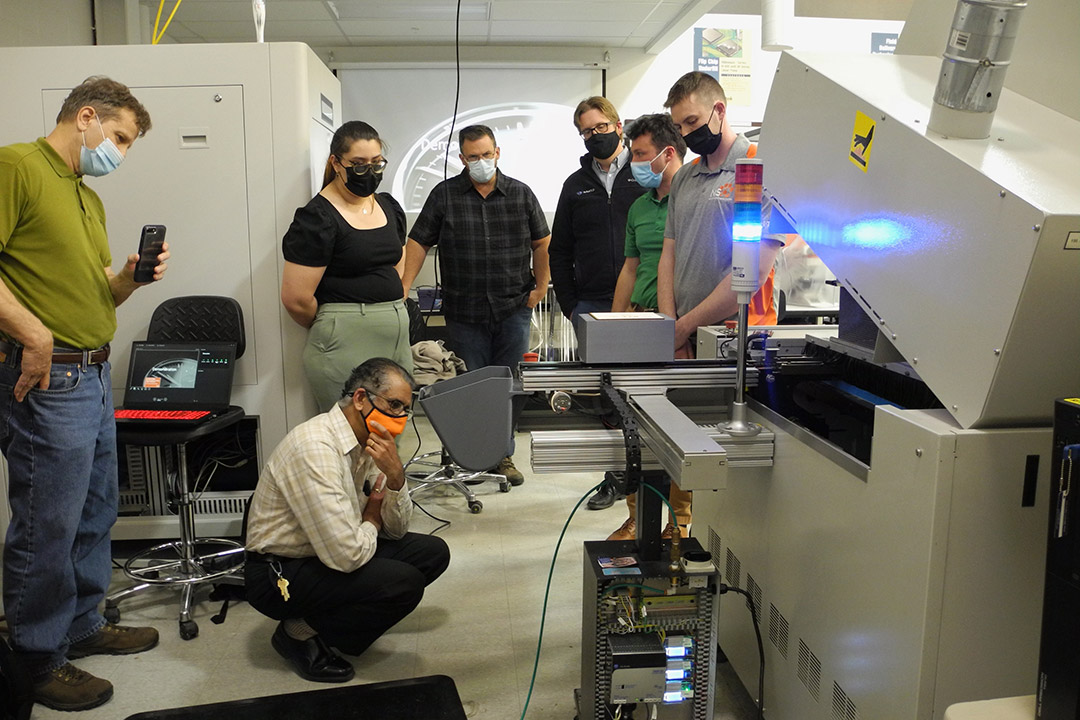 Efficient processes are needed to build a circuit board.
Five students in Duane Beck's manufacturing engineering technology senior design class developed prototype equipment to improve an inspection process for circuit boards produced in RIT's Center for Electronics Manufacturing and Assembly (CEMA).
As part of the students' Capstone project, the new equipment will be incorporated onto the convection reflow oven in CEMA, which is used to solder electrical components such as transistors, wires, sensors, and other elements onto circuit boards. Their work improved the time to assess working or non-working circuit boards from minutes to seconds.
"To see if the boards were actually functional, they'd have to go through a selective soldering process when attaching the battery or power pack to the board. That took about three minutes, which could be costly," said Brad Brewster, a fifth-year robotics and manufacturing engineering technology student from Geneseo, N.Y. "If you are talking 10 boards at a time down the line, that is 30 minutes of lost time. Our machine can do the evaluation of the board in about 15 seconds to see if the board is good or not."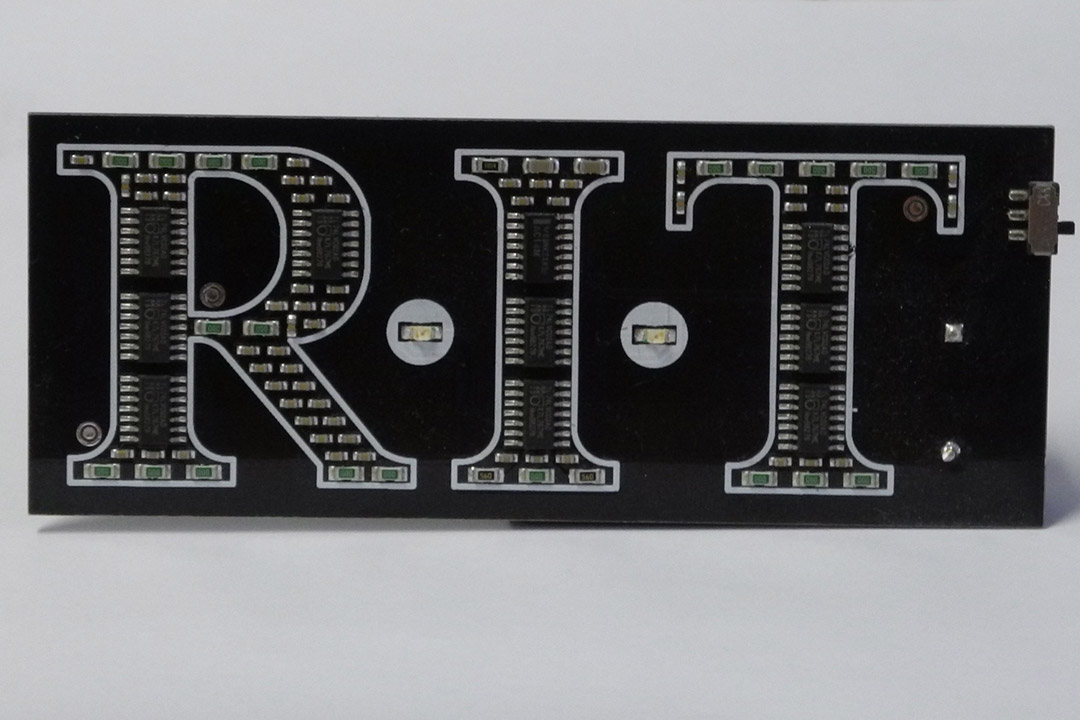 CEMA, based in RIT's College of Engineering Technology, is a teaching, training, and research lab. The state-of-the-art lab equipment is used for electronics development, testing, and packaging. One of the many activities in the center includes manufacturing circuit boards with the RIT logo for college giveaways at events such as graduation. They are fun giveaways but also a way to teach manufacturing engineering technology students how circuits, wiring and integrated processes are completed, then scaled for manufacturing.
Checking that circuit boards are functional is primarily an automated process. Manual checks are necessary when assessing non-functioning units, but time consuming, taking upwards of 10 extra minutes for an engineer to evaluate a board.
The students' retrofit design cut the process to seconds. Using the Design-Measure-Analyze-Design-Verify problem-solving process, a Lean Six Sigma technique learned in classes, the group improved the timing of circuit functionality checks, said Ian Youngs.
"We were aware of a need in the CEMA lab to help with some of the intermittent quality problems with these novelty boards that are given out. There wasn't a good way to sort those that had the defects other than sorting personnel watching the boards to make sure they were good," said Youngs, a fifth-year MMET student from Williamson, N.Y.
Using knowledge from previous courses in robotics, automation and manufacturing supported by Lean Six Sigma Green Belt skills, the group designed an innovative piece of equipment. The modular device consists of a programmable logic controller and sensors with an LED light that flashes to indicate a non-connected board. The process entailed disallowing a bad board from moving through the process by adjusting the selective soldering process. Additional movements of the conveyer were implemented to ensure functioning boards flowed upstream to the end point and non-functioning boards were moved offline for adjustments or disposal. 
Partners on and off campus worked with the team, including Axis NY, a regional robotics technology company, on some of the system design. Classmates from electrical engineering technology also assisted, and staff in The Construct helped with 3D-printing components. With guidance from Alan Raisanen, associate professor in the MMET department, the team also built several of the sensors within their prototype.
As part of the capstone presentation the students answered challenging questions from the CET Dean S. Manian Ramkumar, department head Robert Garrick, and CEMA director Martin Anslem about system improvements and how scalable—and viable—the new inspection method would be for the CEMA Lab, and possibly other manufacturing facilities.
"Within the 15-week semester, the students designed, developed, and tested a fully-functioning automated inspection unit to work seamlessly with the CEMA lab equipment," said Beck, lecturer in the MMET program and also a Six Sigma Black Belt. "I guarantee the students will feel no anxiety when they enter the workplace and their supervisor tasks them with a similar challenge. Why? They became confident through the capstone project."
Members of the team were: Bradley Brewster, Geneseo, N.Y.; Carmela Sone, Queens Village, N.Y.; Ethan Broshar, Charleston, S.C.; Ian Youngs, Williamson, N.Y.; and Kyle Mellendorf, Raleigh, N.C.