Zooming with German university to talk cars and automotive technology
RIT engineering technology students interact with peers from Hochschule Mittweida University of Applied Sciences as part of global learning experience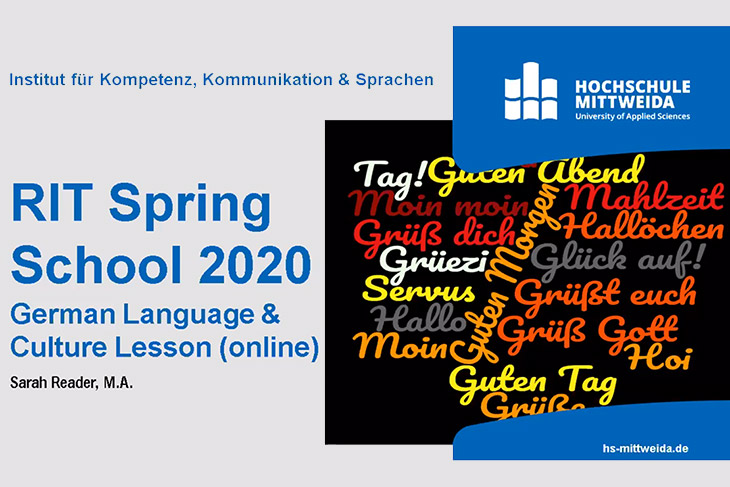 A study abroad experience for RIT's College of Engineering Technology (CET) students took place over Zoom when the class connected with peers from Hochschule Mittweida University of Applied Sciences in central Germany.
Fourteen students from RIT were part of the spring class Global Engineering Experience - Automotive Electronics taught by Martin Anselm, assistant professor in CET's Department of Manufacturing and Mechanical Engineering Technology. It was to be the onsite class for a faculty-led international program that would continue over the summer with travel to Germany. While travel plans changed because of the COVID-19 pandemic, students still connected with peers through Zoom meetings for classes in culture and language as well as instruction in automotive engineering design principles to understand the industry perspective from two continents, said Jarrett Duncovich, one of the students.
"We had a meeting with the students in Germany at the beginning of the semester to introduce ourselves," he said. "We had other lessons on German culture, traditions and basic language. The week before our presentations, Professor Weidermann, from Mittweida, lectured us on the importance of Finite Element Analysis on a design."
FEA is the process of using computer simulation to model the behavior of a part or assembly during design phases. The combination of automotive technology with electronics manufacturing was a way to help students understand how components are integrated into today's vehicles and the skills they would need to work within the industry. 
"During the semester, we learned about electronics manufacturing and even looked at a few examples of circuit boards from two different cars to evaluate how they were different in design and features," said Nicole Cuello Wajdowicz, another student in the program. "This was to help us understand and differentiate how products are designed for the environment they are going to be functioning in."
In preparation for end-of-semester group presentations, each of the students became familiar with several automotive electronic systems and analyzed the types of designs on the assemblies to account for the environment they would be placed into as well as the manufacturing processes. (These presentations were to take place in Germany.)
"This gave us a basic understanding of how the United States produces these devices," said Duncovich, who is from Islip Terrace, N.Y., and who graduated this May. "When it came time for the presentations, we researched sources through academic sources, Google searches, and compiled our research into a presentation. After compiling the gathered research and spending weeks finalizing the presentation with the feedback from Dr. Anselm, we presented it over Zoom to the class in Germany."
Anselm, who is also director of RIT's Center for Electronic Manufacturing and Assembly (CEMA), has been taking students to Hochschule Mittweida University since 2017. It is one of several featured through RIT Global, Faculty-Led Programs where faculty combine on-campus study or project-based initiatives during the semester with an international travel experience to enhance course topics. Anselm's course is both a cultural and technical immersion into the auto industry and electronics assemblies for vehicles and how different countries approach the latest innovations in car design and development.
Once the semester was completed, the students would visit the German campus for just over two weeks with lectures and activities with the students from Hochschule Mittweida and afternoon visits to regional historic sites and tours of some of the top auto firms in the world, including BMW, Volkswagen and Porsche, located in nearby Leipzig and Dresden. Another draw, especially for RIT students on the RIT Baja and Formula racecar teams, are meetings with peers from Hochschule Mittweida's Formula race team.
Anselm has a personal connection to the host university in Germany, which comes as a surprise to the students while they are learning more about their classmates overseas and the university—a 150-year-old international campus with 7,000-plus students. Julius Johann Alexander Anselm is one of the former presidents of the university and helped restart the university after World War II.
"This semester is likely one we will not forget for a very long time. My students and I have faced challenges and disappointments this semester we could not have predicted," said Anselm about the class. "Despite the challenges, we still managed to participate via online platforms to host Hochschule Mittweida in several joint classes and events."
One of those events was a session by Sarah Reader, language professor at Mittweida.
"The impressions of the Americans during the Intercultural Introduction and German Quick Lessons always play a big role," said Reader in a statement. "Even if we were only able to offer a small part of the regular program, it was again exciting to answer the questions of RIT students about life and everyday life in Germany and the German language."
COVID-19 changed everything for the group this year, and although they did not get to Germany, there were moments that made a big difference to the students, said Cuello Wajdowicz, who is from New York City. She also graduated in May.
"I am very passionate about electronics manufacturing," she said. "This class was extremely helpful at adding to the knowledge I previously had. But also, it was a great opportunity to learn about a different culture with different customs. In my opinion, this class is the perfect combination of an engineering course with a cultural course."
For Jarrett, travel to Germany was on his personal "bucket list." Although he was unable to travel for this academic year, he valued how today's automotive market is so interconnected.
"When we get out into the workforce, you are expected to communicate with various different personalities, languages, cultures, and expectations all trying to unite under one common goal. Some of the things I took away from this was that even though we are oceans apart and come from different cultures, the knowledge of engineering and the science behind it is one universal language."