Science: A Solid Foundation for a Problem-Solving Future
February 11, 2022
Alex Knowles BS '19, MS '20 (chemistry, materials science and engineering)
Faculty: Scott Williams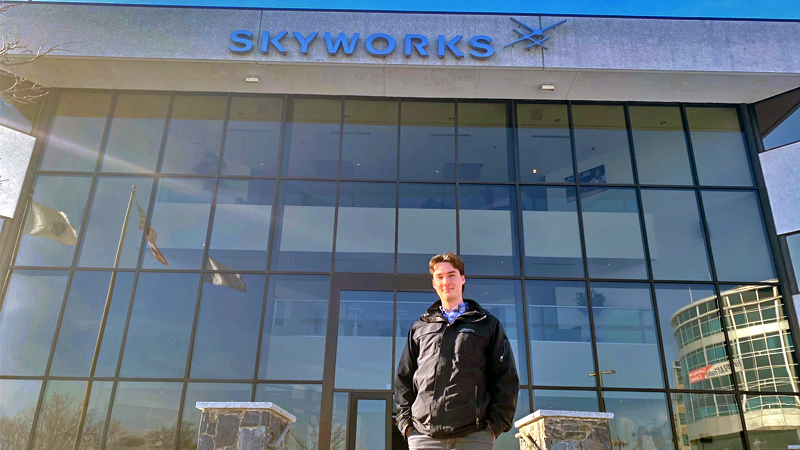 Alex Knowles majored in chemistry as an RIT undergrad, but he kept an open mind, exploring areas of interest even if they weren't in chemistry. He decided to stay at RIT to complete a master's degree in materials science and engineering, and today his career is in engineering with a semiconductor chip manufacturer.
"My college education allowed me to gain further understanding of a wide range of topics rather than just my specific role. Being more well versed in chemistry and materials science has allowed me to communicate with scientists and engineers involved in areas other than my own."
A semiconductor chip is an electric circuit with many components such as transistors and wiring formed on a semiconductor wafer. The Semiconductor Industry Association calls semiconductor chips the "brains of modern electronics." They are an essential component in communications, computing, healthcare, military systems, transportation, clean energy, and countless other applications. As a Senior Process Engineer at Skyworks Solutions in Woburn, MA, Alex oversees many processes and tools related to the manufacturing of semiconductor wafers.
On a typical day, Alex monitors the wafers coming through the tools to make sure they meet and exceed specifications. He also monitors the health of the tools and looks for ways to maximize their throughput and minimize the chances of mistakes happening. Alex also spends a lot of time in their manufacturing clean room, working with the operators to determine where there are problems and then tracking down and eliminating the sources of their problems. In addition to the day-to-day work, Alex is involved in next-generation semiconductor materials processing research and development (R&D).
The most critical skill to being successful in this line of work is problem-solving, according to Alex. "Things move extremely quickly around here, and I don't have time to sit and contemplate a problem for an extended period of time while production is still running." He also emphasizes the value of good people skills to work with other engineers and operators, and the critical-thinking skills needed to improve processes. The ability to think on his feet and make good decisions was something that RIT helped him develop.
"My favorite professors focused on teaching us how to think through a problem, and that there were many ways to do so."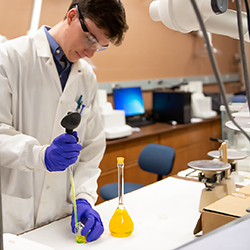 Alex says his degree program gave him excellent fundamentals that have helped in his understanding of much more complex subjects. Professors rarely prescribed solutions to problems but instead left things more open-ended so that he had to figure it out. This extended to his work in Professor Scott Williams's research group where Alex was given the freedom to take his research in the direction he wanted. That allowed him to explore his own "what if" questions and it helped Alex to come up with creative solutions that laid the groundwork for the kind of career he's in now.
One of Alex's projects as a research scholar involved the deposition of quantum dots in a Magnesium Fluoride film using the sol-gel method. Quantum dots are semiconductor nanocrystals 2-10 nm in diameter that fluoresce different wavelengths based on their size. The films are deposited using inkjet printing onto a silicon-based detector for satellites. The quantum dots raise the efficiency of the detectors and enable them to measure higher energy radiation, such as that from far-off stars.
Continuing his education at RIT to complete a master's degree set Alex apart from his peers. "My depth of knowledge is better, and my work on my research project has led to me taking on much more responsibility than others without graduate degrees," said Alex. He has found he's more versatile and qualifies for greater compensation as a result.
Alex's advice to high school students is to learn a wide range of subjects, including research and development, manufacturing, and areas outside of your major that interest you. This broad education can help open up an even wider range of job opportunities in the future.
---