A Summer of Augmented Reality and 3D Software Experience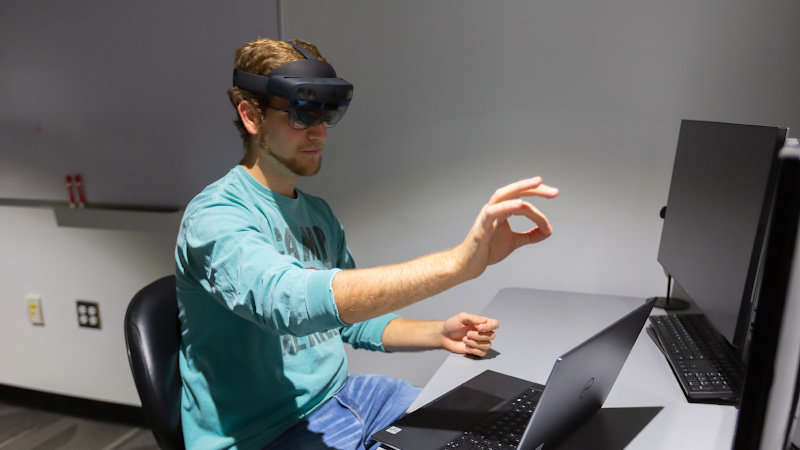 Since high school, Mason Wahlers has been passionate about computer science and physics, but it wasn't until his summer internship in the Emerging Technologies group at Corning, Inc. that his career path began to take shape.
As a programming enthusiast, Mason considered studying computer science at RIT, but he found the Imaging Science program more appealing. "The small, tight-knit nature of the imaging science community attracted me to the program. The atmosphere was friendly, making it easy for people to get involved, make friends, and receive mentorship. I'm interested in the computer vision aspect of imaging science and look forward to doing more in that area in the future."
When it came time to find a summer internship, Mason attended the RIT career fair which was held virtually in 2021. He also asked upper-level students from the student organizations he was involved in to give him some tips on his resume. "During the career fair, Corning was the last company I spoke with, but I knew I had to follow up with them, so I emailed them, and the rest is history."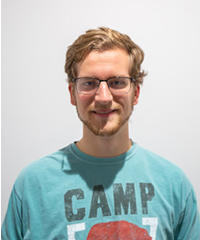 At Corning, Mason was part of the Emerging Technologies group. The team utilized new augmented reality technologies and helped other groups at Corning implement the technology for their own projects. Mason worked on various use cases that typically involved virtually connecting employees across the world using the Microsoft HoloLens to create virtual and augmented reality simulations of workplace tasks for new employees.
"I worked with the HoloLens—an augmented reality headset—and 3D modeling software to optimize models for use on the headset. Additionally, I created demonstrations and documentation for other Corning divisions interested in using the technology. Learning how the HoloLens operates was extremely fun since I find the technology fascinating!"
Mason worked remotely during his internship which allowed him to take local summer courses and stay connected with his family. But he also traveled to different cities for business meetings and technology demonstrations. The opportunity to observe how people succeed in their environment allowed him to gain a real understanding of the corporate world. "The dynamics and organizational strategies used at Corning inspired me to implement them in student organizations. Everything at Corning is very structured, which works well with my personality."
Through his internship, Mason was not only able to gain valuable corporate experience, but he connected with mentors who cared about his success. "I had two supervisors, one for the functional aspect of the team and another for the administrative side. My functional supervisor taught me how to contribute to meetings and properly deliver a product to customers. My administrative supervisor took an interest in my future and what I envisioned for my career. I felt I could ask her anything about navigating my early career; she always had an insightful answer." As a result of Mason's internship, he has a clearer understanding of his career path and what he is looking for in a job. "Before my internship, I thought I would have a job that was very specific and I would specialize in that field. My mentors at Corning have inspired me to aim higher; reach for leadership positions and contribute strategically to a company."
Mason recommends students 'network like crazy' when looking for co-op or internship opportunities. "Go to the career fair on campus and talk to any company that appeals to you. When I discussed my virtual reality projects with Corning, they became interested in me. Also, don't forget to follow up! Send them an email and express your interest. To get an internship, you don't need to be the best student; you just need to be determined."
---