Alumna strikes right chord as product designer at Anchor/Spotify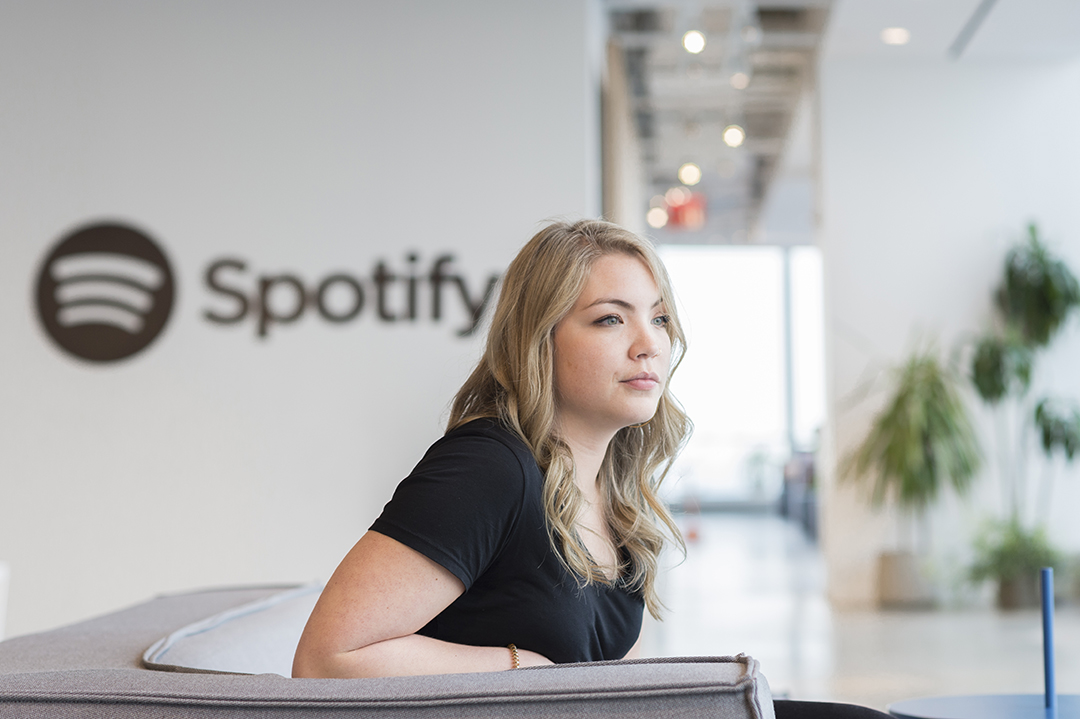 Throughout her design career, Emmi Hintz '12 (New Media Design) has maintained an innovative skill set that's grown with industry trends. She's used it to sit in key positions at a pair of startups later acquired by well-known companies.
First a user interface/user experience (UI/UX) designer for photo editing app Aviary, part of the Adobe family, Hintz is now a lead product designer at Anchor — a podcast creation app bought by Spotify earlier this year. Graduating from a program that emphasizes student proficiency in areas germane to the future of design and technology, her path to Anchor/Spotify can be traced back to RIT. 
"I reflect on this every day. I went through a program where I got to experience and got to try and learn a lot of different things," said Hintz, from Spencerport, N.Y. "And then I happened to begin at a startup that kick-started this journey. It's been very exciting."
Hintz specializes in iOS and Android app design. In fact, she contributed largely to a project where Anchor's Android app was optimized for Google's Material Design system, earning the company a Material Design Award in the category of Adaptation. She's also redesigned Adobe's Lightroom app on Android and implemented the transition animations for an Anchor advertisement that appeared in Times Square. 
Amidst Hintz's ascension in the field, she's had moments that further endorsed the training she received — specifically when the Adobe After Effects know-how she accrued at RIT proved to be of significant value.
"Having the ability to show what the transition from one screen to another looked like (in After Effects) was a very valuable skill that helped influence many product decisions throughout the years," Hintz said. "RIT does a great job of making sure everything is relevant to what the trends in digital design are and teaching a variety of skills to add to your tool box."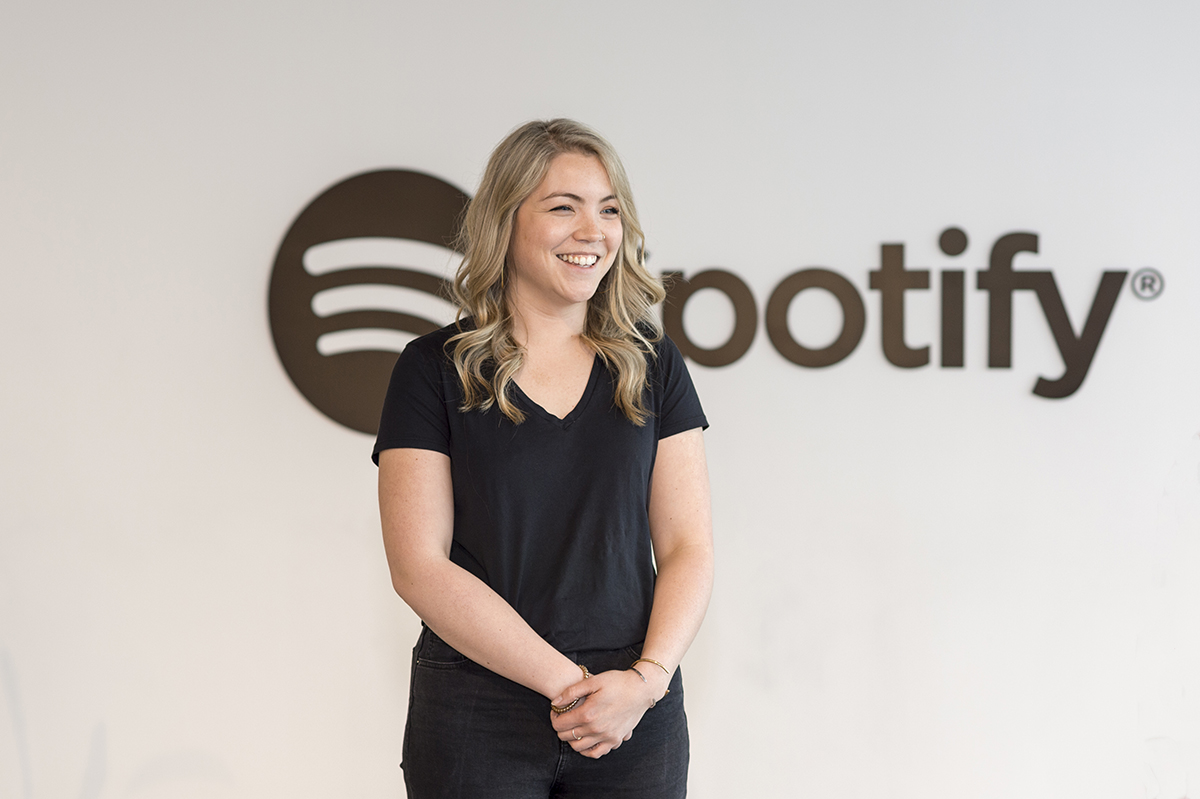 Between obtaining abilities that don't go out of style and opportunities to collaborate with developers from RIT's New Media Interactive Development major, Hintz was not only well-prepared to start as a young professional — her experience in the program acted as a bridge to long-term success.
"That's one of the best decisions I ever made. I probably wouldn't be where I am if I didn't go to RIT because I feel like the New Media Design program set me up for the best career path," said Hintz, who works out of Spotify's New York City office. "Having a wide range of skills and things that you're interested in worked really well for being at a startup."
Each year, fourth-year students in New Media Design team up with New Media Interactive Development students to create interactive experiences for showcase at Imagine RIT: Creativity and Innovation Festival. The multidisciplinary project continues to pay dividends for Hintz, who is able to speak the programming language of the developers she works with on a daily basis at Anchor/Spotify. 
"That was a great look into what it's like to work in tech and what's it's like to work in product design," Hintz said of her group senior year project, an Indiana Jones-inspired game. "That relationship between designers and developers is really important. Everything we did in new media is very related to what I do now."
Having worked for startups, Hintz likens their atmosphere, where communication and teamwork are essential qualities, to her experience in RIT's New Media Design program. She was exposed to many areas of the field — from UI/UX, web, mobile and 3D design to photography and video — within a tight-knit community that fostered the exchange of ideas. To Hintz, it was an accurate simulation of what was to come.
"I've worked in mostly startups. I think that type of setting — being flexible, working with a lot of people who are also passionate and working with developers — the whole environment of New Media Design was similar," Hintz said. "... I feel very fortunate that I have gotten to see a lot of different types of design and had a lot of different experiences. That has added to where I am in my design career and where I am going."
Topics