Alumnus Vincent Alban named College Photographer of the Year for second year in a row
RIT students, alumni received a total of seven awards in this year's international competition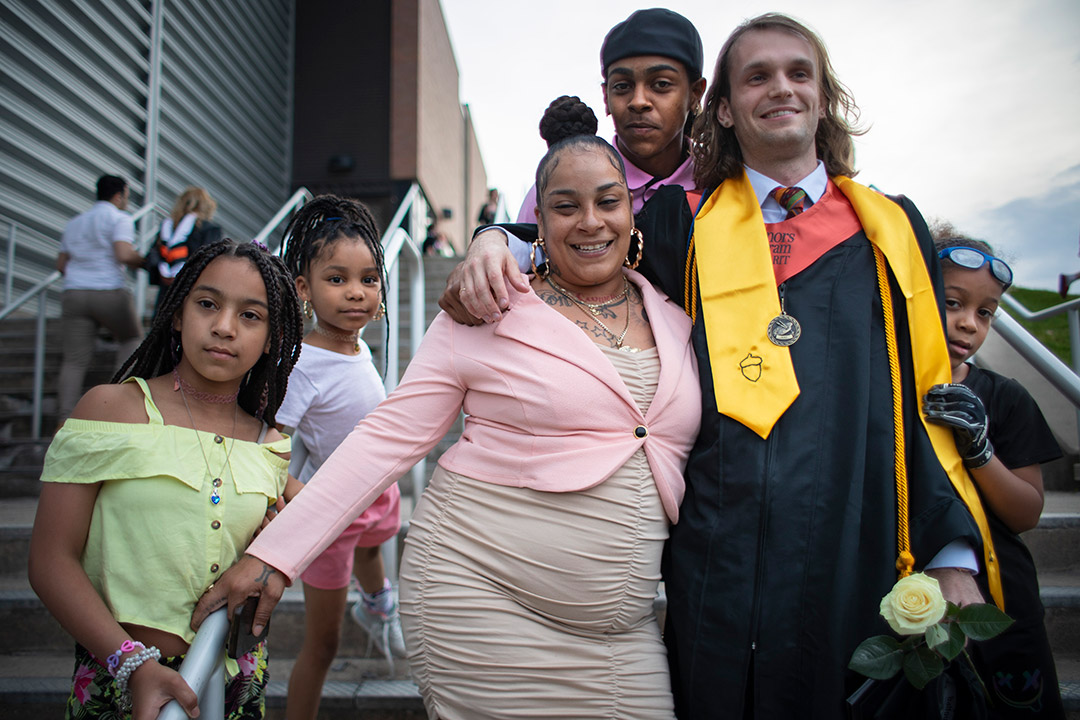 Students and alumni from RIT's School of Photographic Arts and Sciences received a total of seven awards in this year's international College Photographer of the Year competition. Among the awards, Vincent Alban '23 (photographic and imaging arts, photojournalism option) earned the title of College Photographer of the Year for the second year in a row.
Photo gallery
Click through the main image to see more award-winning work and the artists behind the lenses.
"The honor of winning the title once was indescribable to me, and to win it twice is very special. After I won the first year I thought, 'Well, where do I go from here?' And I told myself that I should keep doing what I'm doing and just enjoy myself while doing it," said Alban.
The annual competition is administered by the University of Missouri, with continuing support from its co-sponsor, Nikon Inc. This year, there were more than 600 students from 50 countries who submitted work to be considered as part of the competition. Each participant submits work completed within the last year—from Aug. 23, 2022, through Aug. 22, 2023—to be judged anonymously.
Awardee Maya Giron '23 (photographic and imaging arts, photojournalism option), based in Rochester, Minn., also received honors in 2022. She has been submitting her work to this competition since her second year at RIT. The photo that earned her an Award of Excellence in the Portrait category this year was part of her senior capstone project.
"I think entering contests like this is not only a great way to improve your own work, but also a great way to meet other really cool people in the industry. I can honestly say that I have learned a tremendous amount from simply viewing other photographers' work in the contest. I've also made some really strong friendships along the way, which is the most important thing," said Giron.
Jenn Poggi, associate professor and undergraduate director of the College of Art and Design's photojournalism program, said that the value of the competition doesn't lie solely with the awards and titles. She explained the competition prompts students to think critically about their own work and progression as a photographer.
"When creating portfolios to submit to the competition, our students look at the work they've completed for jobs, events, or school assignments in a new light. It pushes them to take stock of what they have and to see how they might have grown," said Poggi. "We are so proud of the students who received accolades this year, and there are over a dozen other students who made it through several rounds of judging. That in itself is an accomplishment. It's not just about who wins, it's about experiencing the process."
Submitting work to a competition of this scale can be daunting, but fourth-year photojournalism student and Rochester local Kayla Bartkowski shared that putting fears and worries aside is necessary in order to grow as an artist. She was happy to have pushed out of her comfort zone and grateful that the push paid off.
"I worked extremely hard on the piece by creating the visuals, writing the text, and coding the entire webpage, so seeing it recognized felt really rewarding," said Bartkowski. "I was at the Women's Photographers of Washington portfolio review in D.C. when two of my classmates, Georgia Pressley and Quinn Freidenberg, came running over and told me the news. It was really nice to be with my classmates and friends for that so we could share the excitement together," said Bartkowski.
In addition to the opportunity to share their work, Ryan Reyes, a third-year visual media student from Washington, D.C., viewed the competition as a valuable and visible platform to share their work that touches on social and political issues. They received two Awards of Excellence in the Spot News category for photographs of protests they documented during a semester abroad at Paris College of Art.
"I always aim to capture history as it unfolds in my eyes, particularly with the goal of fighting the biases imbued in our society by capitalism and white supremacy. At that time I was there, the French government was beginning to push forward controversial legislation that would make acquiring a pension much harder for workers," said Reyes. "As an American, it was truly inspiring to see the solidarity of the French working class and how much the citizens, especially young people, cared for their future."
Standing at the starting line of his budding career as a freelance journalist in Chicago, Alban said that Rochester and the connections he formed here will stay with him for years to come. His biggest piece of advice for current and future students at RIT is to get more connected with the city.
"There is an incredible amount of stories that need to be told, and there's many issues facing the city of Rochester that are microcosms of issues all across America. I learned so much about photojournalism through doing my project about gun violence in the city, and I want to see other students engaging more with the city and not just the comfortability of Henrietta," said Alban.
Below is a list of RIT's placements in the awards, and the full list of winners is available on the College Photographer of the Year website.