Design students build skills, community with intensive workshops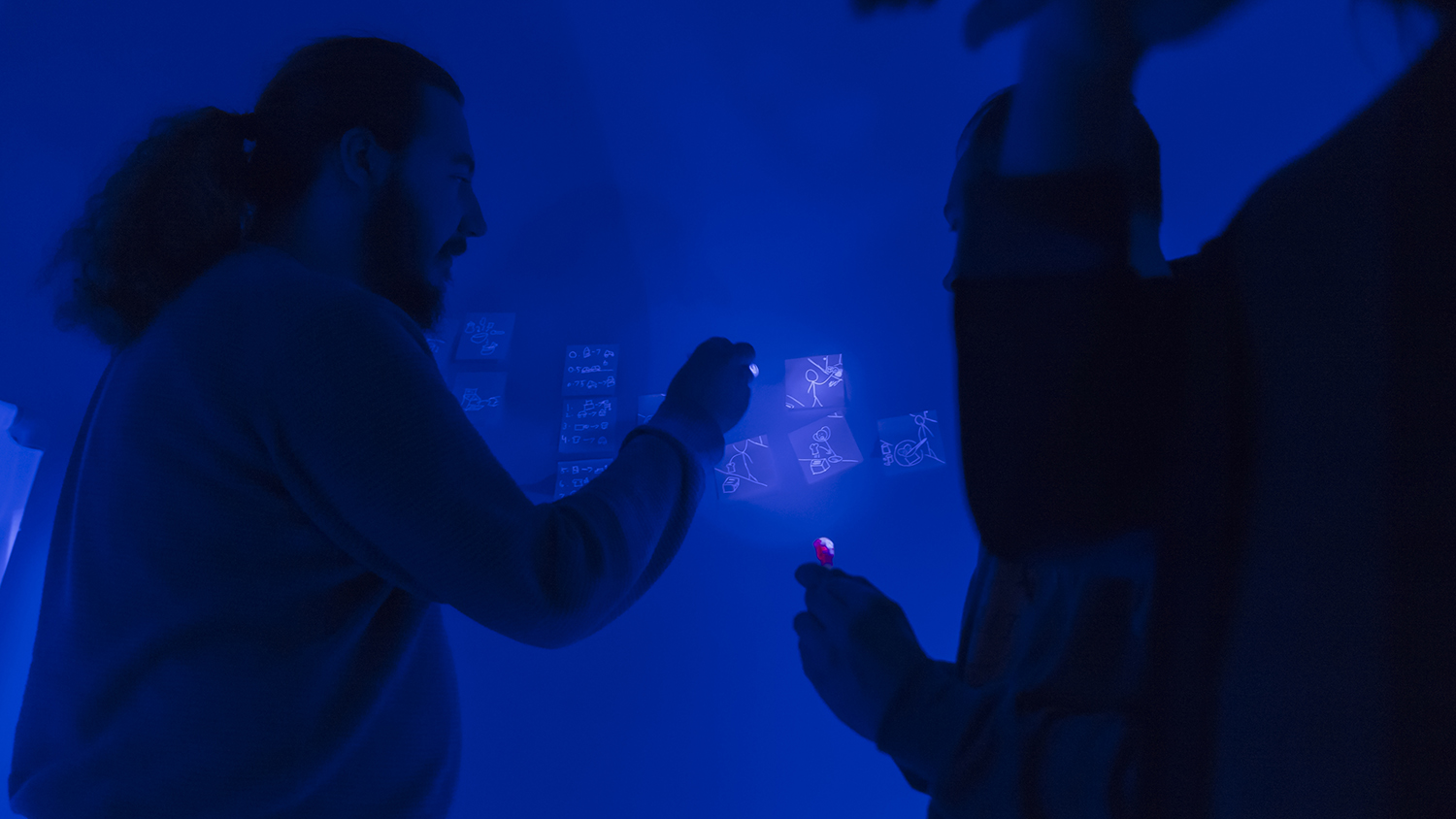 Marili Vaca, Photojournalism student
Once Noah Mesh and his teammates approached the 3D Digital Design program's 100-Hour Project as a fun challenge, they maximized the experience. 
It enabled the group to use everyone's technical and creative strengths while building camaraderie in developing an animation based on the project brief.
Mesh was among the hundreds of students who participated in one of four annual RIT School of Design workshops that kicked off the spring semester for the 3D Digital Design, Graphic Design, Industrial Design (BFA and MFA) and Interior Design programs. Every year, the programs hold their own intensive experience where students work in teams to solve a design problem. The collaborative workshops encourage and promote creativity, innovation and community while, in some cases, working with an industry partner or visiting artist.
100-Hour Project
This year, 3D Digital Design's 100-Hour Project focused on creating one-minute animations around the theme of "secret agent." Ten student teams produced narrative videos with original characters, environments, lighting and more.
For Mesh and his teammates, the week wasn't as much about the output as it was taking advantage of the benefits the 100-Hour Project offers. The leadership and teamwork opportunities — as well as the coordination of skill sets to ensure optimal efficiency — were the most important takeaways, according to Mesh, a third-year student. 
"It's programs like these that kind of reunite the major," said Mesh, co-leader of his group. "Things can get hectic with classes and other projects. But big events like this where we all collaborate at the same time, and you can see what everyone else is doing, it's a really good refresher for the mind and social circles."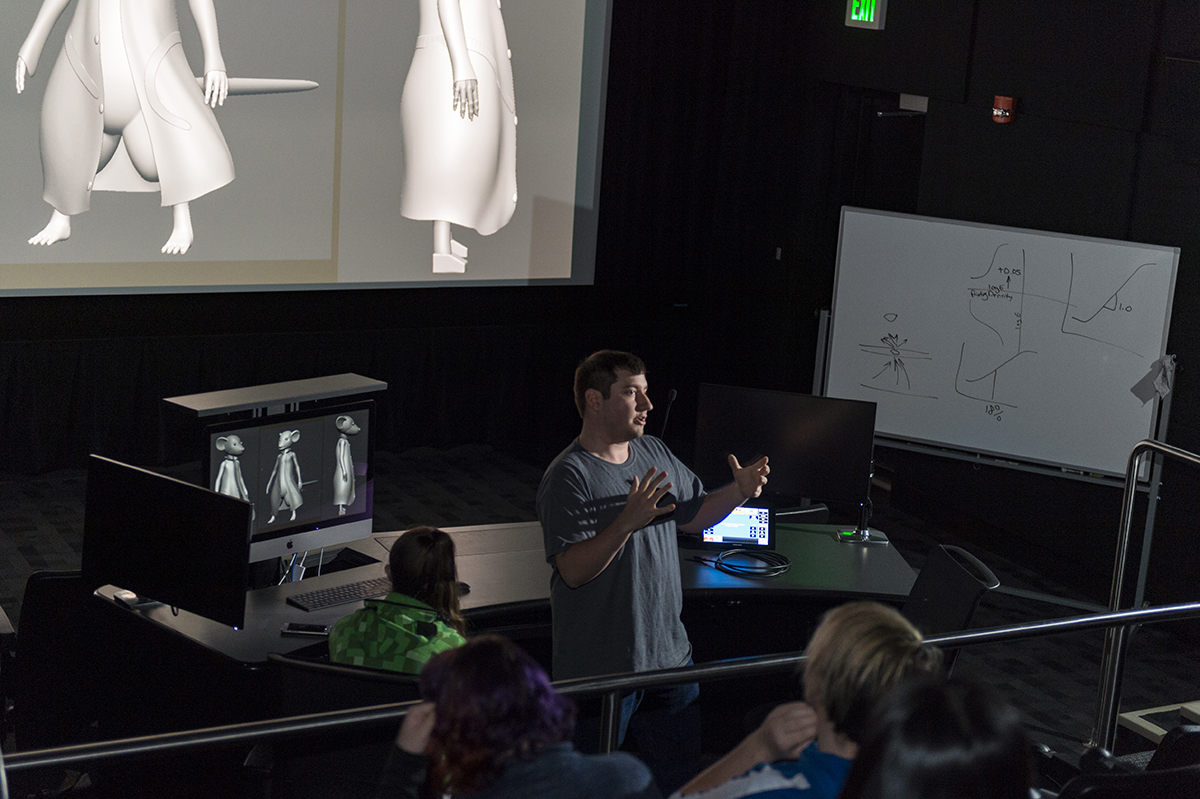 To aid the production of the animations, 3D Digital Design faculty held various workshops for students throughout the week.
Mesh's team, Scarlet Bravo, made a movie trailer-style video following a walking top hat that is an ordinary headpiece by day, but by night is a top-secret spy sworn to halt a vengeful computer threatening to delete the internet. 
Hyperspace
The Central Library of Rochester and Monroe County's Secret Room has made countless childhood memories during its near-100-year history. For its program-wide Hyperspace workshop, Interior Design students teamed up with the library to unlock more magical moments for youngsters in the future. 
The Secret Room is a pint-sized space that's long hosted library programming and holds the George W. Cooper Doll Collection.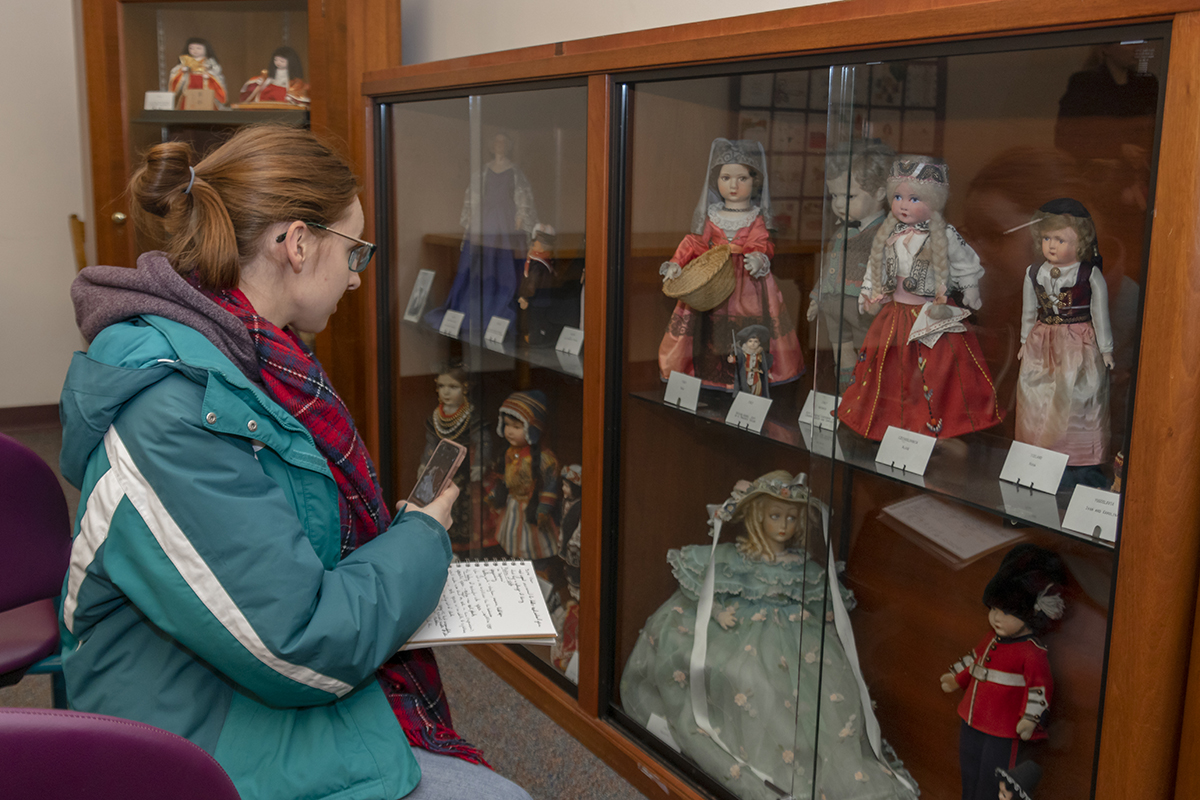 Seeking a redesign of the area, the library tasked students with producing interior design packages that arouse a heightened sense of magic and mystery. Teams of students proposed concepts for an experiential place of wonder for children as they find the hidden entrance and step into the Secret Room for an enriching experience. 
The winning team of Sara Chambers, Gillian Kostek, Amy McFeely, Caroline Pedrotti, Thomas Richter, Jonathan Sutton and Sarah Vollmer designed "Haven." It's a flexible, multi-use space that maintains the Secret Room's cultural and historical context to Rochester. The lively layout features areas for stories, movies, learning and play.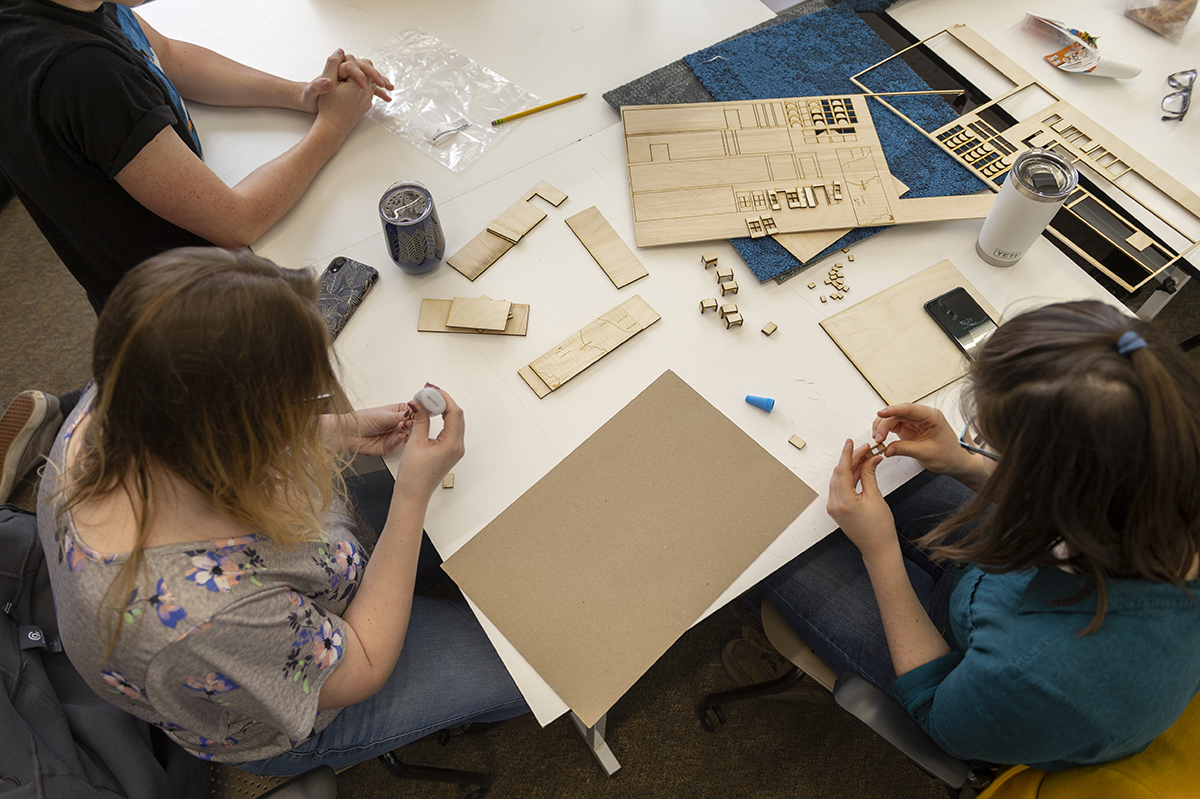 Pedrotti said the structure of Hyperspace — which places third-year students on each team in leadership roles — sets a foundation for success even after the workshop's completion. 
"Allowing the juniors, rather than the seniors, be project managers allows them to gain confidence in both their design and leadership abilities," said Pedrotti, whose group was led by Richter and Sutton. "From my own experience last year, and observing the third-years this year, you can really see a positive change in the way a lot of them will carry themselves throughout the remainder of the program."
T-Minus
For RIT Industrial Design's T-Minus workshop, students produce sponsored projects and present their concepts at a final juried event.
This year featured a collaboration with Rochester Refugee Sewing and Repair, a project of nonprofit organization Rochester Refugee Resettlement Services that provides refugees in Rochester skills training and paid work in industrial sewing. Using more than 1,000 pounds of recycled clothing donated by Goodwill of the Finger Lakes, student teams designed products Rochester Refugee Sewing and Repair could use for an upcoming product line.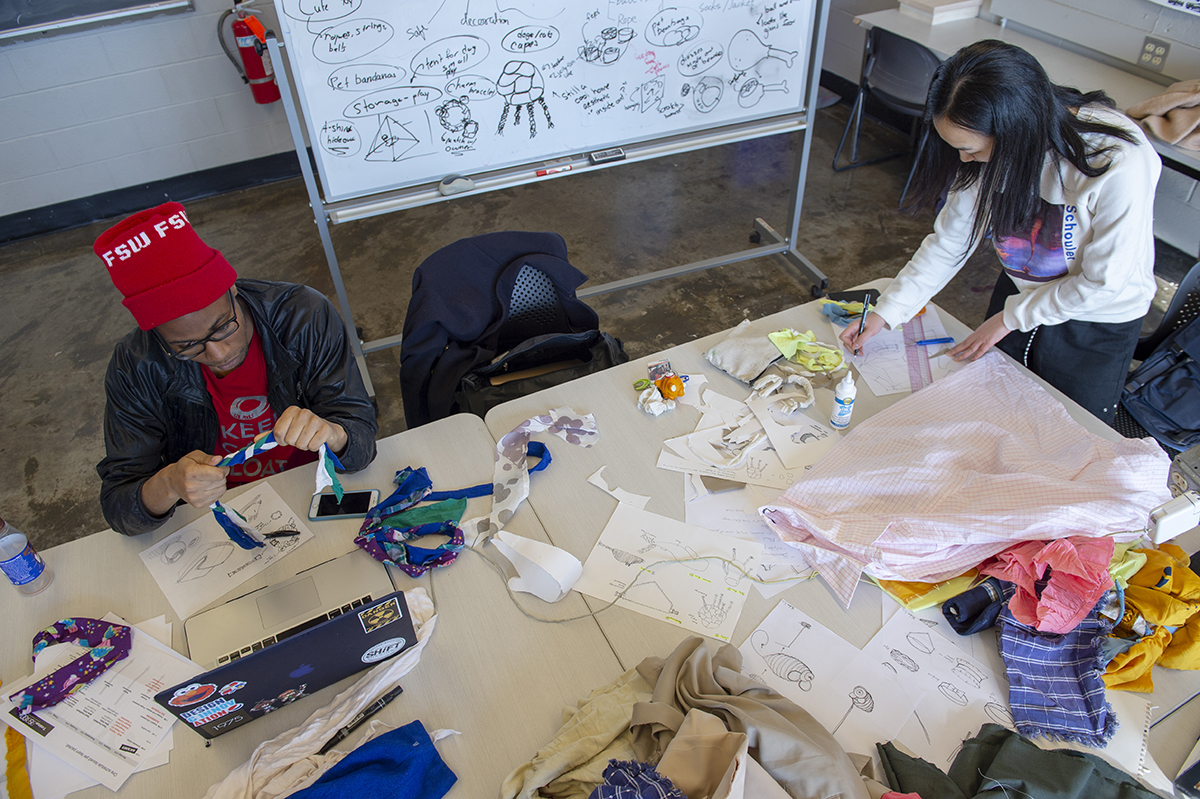 Student teams were assigned one of three areas to develop their concepts around: home goods, pet products and accessories. 
"T-Minus was an incredible experience for Rochester Refugee," said Michael Kelly '17 MFA (Industrial Design), co-founder of Rochester Refugee Sewing and Repair. "The passionate, smart RIT students served up some great designs. You'll certainly see them on shelves in the upcoming months. It means so much that the students would help us invest in Rochester."
Julia Hawley, a third-year Industrial Design student, led a team of four that won first place in the accessories category with its design of fabric earrings.
"We faced challenges with the strict time constraint, but as a team and Industrial Design community, we were all able to support each other and finish the week with a lot of really great ideas," Hawley said. "I think it's an important project not only for the designs that come out of it but for the opportunity to get to know and work with people in our major."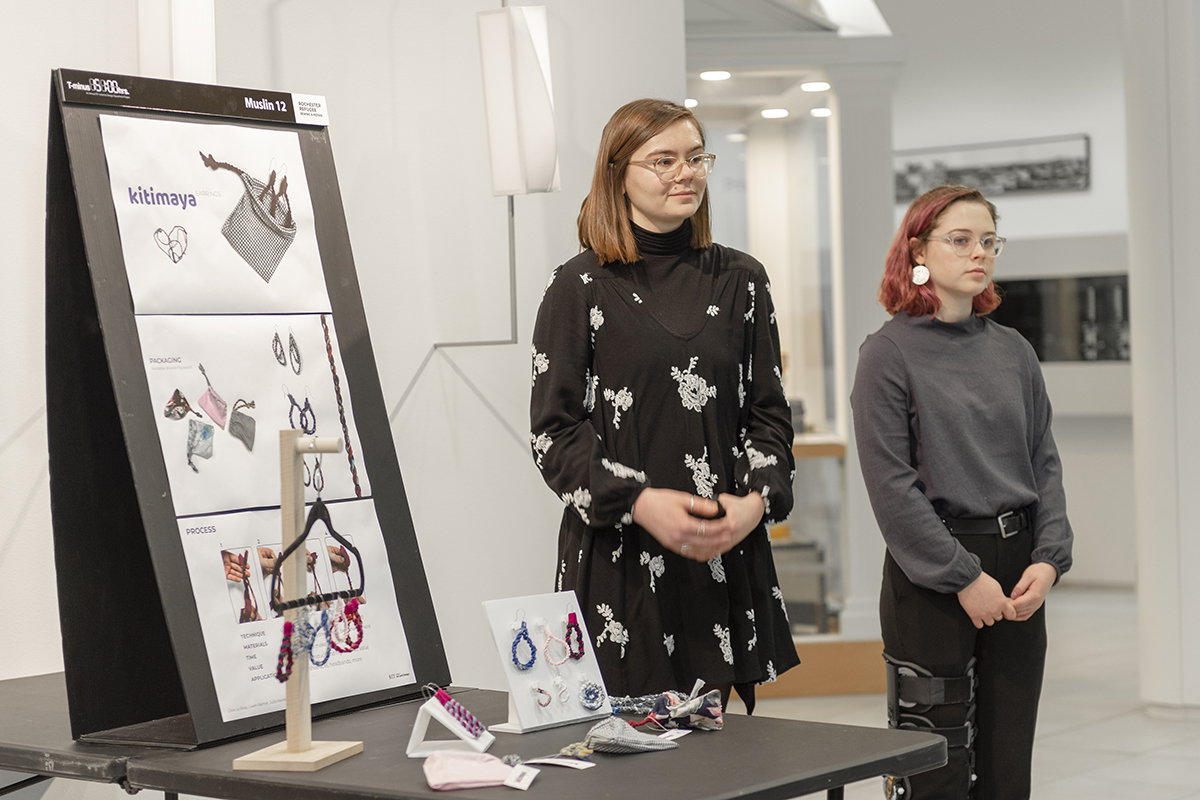 In 2018, Rochester Refugee Resettlement Services collaborated with RIT students for another College of Art and Design initiative, the EUREKA! workshop.
PUSH
Second- and third-year Graphic Design students completed a multi-day project prompted by this year's PUSH visiting artist Kelli Anderson, a Brooklyn-based graphic designer. Anderson, known for her pop-up books that reduce tech devices to functional paper designs, challenged students with designing paper-based works in teams. 
Under Anderson's guidance, students employed their own design rules in the making of the projects. The output included anything from using tangible objects to display Instagram post data to a lamp shade to a sculpture incorporating colorful paper cubes and spiral wire.
"It's a way of letting go and allowing chance to take over some part of the process," Anderson said of the open-ended prompt. 
Anderson also directed each group in documenting their work through producing stop-motion videos.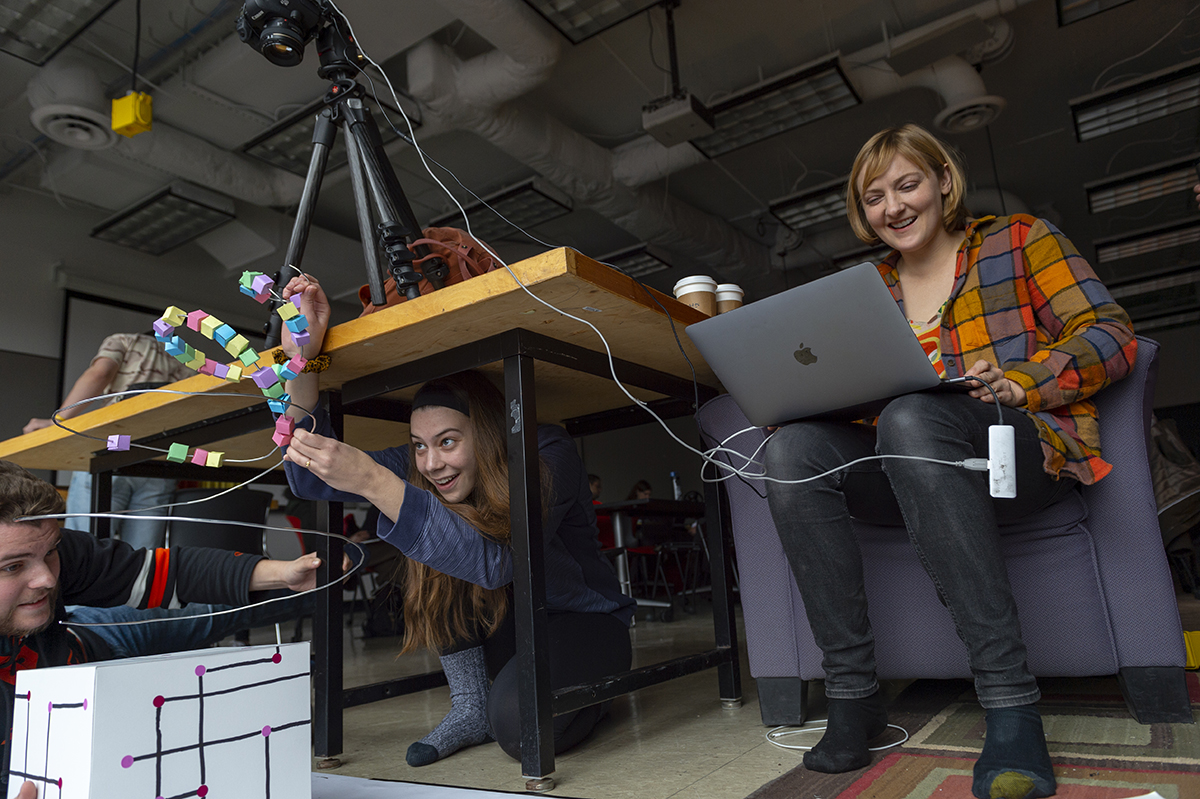 Third-year Graphic Design student Catherine Wyman and her group centered their project on the book Fahrenheit 451.
Their "rules" were to select a book (the Ray Bradbury classic in this case), look at the first letter on each page and burn the page for the amount of seconds that corresponds with that letter's alphabet position. The result was a tri-colored display of the novel's rolled-up pages, all with different appearances from the burn duration, set on a grid of pegs. 
"That's what PUSH is about — working with team members and pushing out an amazing project," Wyman said. "... It was really interesting because we are taught more to go digital-based with our work. But what (Anderson) brought to the table is you can do graphic design in a physical sense as well."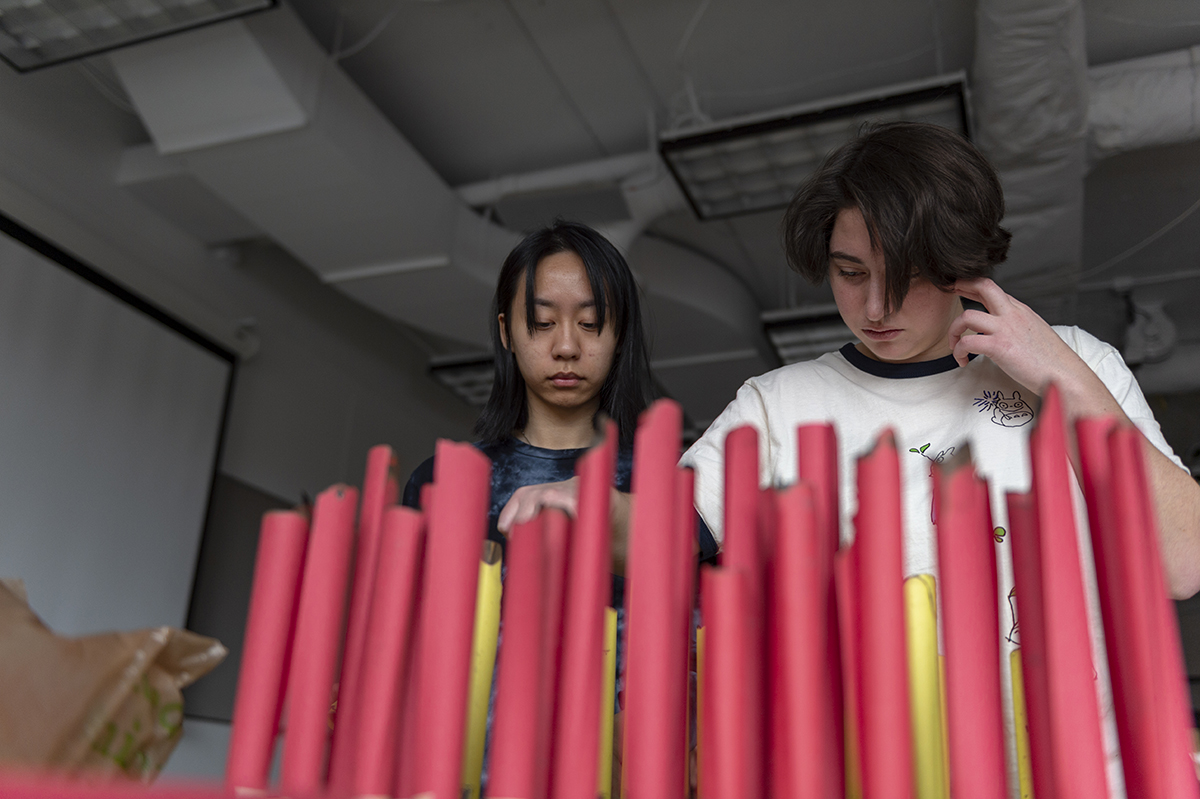 Topics