Faculty-researcher joins national organizations to help improve personal protective equipment
Jennifer Schneider will collaborate on U.S. National Academies Standing Committee and CDC's National Institute for Occupational Safety and Health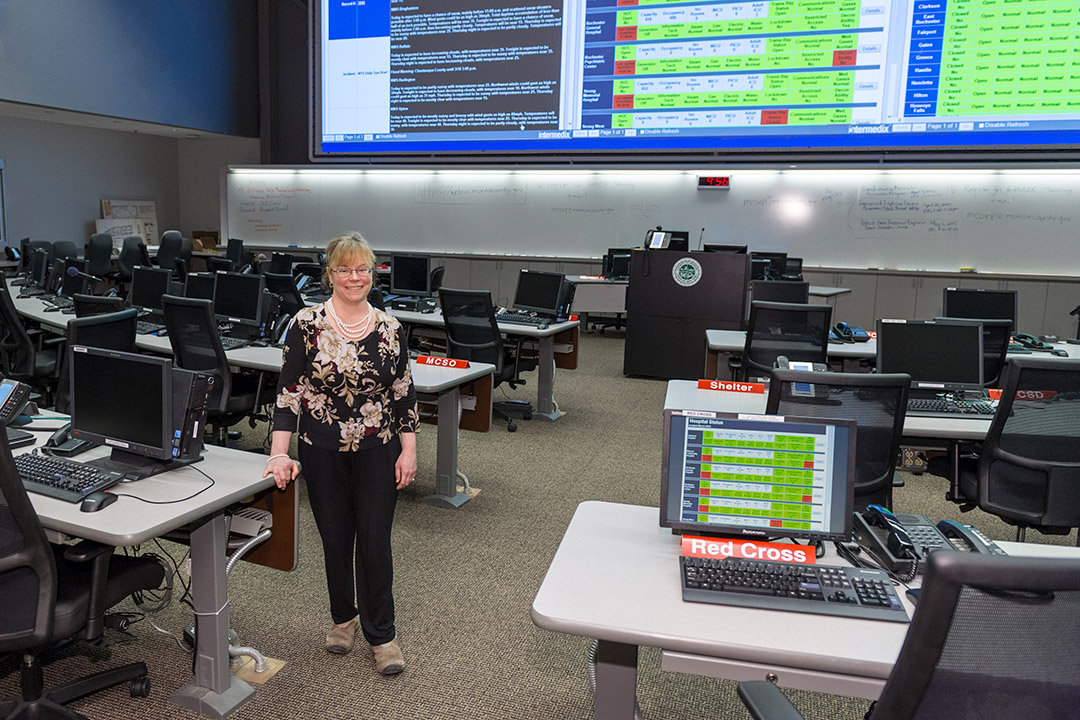 Jennifer Schneider, a faculty-researcher at Rochester Institute of Technology, recently joined two national organizations to investigate and guide improved standards for use of personal protective equipment (PPE) and technologies.
An expert in hazardous materials and community resilience, Schneider has joined the U.S. National Academies of Sciences, Engineering, and Medicine's Standing Committee on Personal Protective Equipment for Workplace Safety and Health. She will also collaborate with the National Personal Protective Technology Laboratory, one of the key divisions of the Centers for Disease Control's (CDC) National Institute for Occupational Safety and Health (NIOSH). She joined the National Academies Standing Committee in May and began work with the CDC lab on July 1.
The need for improvements to protective equipment and technology became evident throughout the COVID pandemic where protective equipment options were limited for non-traditional users—children, people with disabilities, or those who may be Deaf or hard-of-hearing—or in unusual or uncommon environmental situations.
"The issues were always there, but it was not something that was focused on until it became apparent that these personal technologies must evolve," said Schneider, professor in the Department of Civil Engineering Technology, Environmental Management and Safety in RIT's College of Engineering Technology. For both of her appointments, Schneider will share expertise with organizations, academia, and technical manufacturers of current PPE to ensure today's protective equipment is more inclusive and responsive to needs.
The National Personal Protective Technology Laboratory (NPPTL) is a division of the National Institute for Occupational Safety and Health (NIOSH), the federal institute specifically dedicated to generating new knowledge in the field of occupational safety and health and to transferring that knowledge into practice for the betterment of workers. NPPTL was established in 2001, at the request of Congress, with the mission of preventing disease, injury, and death for the millions of working men and women relying on personal protective technology. Schneider will be collaborator focusing on research and practice needs that will increase the equity of PPE protection for diverse users of PPE.
"We were missing huge constituencies. In addition, we simply have not addressed the sustainability-related issues with single- or short-use materials," Schneider said.
Her role with the National Academy of Science's COPPE will include contributing to discussions of scientific and technical issues relevant to the development, certification, deployment, and use of personal protective equipment, standards, and related systems to ensure workplace safety and health.
The National Academies of Sciences, Engineering, and Medicine provides independent, objective advice to inform policy with evidence, spark progress and innovation, and confront challenging issues for the benefit of society. Members of committees established by the independent, nonprofit organization represent varied academic, scientific, and medical disciplines and are often distinguished scholars and professionals in their fields.
Schneider wears several hats at RIT, serving as the Eugene H. Fram Chair in Applied Critical Thinking and as director of the Collaboratory for Resilience and Recovery, a multidisciplinary group providing support to communities to prepare, respond, and recover from disasters. During the pandemic, she worked closely with RIT's Risk Management and Crisis leadership teams determining overall health and safety strategies for campus and helped coordinate the campus' wastewater assessment to mitigate campus risk.
She expects to draw upon the collective expertise and collaborations she maintains with researchers and resources across the university including, but not limited to, industrial design faculty in the College of Art and Design, RIT's National Technical Institute for the Deaf, university research centers in the areas of Effective Access Technologies, the AMPrint Center, Personalized Healthcare Technology, and the Golisano Institute for Sustainability, among others.
"We have to look at risk in different ways, from the individual point of view to the population's needs. This new work is really an expansion of what RIT has done for many years in the innovation space, especially in its focus on technology and personalized health care," she said. "We can't engineer-out all risk. But better PPE and technology can help people be safer."
Topics