One Mentor, Four Success Stories (and Counting)
From RIT to Patents, Teaching, Cancer Therapy and Science Writing: Alumni Success Stories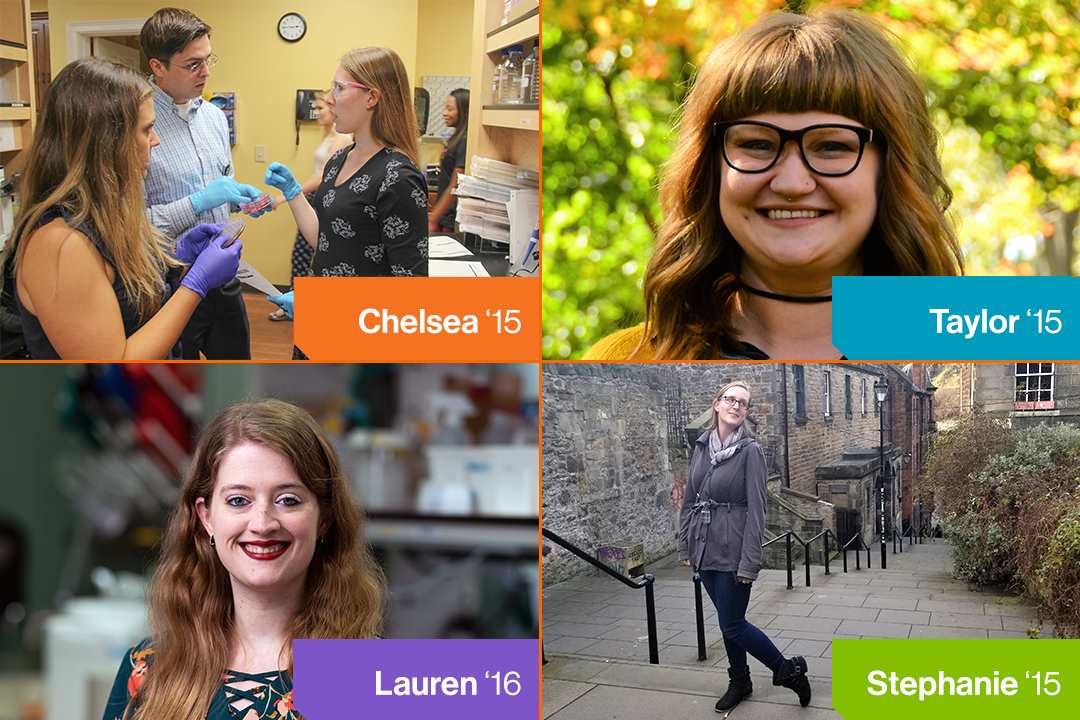 Albert Einstein once said, "I never teach my pupils, I only provide the conditions in which they can learn." A good mentor provides a positive impact on students by giving them the tools they need to succeed. In 2015, four RIT students were brought together through a single research grant and a single mentor. We connected with them five years later and uncovered four success stories that were just waiting to be shared.
Before stepping onto campus, Dr. Hans Schmitthenner (Dr. Hans) mentored 15 students from RIT through the co-op program in local pharmaceutical and imaging companies. The experience helped prepare him for engaging undergraduate students in his research lab and growing the lab. His students learned more from Dr. Hans than just how to conduct chemistry research:
"I listen closely to my students and make recommendations while helping them sort through the various graduate schools, research areas, programs and career options." - Dr. Hans Schmitthenner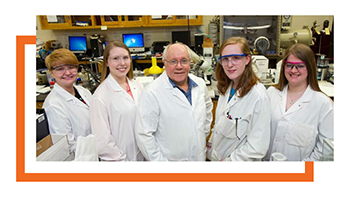 The Molecular Imaging Lab at RIT hopes to transform screening and early diagnosis and treatment of breast and prostate cancer by creating novel imaging and therapeutic agents that specifically target cancer cells. In 2015, Dr. Hans earned a grant from the National Institutes of Health that helped support his research to design molecular imaging agents. These compounds would selectively target cancer cells and light them up with photoacoustic dyes and contrast agents for MRI. At the outset of this research, four undergraduate research students joined this team, and today they look back on their RIT experience and how it led them to successful, yet different areas of science.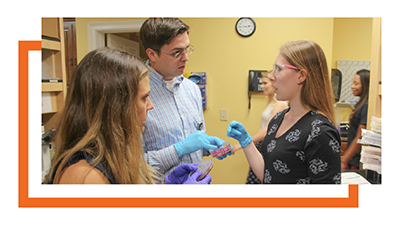 Chelsea Weidman Burke (BS '15) says RIT prepared her to become a science writer and a clinical study coordinator. She learned to think critically about published research, summarize the findings, analyze how the results were integrated into the big picture of what was happening in the field, and how they relate to the general public. Weidman Burke said the laboratory and analytical skills she learned at RIT helped her shape the way she thinks about clinical problems.
"RIT's community, creativity, and inspiration helped fuel my fire to learn and explore my interests." - Chelsea Weidman Burke
After obtaining a M.S. degree from Boston College, Weidman Burke wrote for BioSpace, Massive Science, and Harvard University's Science in the News. Today, she works as a Science Writer at Alzforum, an Alzheimer's disease networking and information site. Learn more about Chelsea.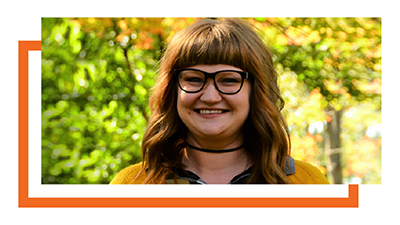 The two things that stood out to Taylor Barrett (BS '15) about her education at RIT was the sense of community and the hands-on research experience. She felt the chemistry department was welcoming and filled with faculty and staff who were excited to help guide students. While working with Dr. Hans, she had the opportunity to learn how to manage the process of research and discovered how to keep it moving by asking questions.
"The hands-on experience at RIT positioned me to become a successful graduate student, which in turn helped me obtain my current position. I cannot sing the praises of this educational experience enough." - Taylor Barrett
Barrett earned a Ph.D. from The University of Pennsylvania in a program centered on the Chemistry-Biology Interface (CBI). Now, as a visiting Assistant Professor of Biochemistry at Swarthmore College, Barrett enjoys teaching the next generation of scientists. Learn more about Taylor.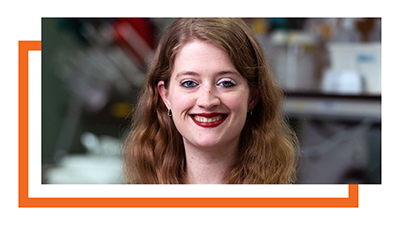 Lauren Heese (BS '16) met Dr. Hans in a freshman lab class and was attracted to the type of research that he was conducting. Heese helped develop a new method to synthesize dye modules and, in doing so, secured valuable lab experience conducting research.
"Dr. Hans was a wonderful mentor. He took the time to teach you how to perform the experiments crucial to our research and also to teach you how to ask questions, become a critical thinker and grow as a scientist." - Lauren Heese
After RIT, Heese joined a cutting-edge research lab at M.D. Anderson Cancer Center involving immunotherapy. Today she works as an Analytical Development Associate at a biopharmaceutical company focused on the discovery of new cancer therapies. Learn more about Lauren.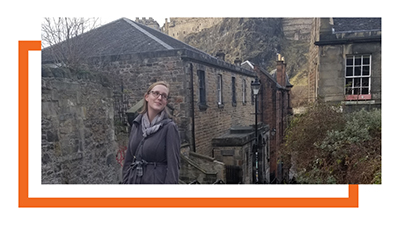 Stephanie Beach-Molony (BS '15) met her husband and made lifelong friends at RIT in addition to working in Dr. Hans's lab. She was also involved in filing for a patent to streamline a process for synthesizing molecular imaging agents (TMIAs). The idea to help further cancer research motivated Beach-Molony to work with Dr. Hans and his research team. She said his passion for the work was evident and it was easy to get excited about the research when he explained things.
"Dr. Hans included us throughout the patent process including meeting with lawyers and writing parts of the document. It was an amazing learning experience!" - Stephanie Beach-Molony
After earning her Ph.D. from Boston University, Beach-Molony began working at Saint-Gobain Research North America as a Research Information Analyst. Learn more about Stephanie.

The research culture in the College of Science regularly provides undergraduates with these kinds of learning experiences. In the 2019-2020 academic year, faculty in the College earned more than $15 million in research grants. Those faculty open their labs to students, providing those "conditions," as Einstein said, in which they can learn. Five years later, it's clear the students were given the tools they needed to succeed.
---
About the Molecular Imaging Lab
The research in the Molecular Imaging Lab is closely tied to collaborators in the Thomas H. Gosnell School of Life Sciences and the Chester F. Carlson Center for Imaging Science. Cancer cells are cultured, treated with imaging agents, and evaluated in the Confocal Microscopy Lab by biology students under the mentorship of Drs. Maureen Ferran and Hyla Sweet. Drawing on his expertise in MRI, Dr. Joseph Hornak developed a method for the students to measure the effectiveness of contrast agents which is described in January 2020 in Chemistry: A European Journal. Based on the work of these students and other hardworking, creative, and visionary students who followed them, Schmitthenner has attained a second NIH grant, a second patent with Dr. Scott Williams, and several research publications.
About the College of Science
The RIT College of Science offers 13 undergraduate programs and 14 graduate programs including 4 PhD and 17 BS/MS programs. The College has established an inclusive community that embraces social justice and equity among our education, research, and the scientific community at large. Our students benefit from the intersection of science and technology at RIT, including access and training with state-of-the-art laboratory equipment and facilities starting in their first year at RIT. As one of the top external grant-funded colleges on campus, the College of Science gives students unrivaled opportunities to engage in real-world research with supportive faculty mentors. Our alumni stand out from their peers at Cornell, MIT, Harvard, Regeneron, St. Jude's Children's Research Hospital, and the Cleveland Clinic, just to name a few.
Related News
Topics