President Munson: Gratitude for your perseverance and resilience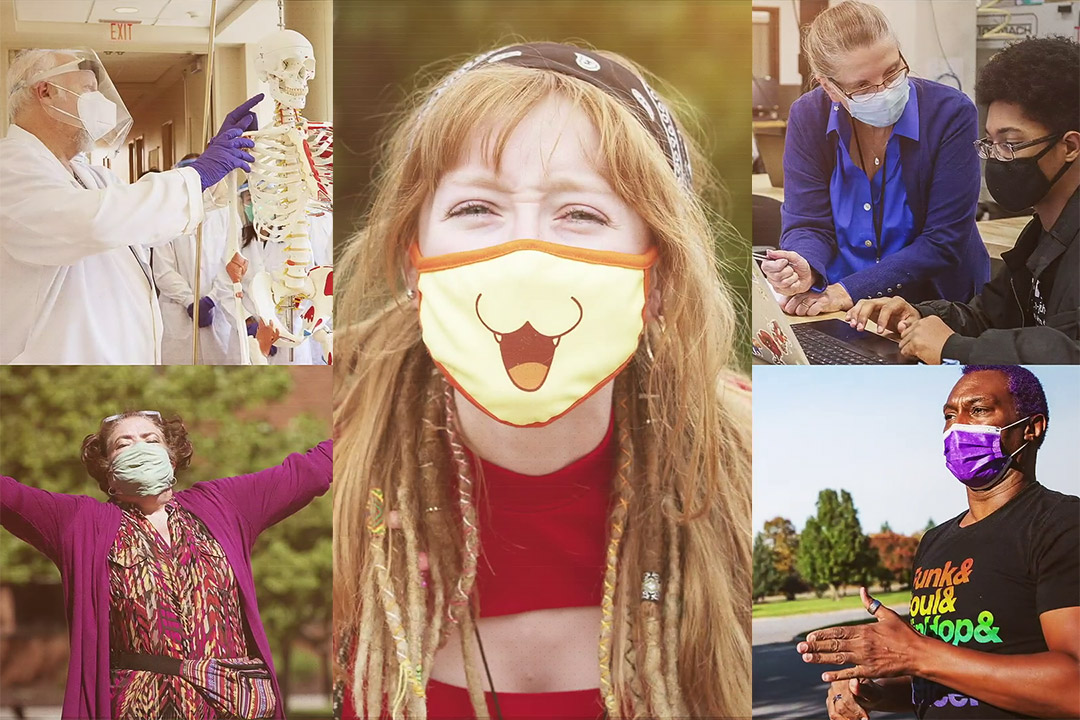 Greetings RIT community,
What is perseverance? Let's recall the beginning of the semester in August. That's when more than 300 RIT students from out-of-state fulfilled the precautionary quarantine for 14 days at local hotels, undertaking freshman orientation and the beginning of classes online. And let's think about all of our on-campus students, faculty, and staff wearing masks and staying physically distanced, day after day, for an entire semester.
What is resilience? It's adapting to a new normal with restricted group activities, modified classrooms and labs, and altered modes for food service. It's about living on Zoom. It's also about adhering to changing rules as we moved to yellow alert and then to orange, allowing successful completion of all 14 weeks of on-campus instruction.
How did we do it? Our community took the virus seriously and was fully committed to doing whatever was necessary to stay safe. We were RIT ready and we'll stay RIT ready moving forward.
The coronavirus pandemic continues to surge across the globe. This is no time to declare victory or let our guard down. But with final exams and projects wrapping up, I want to express my deepest appreciation and gratitude to all students, faculty, and staff for pulling together in these challenging times. You have been extraordinary!
Let's reflect on lessons learned from a successful fall semester:
Despite having a large, active campus with students from many countries and all 50 states, RIT had a relatively low rate of infection (less than 1 percent overall) and avoided major outbreaks. Our report card from Aug. 19 to Dec. 11 on the main RIT campus shows:
The Tiger Testing Team helped administer 12,500 COVID-19 individual tests.
111 students tested positive for coronavirus out of a student population of approximately 13,000. The vast majority of the cases were in November and early December as the outside community infection rate increased dramatically.
37 employees tested positive out of 3,605.
Quarantine and isolation bed availability generally stayed above 85 percent.
August pre-arrival testing found about 60 individuals who were positive and not allowed to circulate on campus. This enabled us to get a clean start for the semester.
From contract tracing, we found no evidence of the virus being transmitted in a classroom. Our highly effective classroom protocols made these areas among the safest spaces on campus.
On the wellness and mental health front, Counseling and Psychological Services worked with somewhat fewer students (following a national trend), but longer appointments, and completed nearly 3,600 clinical contacts via telemental health.
Our testing strategy used a combination of wastewater testing from the residence halls (20 sites) and individual tests processed by the Broad Institute (Harvard and MIT). After we settled into our semi-bubble on and around our campus, five things were critical: the 3Ws: (Wear masks, Watch your distance, and Wash your hands); provision of a wide array of outdoor activities and eating venues; testing followed by rigorous contact tracing, quarantine, and isolation; communication, communication, and more communication; and, most important, the exemplary behavior of our students (you kept us safe!). Students in quarantine and isolation were extremely well cared for by our own housing and medical staff in the hotel at 175 Jefferson Ave. that we acquired and set up for this purpose. 
Spring semester, moving forward:
Due to the increased prevalence of the virus, which will persist throughout the winter, we will expand our testing regimen in the spring semester. That's why we are adding our own capability for saliva testing. The version we'll be using is accurate, fast, and can detect the virus early. We'll be doing the lab processing on our campus and we expect to be able to test the entire student body as needed.
Spring semester highlights include:
A Jan. 25 start with an academic calendar that includes "wellness days" in lieu of spring break.
Pre-arrival COVID-19 testing, along with a required flu vaccine.
Increased in-person course class offerings, given that our classrooms have proven to be very safe.
New regulations from the state of New York for quarantine of out-of-state students from states other than Connecticut, Massachusetts, New Jersey, Pennsylvania, and Vermont. We will keep you posted with all the latest information.
Enhanced student experiences. This includes a transformation of Ritter Arena to create a large, appealing space for study, dining, and social activities.
Please follow the RIT Ready website during the break for the latest updates and instructions. And enjoy your time with family and friends over the break, with appropriate precautions. Get some well-deserved rest. You did it!
Yours in Tiger pride,
David Munson, President
A sign language interpreted translation of this message is available.