Regional art teachers take faculty-led design master class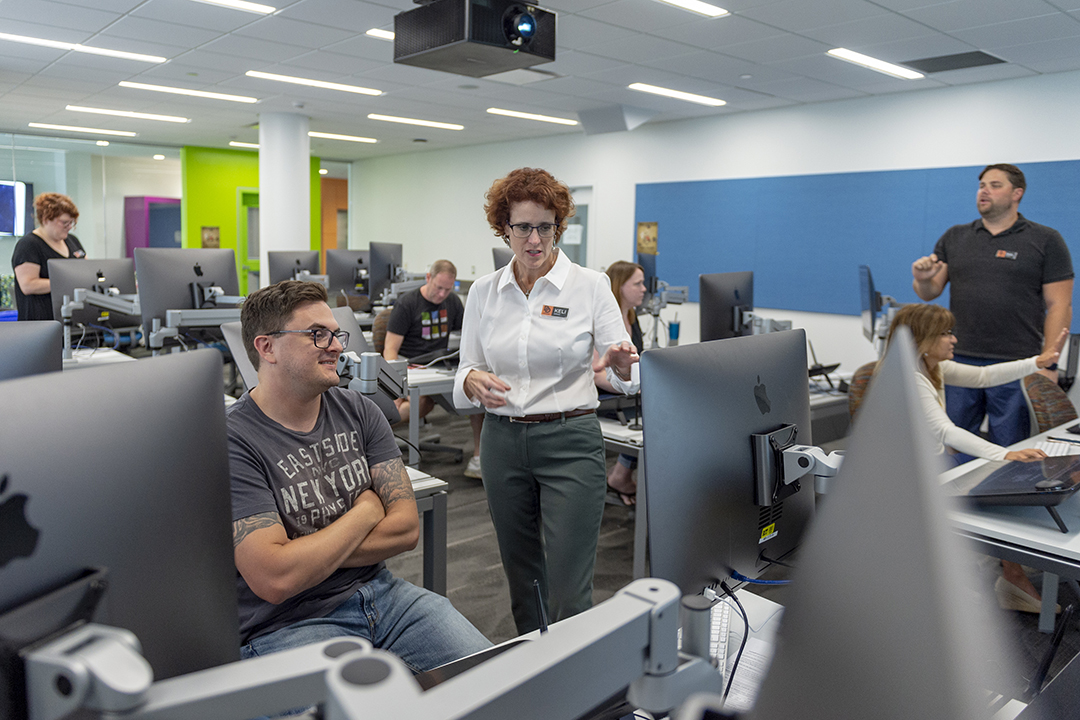 Kristin Marcello routinely observes it from her students as a Hilton High School art teacher. 
Infatuated by video games, they have a strong desire to develop their digital design skills. 
"You ask them what they want to do and they say they want to make video games," Marcello said. "There are tons of ways you can go with that. They're interested in anything digital and animation."
For Marcello and peers, that level of student interest served as a catalyst to advance their own digital design knowledge to then pass along. In August, nine middle and high school art teachers in the region attended a weeklong Digital Design Master Class offered by RIT's College of Art and Design. Taught by faculty in the School of Design, the teachers took a deep dive into hands-on lessons in Adobe After Effects and Autodesk Maya to acquire new technological tools in an effort to advance the digital components of their curriculums.
"This experience helps me to teach my new media students at a higher level," said attendee Heather Erwin, visual arts teacher at Greece Athena High School. "It was advantageous to have actual human beings teaching, instead of relying on online tutorials.
"When students have questions about animation, I'll have experience playing with Maya. Listening to (the faculty) talk about workflow and the dynamics of the industry is also extremely advantageous,"added Erwin '90 (Graphic Design).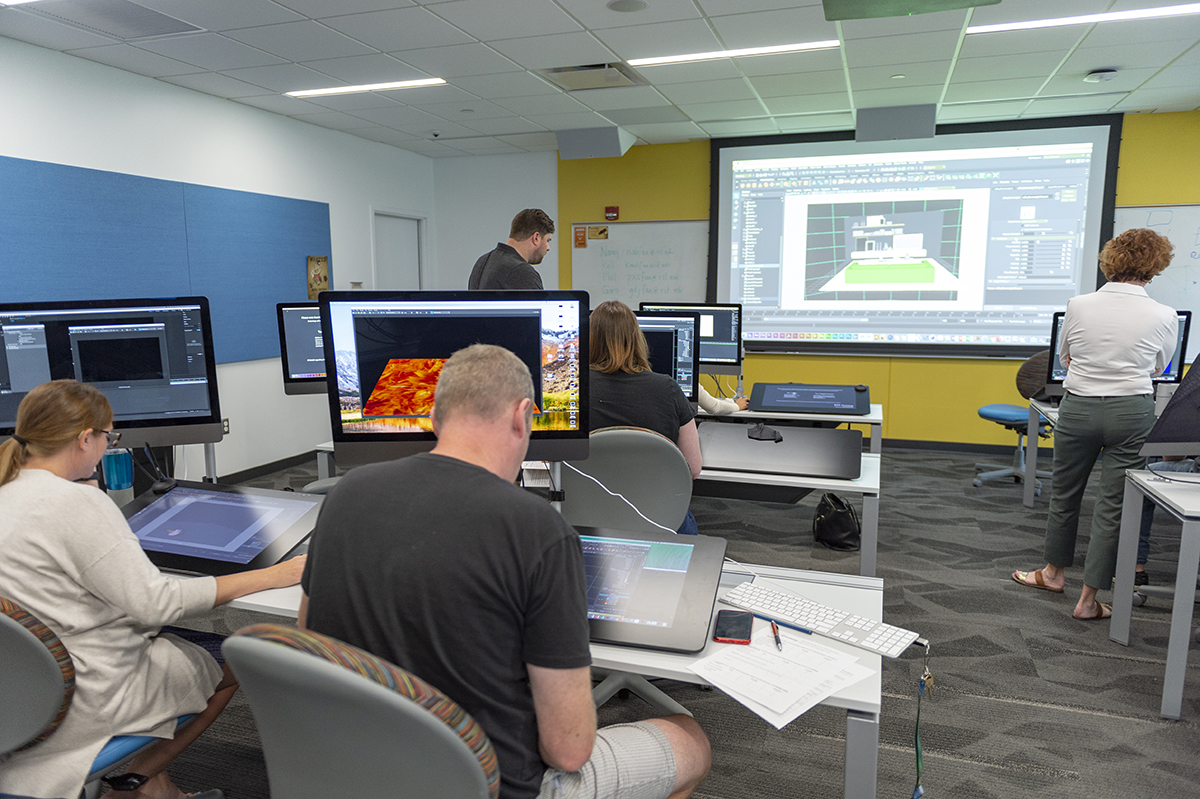 The workshop, held in MAGIC Spell Studios,was led by 3D Digital Design's Gary Jacobs (assistant professor) and Phil Szrama (lecturer) and Graphic Design's Nancy Bernardo (associate professor) and Keli DiRisio (assistant professor). 
"Learning these complex programs really helps us keep up with industry," said Marcello '05 MST (Visual Arts-All Grades), who added she's already brainstorming a mini project she can implement using what she learned throughout the week.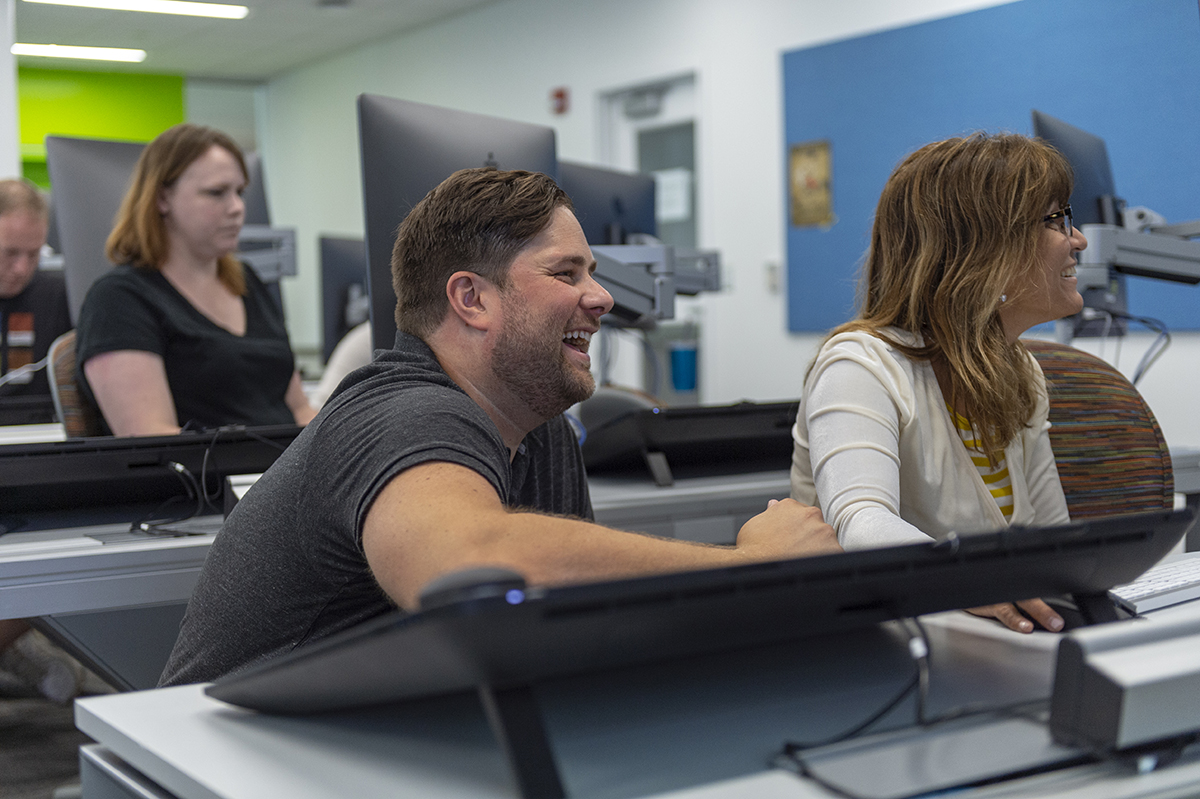 The attendees explored areas such as animation, layers, lighting, modeling, motion and rendering. 
"I'm supposed to be taking over an advanced animation class, so the whole animation thing with Maya and After Effects will pretty much be my everything," said Jon Bender, art teacher at Kenmore East High School in Buffalo, N.Y. "This was quintessential for what I am doing.
"It was great because it's an area I don't have a lot of experience with as far as the heavy-duty animation stuff," Bender added. "This was a good way to get into it instead of trying to go through a book on my own or YouTube videos. Now I have a place to start."
As a bonus, the collaborative environment was a source of inspiration for the teachers, who networked and together strategize ways to best bring some of their new skills to their classrooms. 
"The atmosphere was great," Erwin said. "They make it easy for us to talk with each other. We all have different experiences and different strengths to we could help each other."
"That's always an essential part of our job — sharing ideas," Bender said.
The College of Art and Design was recognized in 2018 as a Continuing Teacher and Leader Education (CTLE) sponsor. The college regularly offers professional development opportunities for middle and high school teachers in the arts.