Rochester Prep capstone experience with WISE gives high school students insight into learning STEM disciplines at RIT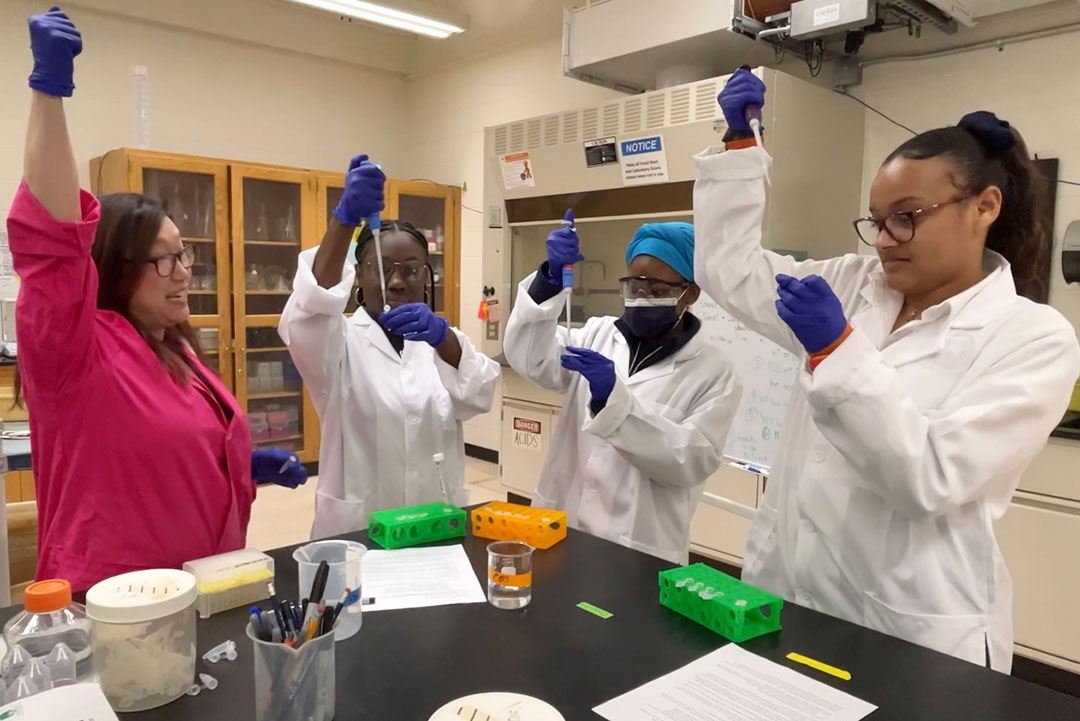 Chaunte Russell said she was never a "science person" until she participated in the capstone program that allows Rochester Prep High School students to work alongside faculty and researchers at Rochester Institute of Technology in various subject areas of science, technology, engineering and math.
While the high school senior said she's still more into the arts and plans to attend RIT to pursue that route, the capstone experience has given her an opportunity to find a love of science, learn more about the RIT community, network with professors and experience a program she not might not have had the chance to connect with otherwise.
"I'm not a science person, but I've grown to love science," she said. "(I) really enjoy it this year because we get to branch out into different STEM environments, work with different professors and learn so much in the process. Getting to work with Dr. Lea Michel again is really refreshing because I love her insight and feel really empowered by her."
Russell is among three students who had the opportunity this school year to participate in the capstone program that specifically works with members of WISE – Women in Science – through RIT's College of Science. The capstone class exposes them to research in various STEM disciplines, including bacteria and viruses, imagery science, math modeling and data analysts, physics, plant hormone biosynthesis and more.
According to information from WISE, its faculty and staff are "committed to encouraging diversity in STEM, and creating an inclusive and welcoming environment for all."
"I feel like I'm getting more acquainted with college and it's been really interesting, especially working with Women in Science, and working closely with those professors and seeing how the work they do is impacting research," Rochester Prep senior Kristal Jenkins said.
The 2022-23 school year is the first time RIT's K-12 University Center is facilitating the RIT-Rochester Prep capstone program, which annually pairs juniors and seniors from the Rochester-based charter school with university faculty members to partake in interactive research projects. About 15 seniors are part of the capstone this year, that also includes working with Andre Hudson, interim dean of the College of Science; Obioma Uche, assistant professor of chemical engineering at the Kate Gleason College of Engineering; and Eric Hittinger, assistant professor of public policy at the College of Liberal Arts.
Throughout the fall and winter, students regularly gathered into the four groups to work with professors, teaching assistants and graduate assistants on various hands-on research projects that included chemistry, energy sustainability, the evolution of bacteria, mapping DNA and more. In 2019, three Rochester Prep students involved in the capstone with Dr. Hudson had the chance to be professionally published for their research in analyzing a rare bacterium found to kill e-coli. Hudson said he hopes it will happen again.
"My colleagues and I try to design something that is not only accessible, but doable," he said. "We want something where they can get results. It's fun to see them interact with our current scholars in the lab, and I think peer-to-peer interaction is good because it provides the high school students with some exposure and affords them a level of comfortability."
Among broadening STEM literacy among local youth, the program also provides a plethora of other skills that students said is beneficial.
Raymya Bryant, who is also part of the WISE capstone class with Jenkins and Russell, said it has particularly helped with her presentation and public speaking skills, in addition to giving her the resources needed to be successful in the classroom.
"I think one of the most important things is balancing school and capstone, and making sure you get all your work done," she said. "More than anything, it helps me understand biology in school, and really puts two-and-two together when I'm in class. I can use a lot of what I'm learning in capstone and apply it to my schoolwork."
In February, students are tasked with a final presentation to showcase their work. It will be held 1:30 p.m. Feb. 6 at the Student Development Center at RIT. Guests are asked to RSVP to John Edmondson at jtek12@rit.edu or call (585) 475-4689.