Students' VR film leads to 'dream' jobs at local studio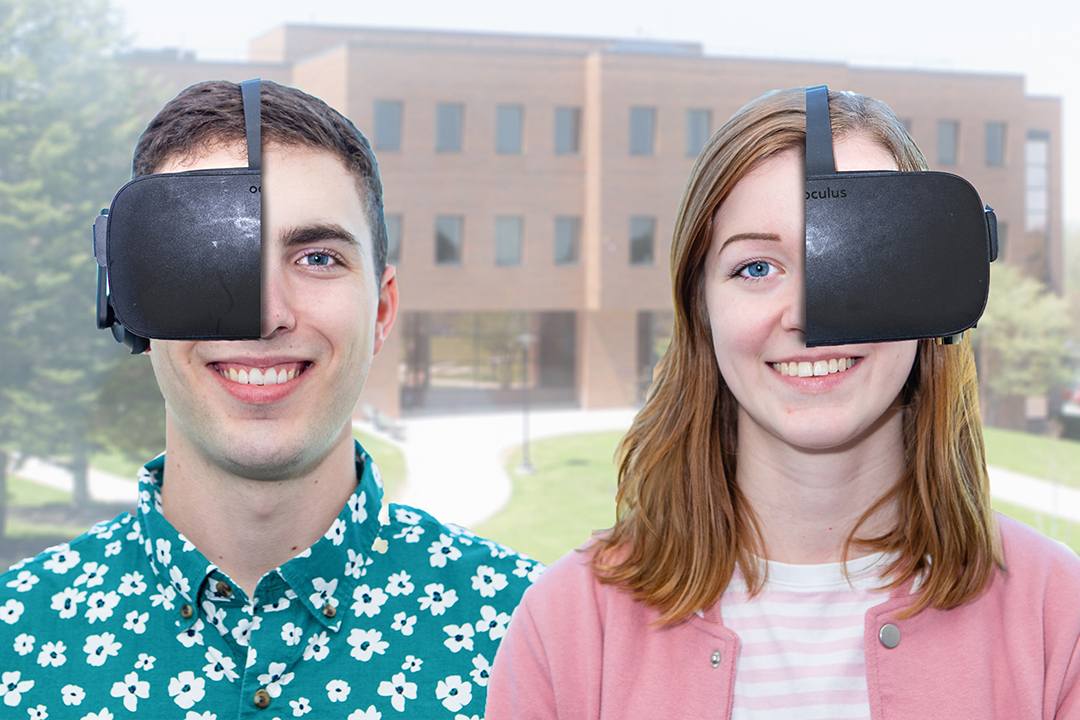 Emily Haldeman entered Creative Industry Day in March interested in an open summer production assistant job at local production studio Optic Sky.
She and thesis partner Tim Stringer exited the annual networking/recruiting event — sponsored by RIT's Office of Career Services and Cooperative Education — with something more: leads on full-time positions. After showing their virtual reality thesis film to Optic Sky executive producer and founder Aaron Gordon '13 (production), it wasn't long before both were hired as VR developers for a new VR team at the Rochester-based company.
They started in May, weeks after graduating from the animation option in the film and animation program. 
"We get a fresh, new perspective on this medium and what their expectations of it are," Stringer said. "They're going to help us guide the future of this with the company."
"It's a little terrifying but also super exciting," Haldeman said of having the freedom to further explore the capabilities of VR as it relates to storytelling.
At Creative Industry Day, Haldeman and Stringer presented Gordon their in-progress thesis film, "Fluffed" — an animated, immersive VR experience that merges storytelling and interactivity. The quality and originality of the work led to job offers prior to graduation.
"Company culture is extremely important to me, so staff chemistry is everything," Gordon said. "Tim and Emily vibed with us immediately, and when they showed me their work, I saw great thought process, extremely creative narrative talent and quick learners. It was a no-brainer."
Stringer said in their research, VR experiences incorporating key elements of films and games, and walking the line between the two, were scarce. So they set out to create a first-of-its-kind movie in the School of Film and Animation.
"We were looking to combine our backgrounds in storytelling in film and this new medium of VR, where you can actually be interactive and the viewer is an active member of the story," Stringer said.
Haldeman's background in VR extends beyond this thesis project, which inspired Stringer to pitch teaming up in the first place. At RIT, Haldeman made a habit of collaborating with students and faculty in the School of Interactive Games and Media (IGM) on projects ranging from creating game assets to VR ventures.
Her broadened skill set, made possible by the ease of multidisciplinary studies at RIT, paid dividends when making "Fluffed."
"RIT having a wide range of majors and things I could dip my toes into has prepared me for Optic Sky," said Haldeman, who was a production assistant for the Netflix car racing series 'Hyperdrive' when it was filmed in Rochester last summer. "Especially with VR, because now I have that background with IGM, working with gaming and coding. I feel like if I went to just an art school there is no way I would have gotten that."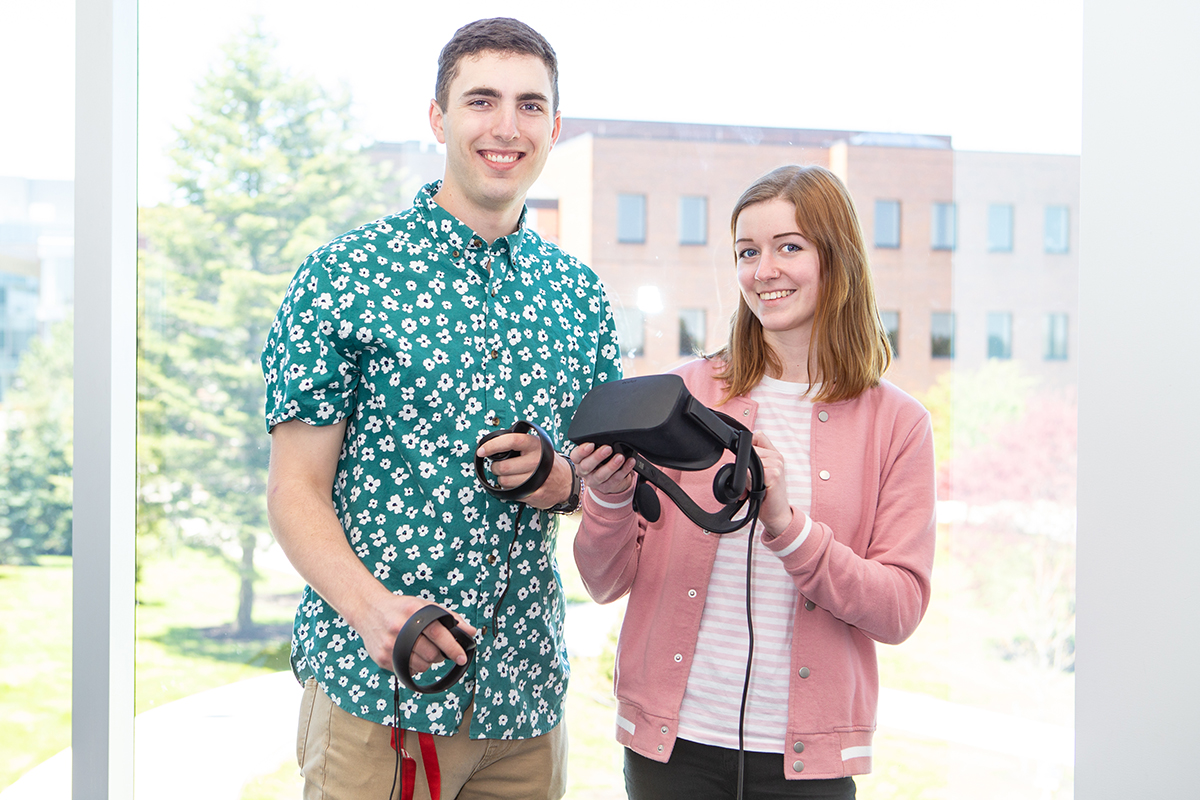 In "Fluffed," viewers travel to different dimensions to help a fluff-ball farmer regain a lost piece of his stock, with a backdrop of sophisticated environments, including a 200-foot whale that looks every bit that size in VR. Users also have the ability to pick items up and interact with their surroundings.
"It was fun because you're learning — I don't feel like I'm repeating what has been done before," Haldeman said of the thesis experience. "We did something unique that I wouldn't be able to do through traditional film."
By blending Stringer's focus in animation and Haldeman's VR interest, they made for a strong duo that will continue exploring narrative VR together.
"Our background with storytelling is one of the main reasons we got our jobs," said Stringer, who was part of RIT's Army ROTC program. "(Optic Sky) said that there are other people there who are interested in VR but nobody that is doing storytelling in VR the same way we are."
The team's thesis advisors — School of Film and Animation faculty Kevin Bauer (lecturer) and Mark Reisch (assistant professor) — were "nothing but supportive." The two received additional guidance outside of the College of Art and Design, from Alberto Bobadilla Sotelo, lecturer in the School of Interactive Games and Media. They also had the advantage of using MAGIC Spell Studios and its well-equipped VR Lab, following its opening in October.
The making of "Fluffed" exemplified how RIT's resources help curious students push the boundaries of creativity and innovation. 
"It's great to be in an environment where there are so many different ideas and different people, which, I feel, we benefit more from than other art schools," Stringer said.
"It was the best decision ever," he added. "I absolutely loved RIT and the opportunities it provided. Animation was the perfect mix of art and technology."
Originally aiming to work in Los Angeles after graduation, their inventive film gave the new animation alumni the option to adjust their paths — which they happily did.
"This was essentially my dream job, so I guess I'll stay in Rochester," a smiling Haldeman said of heading to Optic Sky.
"I had a big plan and then everything changed for the better," Stringer said.