Gracie's, RIT's largest cafeteria, goes a la carte
Added dining locations, ordering options, and seating expected this semester
There's a greater variety of food options on the RIT campus this semester, as RIT Dining opened more locations, expanded online ordering, went cashless at select locations, and changed Gracie's—for the first time in its 51-year history—from all-you-care-to-eat to retail.
The changes are intended to better provide students what, when, and where they'd like to eat, and to promote safety considerations during the shifting requirements involving the pandemic.
Don LaFlam, senior director of operations for RIT Dining, said some of the changes were made as a result of the elimination of the mandatory Gracie's meal plan for first-year students last fall as a way for them to spread to other dining facilities to reduce density. Now, all meal plans are using dining dollars, available at any dining location on campus.
"We noticed a major shift in students' spending habits," he said. "In the fall of 2019, Gracie's was serving about 2,000 to 2,500 meals a day. In the fall of 2020, they were serving about 650 meals a day. Those extra meals were being absorbed into our retail operations across the campus. It became pretty apparent our students wanted that type of spending."
Students now at Gracie's are encouraged to customize their meals through multiple build-your-own menus. Or they may just want to grab a fruit cup or sushi, a pasta bowl, or a custom-made pizza without having to feel they aren't getting their full money's worth if they were charged a buffet price.
And Gracie's is the only place on campus with visiting chefs seven days a week.
Charlie Hayward, a first-year biomedical engineering student from Seattle, says he likes the changes in Gracie's. Although he's spending about the same for his meals, he likes the additional variety available.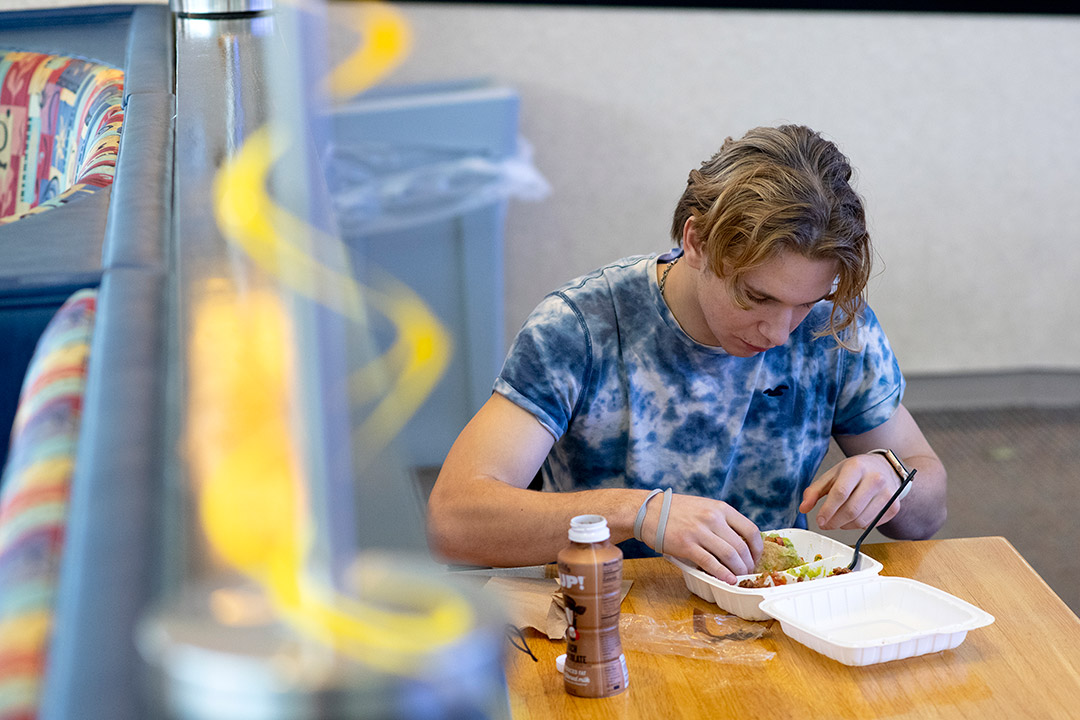 A. Sue Weisler
"I do notice more options for food and drink, which is nice," Hayward said, after getting some Mexican food and chocolate milk. "I think a good new addition is the grain bowl station. Before, the vegan options were quite rare. While I'm not vegan, I sometimes want a break from meat and I think the grain bowls are a good new option."
And now that Gracie's is retail, advance online ordering is possible there. Students can go online to order, pick a time to get their food, and pay for it.
LaFlam said with online ordering, students seem to be making fewer visits each day. "They'll order more meals at once, and that helps us with density," he said.
The online ordering—which now offers "as soon as possible" and "later today" options—has been so popular it has cause their system to overload. The bugs are being worked out, LaFlam said, and they hope this semester to more than triple the 100,000 online orders they handled in the fall semester.
"We're working very hard with the vendor to increase the online order capacity at every location and make sure we meet the needs of our students," he said.
Even more changes expected in the next two weeks are the addition of 200 Plexiglas shields placed on all tables in dining areas to double capacity. Currently, 176 seats are available at Gracie's, and 28 seats available at the Café & Market at Crossroads. That will mean more people can be accommodated at Gracie's.
Hours have also been expanded at Crossroads (open until 9 p.m.), The Corner Store (open until midnight), and Midnight Oil (open until 11 p.m.).
Ctrl Alt DELi has moved back to Golisano with a full menu for in-person and online ordering.
And food trucks will be outside Ritter Ice Arena—which has been enhanced to allow students a space to hang out, play games, and study in a distanced environment—Friday and Saturday evenings.
Related News
Topics