RIT alumni foreshadow how technology, the arts, and design will change the future
Three alumni innovators provide fantastical insights into the future at Imagine RIT symposium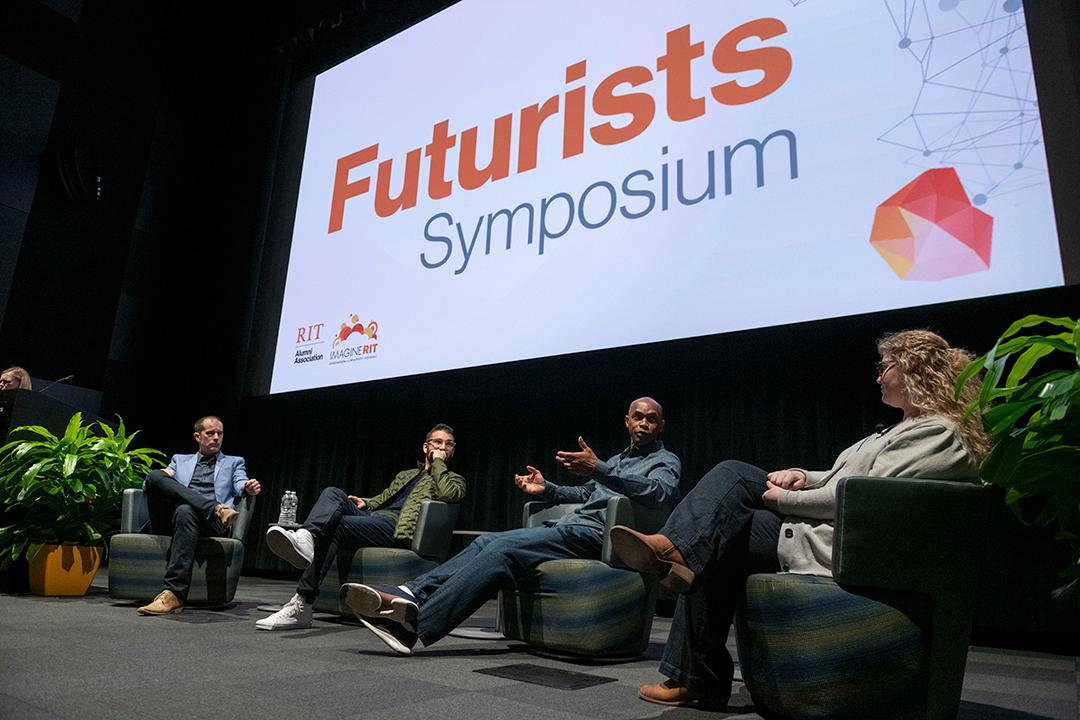 Among its many lessons, the pandemic opened up the eyes of many industries to the future, according to Aaron Gordon '13 (film and animation), CEO of Optic Sky, an advertising and digital experience production company he founded in 2014.
"I'm managing 87 directors working from all over with technology," said Gordon, a serial entrepreneur and executive producer whose firm has evolved to offer television commercial production, social video, animation, augmented reality (AR), virtual reality (VR), virtual production, and interactive experiences for clients like Google, Wegmans, and Zillow, among others.
Discover Imagine RIT
After going virtual for 2021, thousands of people came to the Rochester Institute of Technology campus on Saturday for an in-person Imagine RIT: Creativity and Innovation Festival, which featured more than 250 exhibits throughout the campus from more than 1,800 students and faculty. Read more.
Gordon joined Franklyn Athias '85 (computer science), CTO and senior vice president for Xfinity Mobile Retail Convergence, and Erin Sarofsky '98 (graphic design), '00 MFA (computer graphics design), an award-winning creative visionary who creates artful storytelling projects for leading brands and entertainment, at the Futurists Symposium during this year's Imagine RIT: Creativity and Innovation Festival.
Emceed by RIT President David Munson and moderated by WXXI "Connections" host Evan Dawson, the event was held at the Wegmans Theater inside RIT MAGIC Center. It also was available to watch as a livestream on the Imagine RIT website.
Gordon wowed the audience with a video created for RIT's Electric Vehicle Team. Produced two years ago using the latest in virtual production (VP) inside MAGIC Spell Studios—RIT's world-class digital media research and production facility—VP blends filmmaking, 3D graphics, computational photography, and real-time game engine rendering to produce in-camera visual effects similar to those seen in the groundbreaking work on Disney's The Mandalorian and Marvel's Avenger films.
"At any one time we can be working with between 50 to 200 freelancers," noted Gordon, whose "digital experience" division is brimming with projects. A jazz drummer who finds rhythm in all things and bases both his business and creative ethos on syncopated beats and flow, he referenced a Snapchat partnership that will deliver social AR, VR, and immersive web experiences never before seen.
"When you are a creative nerd it helps you to predict what the world is going to look like in 20, 30, 40 years in the future," he said. "Get ready for it."
Athias, who drives his division's overall technology strategy and helps to ensure alignment of the architecture and product portfolio for the next era of wireless communication, said "because of COVID, I no longer need to jump on a plane, and I've never been as productive."
"It's been easy for me to adapt, because back in the '80s, I already was experiencing innovative technologies here at RIT," said Athias, who during his more than 25-year career with Comcast has managed numerous IP architecture programs and initiatives for cable-modem broadband services.
"Everything with technology has always been about going faster," Athias added.
"Connectivity is going to be quadruple the speed you're doing today," he predicted. "It's all about speed and bandwidth and people are going to be amazed at what they're going to see and experience in a few years."
Since launching her design and production services company in Chicago, Sarofsky has become well known for creating innovative title and credit sequences for movies and television, including Captain America: The Winter Soldier, Guardians of the Galaxy, The Suicide Squad, and Doctor Strange, among others. She was featured in a CBS Sunday Morning report about creative title sequences.
"My works embodies technology, art, and design, so I think it's great that RIT has adapted these pillars throughout the university," Sarofsky said.
Her acclaimed work also includes writing and directing an original short film that showcases the possibilities of Apple's iMac Pro.
Sarofsky employs the use of many different technologies, venturing into the AR and VR space, but design drives everything the company does.
"These bigger projects require expertise and infrastructure beyond whatever you can imagine today, from security to the VFX (visual effects) pipeline for color space, resolution, and 3D stereoscopic," she said.
Topics