RIT celebrates outstanding staff with university's Presidential Awards
Annual awards honor service excellence, citizenship, pluralism, and rising stars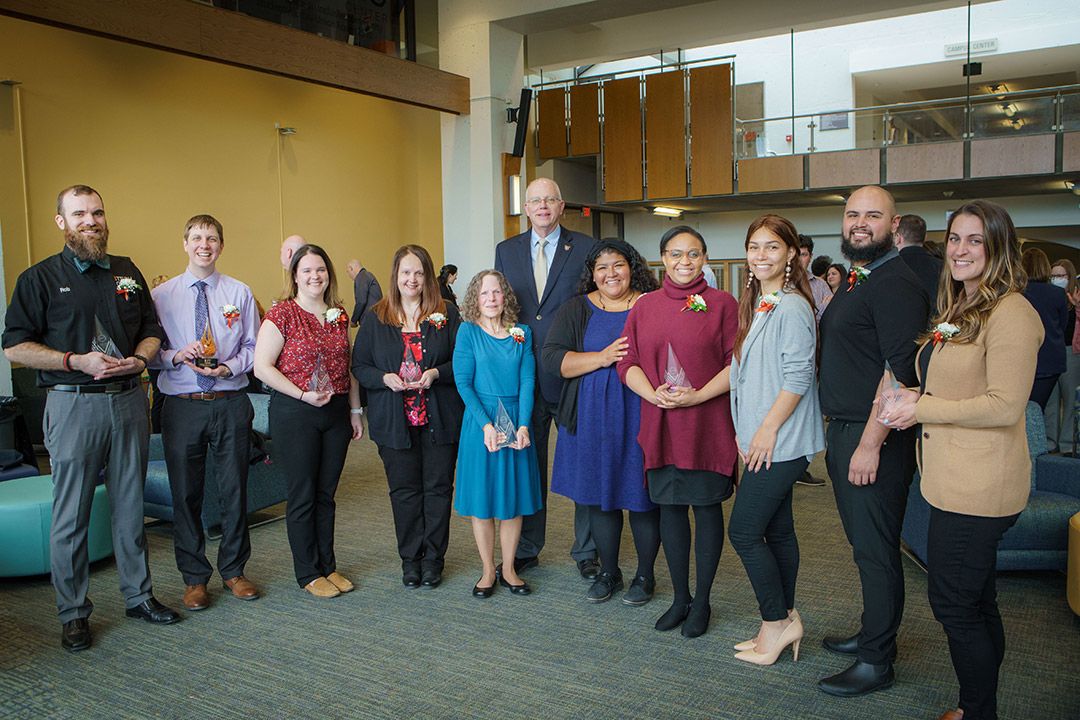 RIT honored the service and dedication of its employees with the Presidential Awards for Outstanding Staff ceremony March 31. The annual awards are presented to staff members who exemplify outstanding service and dedication to the university and who exhibit a high degree of personal ethics and integrity while consistently demonstrating a strong commitment to student success.
Rising Star
The Rising Star Award recognizes a staff member with three years or fewer of service to the university who gives high-quality service, has demonstrated a willingness to collaborate with colleges and university constituents, and shows imagination, creativity, and innovation which embody the RIT spirit.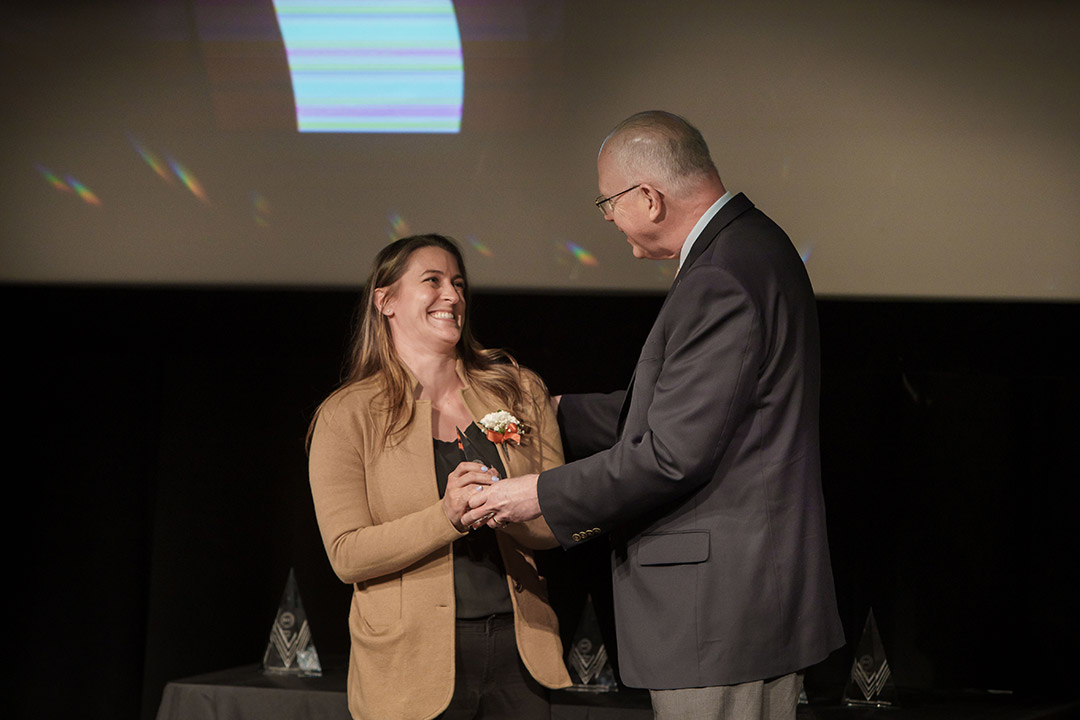 Scott Hamilton
This year's recipient is Cassandra Nickels, marketing director, RIT College of Science.
According to her nomination, Nickels has been reinventing the way the College of Science approaches marketing since joining the department in 2020, and her outreach efforts have directly impacted enrollment in many of the college's undergraduate programs. In one year, undergraduate enrollment rose by 25 percent, including significant increases in open house participation for imaging science and Bio-x majors.
One nominator said, "Cassandra has a unique and valuable set of skills, is a natural leader, and shows a caring, comprehensive, and results-oriented approach to her work. The College of Science is very fortunate to have her as part of its team and is looking forward to many years of collaborative success in their efforts together."
Excellence Awards recognize staff members who excel in their duties, promote teamwork, and inspire excellence in others. This includes individuals who have demonstrated an innovative approach to their jobs, and fostered collaboration, communication, and cooperation among colleagues and university constituents, and teams that have impacted the university in an exceptional way through exemplary service, ongoing innovation, and/or creation of best practices.
Excellence Awards
The Excellence Awards winners are: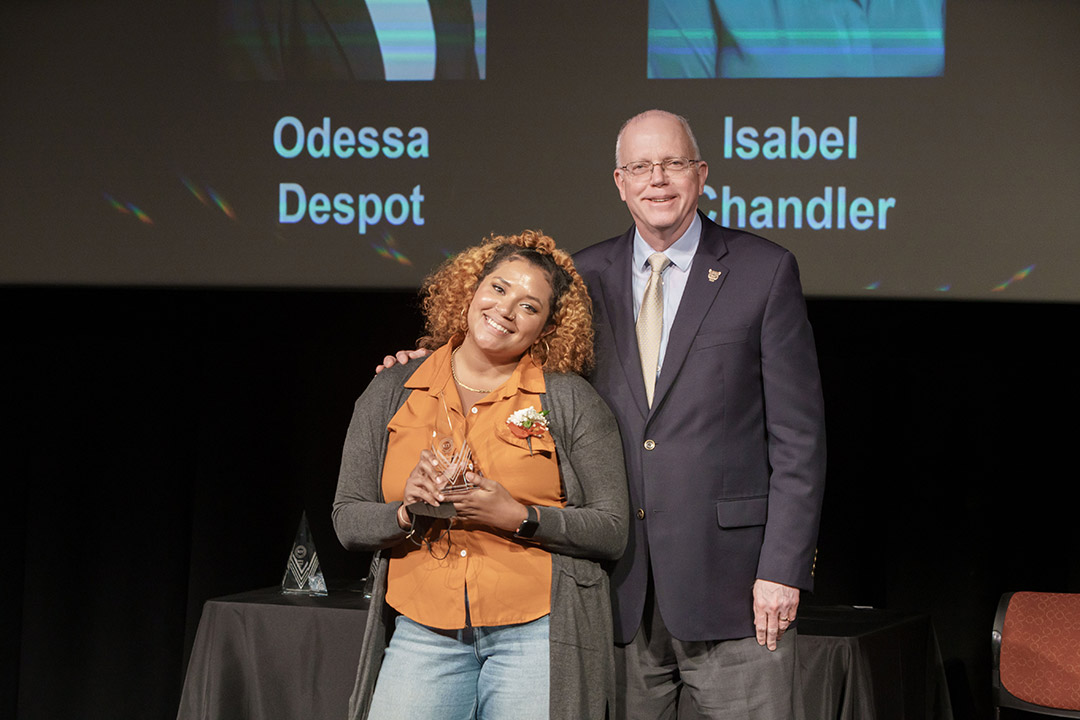 Scott Hamilton
Odessa Despot and Isabel Chandler, advocates, Counseling and Psychological Services/Multicultural Center for Academic Success.
Despot and Chandler have worked to assist Counseling and Psychological Services, the Division of Student Affairs, and RIT in meeting strategic goals related to diversity, equity, and inclusion.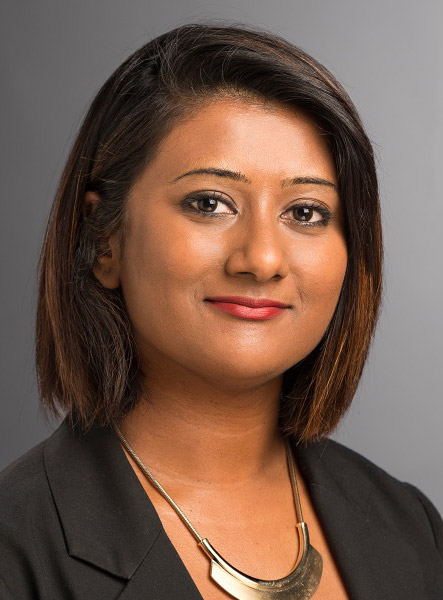 For the past several years, Despot and Chandler have partnered with students to offer Real Talk, a weekly supportive space for students to talk about their experiences on campus. Students describe this as a highlight of their experience at RIT. They have also collaborated with the Division of Diversity and Inclusion to offer a breaking bread circle for women of color, and have translated this offering, Sisterhood of Healing, into a consistent offering at the Counseling Center.
"Their connections with students are profound and meaningful, and any observer can tell how connected they are with each other and the RIT values of student engagement, respect, and integrity," said one nominator. "Their commitment to making RIT a safe and healthy place for teaching, learning, and working is extremely remarkable."
Scott Hamilton
Elizabeth Polmateer, senior staff assistant, College of Engineering Technology Dean's Office.
Since 2017, Polmateer has been the "linchpin" holding together the Air Force ROTC and Army ROTC detachments. According to her nomination, Polmateer has consistently proven that she is capable of efficiently managing a demanding and uniquely challenging workload from two separate military units. "There is no one in the Air Force or Army ROTC detachments held in higher regard than Beth Polmateer."
Polmateer supports 72 Air Force ROTC cadets and more than 80 Army cadets from RIT, University of Rochester, St. John Fisher College, Nazareth College, and SUNY Geneseo, ensuring that students meet all academic and conduct requirements associated with participation in the program, which will ultimately leads to commission as officers in the U.S. Air Force and U.S. Space Force.
"She builds professional relationships and supports our service members as though they are family," added another nominator. "Beth is the nexus of a supportive and empowering culture that has led to substantial cadet outcomes and detachment accolades over the last several years. She has been the rock for the Air Force ROTC and Army ROTC and is highly respected by military leaders, RIT leadership, staff, and students."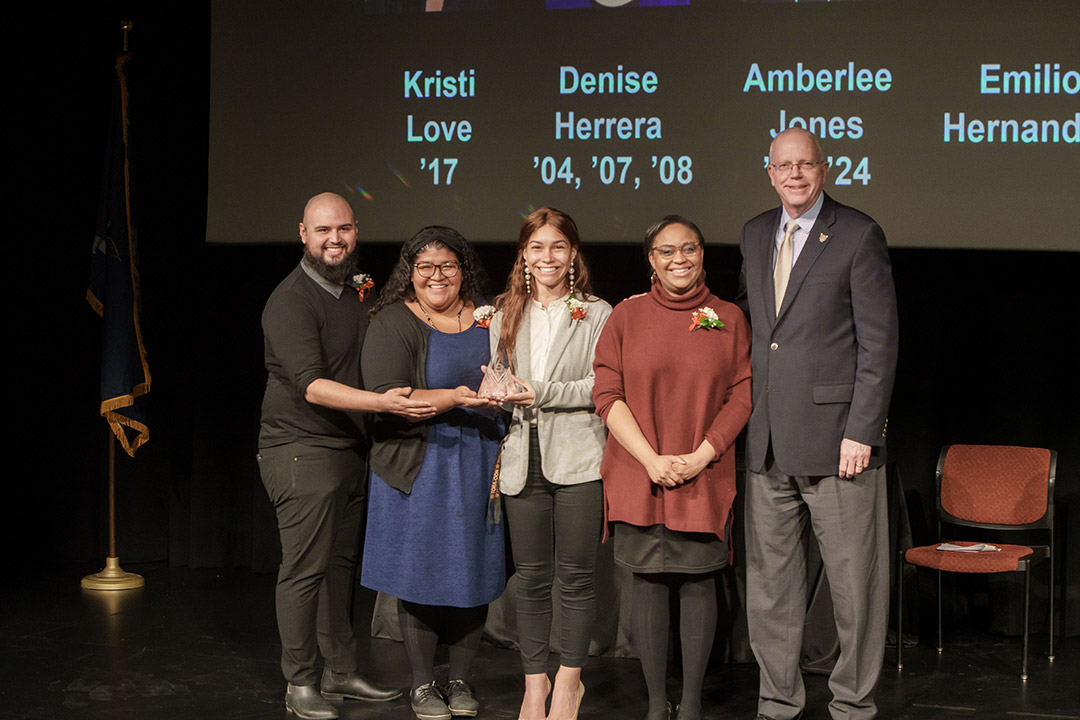 Scott Hamilton
Randleman Program: Kristi Love, manager of the Diversity Outreach Team, NTID; Denise Herrera, associate interpreter and program coordinator; Amberlee Jones, associate interpreter and endowment and diversity, equity and inclusion lead; and Emilio Hernandez, preceptor.
The Randleman Program, established in 2019 at RIT's National Technical Institute for the Deaf, is a two-year preceptorship to address identified gaps in interpreting education for interpreters of color, while simultaneously focusing on interpreting, diversity, equity, intersectionality, and inclusion. Since the establishment of the program, RIT has tripled the number of interpreters of color within the Department of Access Services.
Over the past three years, the team has also collaborated with Gallaudet University to establish the Summer Intensive Program for Deaf Interpreters of Color, allowing for networking and future endeavors to collaborate with Deaf BIPOC community members across the nation. The Randleman Endowment for Interpreter Certification was established to cover the cost of certification for Randleman alumni, raising a total of $100,000 in one year to endow the funds in perpetuity. In addition to presenting at NTID's National Advisory Group, the team has also created an international presence beyond RIT at the International Congress on Education of the Deaf, Conference of Interpreter Education, and the Trilingual Interpreters SIG of the Texas Society of Interpreters for the Deaf. 
According to the nomination, "The Randleman Program offers interpreters of color to have a safe space to build upon their skills, as well as express the traumas they face in a profession that historically does not consider them. With the Randleman Program recruiting interpreters of color from all over the country, students, staff, and faculty now are able to have representation while also having access to communication. The Randleman Program's work is making a way for students, staff, and faculty of color to feel a sense of belonging."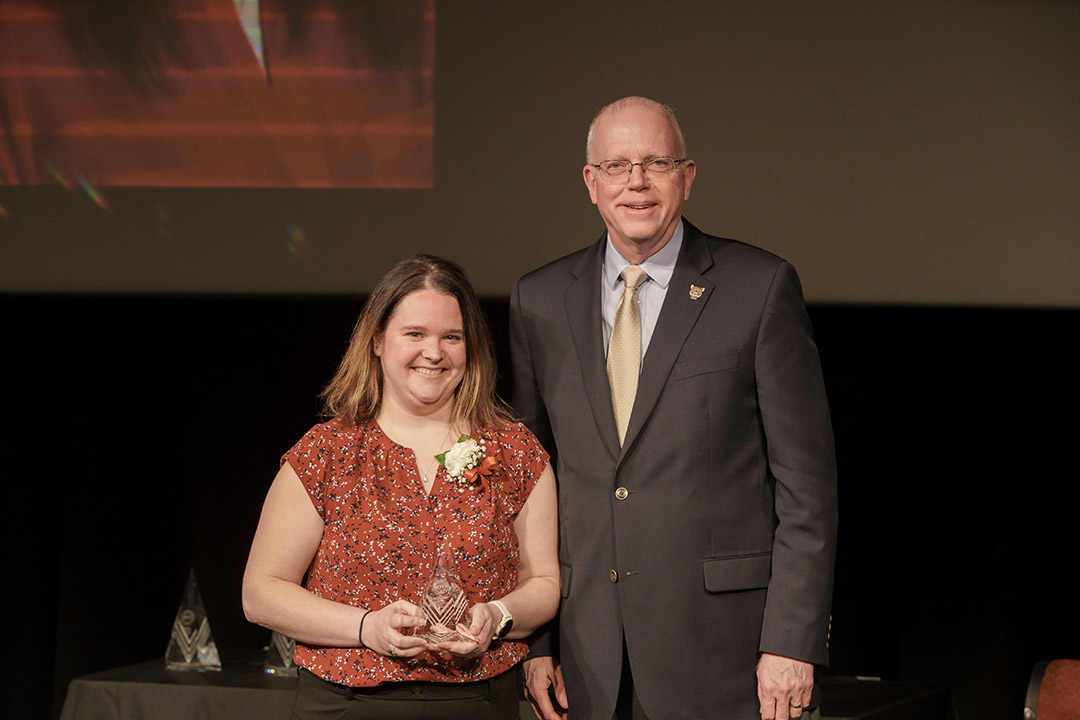 Scott Hamilton
Emily Heyman, associate director, University Arenas.
In the role of associate director for University Arenas, Heyman is responsible for providing families special life moments they will remember forever. Her desire to learn about the university on a deeper level has resulted in her ability to become part of many different campus opportunities. She has taken part in numerous conferences and classes to enhance her understanding of venue and event management. She has also completed a two-year course in safety and security to better protect the RIT community, in addition to National Incident Command Training through FEMA. Each year, Heyman manages more than 1,300 event hours and 400 set-up/tear-down hours, more than 8,400 event bookings, and more than 125 large events with more than 500 attendees. 
Due to her rapport with staff and students on campus, Heyman was selected as co-director of Tiger Testing, managing a team that hired, trained, and supervised 100 student workers, three adjunct employees, three temporary/contract employees, countless volunteers from across campus, and administered more than 150,000 tests to the campus community. 
She has been a part of Staff Council for the past four years, serving as Block Captain, Events Chair and, most recently, Vice Chair.
According to her nomination, "Emily genuinely cares about people and takes the time to make a personal connection with everyone. She has made our campus a safe place for students to live and provided reassurance to RIT faculty and staff that they are working in a safe environment. Emily is not only a true leader on campus, but is also recognized as a leader in the events industry as a whole."
Staff Pluralism Award
The Isaac L. Jordan Sr. Staff Pluralism Award recognizes and affirms RIT's collective aspiration toward a community that celebrates differences and allows individuals to develop to their fullest potential. This year's recipient is Luke Auburn, senor communication specialist, Division of Marketing and Communications.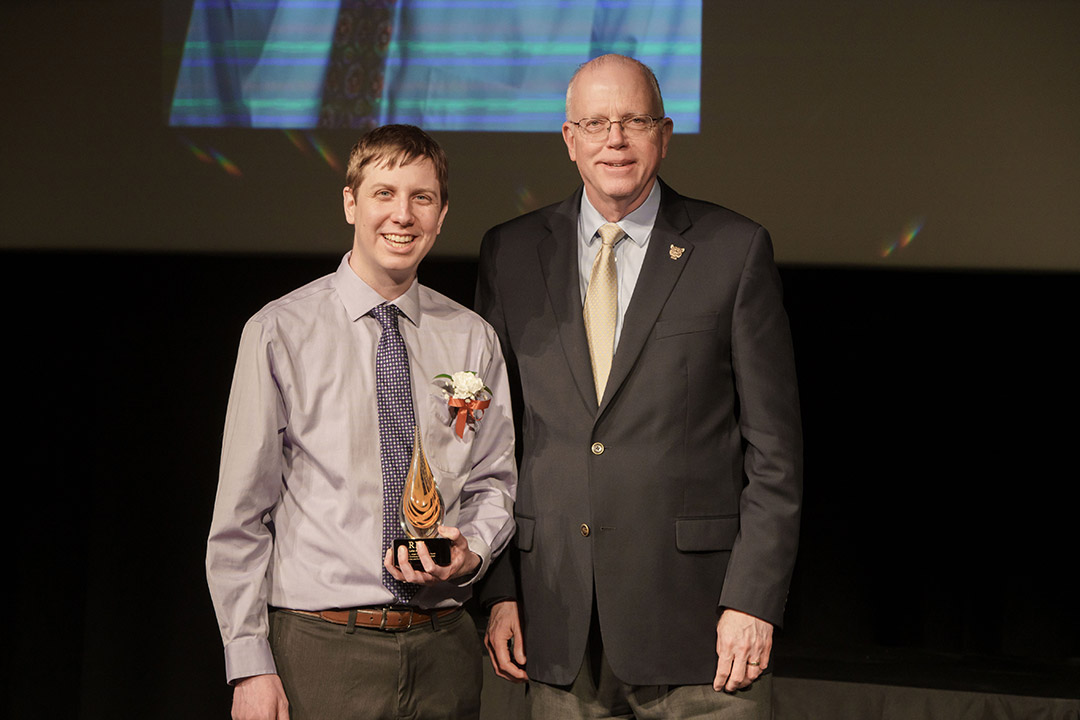 Scott Hamilton
Auburn has said that diversity has been a longtime passion. "When I was a student here, I was fortunate to be able to take electives in classes like the Rhetoric of Race Relations with Professor Keith Jenkins and Sounds of Protest with Professor Carl Atkins, and hear Professor Diane Hope share stories about participating in civil rights marches during the 1960s. And when I assumed my current role in University Communications in 2017, one of the most attractive parts of the position was that I could more directly engage in diversity work by covering the Division of Diversity and Inclusion as one of my primary beats."
Outside of his writing, Auburn has also been able to provide support to diversity initiatives behind the scenes. For many years, he has served on the planning committees for RIT's signature diversity events including Expressions of King's Legacy, Let Freedom Ring, and the Veteran's Day Breakfast.
Within University Communications and the Marketing and Communications Division, Auburn "tries try to be a consistent advocate for amplifying underrepresented voices and perspectives."
One nominator said, "In terms of enhancing the reputation for the university, Luke puts diversity and inclusion at the forefront. He understands the richness and beauty that pluralism brings to the university, to the greater Rochester community, and to the world."
Outstanding Citizenship
The Dancy Duffus Award for Outstanding Citizenship Within the RIT Community recognizes a staff member who is an independent thinker and activist who embodies the utmost integrity and who consistently shows imagination, creativity, and innovation, as well as a deep commitment to RIT. This year's award is presented to Robert Lewis, manager, RIT Tech Crew.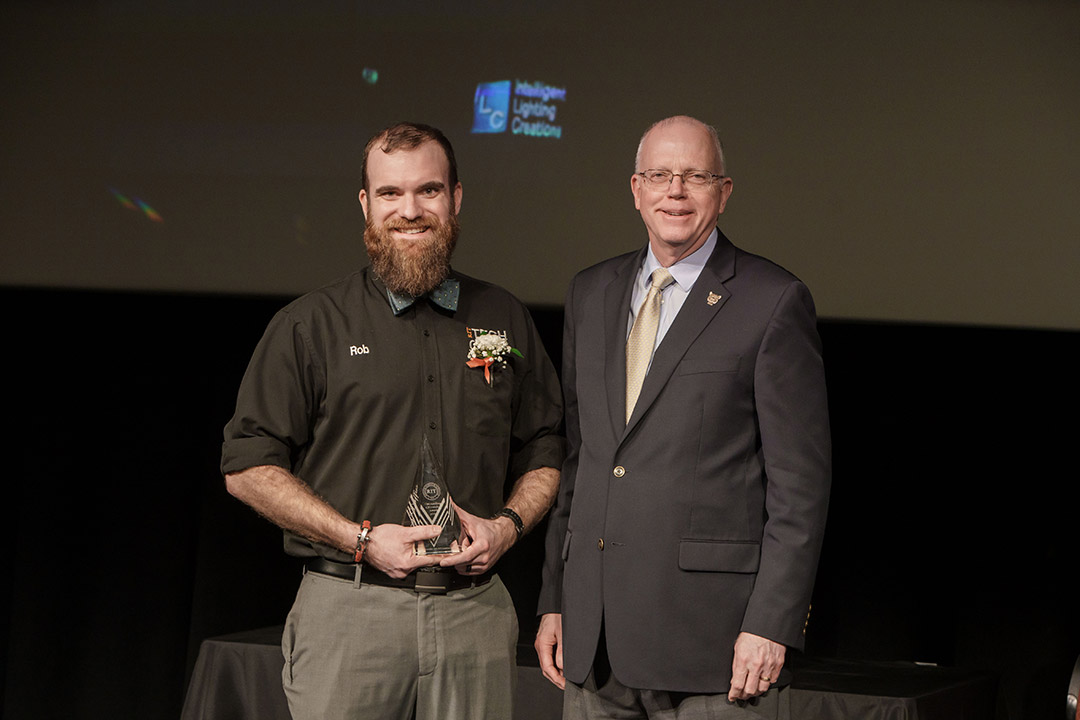 Scott Hamilton
Lewis became Tech Crew Manager in 2020, after significant staffing shifts occurred in his area. For the entire academic year, Lewis effectively maintained the duties associated with both the assistant manager and manager roles, which included serving on planning committees for Brick City Homecoming, RIT Commencement, Imagine RIT, New Student Orientation, and a number of other large-scale events across the university.
As part of his duties, Lewis successfully initiated, trained, executed, and evaluated safety measures throughout the year for his team, which is comprised of more than 60 students.
One nominator said, "During a time where we were all aching for some sense of normalcy, Rob and his team delivered for students, faculty, and staff. Not only did he provide exemplary service to the university partners with a focus on collaboration and teamwork, he also found a way to remain student centered and create a memorable experience for his student crew.
"While it is clear to see Rob's impact on the RIT community, what many may not see is the commitment he also has to the greater Rochester community. Rob is an extremely active supporter of local scouting, spending his time outside of his family and his role at RIT training the youth of the greater Rochester area to become great leaders. Under Rob's leadership, Tech Crew has continued to evolve and provide outstanding service while empowering students. Rob is consistently looking for opportunities to improve his organization and is the glue that holds this program together."
Legacy Award
The Albert J. Simone Legacy Award recognizes a staff member whose long-term body of work is exemplary and who has contributed significantly to RIT for 25 years or more.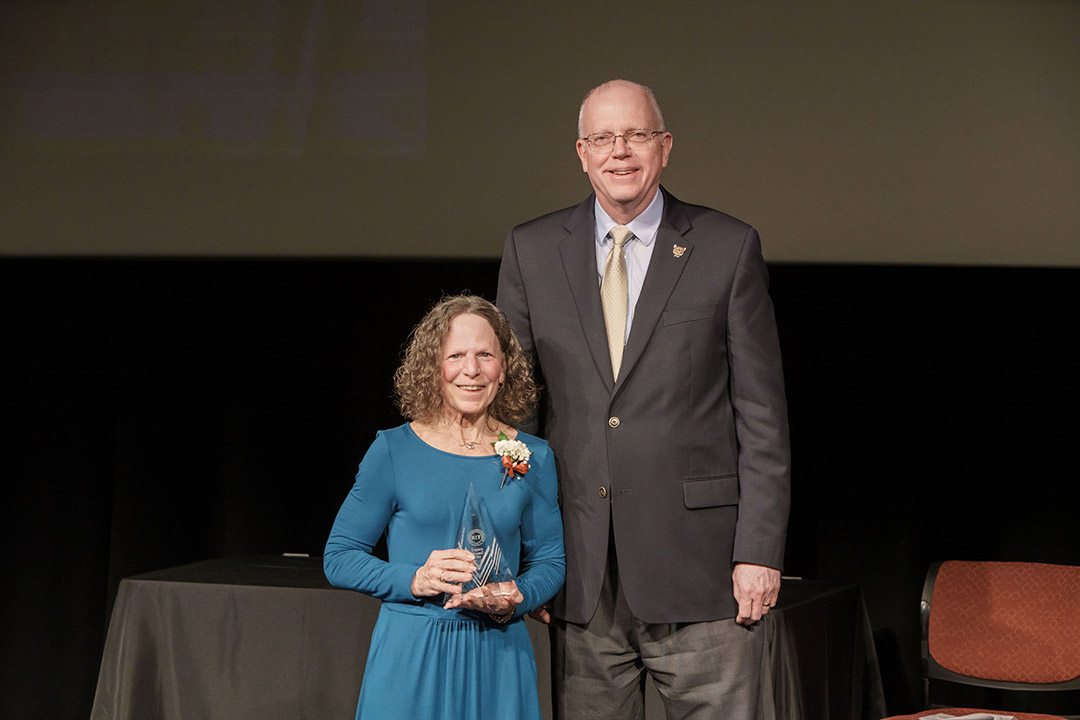 Scott Hamilton
This year's recipient is Peggy Tirrell, senior associate director, graduate business programs and admissions, Saunders College of Business.
As a 45-year employee, Tirrell has consistently cultivated opportunities to work with scholars and international organizations around the world. 
According to her nomination, "Peggy knows every facet of graduate education at Saunders, from curriculum to people and processes, and keeps in touch with a vast number of their alumni. In setting the groundwork for several global programs, Peggy's efforts have resulted in a large global footprint for the Saunders College of Business."
Recently, Tirrell assisted a student in crisis as she dealt with a political situation in her home country of Myanmar. After having to start her program virtually due to the pandemic, the student was able to enroll in person for the spring 2021 semester. Shortly after, Myanmar was being torn apart and the student's source of funding was no longer available. Tirrell worked to secure the student an on-campus position and connected her with RIT Foodshare.
"Although Peggy's role provides a special focus to our international students, her willingness and ability to help beyond her given role extends to all RIT students," said one nominator. "She takes great pride in acting as a mentor and cherishes the relationships she has built with them. These relationships have allowed Peggy to stay connected with alumni from around the world, which continues to build a sense of school spirit and camaraderie."
Tirrell also volunteers as a Student Conduct advocate and a Title IX advocate, assisting students as they work through difficult experiences.
Another nominator said: "Faculty and staff respect Peggy tremendously and often look to her for advice and guidance. Peggy's institutional knowledge makes her a priceless asset at RIT."
More information on the awards is available on RIT Staff Council website.
Topics