RIT partners with RCSD for portfolio preparation workshop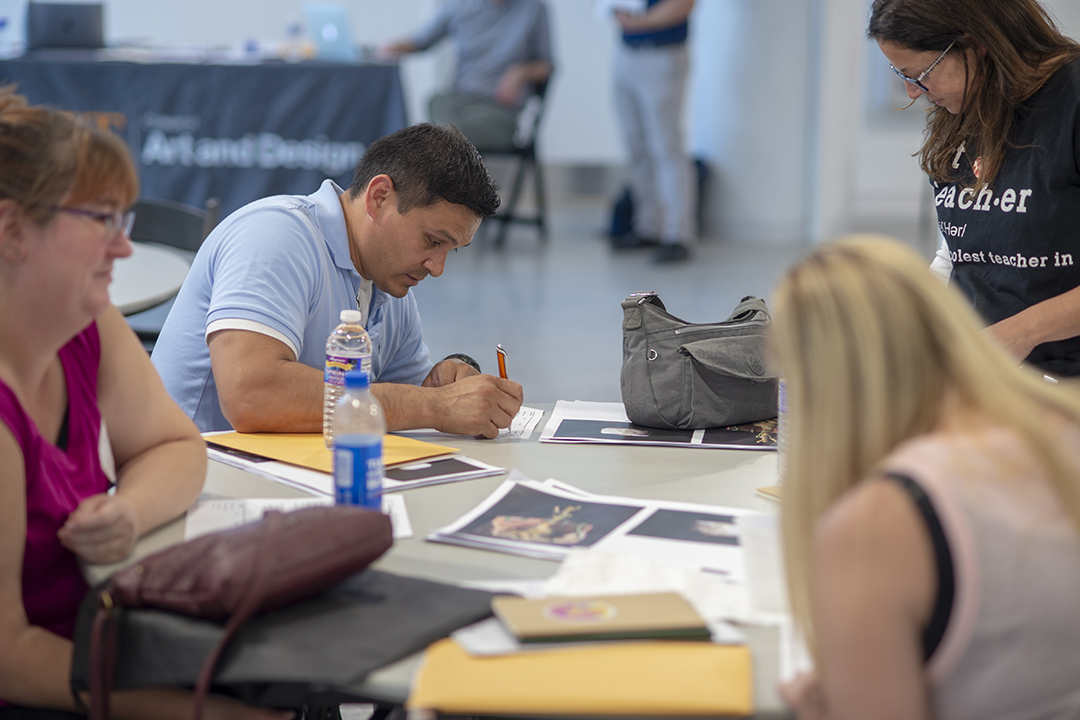 With high school art students facing the challenge of preparing and refining portfolios for college admission, RIT's College of Art and Design partnered with the Rochester City School District (RCSD) to lend a hand.
Faculty and staff from the college led a one-day workshop on Aug. 14 at RIT City Art Space, educating RCSD teachers on the desired qualities of a student portfolio, and how to accurately represent them through photography. 
"It was very informative on everything that we needed to know," said Angela Nassimos, visual art teacher/teacher on assignment in RCSD's Arts Department. "... (Students) need to be more cognizant of (portfolio requirements) and informed about them."
In all, 18 RCSD teachers and administrators — in addition to a staff member from Flower City Arts Center — attended the free professional development workshop. Upon completion of the program, teachers left ready to reinforce to their students the important skills they should demonstrate in their portfolios.  
"It was super nice and everyone had a lot of information to share," said Katie Breedy, art teacher at Northeast College Preparatory High School. "It's nice to have professional development related to what we do every day. It was very relevant."
The morning portion of the day featured instruction from Glen Hintz, School of Art and School for American Crafts director, and Courtney Good, recruitment communications specialist. An overview of portfolios — their role in the college admissions process and RIT's requirements for them — was followed by a demo and discussion on photographing the artwork. School of Photographic Arts and Sciences faculty Bob Rose (assistant professor) and Nanette Salvaggio (lecturer) provided guidance on photographing portfolio pieces to display vital details and make them stand out.
"Having the opportunity to learn about college entrance expectations for visual arts from RIT's College of Art and Design will allow me to better organize visual arts pathways and sequences to ensure that students receive the best preparation and course of study in visual art and media to support preparation for college and professional portfolios," said Dominic Pickard, director of arts for RCSD. "By renewing this partnership with RIT's College of Art and Design, RCSD visual art teachers will be equipped with the knowledge and training that they need to stay on top of consistent changes while continuing to provide RCSD students with high quality visual arts programming."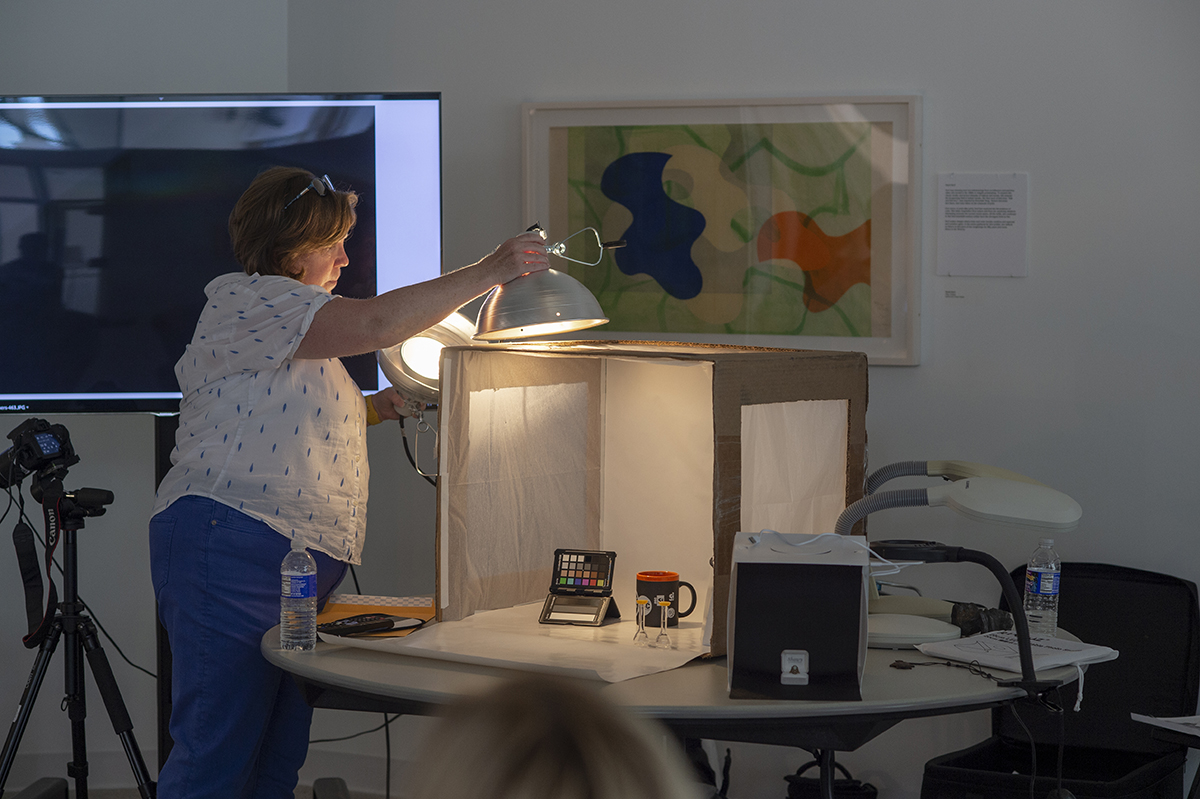 One tip offered was making use of an affordable, easily constructed lightbox as an environment for portfolio photoshoots. The session was especially timely on the heels of RCSD due to receive new, grant-funded DSLR cameras that can be used to capture students' work.
"Just being able to explain to students the process of photographing their artwork and how important it is to showcase their work in a professional manner because it could make or break their portfolio," Nassimos said of how the lesson will benefit RCSD students. 
"I appreciated the simple lightbox made from a cardboard box — our students can make this at home and practice photographing their artwork without spending a lot of money," said Elisa Bond, art teacher at School Without Walls. 
"Observational drawing is critical to a good portfolio, along with showing the progression of a piece of work from concept drawing to completion," Bond added on what information she'll be able to share with her students. "The instructors brought examples of student portfolio submissions and highlighted problem areas as well as areas of strength. Some tips they shared aboutphotographing 3D work were shoot it from several angles, use good lighting and make sure it's in focus."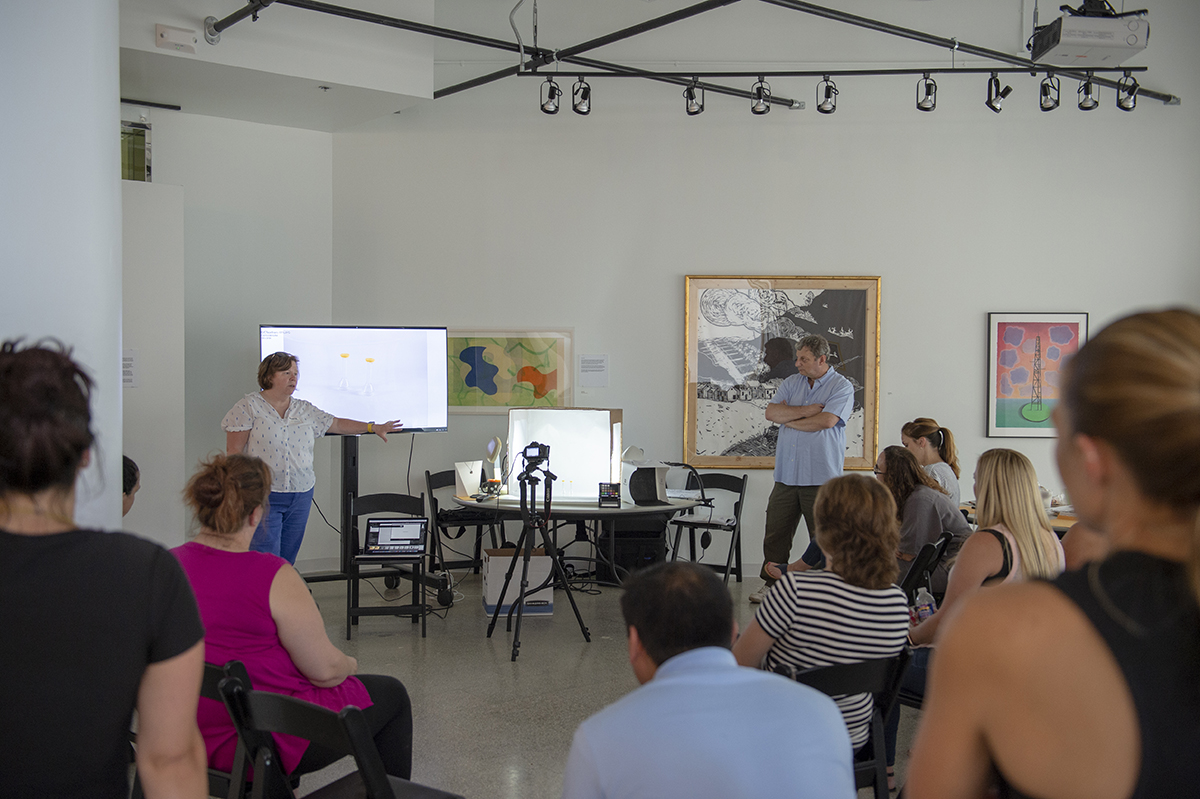 Bond also said it was valuable to learn more about RIT's upcoming National Portfolio Day (NPD) on Nov. 3 — when representatives from dozens of top art and design schools will gather on campus to review and offer feedback on high school students' portfolios as they prepare their applications. 
"The critique (at NPD) is really a great way for students to receive feedback early on," Bond said, referencing students having the option to receive a critique at NPD over a scored review to identify areas of improvement before submitting their portfolios. "I'll have my juniors come and show their work. Having someone other than myself talk about their strengths and areas for improvement, they'll really take it to heart."
The workshop demonstrated how City Art Space — which opened its doors in December 2018 — is placing a focused effort on engaging the community in creativity and innovation through its programming. 
"This workshop is a great example of how City Art Space can serve as a venue for RIT's College of Art and Design to engage with art education more broadly, specifically with art educators in Rochester City Schools," said College of Art and Design gallery directory John Aäsp. "It's important that teachers know RIT can be a resource for them, and that students with creative interests see RIT as a place to advance their talents and education."
The College of Art and Design was recognized in 2018 as a Continuing Teacher and Leader Education (CTLE) sponsor. The college regularly offers professional development opportunities for middle and high school teachers in the arts. 
Topics