May 11, 2022
by Rich Kiley
RIT students, faculty, and alumni ready to descend on Manhattan for Design Week
Vignelli Center's 'Success by Design' kicks off celebrations on Saturday night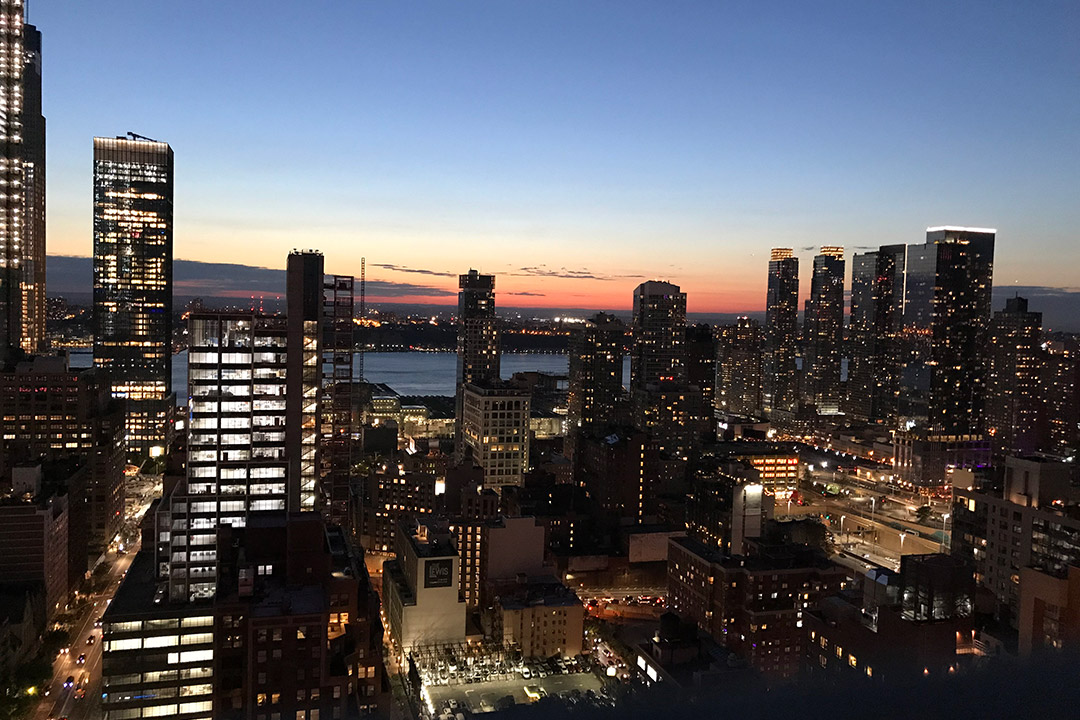 After a three-year pause because of the pandemic, students, faculty, staff, and alumni from Rochester Institute of Technology's College of Art and Design will descend on Manhattan this week for NYCxDesign—New York City's annual celebration of design that attracts hundreds of thousands from around the globe—which is marking its 10th year.
RIT's Vignelli Center for Design Studies, under the directorship of Josh Owen, the Vignelli Distinguished Professor of Design, will kick-off the School of Design's presence at Design Week from 5:30 to 8 p.m. Saturday, May 14, with "RIT Success by Design" at Partners + Napier's New York City office, 412 West 15th St., 7th floor. The event will be hosted by RIT Trustee Sharon D. Napier '04 MS (service leadership and innovation), the firm's executive chair and founder.
Registration is required to attend the event, which will fully comply with state and local COVID-19 guidelines, along with any health and safety protocols required by the venue. Proof of vaccination or a negative COVID-19 test within three days is required to enter the event. 
"'RIT Success by Design' will celebrate the past, present, and future of design at RIT by highlighting its impact on the global design community through our remarkable alumni, current student successes, local and global assets, and future ambitions for growth," Owen said. "It's great for RIT to be back at Design Week, and it is significant for the university to have such a formidable presence at one of the world's leading showcases for design."
RIT is among only a select few universities and design schools to be invited to Design Week in New York City.
This Saturday night program's highlights will include:
Castle and Owen collaborated on a philanthropic project titled "Support for Knowledge," sales of which go toward further growing RIT's industrial design program. The limited-edition bronze bookends created from the extraordinary design pairing are a partnership with RIT's Shop One, Borough Furnace, and Autodesk. The documentary film was created by alumnus Alex Freeman '14 (industrial design).
Since 2010, RIT's Metaproject has regularly demonstrated that education partnered with industry is a successful vehicle for fostering innovative thinking and thoughtful product design. The collaboration pairing RIT student designers with a client partner has become a seminal project for the university's nationally ranked industrial design program and also aims to help play a role in bringing about a better world.
For Metaproject 11, senior industrial design students spent last year designing products for Staach, which focuses on functional sustainable design. Founded by Seth Eshelman '06 (industrial design/graphic design), the company designs and domestically manufactures sustainable products including furniture, interiors, and built structures that can be found around the world. The event at Partners + Napier on Saturday night will highlight a number of the projects from the Metaproject 11 collaboration with Staach.
At the International Contemporary Furniture Fair (ICFF), which will be held inside New York City's Jacob Javits Center May 15 to 17, RIT's installation within the WantedDesign Schools Showcase will highlight this year's Metaproject 12 with Modkat, the award-winning maker of cat litter boxes "where modern cats do their business," the Brooklyn, N.Y.-based company proclaims on its website.
Co-founded by Brett Teper '94 (industrial design) and Rich Williams, Modkat is widely hailed for creating an entirely new category of litter boxes inspired by innovative design. The company's original Modkat Litter Box made its debut at the 2009 ICFF, where it earned The Editor's Choice Award for Best Accessory. Shortly thereafter, it received the prestigious Red Dot Design Award.
The Metaproject initiative, true to RIT's mission of providing experiential, innovative learning opportunities at a university noted for innovative leadership in technology, the arts, and design, has seen industrial design students work in collaboration with photography, glass, interior design, graphic design, new media design, and other industry partners.
Started by Owen when he arrived at RIT in 2010, the course offers students a taste of real-world experience, connections with leading design industry professionals, and the possibility of having their project put into production.
Topics