Assessing the Quality of Reconnaissance Images at Collins Aerospace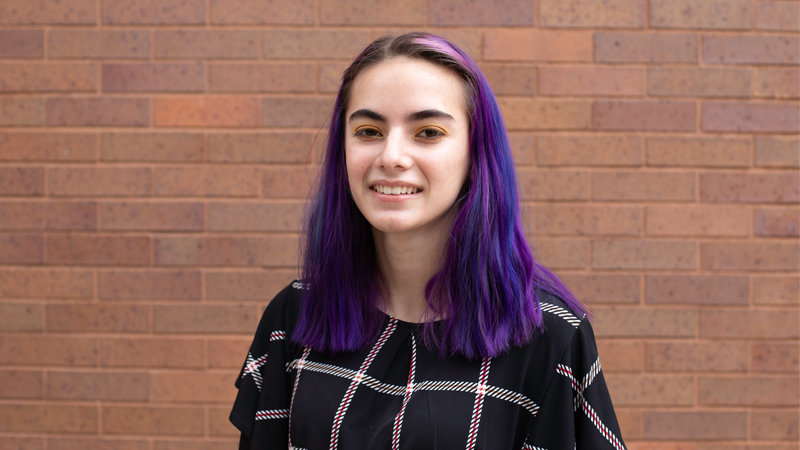 Despite not knowing what she planned to do after high school, Zoë LaLena knew math, computer science, and physics would be a part of her future career. She discovered RIT's imaging science program through the Rochester Engineering Society Explorer Post program and found it to be a perfect blend of a variety of disciplines. Now, after her summer internship at Collins Aerospace, she can add the ability to assess reconnaissance images to her resume.
When Zoë participated in the Explorer Post program, her interest in imaging science was sparked by meeting someone in the field. "A retired imaging scientist at L3Harris shared his career path with us while introducing us to the fields of engineering and imaging science. I immediately felt it was the right fit for me."
Throughout the imaging science program at RIT, students learn how to capture, display, and manipulate light. "From optics to computer vision, we learn everything about the imaging chain. It's a combination of computer science, engineering, physics, and mathematics."
Knowing that a co-op or internship would give her an advantage when applying for competitive jobs after graduation, Zoë began to explore summer work opportunities. She ultimately landed a summer internship after talking to a recruiter at the RIT Affinity Reception, which takes place the night before the university-wide career fair. This "reverse career fair" event allows recruiters to select which affiliated organizations to speak with at the tables hosted by student organizations. Zoë attended the fair as a member of 'Women in Computing' and encountered a Collins Aerospace imaging scientist who hired her after discovering she was an imaging science student.
Zoë's role on the team was to determine the image quality of reconnaissance missions. "Images of high quality have fine details that a viewer can accurately interpret. For example, Image quality is high if I can read a license plate clearly, and image quality is low if I can't correctly identify a blurry image as a car. I spent the summer writing code in MATLAB to determine the signal-to-noise ratio of images to assess their quality."
With graduation around the corner, Zoë is happy to have more work experience on her resume. After filling other summers with research, she was glad to secure work experience in the industry. "This internship was my first opportunity to work in imaging science. It helped me improve my coding skills, particularly in MATLAB, and I learned how to calculate signal-to-noise ratios and evaluate image quality. Having the opportunity to experience both research and working in industry during my time at RIT helped me decide which path is best for me."
For students looking for co-op or internship opportunities, Zoë recommends keeping your resume current, so you're always prepared. "RIT offers a variety of opportunities to connect with employers. Keep your resume updated so you are prepared when opportunities arise. Do your research on the companies attending and be prepared to explain how your skills can apply to their industry."
---