Prepared for Med School
May 3, 2022
Safiya Gazali '22 (biology)
Faculty: Andre Hudson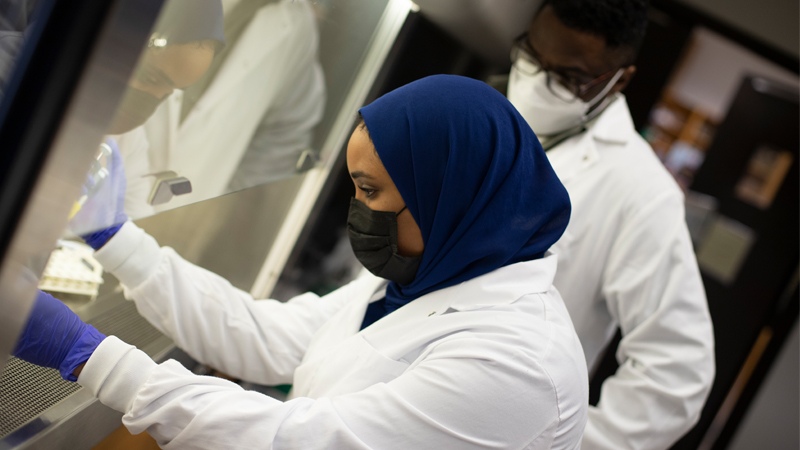 When Safiya Gazali stepped onto the RIT campus, she instantly felt at home. She liked how the campus was like a small city but in a natural setting. Once on campus, Safiya enjoyed the sense of independence combined with the friendliness and support of the community. As an RIT biology graduate with minors in chemistry and psychology, Safiya is now prepared to attend medical school and pursue her lifelong goal of becoming a surgeon.
When she was eight years old, Safiya became interested in medicine after her mother was injured. During Somalia's Civil War, a man running from gunfire knocked her mother down, breaking her arm. The hospital turned her away since they were caring for more critical patients. Left to stay at home with no essential emergency services, Safiya felt helpless to ease her mother's pain. From that day on, Safiya decided she wanted to be in the medical field so she could save lives and bring hope to others.
As an RIT-McNair Scholar, Safiya began research in her second year, working in the Hudson Lab with Dr. André Hudson. She focused on research to help identify and characterize antibiotic lead compounds. Using homology modeling, she conducted a comparative structural analysis of bacterial and fungal cellulases. Safiya's research experience included conducting experiments, writing and publishing a paper, and presenting her findings.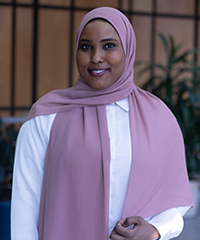 "I am honored to work in Dr. Hudson's laboratory as a student researcher. I am proud of the scientific research I conducted for the past two years, presenting at the RIT Undergraduate Research Symposium and publishing in the American Society for Microbiology. Dr. Hudson has been my mentor and friend and has been a guide in research and life."
Safiya also received the David M. Baldwin Memorial Scholarship Award, which recognizes outstanding scholars with service to RIT, the Thomas H. Gosnell School of Life Sciences, and the wider community. Safiya finds research inspiring since she learns new things everyday while honing her problem-solving skills and challenging herself through hands-on experiences. "I love the substantial faculty support and funding for student research projects."
When the pandemic began, Safiya had the opportunity to work with the COVID-19 Lab team at the Thomas H. Gosnell School of Life Sciences (GSoLS), where she processed samples for COVID-19 surveillance testing. She also worked with the GSoLS BioPrep Team, preparing media and reagents for the many teaching labs in the school.
Aside from the research skills and advanced laboratory tools that one typically learns in research, Safiya said she has fine-tuned lifelong soft skills. Skills like patience, time management, critical thinking, problem-solving, and perseverance. She also learned through her research that she enjoys challenging herself through hands-on experiences.
"With each learning experience, I gain more skills and confidence. It surprised me that I had access to so many labs and research resources and that after initial training, my mentors released me to work independently."
Safiya is also actively involved in RIT culture and activities. During her first year, she was an active member of the African, Latin, Asian, Native American (ALANA) Collegiate Association and the Muslim Students Association (MSA). "I started an event for World Hijab Day to help people understand this garment worn by Muslim women."
During the last two years, Safiya served as an Event Coordinator, Vice-Chair, and Chair on the Student Advisory Board of the Arthur O. Eve Higher Education Opportunity Program (HEOP). HEOP provides eligible minority college students with tutoring, peer mentoring, and financial aid. She also continues as a Leaders Encouraging Achievement and Pride (LEAP) Mentor for HEOP first-year college students as they learn to navigate the RIT campus and systems. In addition, Safiya demonstrated scientific experiments during the Girls in STEM Fair at the K-12 University Center and the Imagine RIT showcase.
"These demonstrations inspire teens to pursue studies in science and engineering and arouse scientific curiosity in members of the Rochester community."
To serve the broader Rochester community, Safiya worked with RIT's Latin American Students Association (LASA) on the Salvation Army's Project Bundle-Up, to provide Rochester City school children with free winter coats.
"I also packed meals for Project Hunger and helped build a house foundation for Habitat for Humanity. I currently volunteer through Barakah Muslim Charity to distribute food to needy people. Every month, I also volunteer for the Red Cross blood drive; I check in donors and monitor their post-donation welfare."
With Safiya's extensive set of experiences, both in and out of the classroom, she has some sound advice for first-year students. "When you start college, there will be so much that will attract and distract you. College life is a huge change for you, so you might feel stressed being away from home, in a completely new environment. Get to know yourself. First, focus on your health and academics. Learn how to manage your time, including setting priorities and saying 'no' occasionally."
Safiya recommends that students gradually become involved in the diverse campus community outside the classroom. She suggests students grow their connections and include upper-level students since they can help you navigate college life at RIT and help mentor you. Also, campus resources are available, so you don't have to go it alone.
After graduation, Safiya plans to attend medical school to fulfill her goal of becoming a physician and to continue her scientific research. "Although I have many areas of expertise to explore, I currently have a strong interest in General Surgery."
"Safiya has a strong resume for her med school applications. The combination of her diverse coursework in our Biology major, research experience, and community volunteering will set her apart from other applicants." — Dr. André Hudson
---