Student visually preserves historic Rochester site with Kodak project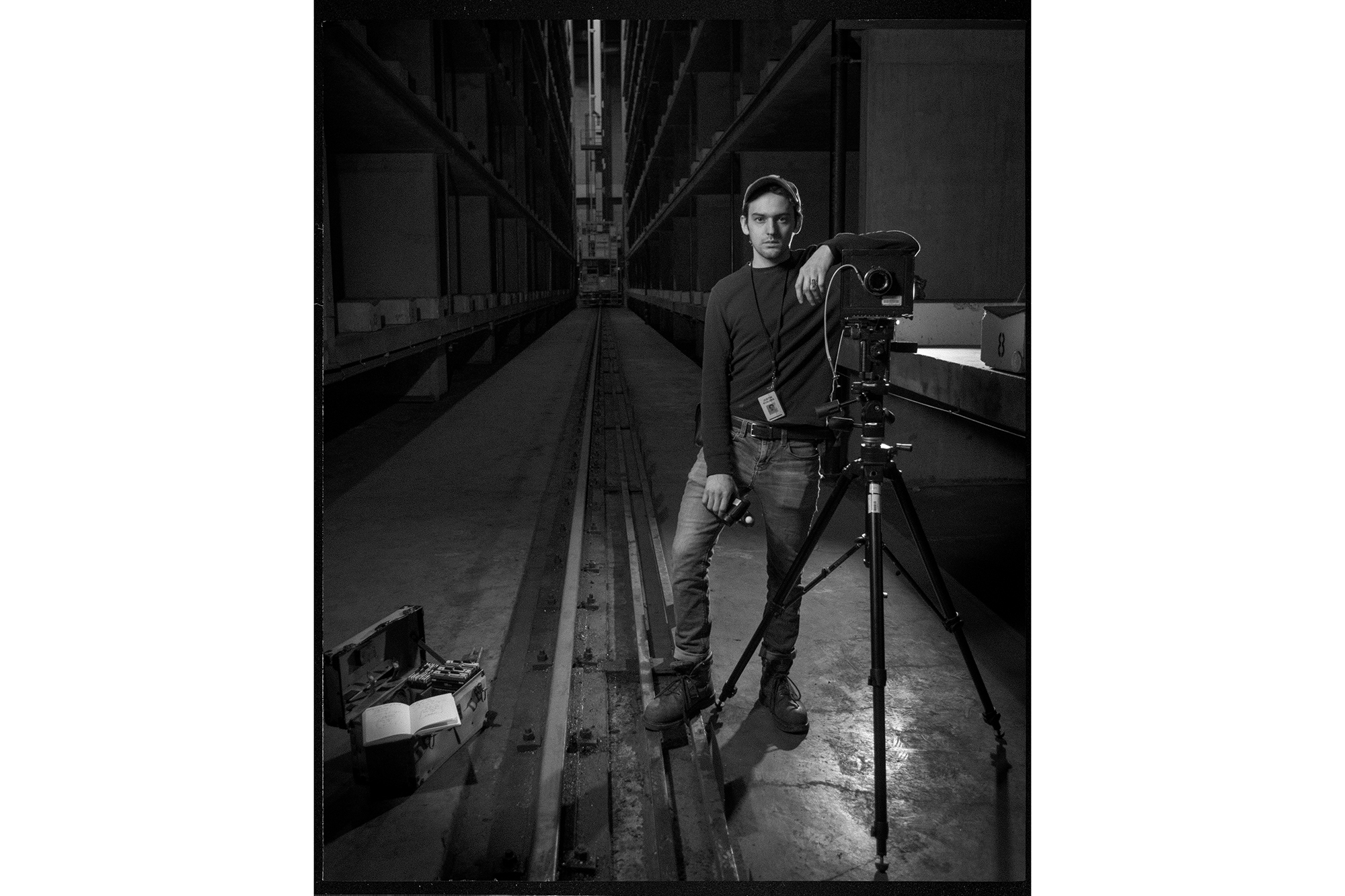 Justin Scalera is fascinated by the beauty of details. And historic architecture.
So you can imagine how exciting the last few months have been for him. The fourth-year RIT fine art photography student is visually preserving one of Rochester's most historic, treasured sites. 
For an independent study with School of Photographic Arts and Sciences professor Frank Cost this academic year, Scalera accurately documented the famed Eastman Business Park through large-format film photography. Scalera carefully photographed the exterior and interior of buildings on the sprawling, 1,200-acre campus — which once fully occupied Kodak's manufacturing operations — to create more than 120 precise visual representations that will make their way to a National Park Service archive. 
Before that, a selection of his black-and-white images are being featured in "The Kodak Park Works" — a solo exhibition in the gallery at Kodak Center (200 West Ridge Rd., Rochester). The public opening reception is set for 6 to 8 p.m. Friday, April 12. The exhibition, on view through June, is sponsored by the School of Photographic Arts and Sciences' James E. McGhee Professorship.
Scalera was drawn to Kodak's industrial complex as a subject because of the cultural and economic impact it's had on Rochester, dating back to the 19th century. 
"That factory made everything possible, pretty much, in photography," said Scalera, from New Jersey. "... I think it will connect with a lot of people."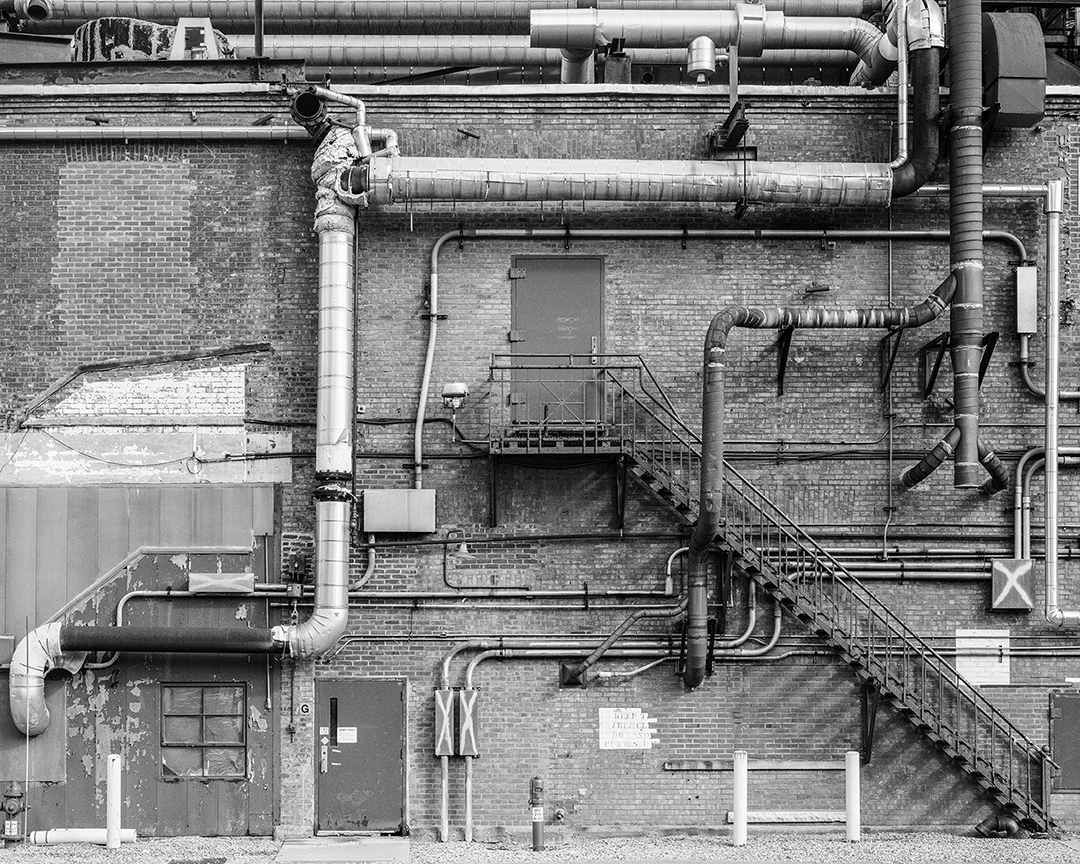 Scalera's photos were printed in RIT's Imaging Systems Lab, and a Kodak-produced book of Scalera's diligent work, Kodak Park Works, will be available when the show opens. The book's production managers were alumni Laura Zigarowicz '98 (biomedical photographic communications) and Evyn Morgan '14 (fine art photography) while the designer was Gaby Sanchez Angulo '17 MFA (visual communication design). 
"I wouldn't be able to do this project if I wasn't at RIT," Scalera said, "because of what everyone knows about RIT as a photo school and the connection we have with Kodak."
Cost said Scalera had this rare opportunity as an architectural photographer still in school because of a high-quality body of work and an ambitious attitude.  
"He puts a tremendous amount of work into a picture," Cost said of Scalera, who was granted 24-hour access to the park. "One of these pictures might take him a couple of hours to set up and make. He thinks very deliberately about everything."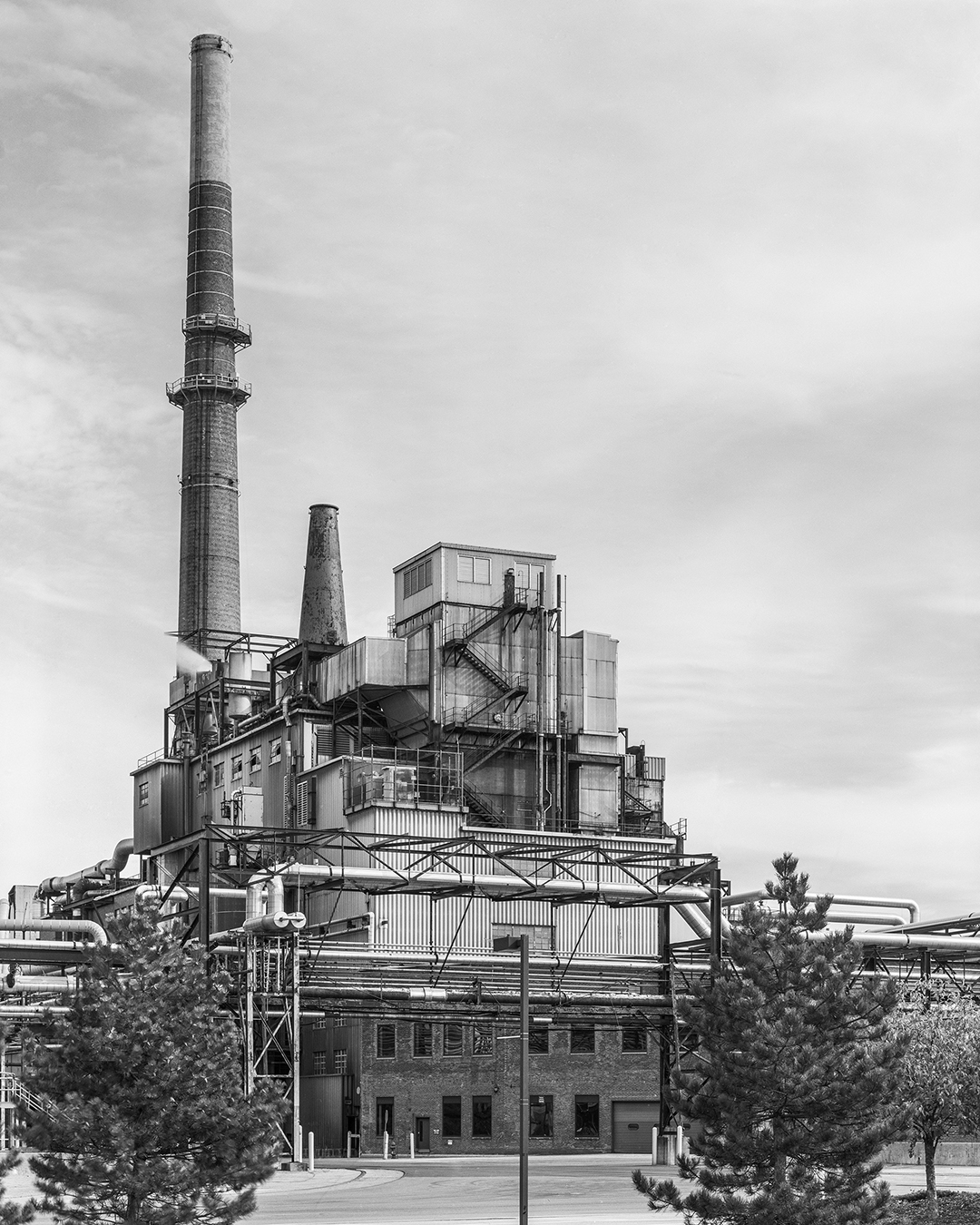 Past the gallery opening, the photos will serve as a dignified record of Eastman Business Park. Scalera plans to donate his images to the National Park Service's Heritage Documentation Programs, whose records are archived in the Library of Congress in Washington, D.C.
Scalera's images were up to Historic American Buildings Survey (HABS) standards, which he learned during an internship with Heritage Documentation Programs last summer. HABS is a preservation program administered by Heritage Documentation Programs, which constitutes the nation's largest archive of historic architectural, engineering and landscape documentation, according to its site.
Scalera transferred the skills to execute proper photographic documentation he developed in Washington to Rochester.
"It's all shot on black-and-white, large-format film because it holds the most detail," said Scalera, who was invited back to Washington after graduation in May to continue HABS work. "It's done with a view camera so the perspective of the building is correct. It's a true, physical record of the building you're photographing."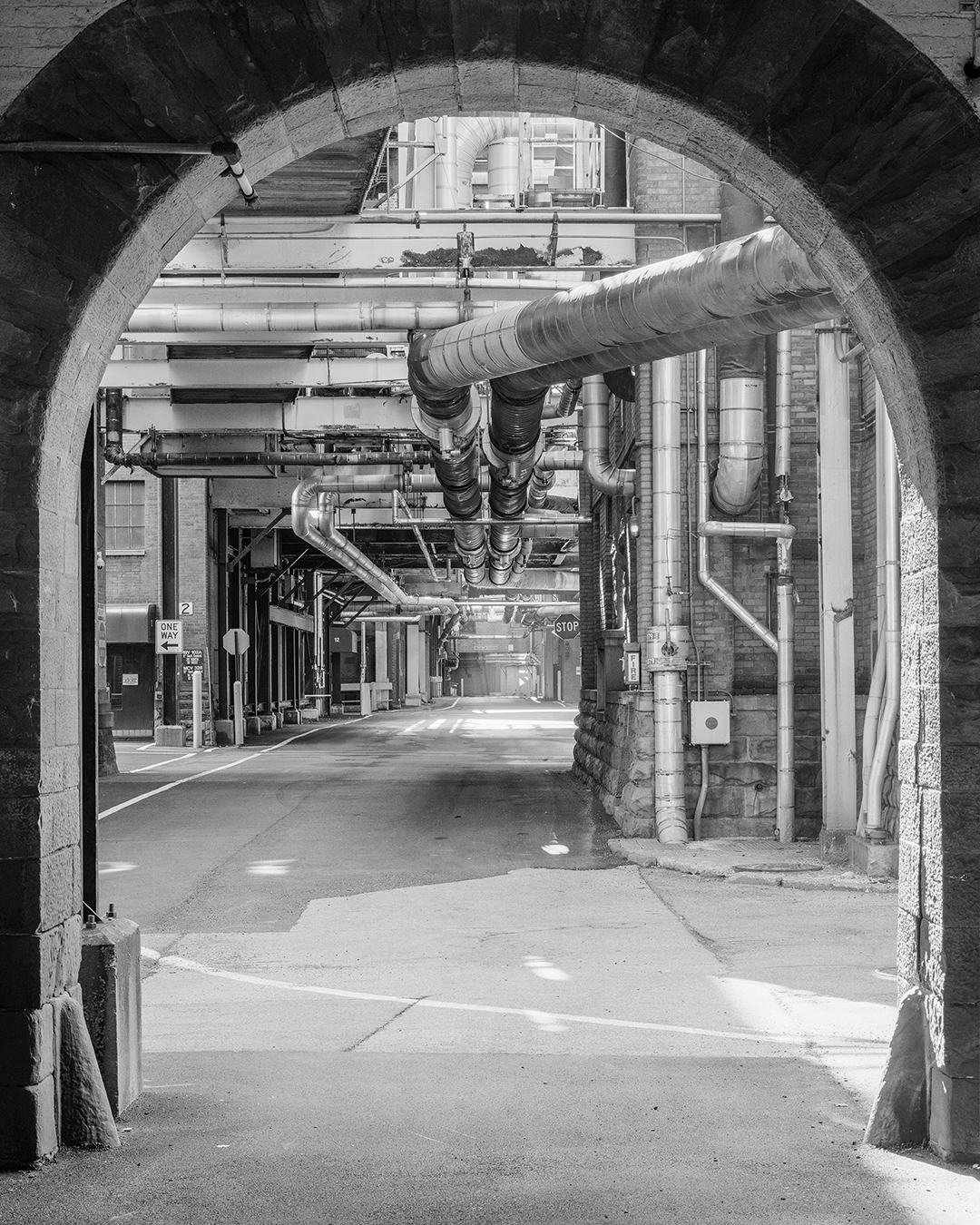 Inspired by architectural photographers from the early 20th century, Scalera classifies his style as "traditional." He searches for the perfect photograph, an indicator he's not afraid to work. 
Cost found that out the first time he had Scalera in class. It was for his fall 2017 Aerial Photography course, where students produced panoramic drone images for the book, Rochester from the Air. The cover photo is by Scalera, and his work is prominent throughout. 
To Cost, Scalera was proactive and invested in creating top-notch work. So when Scalera approached him about a grand idea in the following spring's Innovation Project class, Cost was confident it would be a worthwhile endeavor. 
"He had proven he was willing to do the work and he was tenacious enough to see it through," Cost said. "So I was willing to explore the possibility."
Scalera wanted to mount a medium-format panoramic film camera on a drone — although Cost didn't have one to support the hefty camera's weight.
By partnering with the Chester F. Carlson Center for Imaging Science and Kate Gleason College of Engineering, they designed a system to turn the idea into reality. 
Scott Bell, a then-senior mechanical engineering student, designed a shutter release mechanism and aluminum mount that strapped the camera to the bottom of a drone from Imaging Science. Tim Bauch, senior lab engineer in Imaging Science's Digital Imaging and Remote Sensing Lab, integrated a shutter control mechanism and digital preview camera to give Scalera a rough idea of what the camera would record.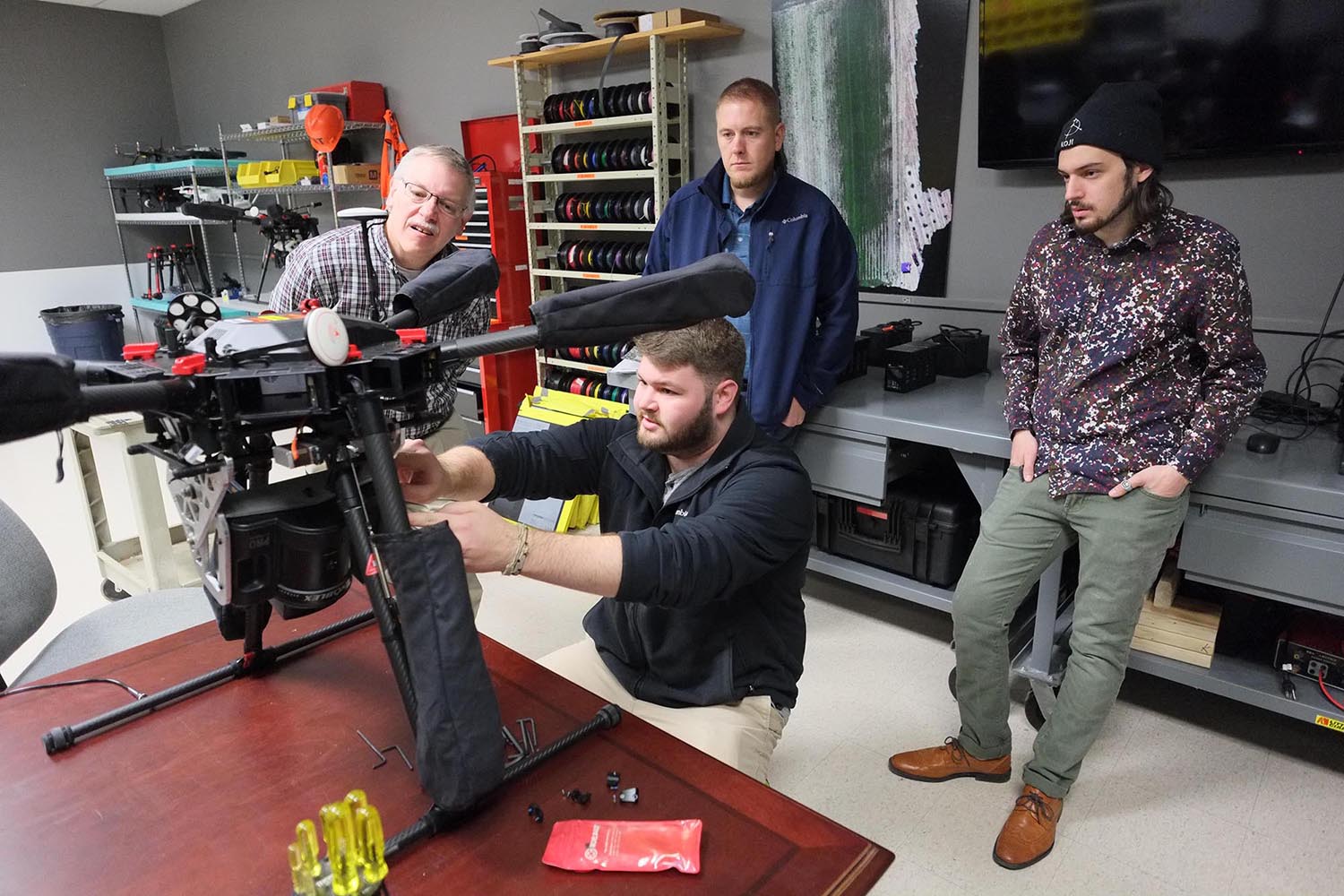 In the end, the system took a crisp panoramic image of Eastman Business Park. A 7-foot-wide print of it wowed visitors — especially nostalgic former Kodak employees — at the class' 2018 Imagine RIT: Creativity and Innovation Festival exhibit. 
"I don't think this project could have really happened anywhere else because (RIT) has such a strong photo program and such a strong engineering program," Scalera said. "They're under the same roof so it's easy to collaborate here."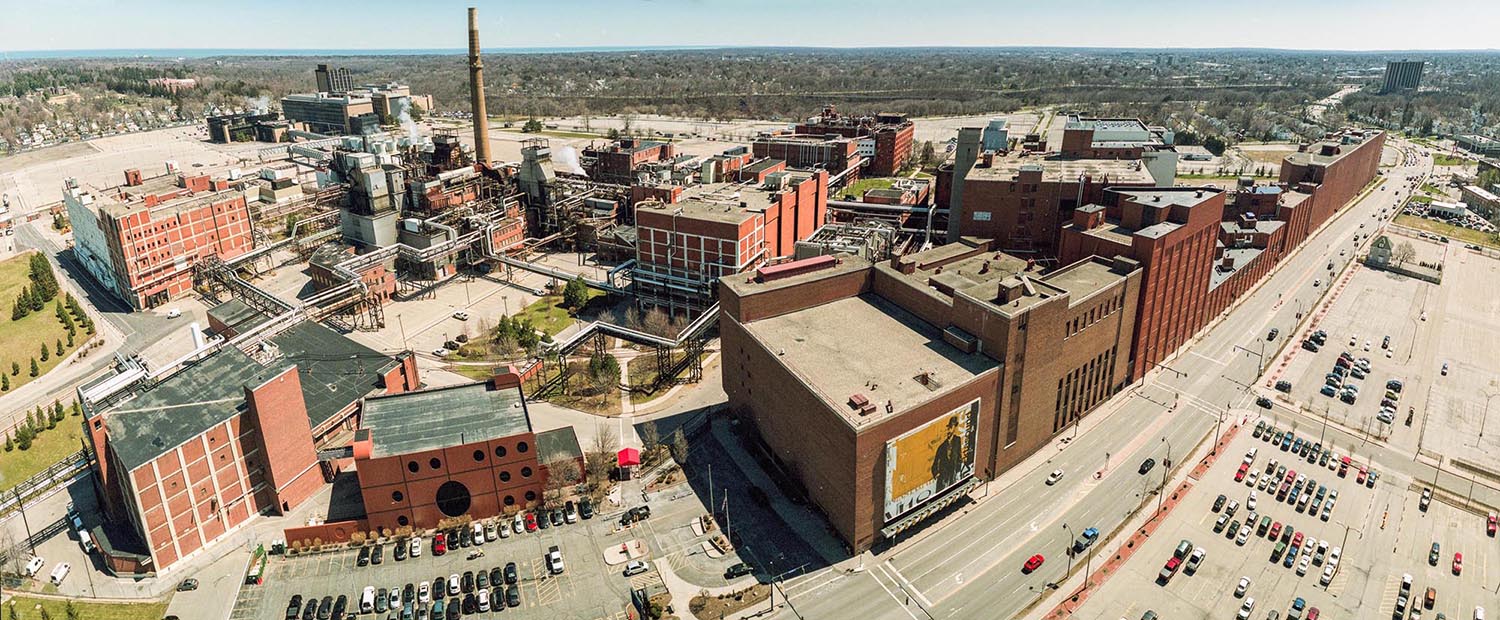 The multidisciplinary experience laid the groundwork for this academic year's project. Intrigued by seeing the miles-long park from the air, Scalera wanted a closer look using the abilities he picked up in Washington. Again, Cost was on board to work with the reliable Scalera. 
The photo at Imagine RIT, plus Scalera's portfolio-building images from his internship in Washington, also sold Eastman Business Park on giving Scalera an all-access pass to photograph, Cost said.
Scalera made a habit out of parlaying learning opportunities into even bigger ones. 
"If we do something together and you prove you're willing to do the work, the next round we go into, we'll step it up," Cost said of collaborating with students. "I trusted him enough because of the work he did in one class to be able to do the next project."
For Scalera, the last two years have reaffirmed his college decision.
"It came up as one of the top schools, if not the top school, for photography," Scalera said of choosing RIT. "It had a lot of the technical aspects of photography; it wasn't just an art school. It was the obvious choice to come here."