Working toward clean power for all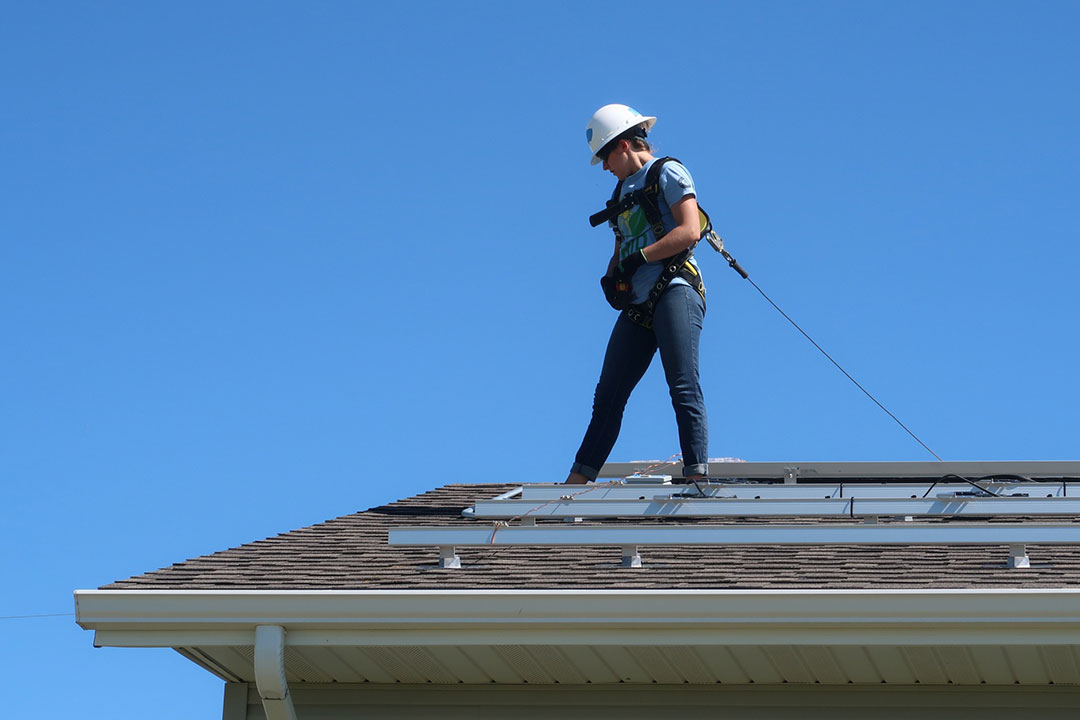 You do what? From accountant to the stars to sustainable chocolate producer, RIT alumni have some pretty cool careers. Below, read about Berlyn Hubler '16 MS, tribal program coordinator for GRID Alternatives.
Despite significant technological advances, clean, affordable power remains out of reach for most of the world's population. Berlyn Hubler '16 MS (sustainable systems) is working to change that dichotomy.
The Golisano Institute for Sustainability (GIS) graduate serves as tribal program coordinator for Oakland, Calif.-based GRID Alternatives, a nonprofit organization that installs solar power systems and provides job training for underserved communities in the United States, Mexico, Nicaragua and Nepal.
"I've always been interested in sustainability," Hubler said. "At GRID, our vision is a transition to clean, renewable energy that includes everyone."
The Denver resident and her team members serve tribal communities outside regions where GRID Alternatives offices are located "so it is crucial that I travel with the construction team and assist with projects," she said.
The company works with tribes to install solar electric systems ranging from single rooftop solar installations to large-scale projects that meet the energy needs of an entire community.
According to Hubler, solar power projects have largely bypassed tribes because the tax incentive (investment tax credit) that is responsible for the leap in installed solar projects in the United States "is inaccessible to these communities due to their lack of tax appetite."
"Our work can sometimes be misperceived as service or helping, but it's important to understand that Native Americans are extremely resilient and I'm just here to connect them to resources and share my knowledge about solar and energy efficiency," Hubler said.
Hubler said she applies the three primary tenets of sustainability—environment, economics and social—she learned at RIT to her job every day.
"What I do now requires all three," she said. "Tribes have a history of energy exploitation and exploitation in general. We're giving them the technology, the training, and working as a team with the tribe to find funding, so they can keep doing these projects sustainably. The cost-savings alone allows tribes to serve their communities more efficiently, so when they do spend money, it stays within the community and their local economy."
One particular project has left a lasting impression on her.
"A Navajo elder with no electricity and no running water lived right next to the highway and a major electrical line—her home was the only one not connected to the grid because of land-rights issues," Hubler said. "Her system had been down for several years and her granddaughter contacted us after trying to get help from the community (local Navajo chapter).
"After we refurbished her system, we were driving away and you could see her living room light on from the highway," she added. "It was such a powerful image to see her with electricity again."