RIT sees more than 4,100 students graduate
More than 20 in-person commencement ceremonies held over three days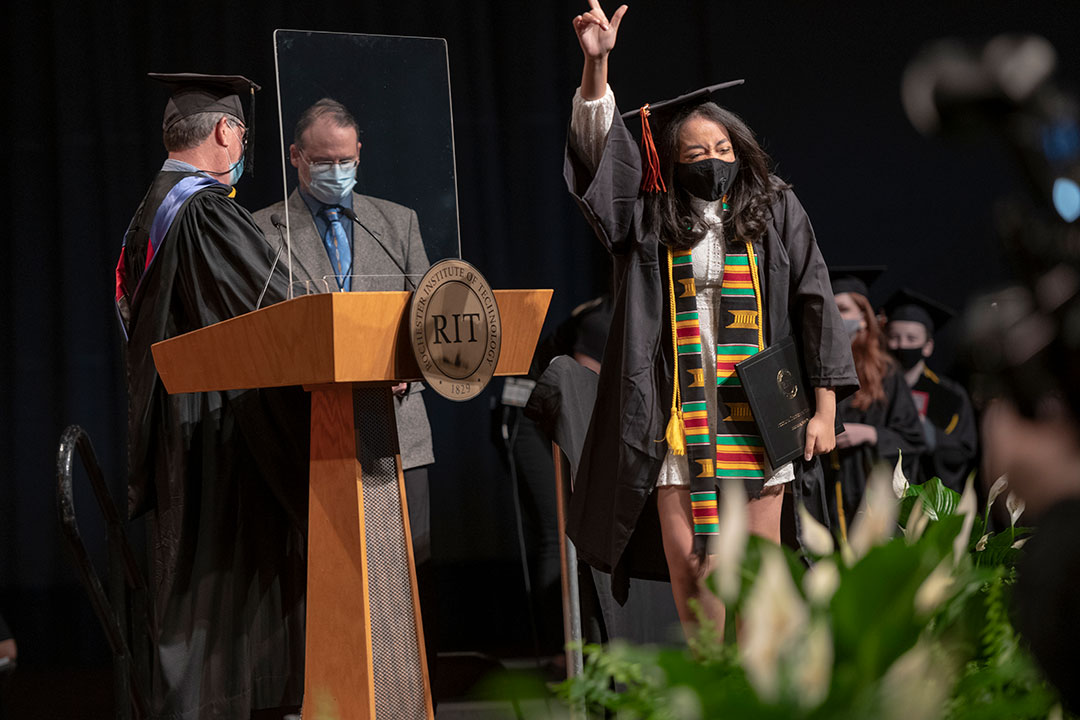 Commencement ceremonies for more than 4,100 Rochester Institute of Technology students begin today and continue through Sunday, enabling graduating students to don their regalia, walk across a stage, and be acknowledged by administrators for their milestone achievements despite a global pandemic.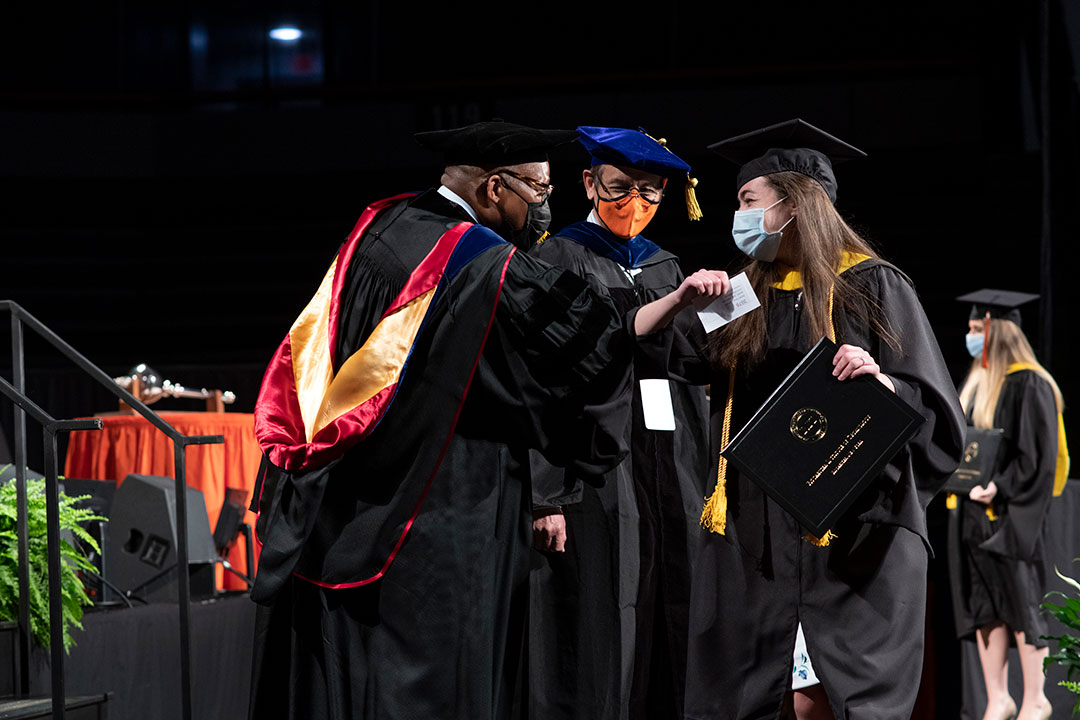 A. Sue Weisler
Due to state COVID-19 occupancy restrictions, commencement this year is being held in small ceremonies, most by college, at the Gordon Field House and Activities Center and Gene Polisseni Center; seven ceremonies will be held today and six ceremonies Saturday for the Class of 2021. Ceremonies will be held on Sunday for 2020 graduates, who are returning to campus because they were unable to participate in an in-person commencement last year. More than 400 graduates from the Class of 2020 have requested tickets for their commencement; all graduates may request tickets right up until the time of their ceremonies.
More than 50 students are expected to earn their Ph.D. degrees by the end of June. Their hooding ceremony, which will also include Ph.D. recipients from the Class of 2020, is scheduled on Saturday.
The more than 4,100 RIT graduates of the Class of 2021 includes students at RIT campuses in Croatia, Kosovo, Dubai and China.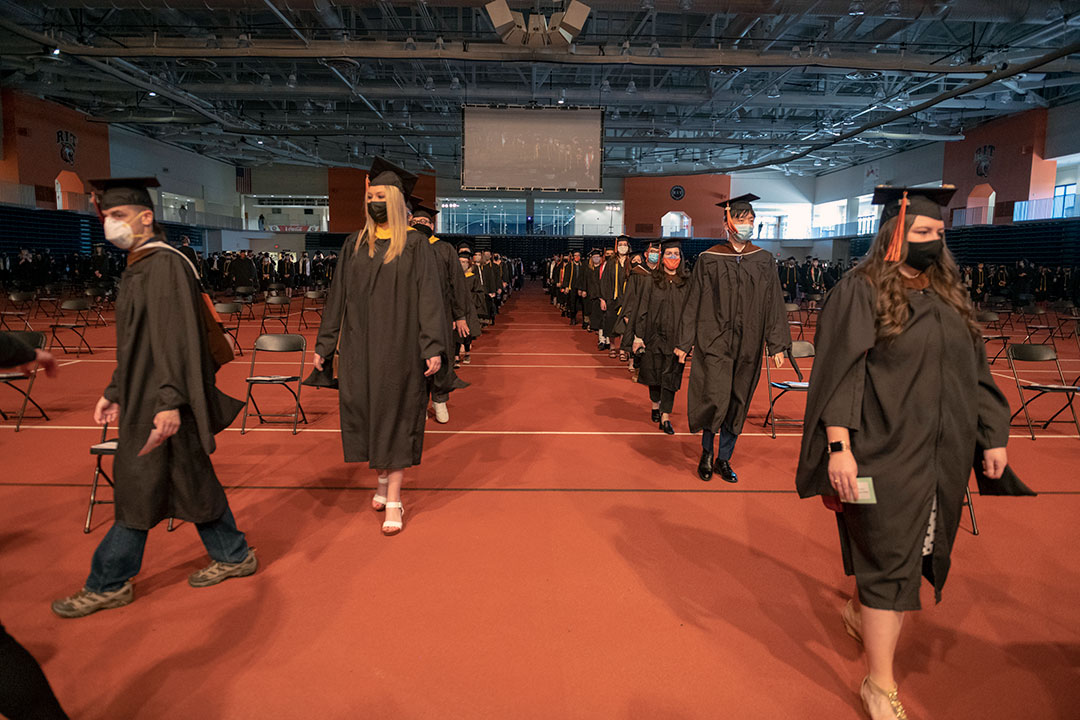 Elizabeth Lamark
Each ceremony will be live-streamed to accommodate friends and family of graduates who are unable to be inside the buildings due to COVID-19 capacity restrictions. Families and friends will be allowed on campus, but there are no specific viewing areas to watch the live-streamed ceremonies. Family and friends will be able to send congratulatory comments on Facebook, Instagram, Twitter, and YouTube and tag them with #RITGrad, and those messages will be shared during the live-stream broadcasts.
Although the ceremonies aren't as large as usual, there is still plenty of pomp and circumstance, with spaced processions of a bagpiper, mace bearer, and recordings of the National Anthem and RIT's Alma Mater.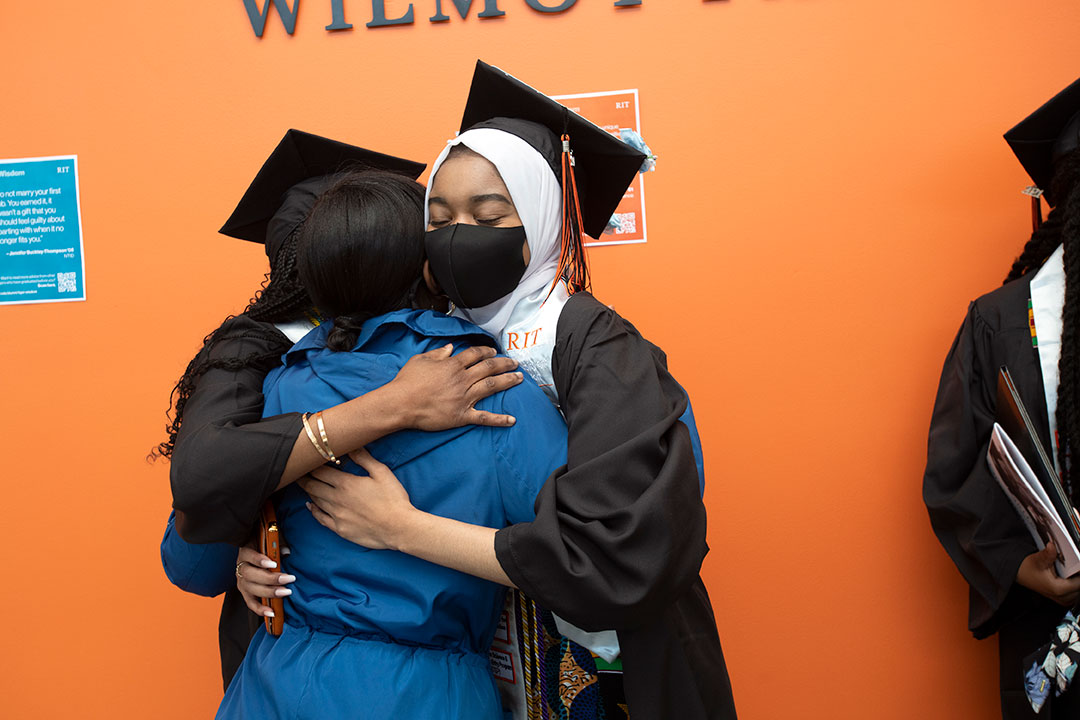 A. Sue Weisler
"Dozens of members of the Commencement Planning Committee have spent countless hours, often with changing health guidelines, to make our graduates' ultimate college achievement a safe and memorable milestone in their lives, with as many commencement traditions as possible," said RIT President David Munson, who also thanked the graduates for their perseverance and dedication throughout the pandemic.
"Your sacrifices allowed for a significant number of in-person classes and activities, including this ceremony, and our campus community is grateful for your efforts," he said. "You worked so hard under challenging circumstances. And, your efforts paid off.  Your experiences and your RIT education have uniquely prepared you not only for jobs and careers, but also for life and its challenges."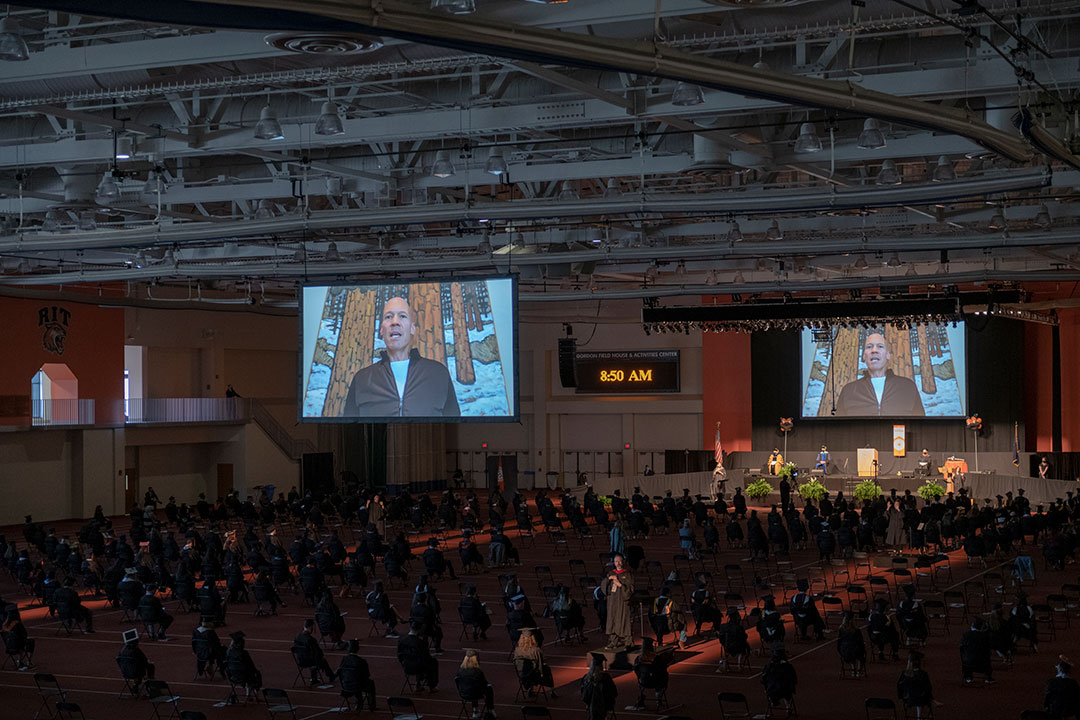 Elizabeth Lamark
Eric Avar '90 (industrial design), Nike's vice president and creative guide of innovation design who was honored with the College of Art and Design Distinguished Alumni Award in 2016, is this year's commencement speaker. His remarks will be broadcast at each commencement ceremony for the Class of 2021.
Last year's intended commencement speaker, Josephine "Jody" Olsen, who was director of the Peace Corps from March 30, 2018, to Jan. 20, 2021, will have her comments broadcast to RIT's Class of 2020 on Sunday.
One change this year incorporated because of the pandemic is the use of a universal robotic arm that will be promoting distancing by handing graduates from the College of Engineering Technology their diplomas.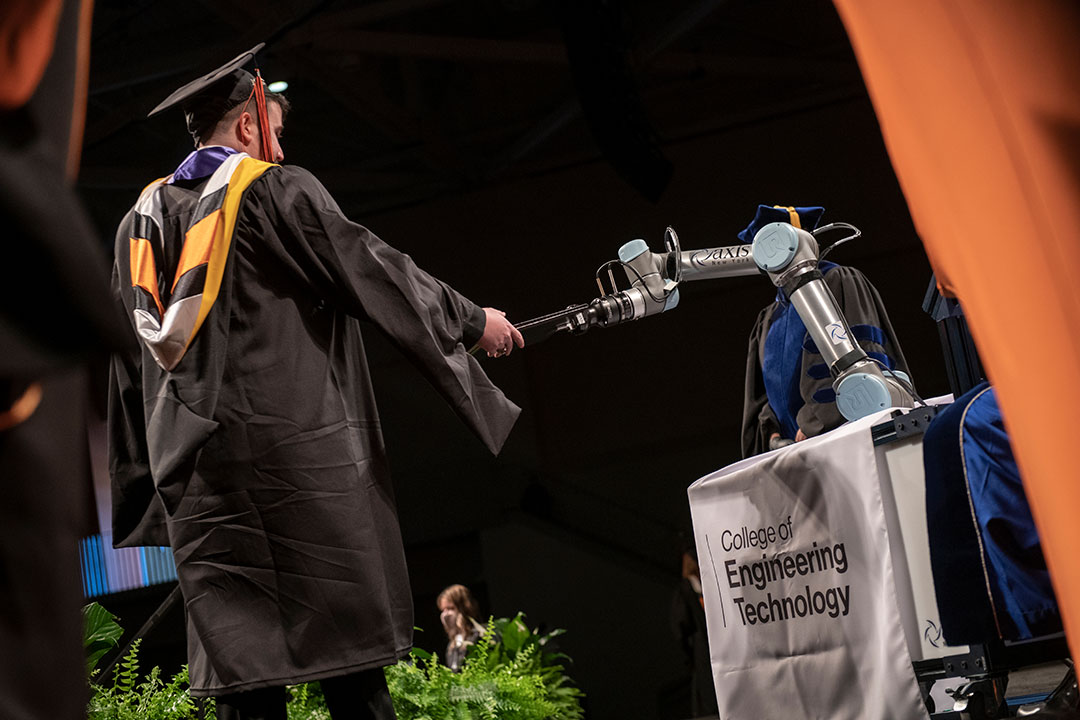 Elizabeth Lamark
The robotic arm was borrowed from Axis New York, whose president, Tim Thurley, graduated from RIT in 1991 with a degree in electrical and electronics engineering. Brad Brewster, who is getting his degree in robotics and manufacturing engineering technology this weekend, works at Axis New York and assisted the programming and design of the arm's automation cell.
"I'm ecstatic to get my degree," said Brewster, of Geneseo, N.Y. "Growing up in a small area, it wasn't ever a goal for me to get a degree like this. The faculty helped me learn the world of engineering and gave me the chance to get experience with robotics. That's a big thing for me."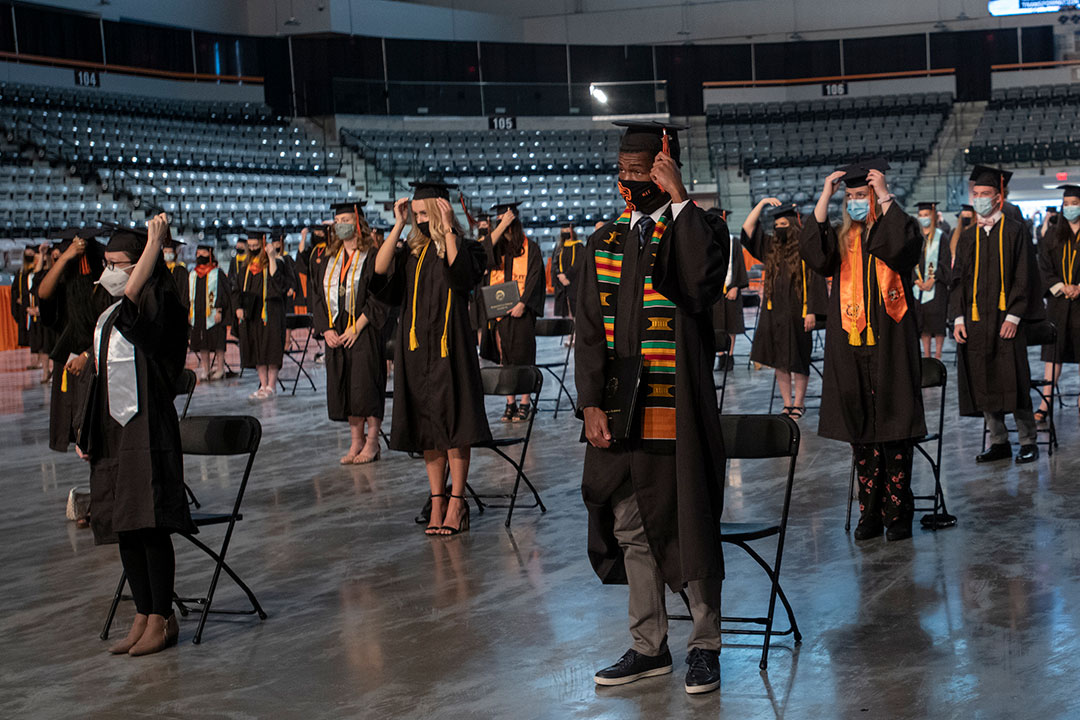 A. Sue Weisler
Munson said today's world needs people "who know how to create and innovate, analyze and implement, collaborate and lead. We need people who will use their resiliency, ingenuity, education, and skills to make the world a better place. You, the Class of 2021, are those people. Our faculty have taught you how to identify emerging needs, anticipate future problems, and develop the necessary solutions for them. Be proud of yourselves, because I certainly am!"
One of the graduates, Diamond Guy, a biomedical sciences major from Rochester, will enter medical school at the University of Rochester School of Medicine and Dentistry, where she plans to eventually complete a residency in dermatology and become an attending physician at a hospital or clinic in an underserved community similar to where she grew up.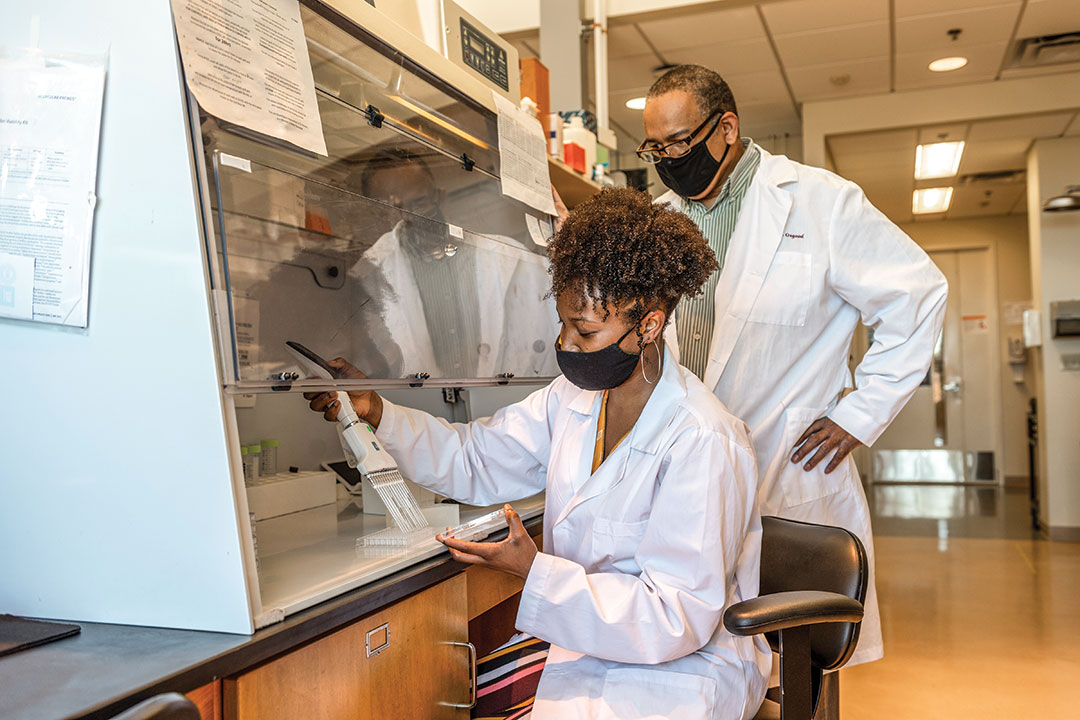 A. Sue Weisler
Guy is a Destler/Johnson Rochester City Scholar, which covered her full tuition at RIT. She also received support from the Multicultural Center for Academic Success to help her throughout her four years at RIT.
"I have been dedicated to my pursuit of medicine for the last 16 years of my life (since I was 6 years old) and never strayed away as I am immensely devoted to achieving my goal of improving human health," she said. "My early-found passion for becoming a physician is what has motivated me so much during my whole academic career to be the best version of myself and take my academics seriously. Becoming a physician is more than just a childhood dream for me, it is my calling. I have reassured this calling by working in clinics, shadowing doctors, and gaining insights into the good and challenging aspects of being a physician."
She said she hadn't thought she would become very involved on campus, but said one of her highlights at RIT was "engaging in the ample opportunities offered by RIT that have allowed me to make a positive impact. … Overall, my time at RIT has been an awesome, adventurous, blossoming journey that has shaped me into an innovative, critical thinker, a collaborative leader who approaches life and its challenges ever more confidently."
Her advice for incoming college students: Learn who you are as soon as possible, don't allow stereotypes to hinder you from reaching your full potential, express your interests, and use resources and connections.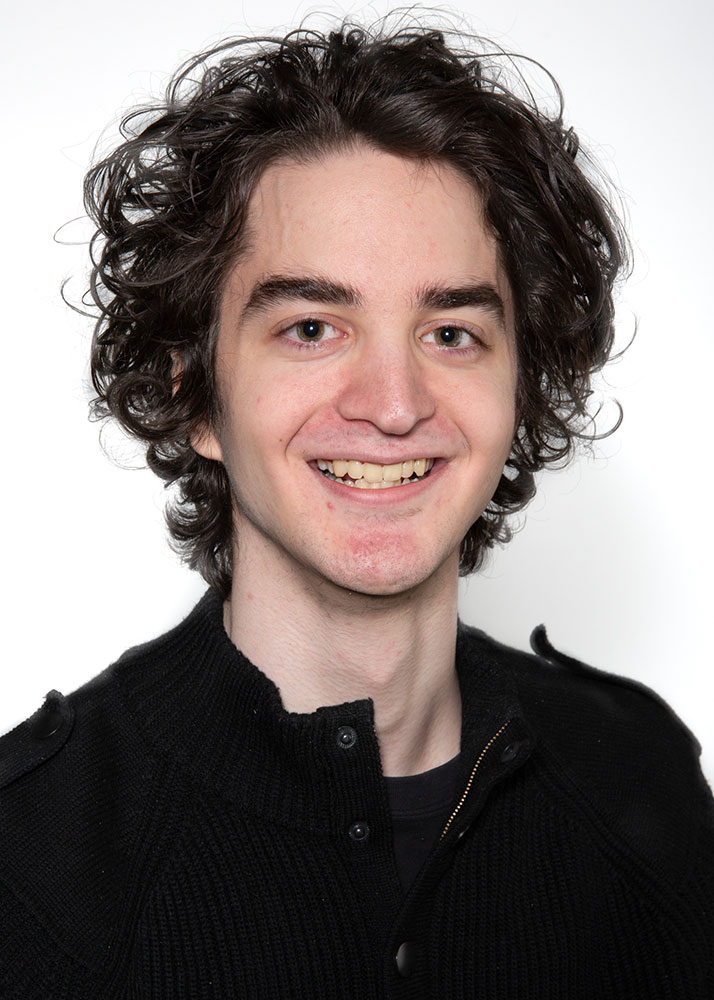 Alessandro Martellaro, of Mishawaka, Ind., is receiving a bachelor's degree in applied arts and sciences with concentrations in theater and music, and game design, through RIT's School of Individualized Study. He credits completing his degree to the flexibility of SOIS that allowed him to formulate a degree that better matched his interests.
"At college, I quickly realized coding is not how my brain works," he said. "I went to a presentation about SOIS, and they said you can do almost anything you want for a capstone project."
For his senior capstone project, Martellaro wrote a 43-minute emo rock musical adaptation of the 1977 film Star Wars: A New Hope.
"I wrote all of the music and lyrics for it myself, and for the past month, rehearsed with seven singers who are RIT students in order to produce a soundtrack," he said. "It was a cool project to work on and I'm happy to see it come together."
He's taking a year off before going to graduate school, where he plans to get a degree in secondary education and either get into the theater field, or teach theater, music or English to high school students. That desire grew after his experience with RIT Players, where he was music director.
"Everyone's college experience should be like the one I had with the School of Individualized Study," he said. "It's crazy people are forced to decide what they want to do with the rest of their lives when they are 17. Having a collegiate experience kind of morphs your interests. It's kind of incredible."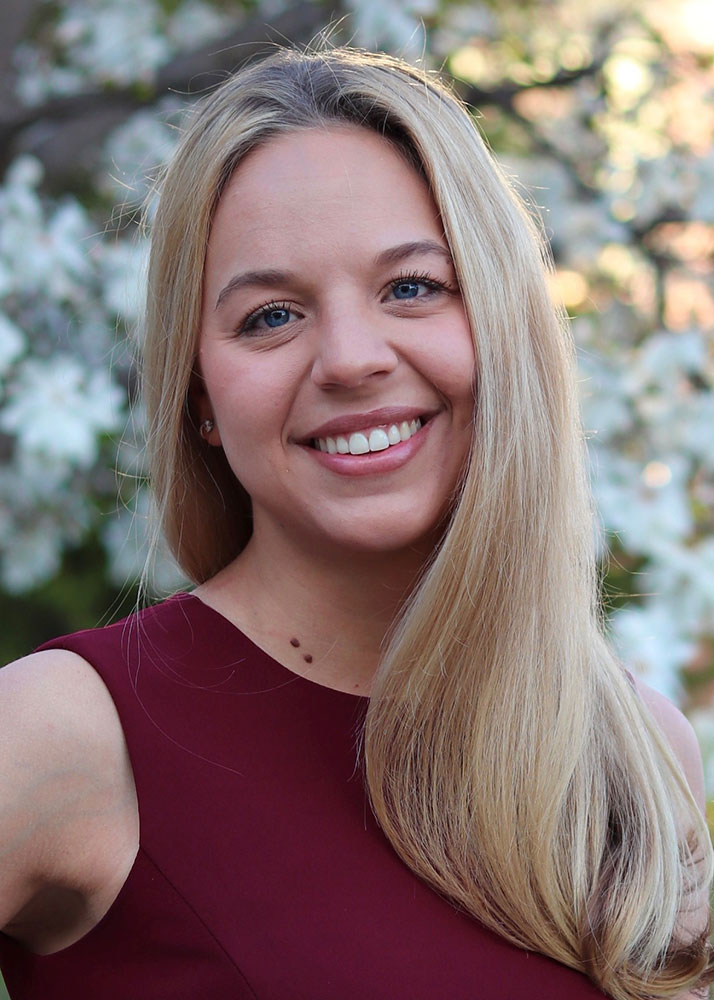 The sky is literally not the limit for Claudia Alant, of Niskayuna, N.Y., who is receiving her bachelor's and master's degree in mechanical engineering. In June, she starts a job working with rockets as a propulsion engineer at SpaceX, near Los Angeles.
"I'm really excited," she said. "It's been a great five years at RIT. I've learned so much and made wonderful friends in Rochester, but I'm ready to move on to the next chapter. California is going to be a huge change, but I'm ready to start earning some money and using the knowledge I've gained to apply myself in industry and to answer humanity's bigger questions."
Alant was on RIT's Hot Wheelz team—a previously all-female electric hybrid (now solar) formula racing team—which was visited by a recruiter from SpaceX. That resulted in three co-ops at SpaceX.
"Part of the reason I wanted to come to RIT was the co-op program," she said. "Because of that, I learned that aerospace is what excited me most."
Alant said she will miss her time at RIT, especially her classes, meeting new people and learning about herself and what she can accomplish.
"When I came to RIT, I couldn't have imagined where I would end up," she said. "This has been such a beautiful blend of experiences, nothing that I ever expected. I can only hope the same is true with my career path."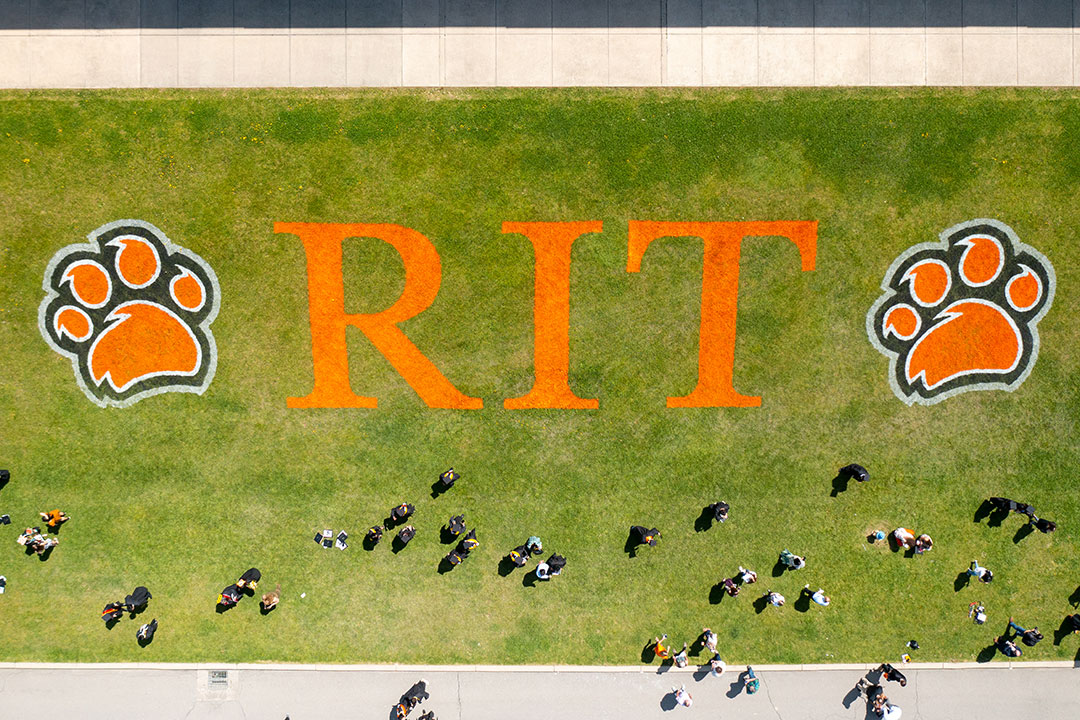 Boris Sapozhnikov