August 19, 2022
by Luke Auburn
President Munson calls on RIT community to reinvigorate the campus this academic year
Munson outlines the university's recent accomplishments and future developments in annual address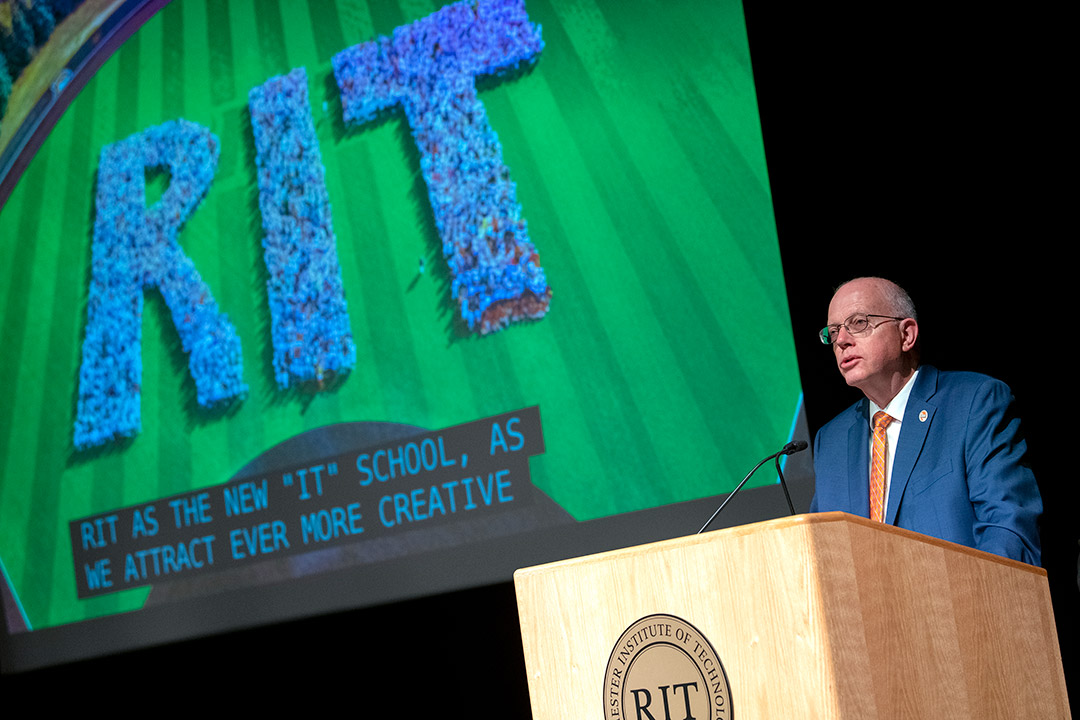 Rochester Institute of Technology President David Munson welcomed the community for the start of a new academic year with a call to re-energize the campus's atmosphere to its pre-pandemic level. During his annual President's Address in Ingle Auditorium on Friday, Munson encouraged all RIT faculty, staff, and students to make a new academic year resolution to spend more time face-to-face with one another.
"RIT is an experiential, in-person place," said Munson. "And we want to do everything we can to get our students engaged so that they receive a full education. So, let's bring back the thrill. Zoom has its place, but you can't catch the wave online!"
Munson began by thanking the audience for its resilience throughout the pandemic and said RIT has made great strides over the past year in student enrollment and success, research, fundraising, and construction projects to enhance the campus.
Some of the successes he reflected on included:
Looking ahead, Munson said RIT is in the process of plotting the future of its physical footprint, with a finalized plan expected later this year.
"We literally are designing our future as we are charting what this campus will look like in the next 25 to 50 years with a new Master Plan," said Munson. "This is a long-term planning document that provides a conceptual layout to guide future growth and development on our 1,300 acres."
Munson noted many other strategic developments underway for the university:
Additionally, Munson noted that RIT's Board of Trustees approved a $120 million bond issue to fund numerous projects around campus. Included are the new Tiger Stadium, a new research building with both wet and dry labs, and air conditioning where still needed in the College of Art and Design and the College of Science. RIT is also planning major renovations in the residence halls, adding air conditioning where still needed, and upgrading restrooms and public spaces.
Munson noted that Transforming RIT: The Campaign for Greatness is now in the homestretch. This summer, the campaign passed the $900 million mark. He said the campaign is enabling RIT to implement its strategic plan, serve students, grow its status as a top research university, and build deeper relationships with government and corporate partners.
Remarks were also given from RIT Provost and Senior Vice President for Academic Affairs Ellen Granberg, Staff Council Chair Emily Heyman, Faculty Senate Chair Atia Newman, Student Government President Aditya Khanna, and Vice President and Associate Provost for Diversity and Inclusion Keith Jenkins.
Munson concluded by saying, "RIT is embracing and designing a very bright future. Our amazing community of creators and innovators is shaping the world through ideas that inspire, inform, and improve lives. I wish to thank each of you again for doing your part to move this great university forward. I am honored and humbled to be working with such a talented and committed group of faculty, staff, and students."
Topics