Imagine RIT: Creativity and Innovation Festival set for April 29
More than 350 exhibits are part of the free event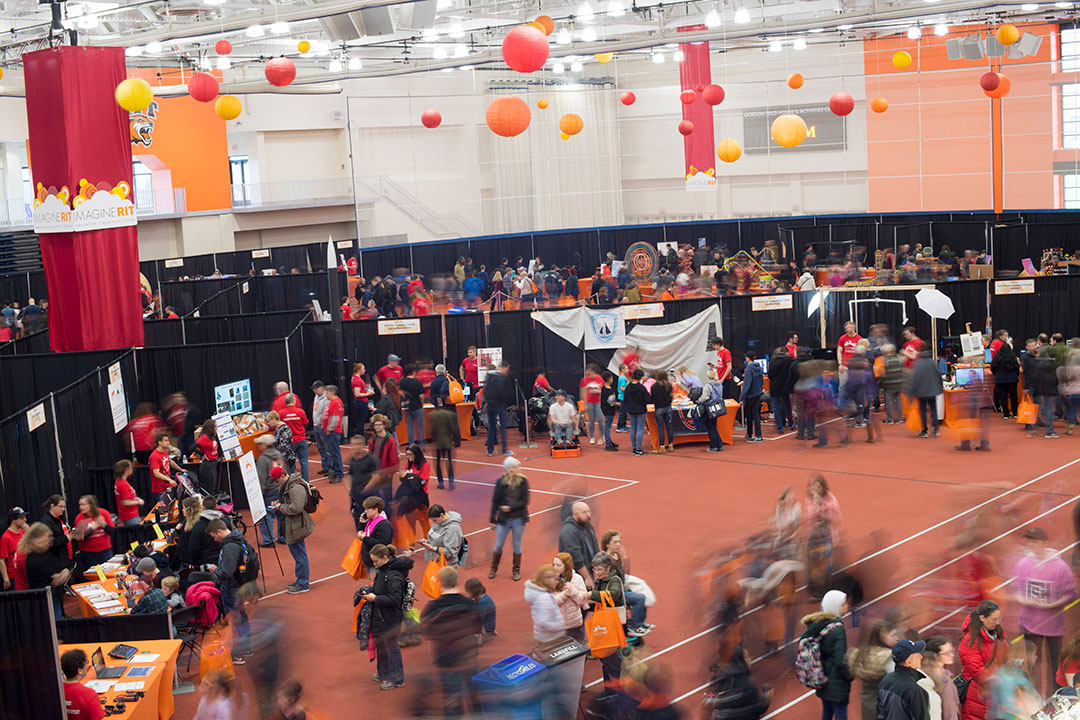 Artificial intelligence, robots, glass blowing, drones, cybersecurity tours, and performing arts are just a sampling of what lies in store for the thousands of visitors expected at this year's Imagine RIT: Creativity and Innovation Festival from 10 a.m. to 5 p.m. on Saturday, April 29.
Since 2008, the campus at Rochester Institute of Technology has welcomed tens of thousands of visitors one day each spring to get a glimpse of the creativity and innovation that RIT students, faculty, and staff have every day.
"We are so happy to once again invite the public to see what our brilliant students and faculty are doing to solve problems, create businesses, expand the boundary of possibilities, and make our world a better place," said festival director Ann Ielapi.
A total of 354 exhibits are planned this year, up by nearly 100 from last year. And more than 2,200 students, faculty, and staff will accompany those exhibits. Some are class, senior, or capstone projects; some are demonstrations from some of the more than 300 student clubs and organizations at RIT; and some are prime examples that you can have fun while learning.
"Imagine RIT has opportunities for everyone of all ages," said RIT President David Munson. "This is an interactive festival. So don't be afraid to try something and ask the exhibitors lots of questions. Let's inspire the next generation of problem solvers by connecting young people to the wonders of science, technology, engineering, math, design, business, health sciences, the liberal arts, and the arts."
Parking and admission are free, as is parking and shuttlebus service from Monroe Community College. The first 5,000 visitors will receive a free festival poster, designed this year by Annelise Wall, a second-year new media design major from Pittsford, N.Y.
Visitors may review and find the location of each exhibit and add it to their itinerary in advance.
New this year are in-person exhibits—and students presenting them—from RIT campuses in Dubai, Kosovo, and Croatia.
The popular Futurists Symposium with distinguished RIT alumni is planned for 11 a.m. in Wegmans Theater in MAGIC Spell Studios, with Dmitry Bekker '07 (computer engineering), Luiz Freitas '07 (economics), Christine Ramage '95 (professional photographic illustration), and Josh Klenert '96 (graphic design).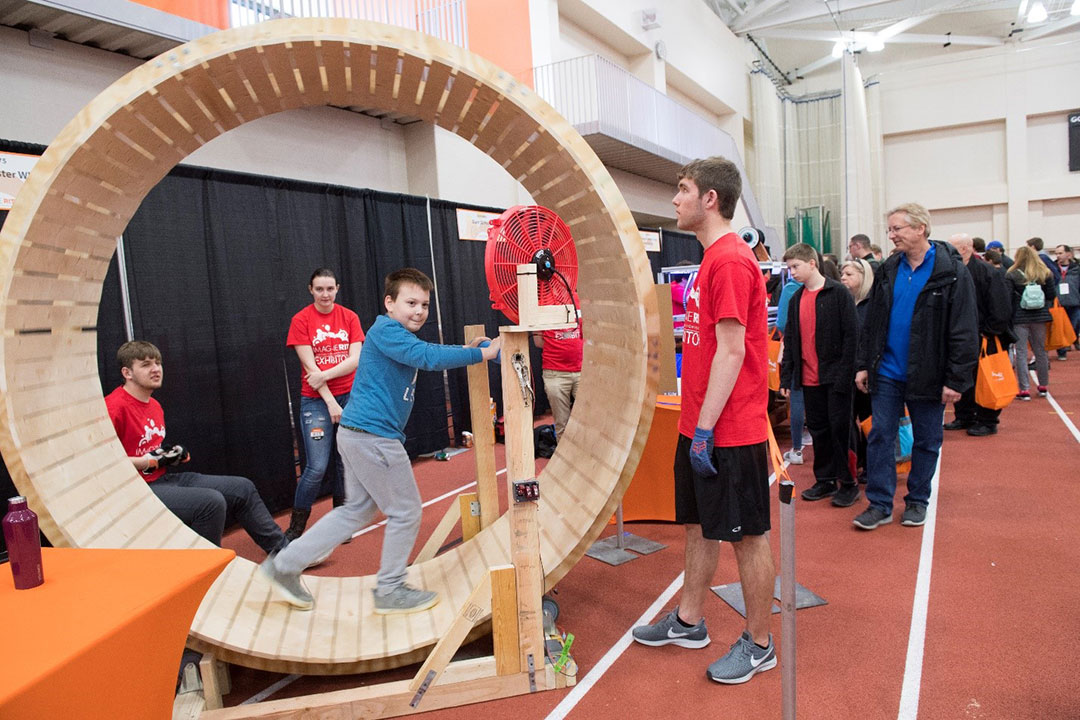 Among the exhibits on display are perennial favorites such as the human hamster wheel, the concrete canoe, and a spectacular K'Nex display by the RIT Theme Park Enthusiasts (this year's theme is exploring national parks).
There also will be displays of a garment dewrinkler, robotic wind chimes, a voice-activated robotic dental assistant, Baja SAE competition cars, and demonstrations of thermal photography, a bionic arm, juggling, judo, competition pool diving, and information about the dangers of deepfake videos.
Andrew Bovenzi, a first-year School of Individualized Study major from Mendon, N.Y., has been attending Imagine RIT since he can remember. He was thrilled to be accepted to RIT and now is thrilled he'll be exhibiting at Imagine RIT, with "Paleoart: Dinosaurs Given New Life Through Art" in the Kodak Quad.
"We plan to have chalk art and miniature dioramas of some of the lesser-known dinosaurs, some carnivores, some herbivores," Bovenzi said.
RIT's Engineering House is coming with several exhibits, including a smart mirror that can give the time, the weather, and even a compliment with the touch of a finger; an all-seeing eye that mixes animatronic puppets and art; and RuneLight that uses custom-built prop swords that light up if you choose the correct one.
Other exhibits will review criminal justice cases in Rochester, show how STEM subjects can be taught to deaf students, provide details about local birds, show what the RIT Beekeeping Club is up to, provide a demonstration of molecular gastronomy, and explain how flies can aid in food waste composting in urban neighborhoods. And students from RIT's School of Individualized Study will be performing magic tricks they learned in class.
Visitors will be able to fly and navigate small drones, levitate objects with compressed air, and see how dodge balls can be shot out of an air cannon. And industrial design students will be showing off the marionettes they created.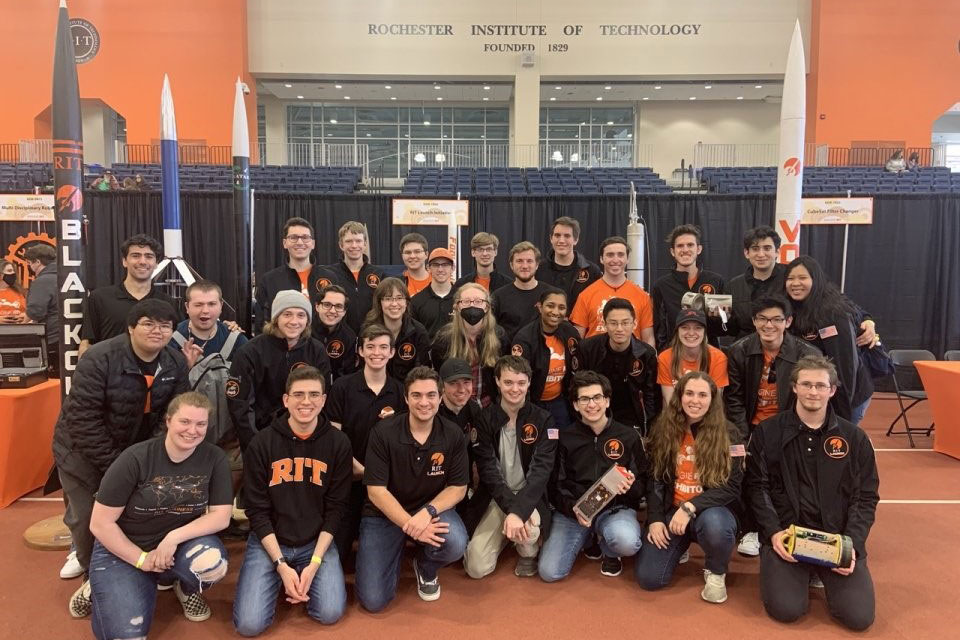 Visitors can learn about a device that helps monitor glucose levels of dogs and cats, a rover that can explore Mars, and see a smart chessboard that lights up with potential moves and student-made rockets that can fly to 10,000 feet.
Hillary Le, of Vietnam, is about to graduate with a bachelor's degree in chemical engineering and a master's degree in materials science and engineering. She is the project leader for a device she hopes will recognize emotions and predict dreams.
Visitors will wear a headset to have their brainwaves monitored. An AI model will be used to predict six different emotions the visitors may be experiencing, including feeling happy, sad, and angry. The device is in the prototype stage, but she plans to test it out on willing subjects prior to Imagine RIT.
"I'm very excited to show people this technology and have people try it out," said Le, who has been working on her project with a team of computer science and software engineering students for a year. "This is definitely going to be the technology of the future that hopefully will relate emotions to memory and memory to dreams to predict what people are dreaming at night."
Another exhibit related to prediction also uses new technology and is meant to be thought provoking. Haruspex: The AI Oracle Reads Your Future will use GPT-based artificial intelligence to interpret tarot cards drawn by visitors. The exhibit encourages visitors to consider the implications of new technology and the power they hold over their own future.
ZenBuddy, an interactive robotic assistant, was programmed by RIT faculty and staff to destigmatize mental health issues, especially for children. Using an algorithm, ZenBuddy talks, blinks, show happy facial expressions, and says positive things. It also can flash hearts around its face.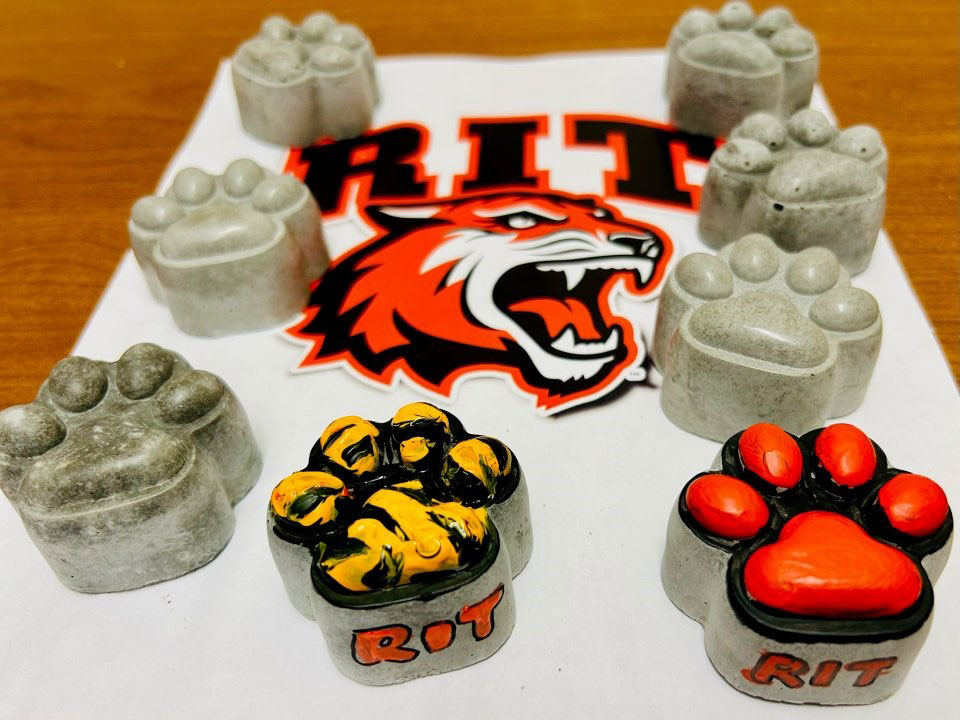 Faculty and students from civil engineering technology are enabling visitors to make their own concrete tiger paw souvenir, and decorate it if they wish, in the Concrete Tiger Paw and Modern Construction Materials exhibit. Visitors will learn about sustainable construction materials as well.
Joseph Schneggenburger, a fourth-year electrical engineering major from Irondequoit, N.Y., and Anna Kasper, a fourth-year biology major from St. Louis Park, Minn., will be showing their Deaf Athlete Notification System they have been working on for more than a year. An athlete can wear the device like an armband and receive vibrations to notify to look at the coach or play differently.
"I'm excited to help show off the armband to RIT's hearing and deaf communities, as the product is meant to assist in removing a communication barrier between the two communities during on-the-field play," Kasper said.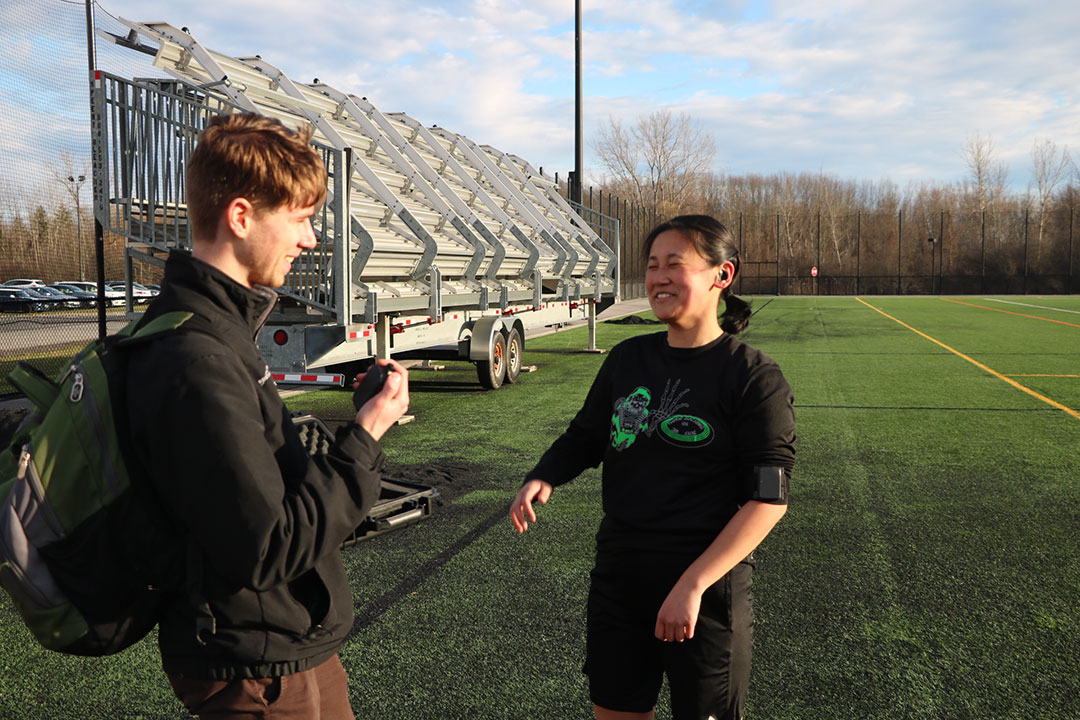 T.K. Sylvester
This will be the first Imagine Festival that Schneggenburger has exhibited.
"I'm super excited about the opportunity that I get to showcase the product that I have made," he said. "And I can finally nerd out about all of the specific details."
Jordan Cincotti, of East Aurora, N.Y., who will be graduating next month with a degree in mechanical engineering, and his teammates will have a display on the Gamification of NASA Astronaut Balance.
Visitors will step on a device and wear a VR headset and play a game that will test their balance during an Indiana Jones-type adventure.
Robert Opielski, from King of Prussia, Pa., is one of five graduating mechanical engineering students designing a high-speed unmanned aerial vehicle that folds for a client. They have considered multiple design concepts since starting the project last semester for their multidisciplinary senior design project.
"The whole team has worked determinedly on our project, and we're excited to show off two semesters of hard work," Opielski said.
Haley Czerwinski, a fifth-year biomedical engineering major from East Amherst, N.Y., is one of five students who has been working since last semester on an easier way to open fresh contact lenses.
"We're working on improving the design of a contact lens blister to lessen the initial peel force associated with peeling back the foil from the blister," she said.
It is the first time she's exhibiting at the festival. Her parents will be coming from Buffalo to see the exhibit, as will officials from Bausch + Lomb, a major contact lens manufacturer.
"I'm pretty excited," she said. "This is something new, and people will get to see what we've been working on."
Food will be available for purchase at the various RIT Dining locations during the festival, as well as from 10 food trucks on campus.
The festival's premier sponsors this year are Rochester Regional Health and Liberty Mutual Insurance.
Topics