Engineering and Engineering Technology Degrees
Extraordinary
co-op opportunities and internships provide you with extensive hands-on industry experience.
High-octane
performance teams and clubs put your leadership and teamwork skills to the test.
Unprecedented
access to design tools, makerspaces, and labs bring your innovative ideas to life.
This is the place where you—the thinker, the doer, the maker, the problem-solver—imagine, design, prototype, test, and build the future.
This is an exceptional educational experience.

Accelerated Bachelor's / Master's Degrees
RIT offers accelerated dual degree programs in engineering and engineering technology that allow you to earn a combined bachelor's and master's degree in less time than it would normally take to complete each degree separately.
Bachelor's Degree
Master's Degree(s)
Biomedical Engineering BS
Science, Technology, and Public Policy MS
Chemical Engineering BS

Materials Science and Engineering MS
Science, Technology, and Public Policy MS

Computer Engineering BS
Computer Engineering MS
Science, Technology, and Public Policy MS
Computer Engineering Technology BS
Computer Science MS
Electrical Engineering BS
Electrical Engineering MS
Science, Technology and Public Policy MS
Industrial Engineering BS

Engineering Management ME
Industrial and Systems Engineering MS
Science, Technology and Public Policy MS
Sustainable Engineering MS

Mechanical Engineering BS

Mechanical Engineering ME
Mechanical Engineering MS
Science, Technology, and Public Policy MS

Mechanical Engineering Technology BS
Manufacturing and Mechanical Systems Integration MS
Microelectronic Engineering BS

Material Science and Engineering MS
Science, Technology, and Public Policy MS

Robotics and Manufacturing Engineering Technology BS
Manufacturing and Mechanical Systems Integration MS
Software Engineering BS

Computer Science MS
Computing Security MS
Software Engineering MS
Learn more about Accelerated Bachelor's/Master's Degrees and why they're a smart choice for career success.
Key Facts
Undergraduate Outcomes Rate
Engineering and engineering technology majors who are employed, in grad school, or pursing military service or volunteering within six months of graduation.
Among the Best for Diversity
For diversified curriculum, student base, and faculty, and for our ability to foster a diverse and inclusive learning environment.
U.S. News & World Report, 2022
Top Schools for Co‑ops and Internships
U.S. News & World Report, 2023
"Most Innovative Schools"
U.S. News & World Report, 2023
Most Awarded Bachelor's Degrees
In engineering technology among all private U.S. universities
Engineering vs. Engineering Technology
Two dynamic areas of study, both with outstanding outcomes rates. Which do you choose?
What's the difference between engineering and engineering technology? It's a question we're asked all the time. While there are subtle differences in the course work between the two, choosing a major in engineering vs. engineering technology is more about identifying what you like to do and how you like to do it.
Engineering in Action.
Innovate and Create. Every day.
Whether you're a creative problem solver, interested in developing and implementing new technologies, or driven to find solutions that contribute to a higher purpose, RIT's engineering and engineering technology programs will prepare you for outstanding career opportunities.
Where Ideas Become Reality
Applied Learning:
At the Heart of an Engineering Education
What sets RIT engineering and engineering technology graduates apart from their competitors isn't just their degree. It's the real-world experience gained from full-time, paid cooperative education, hands-on work in labs and makerspaces, and through participation on performance teams and in clubs.

RIT's cooperative education program provides exposure, early and often, to a variety of engineering industries and environments. These opportunities are intentional and purposeful—and designed for you to apply your skills in real-world settings, interact with industry experts, and explore professional work environments.
100%
Engineering and engineering technology students complete at least two engineering co-ops, most complete up to four.
#11
Top Schools for Co-ops and Internships
U.S. News & World Report, 2023
Undergraduate Research
Opened-Ended Problems = Opened-Minded Solutions
Innovative solutions happen when you're open to possibilities. That's when creative problem solvers thrive, in an environment where investigation and exploration collide with ingenuity and imagination. 
RIT is a leader in providing immersive research opportunities to both undergraduate and graduate students. You can begin conducting research on day one of your freshman year, with support and guidance from world-class faculty. On multidisciplinary teams with students from majors all across the university, you'll explore, investigate, and collaborate to help solve pressing challenges facing a range of high-impact areas that can better society.
In our graduate and doctoral programs, you'll be part of critical research that's changing the way the world looks at imaging, manufacturing, artificial intelligence and machine learning, energy and the environment, and more.
Explore the RIT's Signature Research Areas, or learn more about our undergraduate research opportunities in engineering and engineering technology.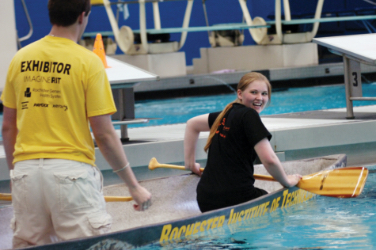 Clubs and Organizations
Explore rocketry. Challenge your skills with VEX robotics. Become an environmental champion. Join a professional engineering society. The options are endless for you to hone your skills or just have fun in one of RIT more than 300 clubs and organizations.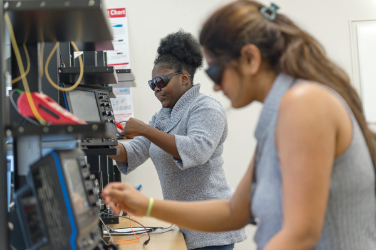 Grand Challenges
The complex problems and opportunities facing humanity in the 21st century require a blend of science, technology, and engineering with the liberal arts. In the Grand Challenges Scholars Program, RIT students and faculty from liberal arts and engineering collaborate to address areas of significant global need, such as access to clean water, engineering better medicines, advancing health informatics, improving urban infrastructure, and more.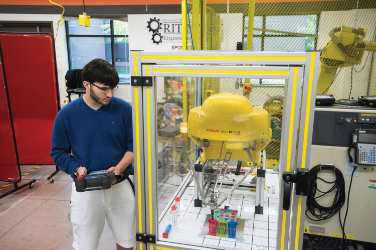 Learning Labs
World-class labs and classrooms house the same state-of-the-art equipment used in industry. You'll learn, experiment, tinker, and test in modern learning spaces.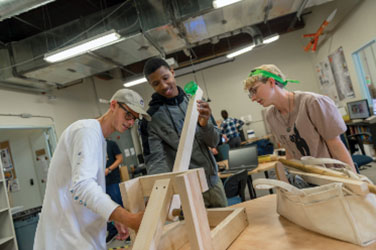 The Construct
In The Construct, RIT's all-access makerspace, you'll create products based on your own innovative concepts. You'll have access to rapid prototyping facilities and resources including 3D printers, laser-cutters, CNC mills, and work-spaces for circuit board fabrication and assembly, metal/woodworking, and CAD, CAM, and circuit design.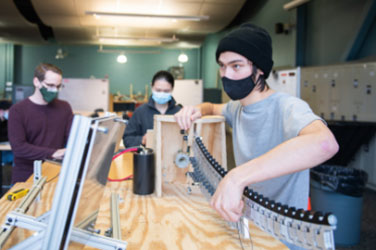 Senior Design
A two-course, two-semester design experience where multidisciplinary student teams create solutions to real-world engineering problems. You'll combine your classroom learning and your experiences on co-ops to build and test a prototype or create and implement improvements to an engineering process.
There's a reason our engineering and engineering technology programs have a 97% outcomes rate. Our hands-on, results-oriented education makes you better prepared and in demand by industries worldwide.
At RIT, you'll earn more than a degree. Innovative course work, exceptional co-op experiences, extraordinary faculty, active hands-on learning, and immersive research opportunities all add up to a powerful education that equips you with the knowledge, skills, experience, and expertise to reach your goals.
Develop new technologies. Lead game-changing innovations.
Shape the future. You'll be ready.